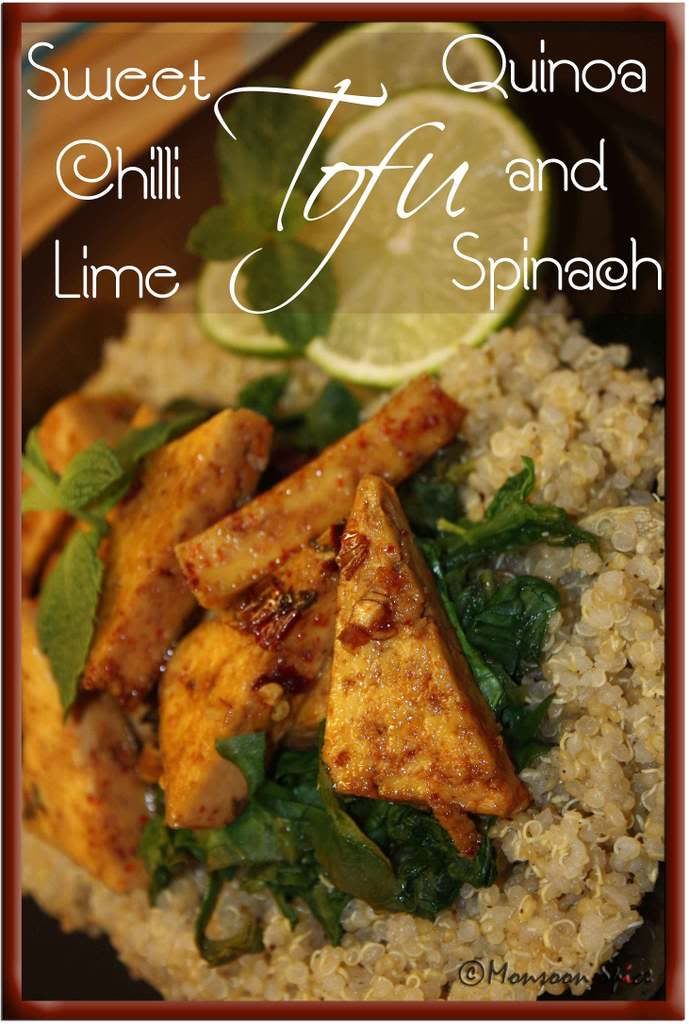 Sweet Chilli-Lime Tofu with Wok steamed Spinach & Quinoa
I don't have anything to rant today other than give you one wonderful recipe I tried from gorgeous blog
Vegan Yum Yum
. This is one of my favourite blog where Lolo posts vegan recipes which make my eyes pop and I almost end-up licking my laptop screen. This blog has most tempting pictures of Vegan food which makes you drop all the things at once and rush to your kitchen to start cooking straight away. Not only that, you will be surprised to see so many ways of cooking vegan food without compromising taste factor. You will find an array of vegan food from appetizers to desserts including varieties of baked goodies to satisfy your cravings. Her
Knitted Cupcakes
are the best ever cupcakes I have ever seen or come across. Go check it for yourself and feast on her drool-worthy pictures. I have already tried two recipes from this wonderful blog and highly satisfied with the end result.
Today I am posting Lolo's recipe of
Sweet Chilli-Lime Tofu with Wok steamed Collard and Quinoa
. This was the first time we bought quinoa and cooked at home. So Lolo's recipe sounded something what we could try for first time. Another thing that got our full attention was the process of "dry frying" the Tofu as till date we had either used them as they are or simply pan fried them with little oil. So we were eager to test and taste quinoa and 'dry fry' tofu. Unlike Lolo I used Baby Spinach instead of Collards and made few modifications to the original recipe to our liking. Other change is in the ingredients used in Sweet Chilli-Lime Sauce. We added little extra chilli flakes as we felt the sauce was little mild for our liking and also added a small spoonful of chilli sauce. And we replaced Tamari with Teriyaki sauce as we didn't have it in our pantry. We also reduced the amount of lime zest used and instead increased the amount of lime juice from original recipe. And addition of ginger again was to our preference.
The sauce was easy to put together and was very flavourful. It formed a nice glaze on dry fried tofu and was a real pretty sight. Over all I can easily say that
Sweet Chilli-Lime Tofu with Wok steamed Spinach & Quinoa
was one flavoursome, nutritious, pretty and very healthy meal which we devoured without complaining. I am not sure if I have left a thank you note at Lolo's blog. Lolo, I want to thank you for this wonderful recipe which has become our family favourite. This is my entry for
JFI-Soya
hosted by yours truly and dearest Pooja's
Theme of the Week-Saffron, White & Green
in spirit of my beautiful country's Independence Day celebration. And this is also my contribution for Melissa's
Let it Grain-Quinoa
event which showcases this lovely grain this whole month.

Print This Recipe
---
Sweet Chilli-Lime Tofu with Wok steamed Spinach & Quinoa
Prep Time: 10 mins
Cooking Time: 30 mins
Serves: 2-4
Recipe Source: Vegan Yum Yum
---
Ingredients:


1 block firm Tofu



For Sweet Chilli-Lime Sauce:


3 tbsp Sugar
2 tbsp Soya Sauce
2 tbsp Teriyaki Sauce (or just use Soya Sauce)
6-8 Mint Leaves, thinly chopped
2 tsp Chilli Flakes (adjust acc to taste)
1 tsp Chilli Sauce
1 clove of Garlic, crushed and very finely chopped
½ inch Ginger, very finely chopped
2 tbsp Lime Juice, freshly squeezed
¼ zest of the Lime
¼ tsp Salt



For Wok Steamed Spinach:


2-3 packed cups of Baby Spinach
A big pinch of Salt
1 tsp Lime Juice



For Spiced Quinoa:


¾ cup Quinoa, rinsed in cool water and drained
¼ zest Lime
½ tbsp Lime Juice
2 Green Cardamom, lightly crushed
½ inch Cinnamon Stick
1 Bay Leaf
¼ tsp Salt
1-1¼ cups Water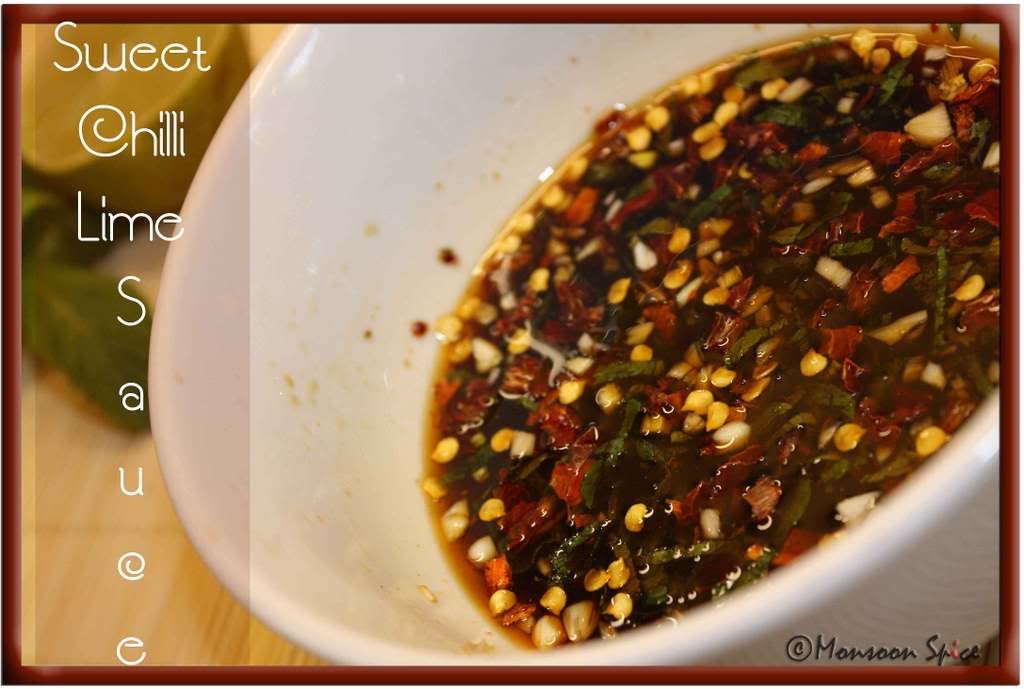 Sweet Chilli-Lime Sauce
Dry Fried Tofu glazed with Sweet Chilli-Lime Sauce
Method:
For Spiced Quinoa:
Combine all the ingredients listed under Spiced Quinoa in a thick bottomed pot with tight fitting lid. Bring it to a boil, then cover the lid and reduce the flame to low. Cook undisturbed for around 15-20 mins and turn off the heat. Let it sit covered for about 10 mins so that the steam is retained.
For Sweet Chilli-Lime Sauce:
Meanwhile, prepare the Sweet Chilli-Lime Sauce by combining all the ingredients listed. Whisk the sauce till all the sugar and salt is dissolved and keep it aside.
For Sweet Chilli-Lime Tofu:
Cut Tofu into bite sized pieces of desired shape and set aside.
Heat flat bottomed non-stick pan or good iron pan and arrange the tofu so that it fits in single layer. If not then do it in batches. I used good non stick pan in order to "dry fry" tofu without using any oil.
Spread out the tofu in a pan and with a help of spatula press the tofu. The liquid from tofu will squeeze out and boil away, and the tofu will start turning golden colour. The more water evaporates, the sturdier the tofu will be and that's exactly what we want. Remember not to press the tofu too hard initially to prevent tofu from breaking.
After several minutes, flip the tofu over and repeat the same method. After 10 mins or so you will be left with dry fired golden tofu pieces. Now you can either proceed with the next step or wok steam the spinach.
To finish the Tofu, bring the pan back to stove if it's not already very hot. Now add the sauce you prepared and let it bubble up. Switch off the heat and let the sauce reduce and form a glaze. Make sure that the sauce is bubbling up nicely before you switch off the heat.
For Wok Steamed Spinach:
Stack the spinach leaves one above the other and roll them. Slice the roll into 1 inch segments. Repeat same procedure till you get 2-3 tightly packed cups of Spinach.
Heat wok and add spinach, lime juice and salt. You can add about a tbsp of water if required. Cover and cook for 1-2 mins. Remember you don't need to cook it thoroughly. I like my greens to be little raw and crunchy.
To Assemble:
Place cooked spiced Quinoa on a serving dish and arrange steamed spinach on top. Arrange sweet chilli-lime Tofu on a bed of Quinoa and Spinach and drizzle any left over sauce on top of it. Serve it immediately and enjoy.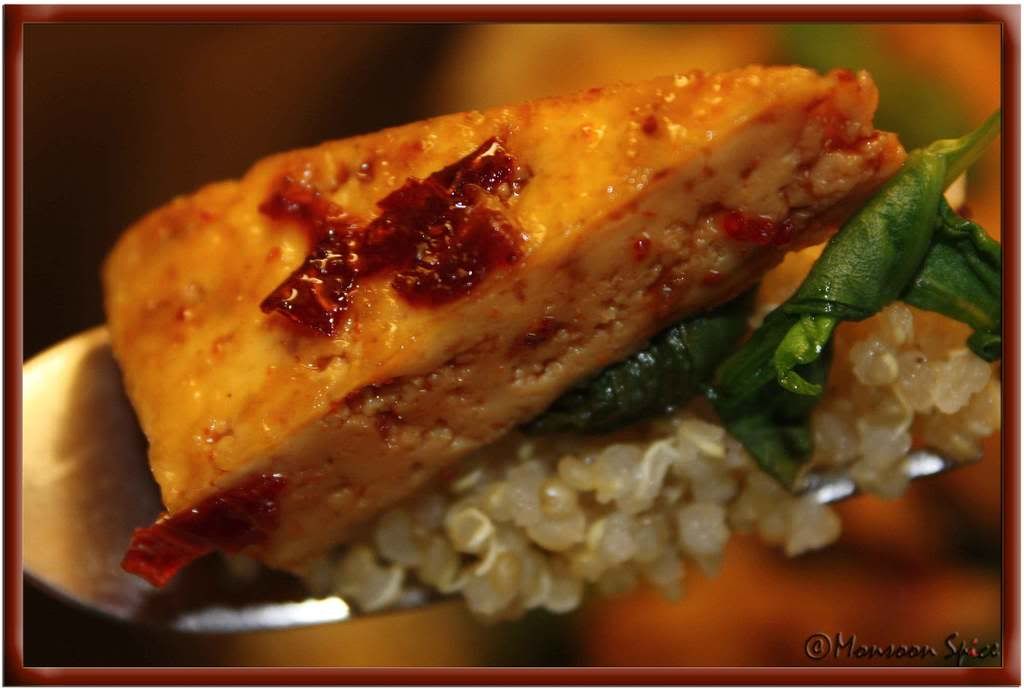 Sweet Chilli-Lime Tofu with Wok steamed Spinach & Quinoa
---
Note:


Other Tofu recipes to feast on



---
Reminder for JFI-Soya:
I invite you all to celebrate Jihva for Ingredients with this month's theme
JFI-Soya
. Choice of Soya products, the recipe, ingredients, method etc is entirely left to you. I would greatly appreciate if you can send me any Vegan or Vegetarian recipes but I leave it to your choice. Soya foods include tofu, tempeh, textured vegetable protein (chunks, mince etc), miso, soya sauces, soya oil and margarine, and soya dairy alternatives.
Deadline: 31st August, 2008
Please go through the guidelines and include all the required information in your post and also in your e-mail while sending your entry. Don't forget to add Your Name, Your Blog Name, Name of the Dish, Type of Dish and Perm Link of the entry along with the gorgeous Photo of final dish.

Click Here
or on the logo to find out more information on this event.