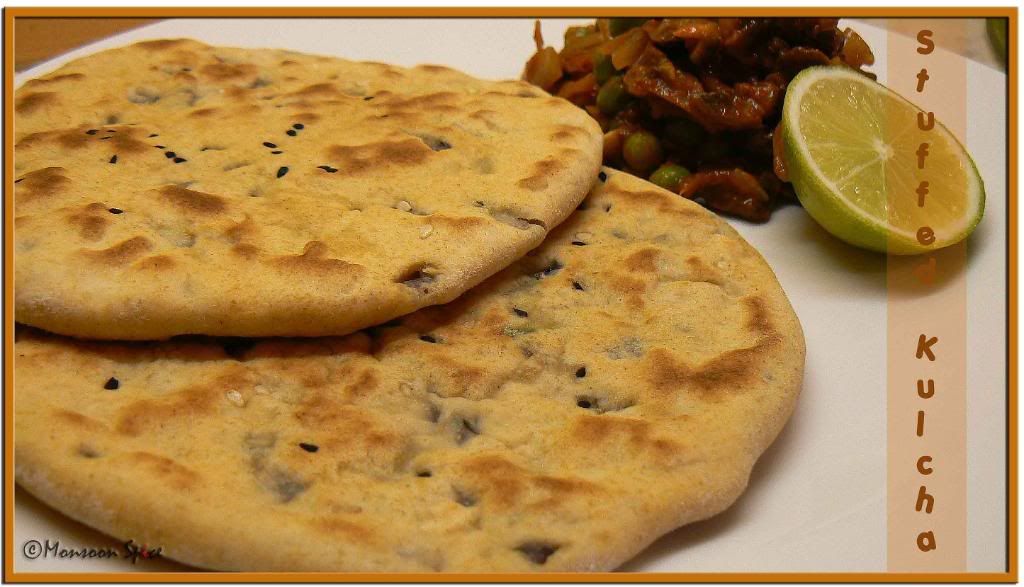 Me: What? You can't be serious!
He: Why not?
Me: I am not sure…
He: Common, no one will know…
Me: I am scared!
He: Trust me.
Me: What if someone comes to know?
He: I am sure we are not the only one who have done it.
Me: But it's not right. Society will never accept it. Oh! It's a sin.
He: Now, now… look at me. Do you want me to die without experiencing how it would have been?
Me: No!!! Please don't say that…
He: I have got only 2 more days to live. Won't you fulfill my last wish?
Me: Oh!!! Of course I want to…
And that's how he left this world, just two dates before his expiry date. And oh!!! If you are wondering whether it's some scene from Bollywood movie then you are wrong. I call him Mr. T with love who is known to rest of the world as

Tofu

. He left this world knowing he had left wonderful memories for me.
Tofu

, also known as soybean curd and bean curd is made from curdled soy milk. This custard like white block is high in protein, low in salt and calories and has no cholesterol. By itself Tofu is quite bland and hence it readily picks up the flavour of other ingredients that are cooked with it making one pleasurable, guilt free indulgence.
After cooking Tofu with different techniques pairing it with different ingredients using different regional recipes, I wanted to try something new. Since couple of months back I am using Tofu in Indian cooking and it is pure pleasure to watch it beautifully blend with Indian spices and take us on a roller-coaster ride in taste department. It tastes great when used in Chinese and Thai recipes and it excels when blended with rich Indian spices. Initially I started experimenting by replacing

Paneer

, Indian cottage cheese, with Tofu. Slowly I started using it boldly with different traditional recipes which our 'Purist' cyber aunties would disapprove of and ban me from posting it.
Soft, delicious and aromatic

Tofu Stuffed Kulcha

is a winner recipe. With much less calories and high in protein content, this recipe was created at nth moment. At spur of a moment I made these Kulchas as I was left with half a pack of left over Tofu which had less than two days of shelf life. And boy!!! Am I happy or not! Although I was little hesitant to use tofu this way the end result was much more than we could ask for. This recipe is a keeper for sure. Served with delicious and spicy Mushroom Curry (Recipe follows soon) it was one satisfying weekend meal.

Print This Recipe
---
Tofu Stuffed Kulcha
Prep Time: 20 mins (Excluding resting time)
Cooking Time: 10-15 mins
Makes: 6-7 Medium Kulchas
---
Ingredients:


1 tsp Nigella Seeds
1 tsp Sesame Seeds
Little Ghee/Oil (Optional)



For Outer Covering/Dough:


1 cup Whole Wheat Flour
1 cup All Purpose Flour/Maida
2 tbsp Yogurt
¼ cup Warm Milk
½ tsp Cooking Soda
½ tsp Baking Soda
1 tsp Salt
Warm Water to knead
1 tsp Oil



For Stuffing:


1 packed cup Tofu, crumbled
1 small Red Onion, very finely chopped
¾ tbsp Garlic, very finely chopped
2-3 Green Chillies, finely chopped
1 tbsp Mint Leaves, finely chopped
1 tbsp Coriander Leaves, finely chopped
½ tsp Jeera/Cumin Powder
¼ tsp Amchur/Dry Mango Powder (Optional)
1 tsp White Pepper Powder (Optional, use any spices/masala of your choice)
Salt to taste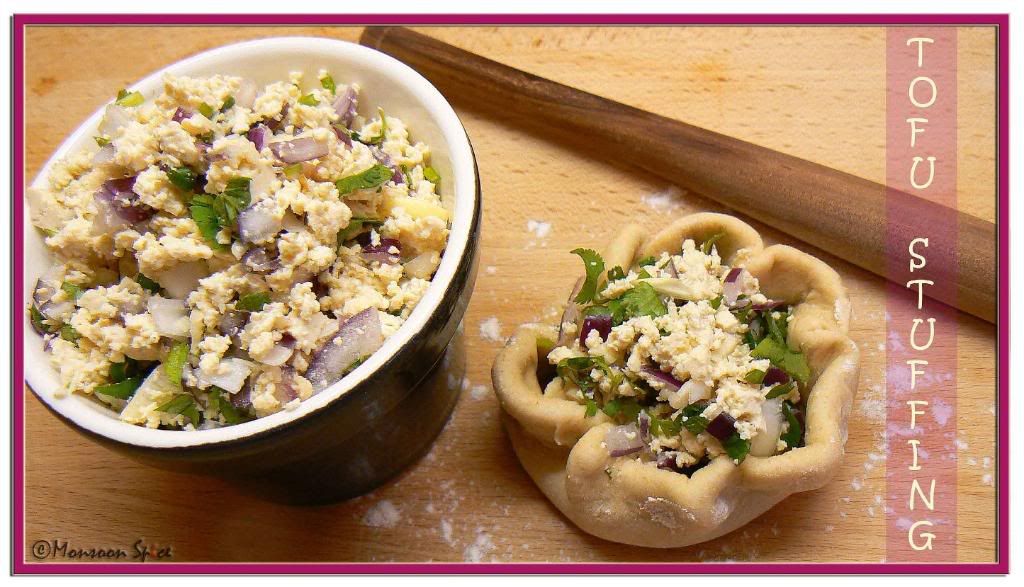 Method:
For Dough:
Sift wheat flour, maida, cooking soda, baking soda and salt.
Make a well in center and add yogurt and warm milk.
Knead the dough adding little water at a time to make soft pliable dough.
Apply oil on the surface of dough and keep it wrapped in cotton towel or cling film.
Let it rest for at least one hour.
For the Stuffing:
Squeeze as much of water as possible from tofu as the water content in tofu will make the kulcha go soggy.
Once it's done, crumble the tofu with hands, and take about one packed cup of tofu crumble.
Take all the ingredients in a vessel and mix well. Remember to chop the vegetables very finely so that it becomes easier to stuff and roll.
To make Stuffed Kulcha:
Take dough and knead again for about minute and make big lime sized balls.
Dust it with wheat flour and roll it into thick poories of about 4 inch in diameter.
Place about tbsp of tofu mixture in center. Cover and seal the ends and roll again, dusting flour if necessary, into ½ cm thick roties using rolling pin.
Sprinkle little nigella seeds and sesame on top of roties and lightly press them using rolling pin.
Heat a griddle at high flame and lower it to low-medium flame.
Place Kulcha on griddle and cook on both the sides till it's cooked and brown spots starts to appear on top. Apply little ghee/oil if desired.
Serve hot Tofu stuffed Kulchas immediately with any curry or your choice and enjoy.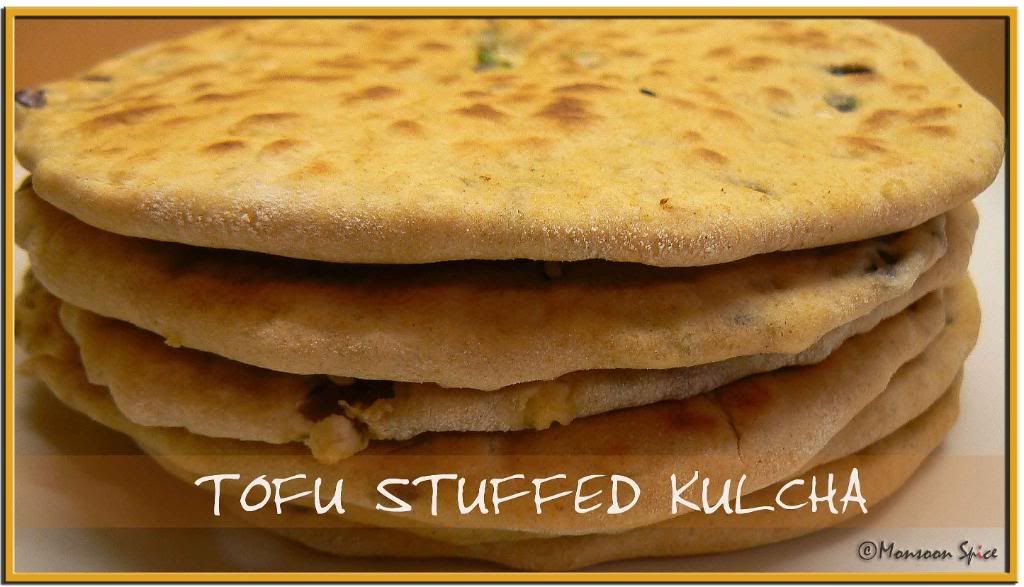 Tofu Stuffed Kulcha


---
Note:
Keep the stuffing as dry as possible. If it has too much of moisture/water content then it becomes difficult to roll them as the moisture will make the Kulchas soggy and they might tear while rolling oozing the stuffing.
Keep the center of Kulcha little thicker than the ends before stuffing as when you cover and seal the ends you will get even thickness at both the sides.
Resting the dough for at least an hour makes soft Kulchas.
Usually an egg is added when making the dough but I usually avoid adding it.