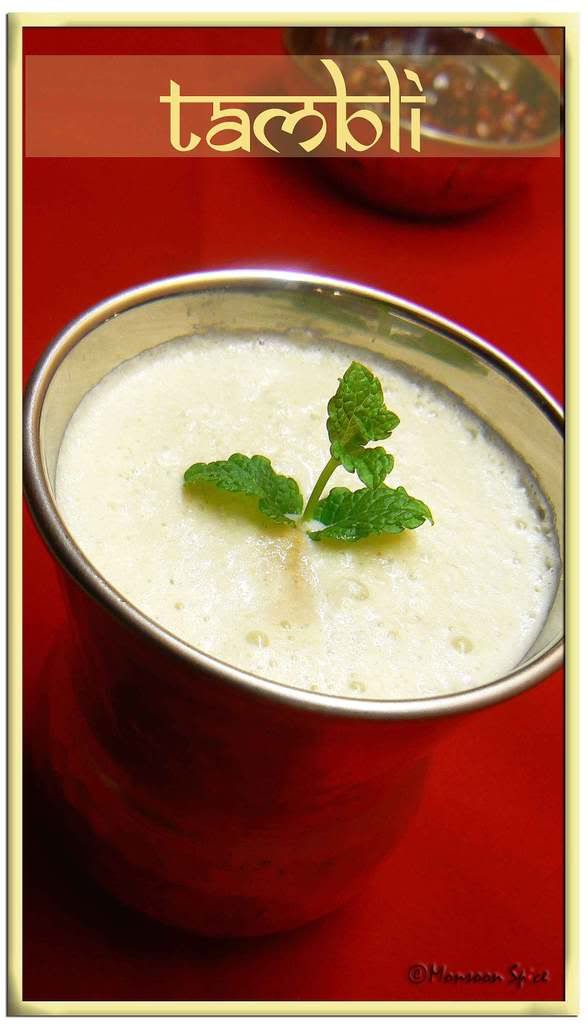 Sun Dried Pomegranate Peel Tambli
Indian cooking is not all about curries, biriyanis and spices. Indian home food also benefits from the combination of Ayurvedic knowledge with day to day ingredients. In
Ayurveda
, India's ancient science of life, health and longevity, food plays a prominent role in promoting health and is therefore considered medicine. Dating back over five thousand years, Ayurveda is still a highly respected form of health care in India today.
It is ironic how something as obvious as nutrition has become overlooked in the modern health care system, and how in the name of convenience our fast paced society has given way to fast foods, canned foods, take-away, microwaves, quick fix meals, and eating on the run. With the hike in growing obesity and unhealthy eating habits, it is more important to focus on the understanding the importance of role that nutrition plays in maintaining good health and healthy lifestyle. It is not necessary to pop tablets for each and every little health problems. There are natural ingredients which can be used to cure health problems.
My Ajji was one such person who believed in using natural ingredients and Ayurvedic knowledge in cooking when someone fell sick. This treasure of recipes with Ayurvedic approach is what I treasure from my
Ajji's (Grandma) kitchen
. These recipes are simple and are prepared using common ingredients which will be present in your pantry any time of the day. And the best part is you don't feel like you are forced to take some bitter medicine. These recipes not only cured your illness but also tingled your taste buds.
One such recipe is Tambli or Tambuli. There is no cooking involved when making tambli. The main two ingredients used are fresh grated Coconut and chilled Yogurt which is very common ingredients found in any South Indian homes. Based on the season and health condition different ingredients like Brahmi, Onion, Jeera etc are used in making Tambli.
Whenever a kid or even grown up had Diarrhea, Pomegranate is used in treatment. But it is not possible to find pomegranate through out the year and hence the pomegranate peels comes to rescue. The sun dried pomegranate peels were ground with coconut and some fresh herbs and mixed with yogurt to make this unusual Tambli which is used to treat Diarrhea. It is such a simple and effective therapy which is much better than popping tablets. I usually make Tambli once in every fortnight with different ingredients as they are not only healthy things to eat but also tastes great. I am sending this Sun dried Pomegranate Peel Tambli to dear Sra who is guest hosting
AFAM-Pomegranate
. Sra, I kept my promise ;)

Print This Recipe
---
Sun Dried Pomegranate Peel Tambli
Prep Time: 5-10 mins
Cooking Time: -
Serves: 3-4
---
Ingredients:

2 inch sun dried Pomegranate Peel

½ cup Fresh/Frozen Coconut, grated

1-2 Green Chillies

½ inch Ginger

½ tsp Jeera/Cumin Seeds

Few Mint Leaves

1 cup Yogurt

Salt to taste
Sun Dried Pomegranate Peel Tambli-Ingredients Used


Method:
Soak sun dried pomegranate peel in a cup of water for 15-30 minutes.
Drain and grind to smooth paste with grated coconut, green chillies, ginger, jeera, and mint leaves adding very little water.
Add the ground paste with yogurt and mix well. Refrigerate and serve chilled with rice and pickle.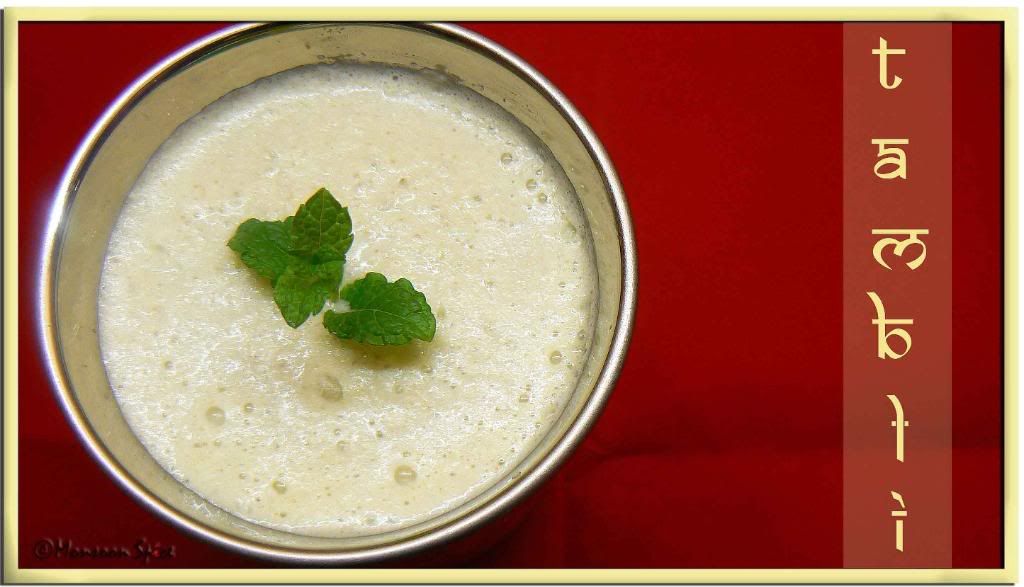 Sun Dried Pomegranate Peel Tambli
---
Note:
To sun dry the Pomegranate Peels, peel a pomegranate and save the peels. Cut them into 1 inch pieces and lay out in the sun to dry. The peels are ready when they become hard and are easy to break. Store them in a dry air tight bottle and use as and when necessary.
Another way to treat Diarrhea is to take 3-4 pieces of sun dried pomegranate peels and place them in a glass. Pour boiling water and cover and keep aside for few minutes. Drink half a cup of this water and see how it goes. If required drink other half a cup of this drink after 3-4 hours.

More Tambli Recipes from Monsoon Spice

---
Update:
Looks like second season of Blog Awards is giving tight competition with Oscars and Filmfare! Guess what?! My blog is Excellent! Nope, it's not me who is self praising here;) This is what Pravs of Simply Spicy says.
Thanks Pravs for passing me this E for Excellent Award. It means a lot to me from coming from wonderful fellow bloggers. I am flattered :)


An Update:

Purnima of Fantasy Cooking nominated Monsoon Spice for E for Excellent Award. Thank you dear Purnima. I am really flattered by your kind words and gesture.