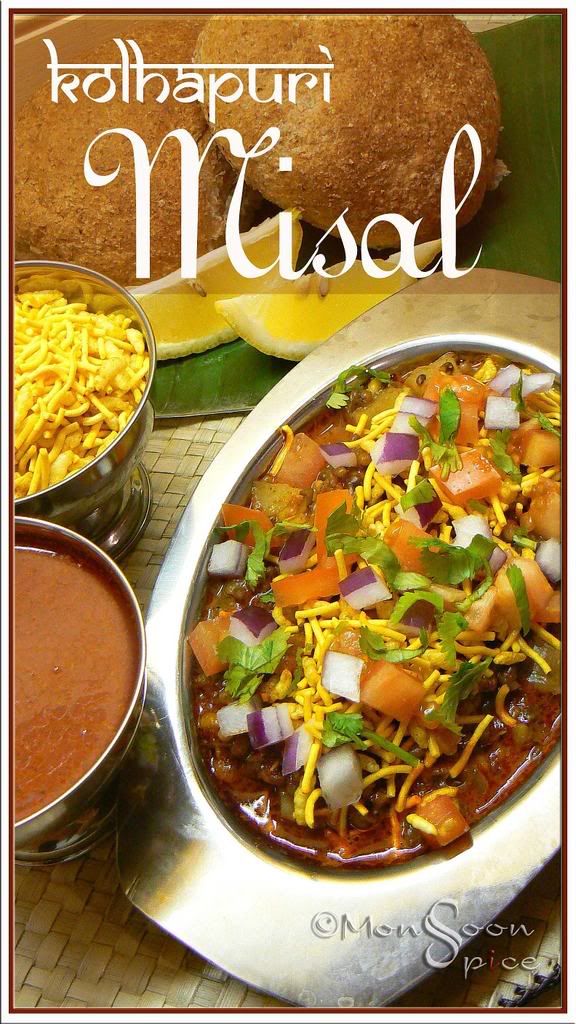 Kolhapuri Misal
Who likes spicy food?
I mean really spicy… spicy as the one that turn your nose crimson red and brings tears in your eyes! Spicy as you are left with wiping your nose and eyes and yet you are smile and happily continue to devour the food! Yeah, I am talking of hot and fiery spicy food.

If you are still reading this and nodding your head in agreement then this recipe is for you. We have hot and fiery
Kolhapuri Misal
in our today's menu. Last time I had it was in Belgaum where my friend took me to this small hotel in one corner of the city. It was not a fancy hotel with crystal chandeliers and comfy cushions. Instead it was a small, modest hotel with wooden tables and long benches in a small square room with sea green coloured walls and red roof tiles. The hotel's owner was sitting right next to the entrance door on a beautifully carved high rosewood chair. And in front of him was the ancient rosewood table with half a dozen big glass canisters filled with coloured peppermints and chocolates. The wall behind him was adorned with framed, colourful pictures of goddess
Lakshmi
(goddess of wealth), lord
Ganesha
(elephant faced Hindu god) and goddess
Saraswati
(goddess of knowledge). The owner himself was a pleasant looking guy with
kumkum
on his forehead and wore white
kurta
and
dhoti
.
The aroma drifting from the small kitchen was enough to make me dizzy with hunger. But the hotel was packed with people occupying every possible table. Still my friend rushed inside almost dragging me along to a table occupied by two strangers. Before I could say anything she was sitting on a bench where a middle aged guy was eating
Ragi Mudde Oota
and nodded her head asking me to sit in front bench where another college student was devouring some delicious lentil gravy with pav. With in few minutes I realised that the people who had occupied that particular table also didn't know each other and without any feeling of awkwardness they both seemed to be enjoying their meal!
Soon my friend ordered for two plates of
Kolhapuri Misal
and within few minutes we were served a plateful of sprouted lentils in gravy topped with chopped onions, tomatoes and crisp farsan along with twp pav buns and a small katori of fiery red curry called
Kat
. The server also left a tall glass of water and a big steel jar filled with water to the brim. My friend looked at me and smiled and asked me to pour some red gravy on top of sprouted lentils. She showed me how to eat it by breaking her pav into small pieces and dipping it in gravy and scooping little lentils along with chopped veggies and crunchy
farsan
. And what happened after that left me speechless!
I was experiencing the explosion of different flavours at once but the main flavour being fiery hot. There we were sitting right next to total strangers and devouring one of the spiciest food on this planet. The tears started rolling from my eyes and I needed my handkerchief to wipe my nose and eyes at same time! Small drops of sweat started forming on my forehead and nose and my nose matched that of circus buffoon. But still I couldn't help but think that it was one of the best foods I have had in my life. That was my first encounter with
Matki
or
Moth Beans
and the earthy taste of it made big impact on my taste buds. Sprouted moth beans cooked in spicy gravy along with potato was wholesome and simply delicious. And the taste of
Kat
, fiery spicy red gravy, served along with Misal is something that I had never experienced in my life before! By the time we both licked cleaned our plates, we had also finished drinking last drop of water from that big steel jar and were asking for more water!!!
Since then it had kind of slipped from my mind until few weeks back when I received a mail from my friend reminding our wonderful days spent in hostel and the food we gorged during weekends or weekdays when we couldn't stand the thought of chewing bullet proof chapatti with watery dal in hostel mess. Suddenly I remembered eating
Kolhapuri Misal
and there was nothing that could stop me from eating it except I had to Google for the recipe and cook it all by myself. While googling for the recipe I stumbled upon
Nupur's One Hot Stove
and
Vaidehi's Chakali
and I decided to cook it on weekend. A day before the cooking, I made fresh batch of
Kolhapuri Masala/Chutney
following Nupur's recipe. Since then I have been using this spice powder in stir fries and curries in place of garam masala and experiencing the goodness of homemade spice powder. I cooked
Usal
following Nupur's recipe and made the spicy curry
Kat
following Vaidehi's recipe for Kat. Since then I have cooked this delicious Kolhapuri Misal twice in last month and next time I am thinking of combining moong sprouts with matki sprouts. Kolhapuri Usal is a wholesome, delicious, humble food and is a must for every Marathi and spicy food lovers. Without much delay let me give you step by step instruction on how to make this fiery hot bowl of
Kolhapuri Misal
. This my entry for Ashwini's
Lentils Mela
and Susan's
My Legume Love Affair
.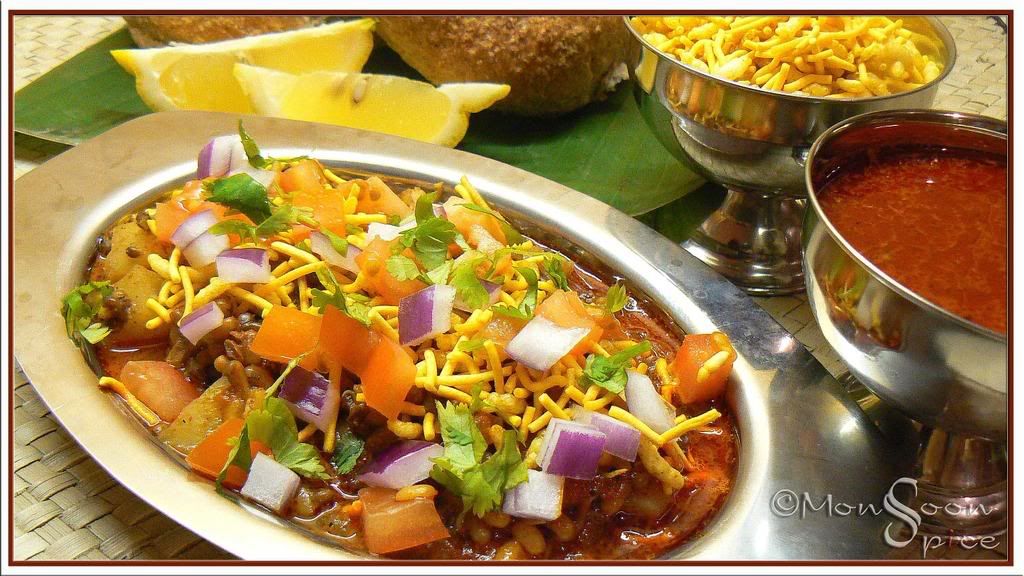 Kolhapuri Misal
Day 1:
Wash and then soak 1 cup of Matki/Moth beans in 2 cups of water in the morning. Let it soak for at least 8-10 hours. Then drain water from the beans and place them in a colander lined with damp muslin cloth. Cover the beans with the muslin cloth (like money bag) and place the colander in a dark place overnight. Make sure that the cloth is damp enough and sprinkle little water in between so that the beans don't dry out. It usually takes 2 days (16-24 hrs) here for the beans to sprout well. So if I am planning to cook anything with sprouted beans I make sure that I prepare for it two days well in advance.
You can also prepare the
Kolhapuri Masala/Chutney
on day one itself and store it in an air tight jar. And make sure that you have got all the ingredients needed for making Misal. You can also make the spice powder for Kat this day or simply use Kolhapuri chutney in its place.
Day 2:
This is the day you prepare
Usal
and
Kat
. Preparing Usal and Kat is very simple and straightforward since we have already prepared the Kolhapuri chutney on previous day. Over all it took me around 1 hour to cook and serve spicy
Kolhapuri Misal
with help from TH.

Print This Recipe
---
Kolhapuri Masala/Chutney Powder
Prep Time: 5 mins
Cooking Time: 5-10 mins
Makes: ½ cup
Shelf Life: 1 month
Recipe Source:
One Hot Stove
Recipe Level: Easy/Beginner to Intermdeiary
Spice Level: Medium to High
---
Ingredients:

½ cup Red Chilli Powder

¼ cup Coriander Seeds

1 tsp Jeera/Cumin Seeds

2 tbsp Dry Coconut. Shredded (unsweetened variety)

1 tsp Sesame Seeds

1 tsp Black Peppercorns

¼ inch Cinnamon Stick

2-3 Cloves

¼ tsp Fennel Seeds

½ medium Onion, thinly sliced

2-3 Garlic Cloves, thinly sliced

¼ cup Coriander Leaves, patted dry and finely chopped

½ tbsp Oil
Kolhapuri Masala/Chutney Powder
Dry roast coriander seeds, jeera, sesame seeds, black peppercorns, cinnamon stick, cloves and fennel seeds in a skillet till they are fragrant and roasted fine, about 1-2 mins. Set it aside to cool.
Heat oil in a same pan and roast finely sliced onion, garlic and coriander leaves till they are nicely browned and crisp. Set them aside to cool completely.
Now grind all these ingredients to fine powder. Add red chilli powder to the ground spice powder and mix them well.
Cool and store this spice powder in an air-tight container in the refrigerator.

---
Since the spice powder is made using fresh ingredients like onion, garlic and coriander leaves, make sure that they are nicely browned (but not burnt) and dry. Or else the spice powder will have shorter shelf life.
---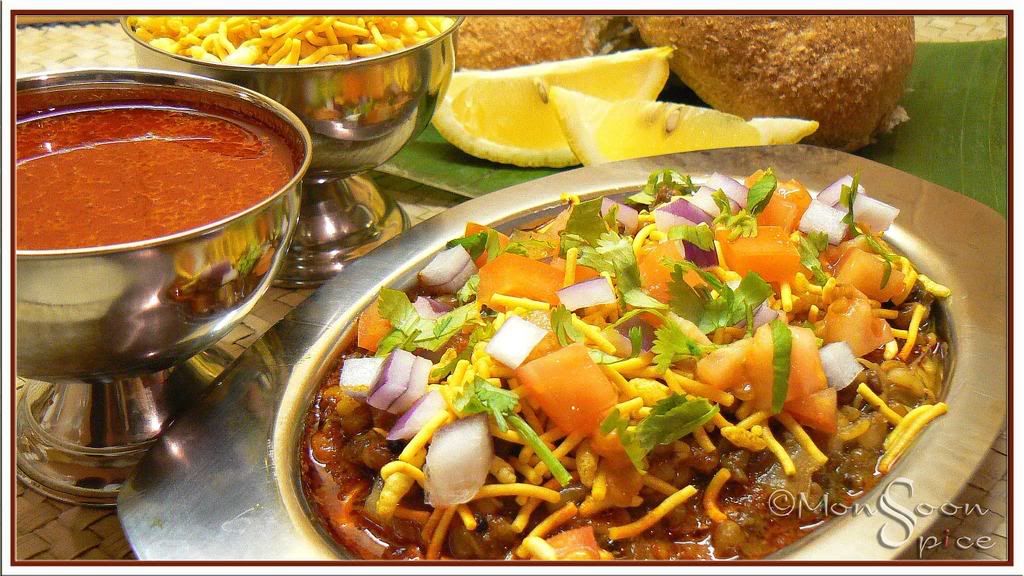 Kolhapuri Misal

Print This Recipe
---
Kat

(Spicy Gravy served with Misal)




Prep Time: 5 mins




Cooking Time: 10 mins




Makes: 1¼ cup




Recipe Source:

Chakli
Recipe Level: Easy/Beginner
Spice Level: Super HOT!
Serving Suggestion: With Usal
---
Ingredients:




1 tsp Turmeric Powder

½ tsp Hing/Asafoetida

4-5 tsp Red Chilli Powder

2-3 pieces of Kokum or 1 tsp Tamarind Paste

Salt to taste

2-3 tbsp Oil (Original recipe calls for 5-6 tbsp)

For Kat Paste:

1 small Onion, finely chopped

2 tomatoes, finely chopped

2-3 tbsp grated Coconut, fresh/frozen

2 tbsp Oil

Grind to Fine Powder:

3-4 Garlic Cloves

1 inch Ginger, peeled

1 inch Cinnamon Stick

2-3 cloves

1 Bay Leaf

2-3 Black Peppercorns

1 tbsp Jeera/Cumin Seeds

1 tbsp Coriander Powder

-OR-

Simply use 2 tbsp Kolhapuri Masala in place of the above spice powder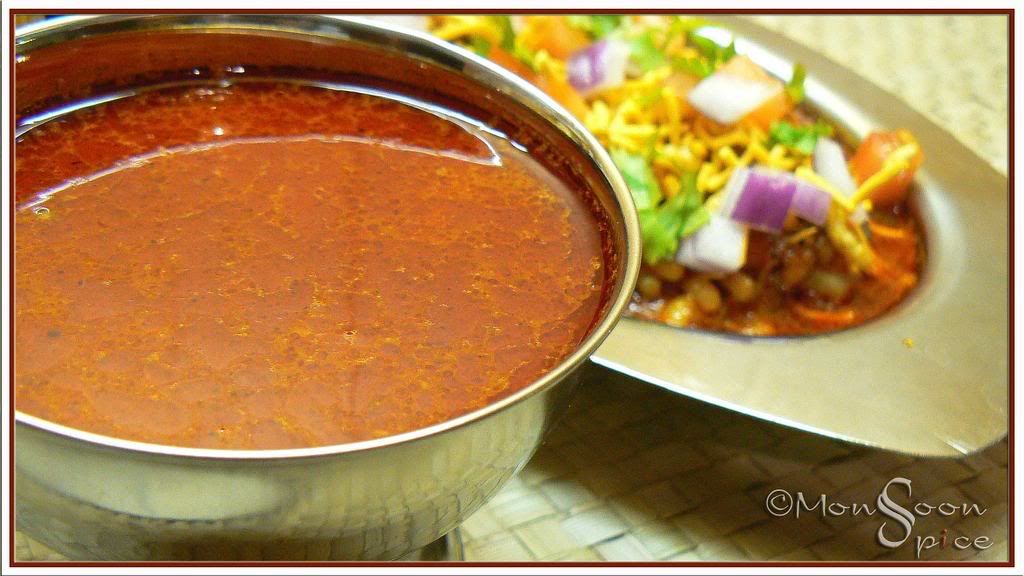 Kat
For Kat Paste:
Heat 2 tbsp oil in a pan and ground masala powder or Kolhapuri masala and sauté for couple of seconds till the raw smell disappears from spice base. Make sure that you don't burn it.
Next add finely chopped onion and tomatoes and cook for 2-3 minutes. Mix in grated coconut and cook till the mixture starts to leave oil, about 3 minutes.
Cool the mixture completely and grind to smooth paste adding little water at time.
For Kat:
Heat 1-2 tbsp of oil in a pan and add turmeric powder, chilli powder and hing. Immediately add the Kat paste and about ¾-1 cup of water and mix well. Mix in kokum/tamarind paste and salt to taste and bring the whole mixture to boil. Turn off the heat and keep it aside till needed.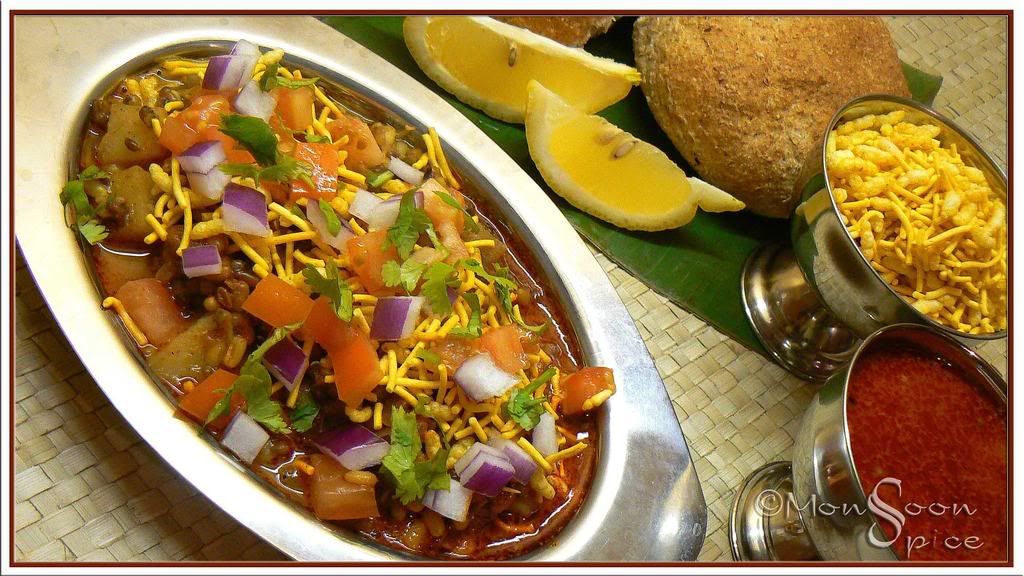 Kolhapuri Misal

Print This Recipe
---
Kolhapuri Misal/Usal

(Sprouted Moth Beans cooked in Spicy Gravy of Onion, Coconut and Kolhapuri Misal Masala)
Prep Time: 10 mins
Cooking Time: 20-30 mins
Serves: 4-6
Recipe Source:
One Hot Stove
Recipe Level: Easy/Basic to Intermediary
Spice Level: Super HOT!
Serving Suggestion: With Pav Bun
---
Ingredients:

1 cup Dry Matki/Moth Beans, soaked overnight and sprouted

1 large Potato, peeled and cut into 1 cm cubes

1 large Onion, finely chopped

½ cup raw/roasted Peanuts

1 tsp Tamarind Paste

1-2 tbsp Jaggery/Brown Sugar

½ tsp Turmeric Powder

Salt to taste

For Kolhapuri Masala/Chutney Paste:

1 large Onion, finely chopped

½ cup grated coconut, fresh/frozen

1 heaped tbsp Kolhapuri Masala/Chutney (Adjust acc to taste)

½-1 tbsp Oil

For Tadka:

1 tsp Mustard Seeds

1 tsp Jeera/Cumin Seeds

Few Curry Leaves

¼ tsp Hing/Asafoetida (Optional)

1-2 tbsp Oil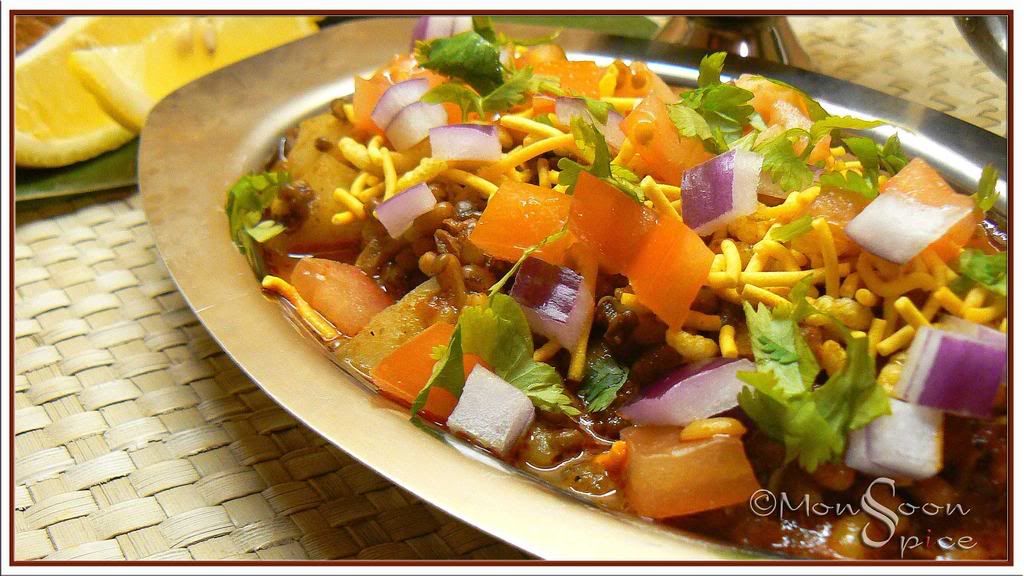 Kolhapuri Misal
First prepare Kolhapuri Masala/Chutney paste. Heat oil in a pan and add finely chopped onion. Sauté the onion till it turn golden brown. Then add grated coconut and Kolhapuri masala and sauté till the coconut turns golden brown. Cool this mixture and then grind to smooth paste adding little water at time. Keep it aside until needed.
Heat oil in a pan and add mustard seeds to it. When it starts to pop and splutter, add cumin seeds, hing and curry leaves. Sauté till cumin turns golden and then add chopped onions to it.
When onions turn translucent, add peanuts, sprouts, potato, turmeric powder, ground Kolhapuri masala paste and salt. Keep stirring for couple of minutes till the masala is evenly spread.
Now add 5-6 cups of water and cook in medium flame. When curry starts to boil, simmer the heat and cook till the sprouts turn tender and potatoes are cooked thoroughly.
Mix in tamarind paste and jaggery and simmer for few more minutes for all the flavours to blend well. Adjust the seasonings before serving this delicious Misal.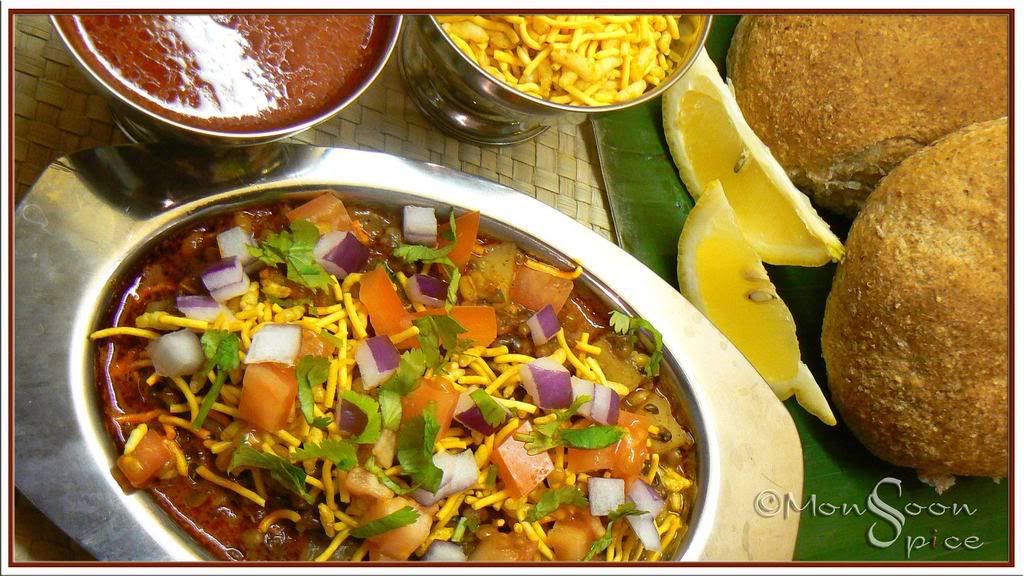 Kolhapuri Misal
To Assemble Misal:




Ingredients needed:


Kat
Usal
Yogurt
Finely chopped Onion, tomato & Coriander Leaves
Lime/Lemon Wedges
Farsan or any Spicy Mixture or Chips
Pav or White Bread Slices
Method:
Take an individual bowl/plate and add 2 ladles full of Usal. Drizzle Kat depending on how spicy you like, yogurt, finely chopped onion, tomato and coriander leaves on top of Usal. Then add little bit of farsan/spicy mixture/crushed potato chips and serve this along lime/lemon wedges and slices of white bread/Pav.
---
Use dry desiccated coconut if fresh/frozen coconut is not available.
Use Green Moong Beans if Matki/Moth beans are not available. Make sure that you use the sprouted beans.
For delicious, fulfilling meal/diet idea, serve simple Usal with a cup of cold Yogurt.
You can use combination of Garlic paste + Coriander powder + Cumin powder + Red Chilli powder + Garam masala in place of Kolhapuri Masala (Tip by Nupur).