Location: Port-Au-Prince, Haiti
It is lunch time in Haiti's slums. You can see round swirls of dough which are arranged in rows and columns, baked in the hot sun. From distance they might look quite appetizing to you. As you move closer to the spot you'll suddenly realise your appetite has died down when you learn the ingredients used to make these cookies. These cookies are made of butter, salt, water and one main ingredient. No, the main ingredient used is not flour but clay/dirt!!! Sometimes crumbled foil-wrapped cube of bouillon are added into the mixture, which they stir, shape into discs the size of a saucer and leave to bake in the Caribbean sun. With food prices rising, Haiti's poorest can't afford even a daily plate of rice, and some take desperate measures to fill their bellies by eating these clay cookies.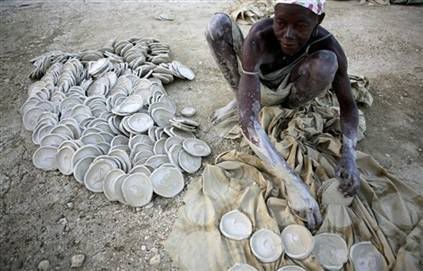 Yolen Jeunky, 45, collects dried mud cookies to sell in Cite Soleil in Port-au-Prince.
Img Source:
MSNBC
Haiti is the poorest country in the western hemisphere. More than 76% of the Haiti population lives on less than $2.25 a day. Each and every day the number of people eating these mud biscuits for survival is increasing at a steady pace. To make these mud cookies the mud, which comes from Haiti's central plateau region, is first strained and then shaped into biscuits which are then left in the sun to bake.

It is not just recently that these pale brown biscuits known by locals as "terre", have been consumed by the local people. Before the food price hiked in Carribean countries, these mud cookies have traditionally been eaten by pregnant Haitians and children as an antacid and source of calcium. But in recent years, many Haitians unable to afford even a plate of rice, 'terre' has become their staple diet. A reporter who sampled these cookies found it had smooth consistency and they suck out the moisture from the mouth when they touch the tongue, leaving unpleasant earthy aftertaste that lingers for hours.

---
"The Food and Agriculture Organisation recently declared a state of emergency in Haiti. According to the U.N. agency, food prices have gone up by almost 40 per cent in the wake of floods and crop damage caused by hurricanes."
---
Also food prices around the world have spiked because of higher oil prices which is needed for transportation, fertilizers and irrigation. Even prices for basic ingredients like corn and wheat are also sharply risen which in turn is pressuring global food market.
At Caribbean countries, this hike in food price is clearly visible as these island nations depend on imports. At the markets in Haiti's slum, two cups of rice is being sold at the price of 60 US cent, already hiked by 10 cents since December and 50% from a year ago. Other staples like beans, milk and fruit have shot up at a similar rate and shockingly even the price of the clay used in making these mud cookies has increased! Dirt to make these mud cookies now costs $5 and these cookies are sold at about 5 cents a piece which is a bargain for many Haitians when compared with staples.
In a world where the rich spend millions on ways to avoid carbohydrates and calories, where obesity is declared as a global health treat, we are still unaware of these people who struggle each day just to get enough calories to survive. Next time, when you are about to throw food in waste bin, please think of these 'dirt-eating' people.
More Reads:
Mud biscuits in Haiti