Aloo-Methi Paratha

Grocery shopping is never simple, at least in our case! Reason? Oh, the usual one!!! I feel like a kid lost in candy shop. I am one of those nut cases who spend more than required time gazing, touching, picking, thinking, re-picking, re-thinking, re-picking all those vegetables and fruits and even canned tomatoes till people waiting behind me start to throw darts from their eyes, fire from their mouth and are about to run their cart over me. Every time it's a same story, go for just few ingredients and end up buying a cart load. I have no idea how we end up with bagful of things when we all wanted to buy was just a bar of soap or bag of potatoes!!! I say to myself, just last time but in the end we leave the supermarket with few extra bags and few extra pounds (wish it was weight!!!) lighter. Well, this is what being expected from me when you do weekly or fortnightly shopping at supermarkets. Well, Krish says he can't take the high risk of taking me for grocery shopping on weekends when he can watch his favourite sports on telly. Men!!!
Few weeks back something different happened. I was looking for a bunch of indispensable coriander leaves at herbs sections and found out they were moved to different aisle. Just when I was about to get annoyed I spotted something which made me almost scream with joy. There it was, one whole shelf filled with Indian greens and vegetables. Bottle gourd, Okra, Bitter gourd, Plantains, Palak, Methi, Sugarcane and big bunches of Coriander and Mint leaves unlike the usual few stings. And to top it all they had even stocked Curry leaves. I did a virtual cartwheel with joy and pushed my cart at record speed towards them like a horse with a carrot dangling in front of it. And I did another virtual happy dancing when I saw 2 for a pound offer for all green leafy vegetables. 2 big bunches of palak, another two bunches of fresh methi leaves and big bunch of coriander, curry and mint leaves were picked at lightening speed.
For next few days we had marathon cooking series of Aloo Palak, Dal Palak, Aloo Methi, Methi Matar Malai, Methi Dal and still were left with half bunch of Methi. Not wanting to cook another curry we decided to make stack of hot and delicious

Aloo-Methi Paratha

. Oh yes! I am still in honeymoon period when it comes to stuffing and rolling parathas since I made first batch of Aloo-Peas Parathas few months ago. And every time I stuff and roll them I feel giddy with joy of getting evenly stuffed and perfectly shaped parathas.
This time I kept the filling very simple and minimal. Few green chillies for heat, amchur powder for tanginess, and cumin for fragrance is all I needed. Hing is added for digesting starchy potato. All these ingredients complimented little bitter fenugreek leaves and creamy potatoes. Served with a bowl of creamy Yogurt and spicy Garlic Pickle, it was one very fulfilling and delicious rainy and gloomy weekend brunch. Off my stack of Aloo-Methi Parathas go to dear Latha who is guest hosting this month's WBB-Combi Breakfast initiated by lovely Nandita and also to dear Redchilli who is guest hosting Herb Mania-Fenugreek initiated by Dee.
Wishing all my fellow Indian bloggers a very Happy Independence Day... Jai Hind.

Print This Recipe
---
Aloo-Methi Paratha

(Indian Flatbread stuffed with mashed Potatoes and aromatic Fenugreek Leaves)
Prep Time: 10-20 mins
Cooking Time: 20-30 mins
Makes: 10 Medium Sized Parathas
---
Ingredients:




For Dough:


3 cups Chapatti Atta/Whole Wheat Flour (I used Pillsbury Chakki Atta)
2 tbsp Yogurt
Salt to taste
Warm water to knead



For the Stuffing:


2 packed cups of Methi Leaves, picked, washed and chopped
2 large Potatoes, cooked, peeled and mashed well
2-3 Green Chillies, very finely chopped
½ tsp Amchur Powder
1 tsp Cumin Seeds, roasted
¼ tsp Hing/Asafoetida
Salt to taste



Other Ingredients Needed:


Oil/Ghee to brush while cooking the Paratha
Little Atta/flour for dusting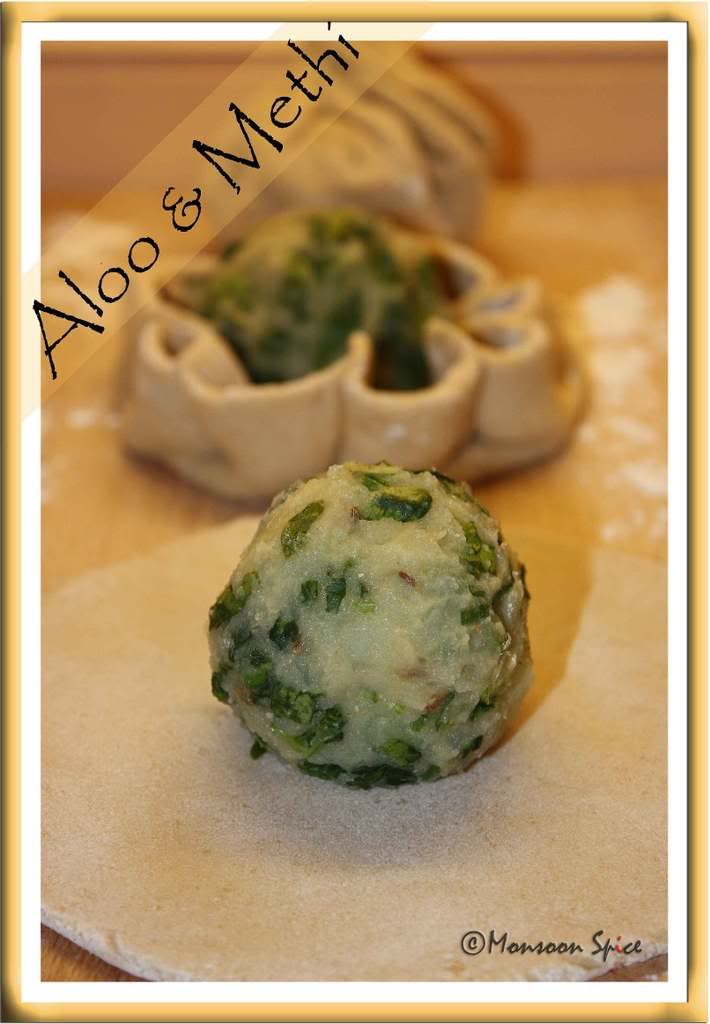 Sieve atta and mix in salt, yogurt.
Slowly add warm water as and when required and make stiff dough.
Cover and keep it aside for at least half an hour.

Mix in chopped green chillies, dry mango powder, roasted cumin seeds, salt to taste with chopped methi/fenugreek leaves and mashed potatoes. Make sure the filling is lump free as it will be easier to stuff and roll the paratha without the filling oozing from the sides.
Make equal lemon sized balls and keep them aside till needed.

For the Paratha:

Knead the dough again for a minute and make equal lemon sized balls.
Roll this dough ball in flour and roll them using a rolling pin into thick poories of 4 inch in diameter.
Place one aloo-methi ball in the centre. Cover and seal the ends and roll again, dusting flour if necessary, into ½ cm thick roties using rolling pin.
Mean while, heat a griddle at high flame and lower it to low-medium flame.
Gently dust off the excess flour and place Stuffed Paratha on hot griddle and cook on both the sides till its cooked well and brown spots start to appear on top. Apply little ghee/oil if desired.
Serve hot Aloo-Methi Parathas immediately with any curry or with plain yogurt and pickle of your choice and enjoy.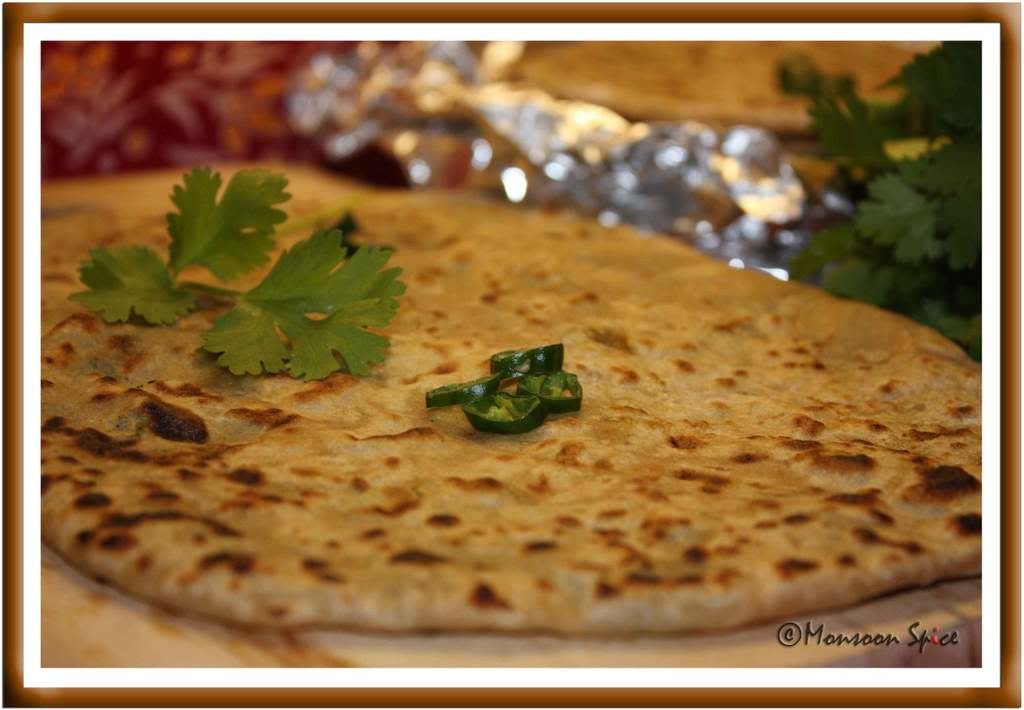 ---
Notes:
Before mashing the potatoes let them cool completely. This way the filling will remain dry and filling will not ooze out from covering.
Make sure that the potatoes are mashed without leaving any lumps. This helps in rolling the parathas with even surface.
The leftover parathas can easily be frozen. To do this, cut few square sheets of butter paper or baking sheet of equal size so that it covers the paratha well. Place a paratha on one sheet and cover it with another square sheet. Place another on top of it and repeat till all the parathas are over. Place this in a large zip lock bag and store it in a freezer. It is better to write the date on which the parathas were cooked. I usually use them by one month.

Other Stuffed Paratha recipes blogged so far



---
Reminder for JFI-Soya:
I invite you all to celebrate Jihva for Ingredients with this month's theme
JFI-Soya
. Choice of Soya products, the recipe, ingredients, method etc is entirely left to you. I would greatly appreciate if you can send me any Vegan or Vegetarian recipes but I leave it to your choice. Soya foods include tofu, tempeh, textured vegetable protein (chunks, mince etc), miso, soya sauces, soya oil and margarine, and soya dairy alternatives.
Deadline: 31st August, 2008
Please go through the guidelines and include all the required information in your post and also in your e-mail while sending your entry. Don't forget to add Your Name, Your Blog Name, Name of the Dish, Type of Dish and Perm Link of the entry along with the gorgeous Photo of final dish.

Click Here
or on the logo to find out more information on this event.