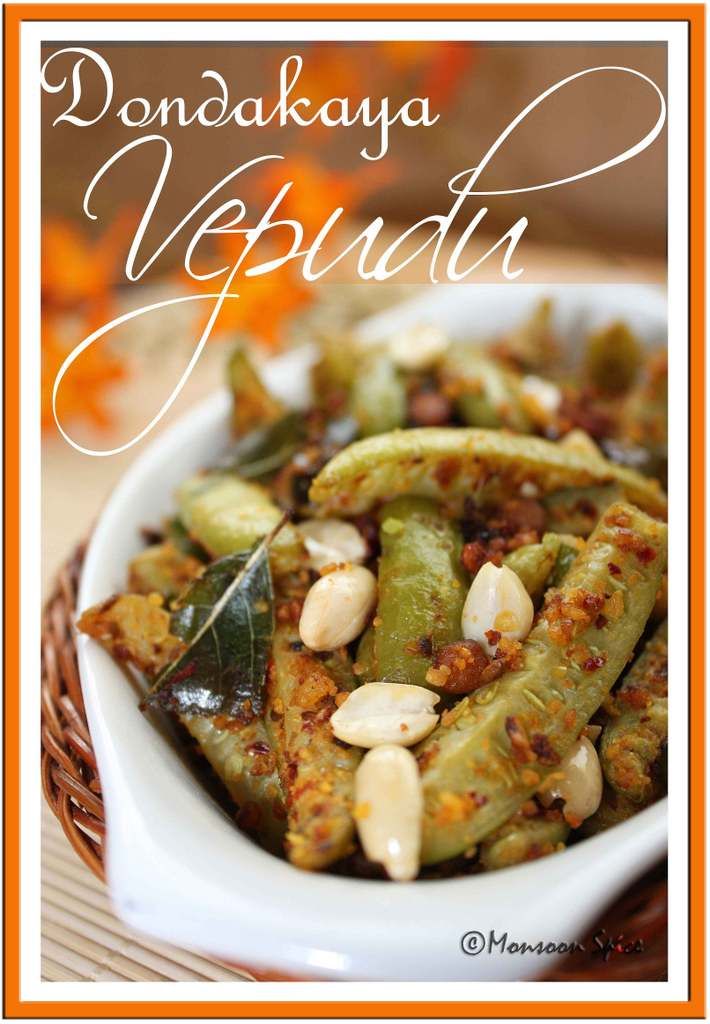 Dondakaya Vepudu
What's in a name?
A rose by any other name would smell as sweet…
~

William Shakespeare
But TonDekai and BenDekai taste different and even smell different…
For those who don't know what I am blabbering about, TonDekai and BenDekai are the names for Tindora/Ivy Gourd and Okra/Ladies finger respectively in Kannada. Growing up back in India, I always got confused between these two vegetables. Whenever my Amma asked me to buy TonDekai from vegetable shop, I ended up getting BenDekai and vice versa. Reason? Confusion in names, between single Kannada letters!!! For a girl who always won prizes in memory games, these two vegetable names were source of frustration and irritation. I would go to nearby shop and stare endlessly at these two vegetables trying to recall which one did Amma asked me to buy. Is it BenDekai or TonDekai? TonDekai or BenDekai??? B or T? T or B? TB, TB, TB, Tuberculosis???
If rose is a rose is a rose is rose,




Then TonDekai is a TonDekai is a Tondekai is a TonDekai




And BenDekai is a BenDekai is a BenDekai is a BenDekai


~ With due respect to

Gertrude Stein
At last I decided to do something about it. I decided to call Ivy Gourd as Man's toes. Well, if Okra could be named as ladies finger for its appearance then Ivy Gourd very much looked like Man's toes to me. Hence then onwards I asked Amma if she was planning to cook ladies finger or man's toes for dinner! Sounds funny but was not that amusing for guests who were shocked when I told them they will be served man's toes curry with Roti for lunch ;) Well, at last I was forced to remember their name as my parents were not very keen to develop the reputation of cooking and serving man's toes for their unassuming friends.
Growing up I always loved Ivy gourd, even when I was one rebellious teen. There was the time when my dad grew TonDekai in backyard. This tropical vine would give beautiful white flowers which grew into crunchy green fruits with thousands of small seeds in them. Eating young raw ivy gourd was one of my favourite pass times and I continued to religiously eat them till one day my Ajji told me it's not good for memory cells. I am still not sure if there is any truth behind it or it was one of the tricks of my granny for to keep me away from eating all tender ivy gourds before they could be used in cooking. If you haven't tasted this very young ivy gourd then I suggest you to do so when you get a chance. It is crunchy and totally delicious. Well, I wouldn't suggest the same for mature ones.
My favourite way to cook Ivy gourd is stir fried with cashews, simple stir fry and Mangalorean Huli-Menasina Kodhel. Amma also makes simple Tindora Rice which I will post sometime soon. Recently I was looking for some new recipes to cook with Ivy Gourd and I stumbled upon

Sailu's blog

where she has posted a simple recipe of Tindora stir fry with Peanuts called

Dondakaya Vepudu

. There I also saw a list of common names in different languages by which ivy gourds are known. TinDora, TenDli, TonDekai, Ivy Gourd, DonDakayi, Kovaikai, etc … I have come across all these names for Tindora but did you know it is also called as Gentleman's toes? Now my name of Man's Toes for TonDekai doesn't sound too alien ;) coming back to the recipe, this is a popular Andhra style stir-fry from her Amma where the sliced Tindora is cooked with a tempering of fresh curry leaves and mustard seeds and then mixed with aromatic powder of roasted peanuts, dry red chillies and cumin seeds. One look at her photographs of the final dish I was all set to create this magic in my kitchen. I almost followed her recipe but tweaked little extra ingredients in tadka/tempering, along with roasted peanuts, which we normally use in Kannadiga Palya or stir-fries to add extra crunch. With in no time this delicious stir fry was ready to be devoured with steaming bowl of white rice and simple Tadka Dal. Next day I served it with fresh Chapatti and small bowl of Yogurt and the plate was licked clean. Thank you Sailu, for posting this delicious recipe which has become our family favourite and will again be cooked shortly.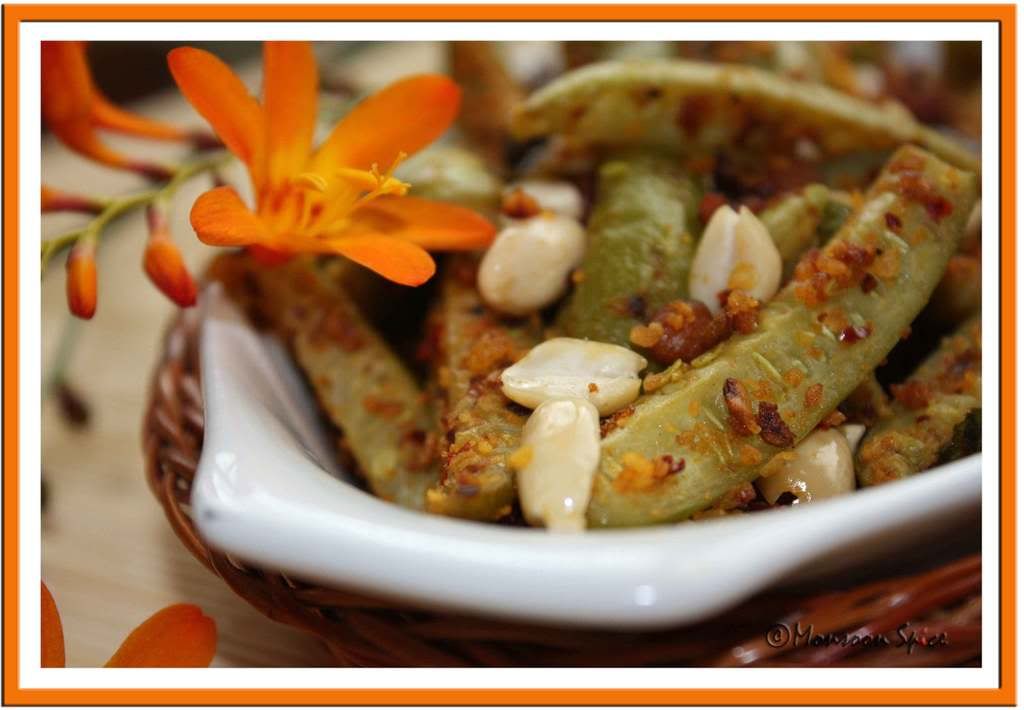 Print This Recipe
---
Dondakaya Vepudu

(Ivy Gourd stir fried with roasted spices and peanuts)
Prep Time: 10 mins
Cooking Time: 15-20 mins
Serves: 3-4
Recipe Source: Sailu's Food
---
Ingredients:


20-25 Ivy Gourds, ends trimmed, slit vertically length wise into two pieces and again sliced into thin long strips
¼ tsp Turmeric Powder
1-2 tbsp Roasted Peanuts, for garnishing
Salt to taste



To be Roasted & Coarsely Powdered:


Few drops of Oil
1 tsp Jeera/Cumin Seeds
2-3 Dry Red Chillies, stalk removed and deseeded if needed (Adjust acc to taste)
1½-2 tbsp roasted Peanuts



For Tadka/Tempering:


1 tsp Mustard Seeds
1 tsp Urad Dal/Split Black Lentils (Optional)
½ tbsp Channa Dal/Split Bengal Gram (Optional)
1-2 Dry Red Chillies
Few Curry Leaves
A big pinch of Hing/Asafoetida (Optional but recommended)
1 tbsp Oil
Method:
Heat few drops of oil in a pan and add cumin seeds. When they start to sizzle and turn light brown, add red chillies and sauté it for another 10-15 seconds on medium flame. Turn off the heat and let the spices cool. Add these roasted spices with roasted peanuts and grind into coarse powder. Keep it aside till needed.
Heat oil in a same pan and add mustard seeds to it. When it starts to pop and splutter, add channa dal, urad dal, broken red chilli and sauté till dals turns light golden brown. Mix in hing and curry leaves and stir till nice aroma comes out, about 10-15 seconds on medium flame.
Add the sliced ivy gourds and mix well. Mix in turmeric powder and salt to taste. Sauté it continuously on medium heat for about 4-5 mins, making sure it doesn't stick to the bottom of the pan. Reduce the heat to low and cover and cook for another 5-7 mins, stirring in between. Make sure that you don't over cook the gourds as it should retain its crunch.
Mix in ground powder and combine well. Cook on reduced heat for another 2-3 mins till all the flavours blend well.
Garnish with roasted peanuts and serve hot with steaming bowl of rice/chapatti, dal/rasam/sambar and enjoy.


---
Reminder for JFI-Soya:
I invite you all to celebrate Jihva for Ingredients with this month's theme
JFI-Soya
. Choice of Soya products, the recipe, ingredients, method etc is entirely left to you. I would greatly appreciate if you can send me any Vegan or Vegetarian recipes but I leave it to your choice. Soya foods include tofu, tempeh, textured vegetable protein (chunks, mince etc), miso, soya sauces, soya oil and margarine, and soya dairy alternatives.
Deadline: 31st August, 2008
Please go through the guidelines and include all the required information in your post and also in your e-mail while sending your entry. Don't forget to add Your Name, Your Blog Name, Name of the Dish, Type of Dish and Perm Link of the entry along with the gorgeous Photo of final dish.
Click Here
or on the logo to find out more information on this event.