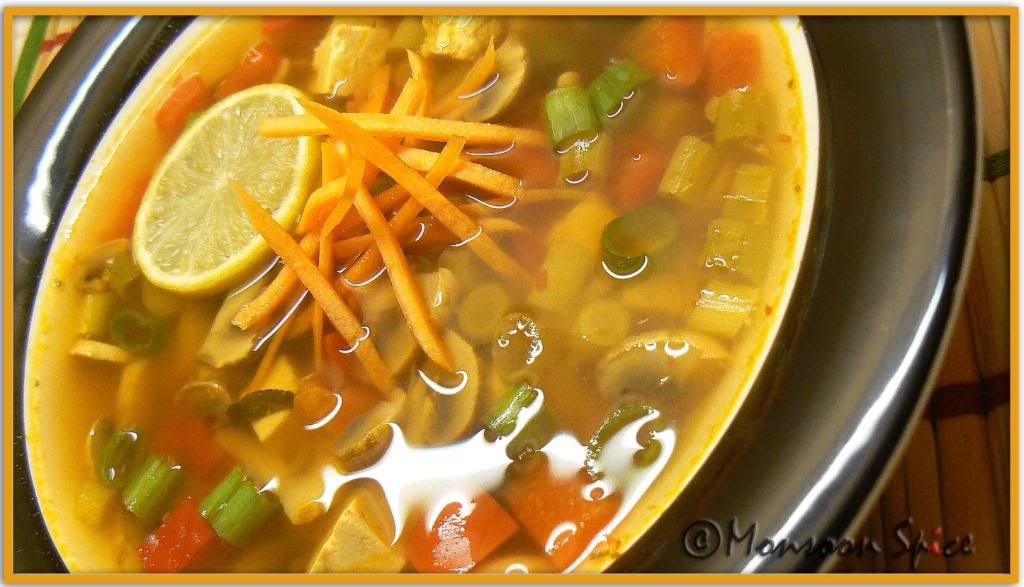 Tome Yum Soup with Mushroom & Tofu
With the mercury hitting south in our part of the globe, our kitchen smells of sizzling pots of soups, rasams and dals. Sizzling bowl of soup with warm bread straight from the oven or steaming cup of rice with hot Rasam/Dal is what we crave for. After my successful attempt at making Thai Curries, I was keen to learn and cook something new. Thai food is greatly influenced by its neighbours, India, China, Malaysia and Laos. No wonder our Indian taste buds start singing and dancing when tasting Thai food, an explosion of salty, spicy, sweet and sour flavours that sparkle with personality. The four main Thai flavour groupings are salty (from fish sauce), sweet (from coconut and palm sugar), spicy (from dry and fresh chillies) and sour (tamarind, lime, lemongrass), with the less used bitter as a fifth primary flavour. These five primary flavours are the characteristics of Thai cooking, something to touch and delight every taste bud.
As I said in my
earlier post
, don't get intimidated by the unfamiliar ingredients used in Thai cooking. There are good substitutes available which you can use if few ingredients are not available in your local shop or you can omit those ingredients which you are not very fond of. And more importantly, don't be afraid to make changes to suit your taste. While cooking Thai food at home, we found that the food tasted much better than the one from local Thai restaurant. And why it shouldn't, with freshest of fresh ingredients used, homemade curry pastes and spices made a whole difference. You will never get to see the liberal use of fresh ingredients in any restaurant as at home. Many people shy away from cooking Thai food under the misconception that it takes lot of time and ingredients which are unfamiliar to them. Something magical is created when you cook Thai food or any foreign food over time and the ingredients which were aliens in the beginning become more familiar. I find the time consuming dishes more rewarding. Believe me when I say it is as close as meditation when you get to use mortar and pestle and pound out day's anxiety.
With today's recipes we want to prove that Thai cuisine can be as simple as it can get and you need not use many ingredients to taste some authentic Thai fair. By planning ahead and little preparation everyone can cook delicious Thai food which sure to please every taste bud. Make sure you use the best and freshest ingredients and be flexible. Cook with an air of playfulness, experiment with flavour and learn to balance. If you are not sure and nervous, follow the recipe strictly and pay careful attention to the final result. As you taste the dish, think to yourself: is it spicy/sweet/sour/salty enough? Does it suit your palate? Most importantly, remember to please yourself-cook the food the way you like it because it should taste good to you and enjoy the whole process. Every time we experiment and cook, we learn something new. Cooking is as refreshing as meditation with delicious food as a reward and nobody can say no to this delicious reward :)
Armed with our new acquisition
Real Vegetarian Thai
by Nancie McDermott to our empty cookbook rack we tried two Thai clear soups, Tome Yum Soup with Mushroom & Tofu and Jasmine Rice Soup with Mushrooms, Green Onions & Crispy Garlic. As author says,
"Soup is an essential component of almost every meal, served and savored along with rice and its accompanying dishes. In keeping with Thailand's Chinese culinary ancestry, soup functions as a beverage, a liquid refreshment that cleanses the palate between bites and makes way for further rides on roller coaster of tastes that make up a classic Thai meal."
Most of the Thai Vegetarian recipes are also perfect for Vegans and I thought these soups will be a perfect entries for this Vegan Month. These two Thai Clear Soup goes to
Suganya's Vegan Ventures
Event.
Nancie says,


"Tome Yum Soup with Mushroom & Tofu is a one bowl celebration of Thailand's sparkling cuisine. Spicy hot with roasted chilli paste and sharply fragrant with lemongrass, wild lime leaves, and a squeeze of lime, tome yum sounds an inviting reveille to your senses."
And I totally agree with her. This delicious flame-colored broth studded with green herbs and vegetables with exotic citrus perfume is a pure delight to one's senses. Serve hot with a bowl of jasmine rice and enjoy its healing power.


Print This Recipe
---
Tome Yum Soup with Mushroom & Tofu
Prep Time: 10 mins
Cooking Time: 20 mins
Makes: 3-4
---
Ingredients:


4 cups Vegetable Stock
2 Lemongrass Stalks
3+2 Kaffir Lime Leaves, cut into long stripes
1 inch Galangal/Ginger, sliced (Optional)
3 tbsp Lime Juice, freshly squeezed
3 Spring Onions, thinly sliced
1 Green Chilli, thinly sliced
1 cup Tofu, cut into 1cm cubes
1 cup Button Mushroom, thinly sliced
½ cup Carrot, julienned (Optional)
½ cup Red Bell Peppers, cut into i cm pieces (Optional)
1-2 tbsp Sambal Olek
1 tbsp Basil Leaves, finely chopped (Optional)
2 tsp Palm Sugar
1-2 tsp Soya Sauce
Salt to taste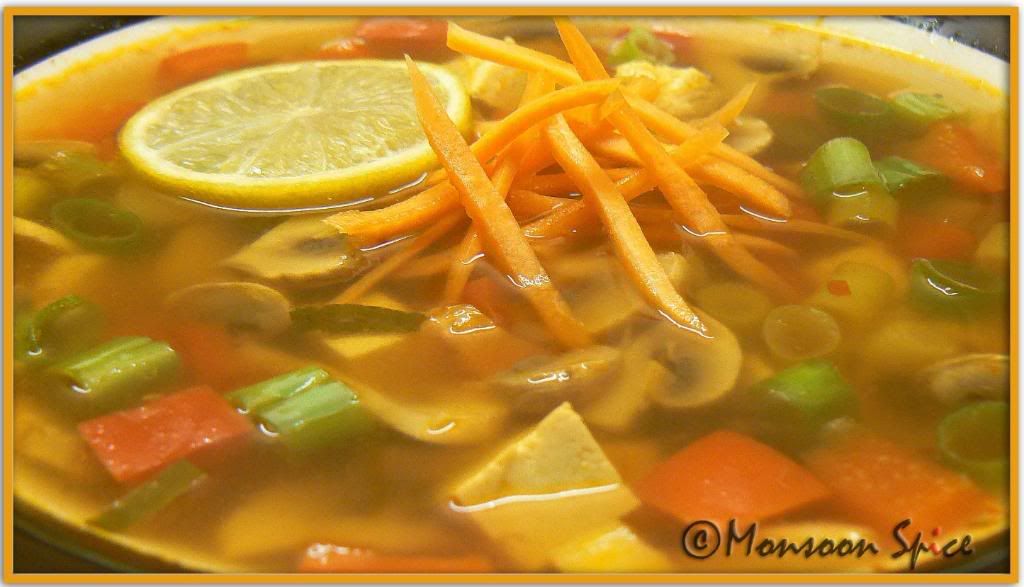 Tome Yum Soup with Mushroom & Tofu
Method:
In a large pan bring vegetable stock to boil over medium heat.
Meanwhile, trim the lemongrass stalk by removing upper hard, dried skin leaving smooth stem. Cut the stalk into 2 inch pieces and lightly bruise the stalk with pestle and mortar.
Add bruised lemongrass , 3 kaffir lime leaves strips, galangal to boiling stock and reduce the heat to low. Let the ingredients simmer for 5-8 minutes till lemongrass stalks turn into khaki green and nice citric aroma fills the room.
While the soup simmers, combine spring onion greens, 2 kaffir lime leaves strips, green chilli slices and lime juice and place them into serving bowls and keep aside.
Scoop lemongrass stalks, galangal from vegetables stock and discard. Add tofu, mushrooms, carrot, bell peppers, basil leaves, sambal olek, soya sauce, sugar, spring onion and salt to taste and increase the heat to high.
When the soup boils again, remove it from heat and pour it on serving bowls and serve at once with Jasmine Rice.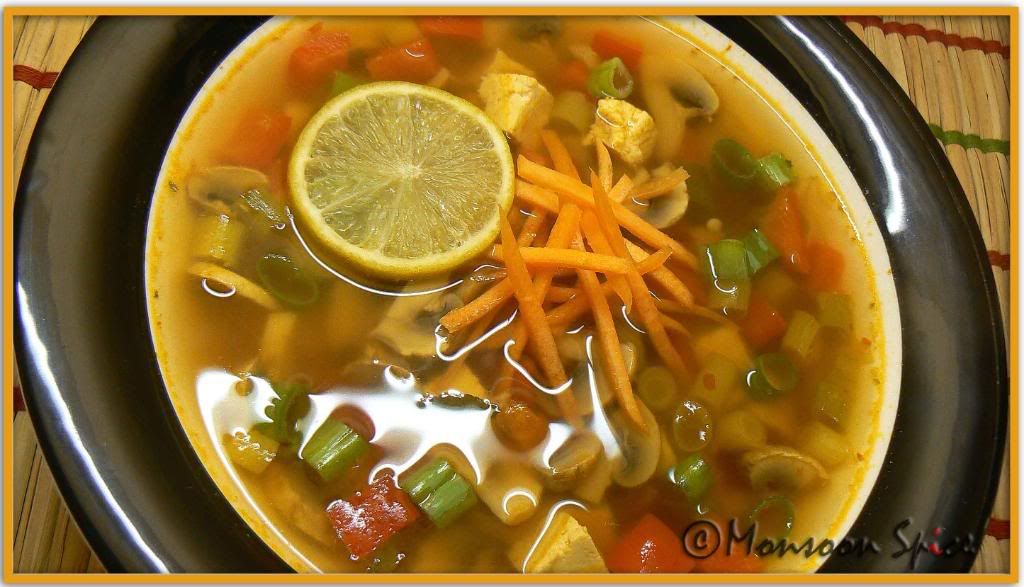 Tome Yum Soup with Mushroom & Tofu
Nancie says,
"Rice soup is comfort food in Thailand, simmered up from leftover rice to nourish a family member who is ill. It is also popular as a hearty breakfast or midnight snack. Cold, fever, aches, hangover and heartbreaks all seem to soften their edge just a little when a generous steaming bowl of Kao Tome appears."
And how can we not try this soup which claims to have medicinal properties and can be served as one-dish meal to satisfied our taste buds. We omitted Wheatballs or Wheat Gluten which the recipe calls and made few changes to suite our taste.
Jasmine Rice Soup with Mushrooms, Green Onions & Crispy Garlic



Print This Recipe
---
Jasmine Rice Soup with Mushrooms, Green Onions & Crispy Garlic
Prep Time: 15 mins
Cooking Time: 20 mins
Serves: 3-4
---
Ingredients:


1 tbsp Garlic, coarsely chopped
½ tsp freshly ground Pepper
¼ cup Coriander Roots or Steams, coarsely chopped
5 cups Vegetable Stock
1 cup Mushrooms, thinly sliced
½ cup Carrots, shredded
½ cup Sugar Snap Peas, cut into 1 inch pieces (Optional)
1½ cups Cooked Jasmine Rice
¼ cup Spring Onion, chopped
1-2 tbsp Coriander Leaves, coarsely chopped
2 tbsp Crispy Garlic in Oil (Recipe follows. Original recipe used ¼ cup)
1 stalk Lemongrass (Optional)
½ inch Galangal/Ginger (Optional)
½-1 tsp Palm Sugar
Salt to taste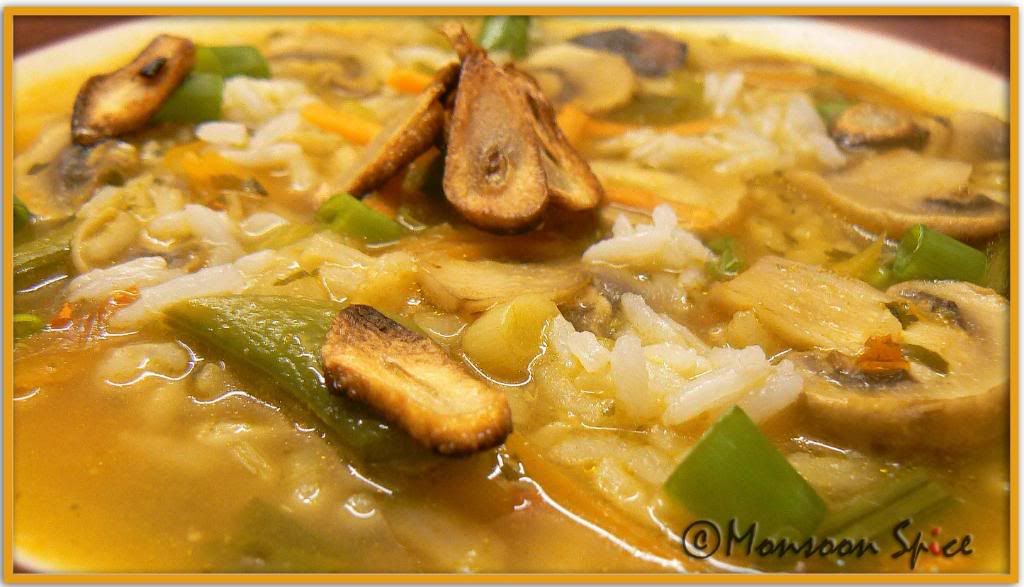 Jasmine Rice Soup with Mushrooms, Green Onions & Crispy Garlic
Method:
In a blender, combine 1 tbsp garlic, pepper, coriander roots/stems with little vegetable stock and grind to smooth paste.
Heat vegetable stock in a pan and mix in ground paste over a low flame. Add bruised lemongrass stalk, sliced galangal if using and bring the stock to boil in low flame.
Meanwhile, deep fry or pan fry sliced garlic pieces till they are crisp and golden and transfer to paper towel till required.
Heat 1 tbsp vegetable oil in a pan and add mushrooms. Toss them for about 3-5 mins until they are shiny and tender and keep them aside.
Discard lemongrass stalk and galangal from vegetable stock and add sautéed mushrooms, carrots, sugar snap peas, sugar and salt to taste and cook for further 5-8 minutes over low heat.
Add cooked jasmine rice, spring onions and cook for further 5 minutes.
Serve hot or warm soup garnished with crisp fried garlic and coriander leaves and enjoy this one-dish meal.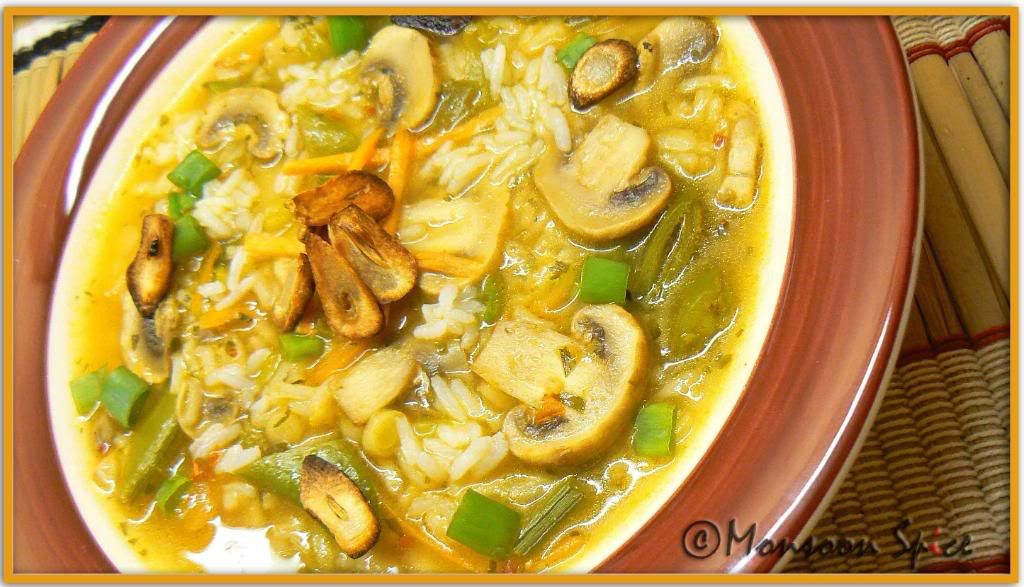 Jasmine Rice Soup with Mushrooms, Green Onions & Crispy Garlic
---
Notes:
To check substitutes for different ingredients used in Thai Cuisine and also read more of Thai Cooking at Monsoon Spice Click Here. Also Read
Thai Vegetarian Red Curry
Thai Veg and Tofu Green Curry
How to cook Jasmine Rice
How to make Thai Red Curry Paste
How to make Thai Green Curry Paste
Also Check Jugalbandi's Thai Pantry.