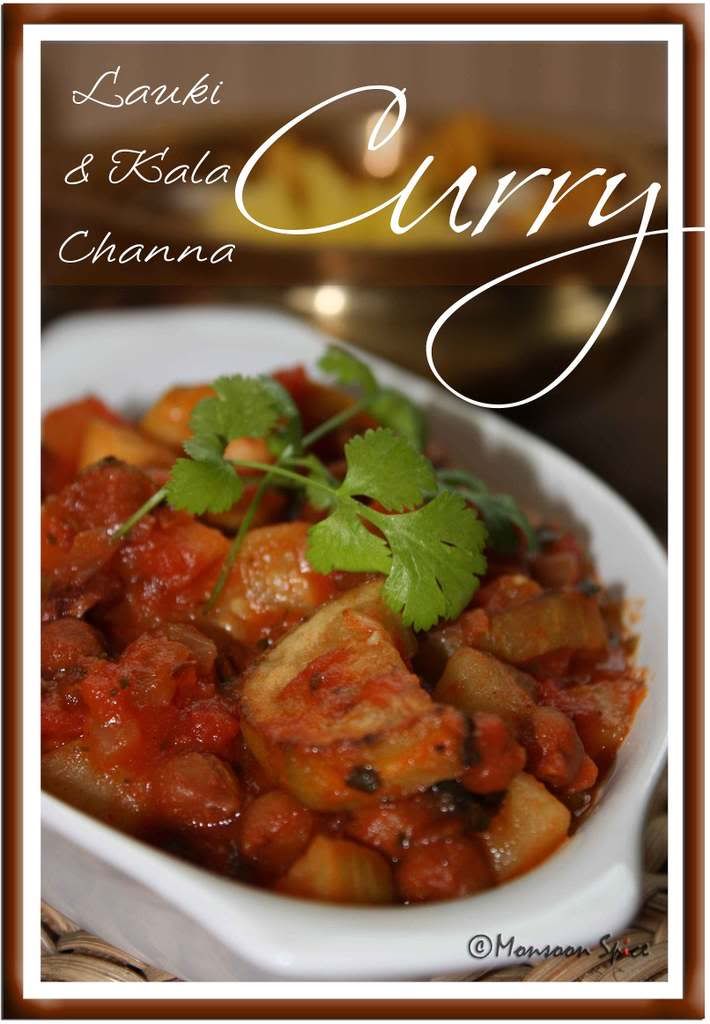 Lauki-Kala Channa Curry

Have you read Amulya Malladi's "
Serving Crazy with Curry
"? It is a story of protagonist, Devi, who is fired from her job at Silicon Valley and is suffering from a miscarriage. Tired with the way her life is leading Devi attempts to commit suicide and consequently is brought to her parents' home to recuperate and be looked after. The novel describes the tensions and frustrations, triumphs and tribulations within Veturi family. What happens next is nothing less of a Bollywood movie. After moving to her parents home Devi refuses to talk with anyone and channels all her emotions into cooking elaborate meals. She sprinkles more chilli when she is angry, cook sour food when she is sad and she churns sweets when she is happy. She uses unusual ingredients, as in non-traditionally Indian ones and yet succeeds in cooking extraordinary dishes that pleasantly surprises her family. What happens in the end is something you need to read yourself.
Although I am not much impressed with the novel, I enjoyed reading Devi's bold character when she takes in charge of kitchen and starts to appreciate her mother who otherwise was portrayed by her as nosy, intrusive and Desi inspite of spending half of her life in other part of the globe. It is Devi's cooking which prompts her family to initiate honest conversation with one another making them closer than ever before. I would recommend this novel to anyone who is interested in reading something different and the bonus is every chapter ends with Devi's culinary creations.

Few days back I was in a mood to create my own curry instead of following some recipe book or something which we had already tasted. The result was this delicious
Lauki-Kala Channa Curry
. Instead of adding cubed Bottle Gourds to curry base and cooking it, I sliced them to half-moon discs and pan fried them in batches till they turned golden brown. Then I simmered them in tangy and spicy tomato gravy till they were cooked to perfection. Don't be shocked to see unusual use of ingredients like Curry leaves used in almost all the South Indian recipes and Kasuri Methi which adds extra flavour for any North Indian dish. And there are also tamarind, jaggery and garam masala. I used Kala Channa to much loved Kabuli Channa as I like its rustic and earthy flavour and it beautifully complimented the Bottle Gourd. But what I loved the most is the way in which all these ingredients blend together harmoniously and deliver extraordinary taste which tickled our taste buds. There is nothing like feeling of ecstasy when you create something from scratch and it is much appreciated and loved by your loved ones. Pure bliss!
This recipe is on its way to Lore's
Original Recipe
event.

Print This Recipe
---
Lauki-Kala Channa Curry

(Bottle gourd and Black chickpeas cooked in spicy and tangy Tomato gravy)
Prep Time: 10 mins
Cooking Time: 30 mins
Serves: 4-6
---
Ingredients:


1 large Onion, finely chopped
1 medium Bottle Gourd (approx 4-5 cups)
1 can Black Chickpeas or 1 cup Dry Black Chickpeas cooked in pressure cooker
1 large Potato, cooked, peeled and roughly mashed
1 can Chopped Tomatoes or 3 Large Tomatoes, pureed
1 tbsp Kasuri Methi/Dried Fenugreek Leaves (Optional but recommended)
½ tbsp Jaggery/Brown Sugar (to balance the tartness of Tomatoes)
1 tsp Tamarind Paste (Adjust acc to taste)
1 tsp Garam Masala
1 tsp Kashmiri/Deghi Chilli Powder (Adjust acc to taste)
¼ tsp Turmeric Powder
1 tbsp Oil
Salt to taste



For Tempering:


½ tbsp Oil
½ tsp Jeera/Cumin Seeds
½ tsp Mustard Seeds
¼ tsp Hing/Asafoetida
Few Fresh Curry Leaves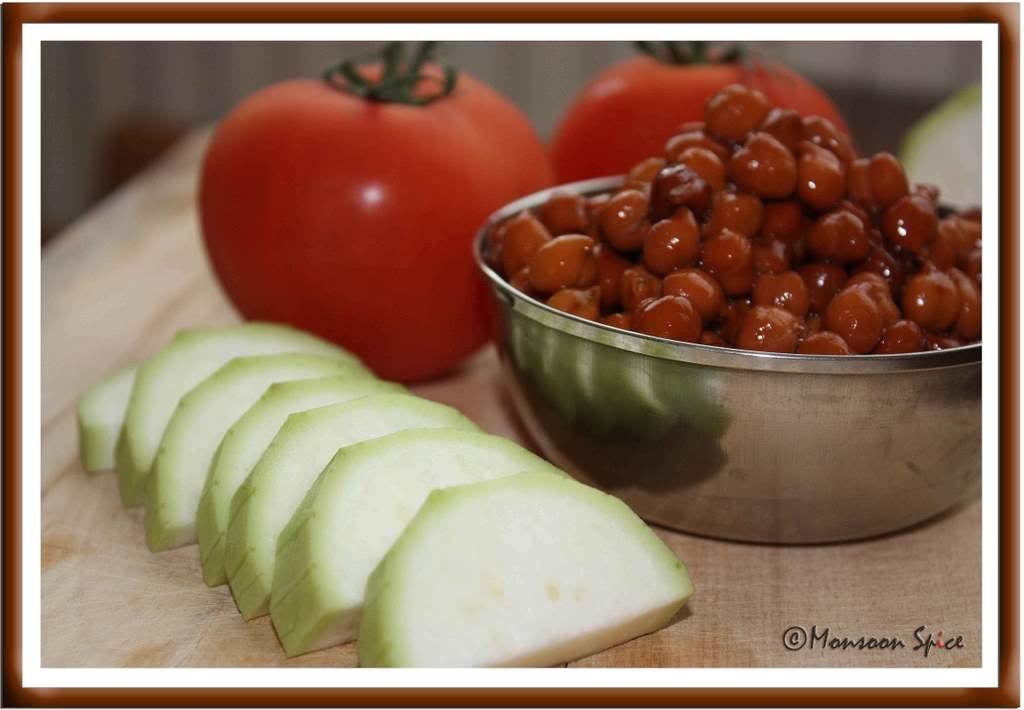 Bottle Gours, Kala Channa & Tomatoes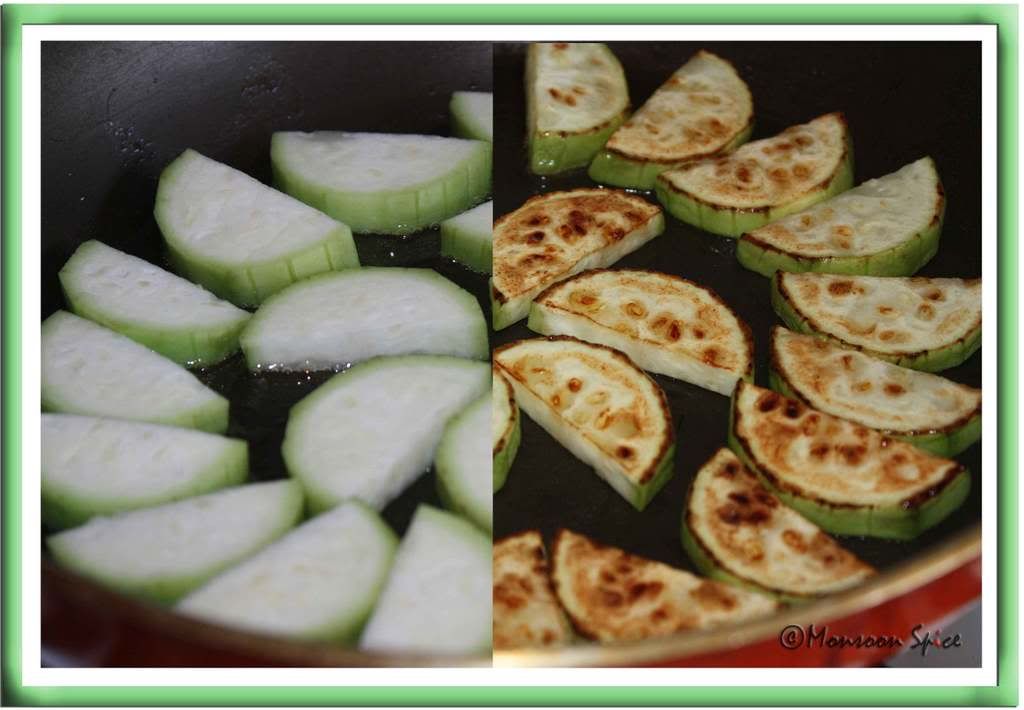 Bottle Gourd Slices -Before & After Pan Frying
Trim the ends of Dudhi/Lauki/bottle gourd and peel it with a vegetable peeler. Slit it length-wise in middle so that you are left with two long pieces. With a help of a spoon, scoop out the seeds and the surrounding spongy mass carefully so that you are left with two dudhi 'boats'. I left the seeds as they were very tender. Cut them into 1 cm slices as shown in the picture.
Heat a tbsp of oil in a flat pan and arrange bottle gourd slices so that they fir in single layer. Cook them on both the sides till they turn golden brown in colour and place them in a kitchen towel till required. Do it in batches so that you have evenly fried bottle gourd pieces. This step is purely optional. Skip this step if you wish.
Heat ½ tbsp of oil in a pan and add mustard seeds to it. When it starts to pop and splutter, add hing, cumin and curry leaves. Sauté it on medium flame till cumin starts to brown, about 30 seconds.
Mix in finely chopped onion and sauté it on medium flame till it turns golden brown, about 2 mins. Now add turmeric powder, red chilli powder, kasuri methi and garam masala and sauté it on low flame for about 30 seconds.
Pour in pureed tomatoes and mix well. Add jaggery and tamarind and mix well. Cook this at medium heat for about 2-3 minutes, stirring occasionally.
Add cooked kala channa, fried dudhi and mashed potatoes and mix well. Mix in salt to taste and add about cup of water. Simmer and cook the curry, stirring occasionally, for about 15-20 mins till dudhi is cooked properly and flavours blend well.
Serve hot, garnished with chopped coriander leaves if desired, with Chapatti or Rice and enjoy. Tastes better the next day.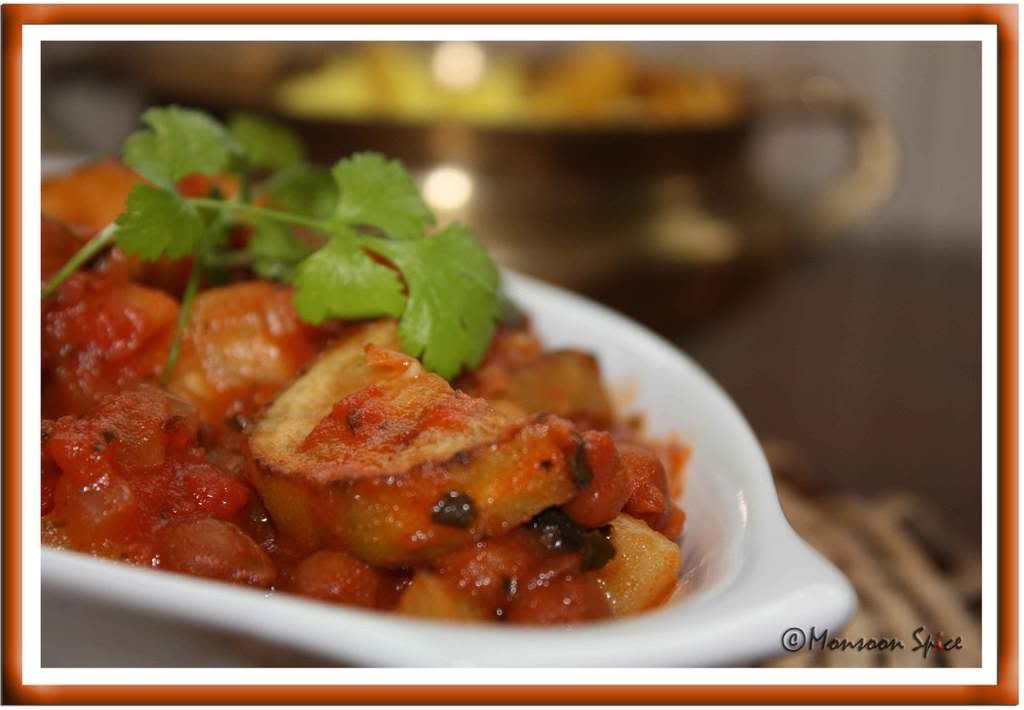 Lauki-Kala Channa Curry

---
Reminder for JFI-Soya:
I invite you all to celebrate Jihva for Ingredients with this month's theme
JFI-Soya
. Choice of Soya products, the recipe, ingredients, method etc is entirely left to you. I would greatly appreciate if you can send me any Vegan or Vegetarian recipes but I leave it to your choice. Soya foods include tofu, tempeh, textured vegetable protein (chunks, mince etc), miso, soya sauces, soya oil and margarine, and soya dairy alternatives.
Deadline: 31st August, 2008
Please go through the guidelines and include all the required information in your post and also in your e-mail while sending your entry. Don't forget to add Your Name, Your Blog Name, Name of the Dish, Type of Dish and Perm Link of the entry along with the gorgeous Photo of final dish.

Click Here
or on the logo to find out more information on this event.


P.S: I will be away for next 5 days on short break to make most of the last remaining bits of British Summer and hence will not be able to respond to your e-mails and queries. I will get back to you as soon as we come back from holidays.
Till then, Happy Cooking and Blogging :)
Cheers
Sia