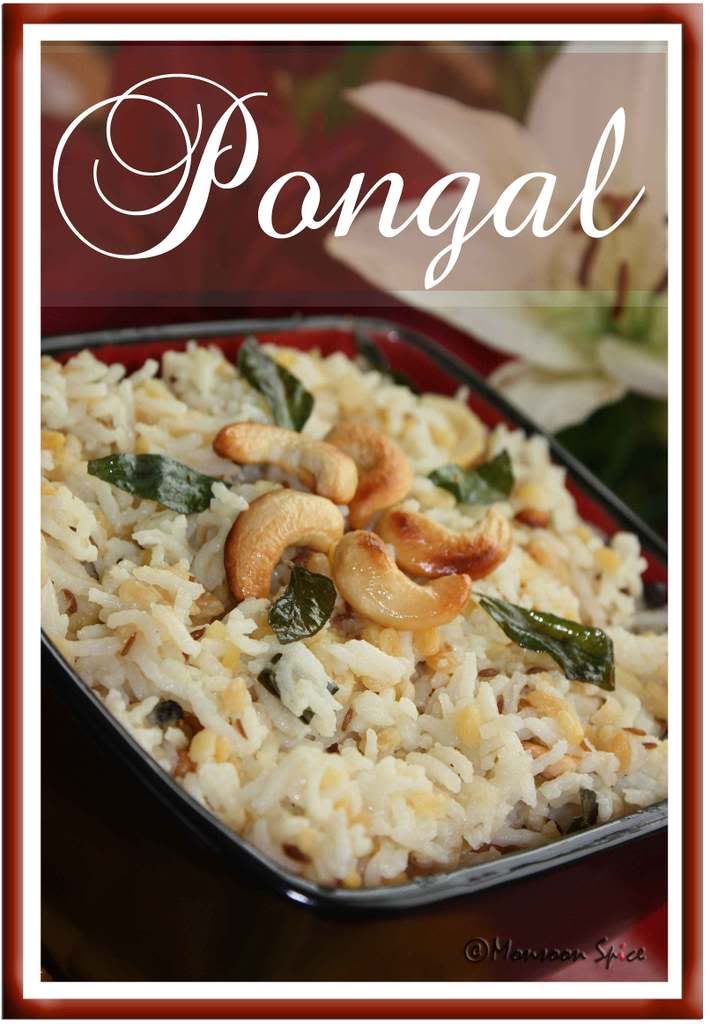 Pongal


Some foods are comforting. Some are nutritious. And some are simply divine.
Pongal
is one such dish which is comforting, nutritious and also divine. Just the thought of 'Pongal' conjures up sweet memories of my Doddappa and Doddamma performing the Puja daily in their estate temple. Growing up in a joint family for first 6 years of my tender life, I remember spending most of my time with my
Doddappa
(Dad's elder brother) and
Doddamma
(Dad's SIL). For me they were another set of loving grandparents as my
Appa
was just one year old when Doddamma stepped into our large joint family as a first daughter-in-law, taking huge responsibility on her very young shoulder. No wonder my Appa felt so close to his
ANNa
(brother) and
Attige
(SIL) and involved them in almost all the major decisions he took.
I was one of those spoiled little brats who was born in a large joint family when almost all other kids were in their early teens. Yes, I was the only baby in our big family and was never short of love, affection and undivided attention from everyone. I grew up being a centre of attention and attraction for two happy years of my life till my little sister decided to pop all of sudden and spoil it for me ;) Grudgingly I had to share spot light with my sister and soon with my cousin brother. I remember asking my Dodda's whom they loved the most. And every time they would hold me close to their heart and whisper it was me and it will always be me.
It was no surprise I spent most of my time playing in my Doddappa's clinic which was attached to the main house, than playing with my sister and other cousins. I was his little helper. It was while counting the tablets for his patients I got my first lessons of mathematics. It was while picking the herbs from his herb garden for medicines where I leant the basics of Ayurveda. It was while helping the people to cure their disease and relive them from pain where I learnt about empathy and the art of being a good listener. And above all these I learnt how to be kind, generous and a good human being from my Doddas.
After moving to different city for education, I and my sister would eagerly look forward to our
Navarathri
and summer holidays where we would spend one full week at our Doddas estate. Every morning I would wake up the waft of sandalwood, heady smell of
Agarbatti
and
Dhupa
and the fast rhythmic chanting of my Doddappa sitting on floor in lotus position in
Devara Kone
(God's room). While Doddappa was busy performing the
Puja
, Doddamma was busy with her daughters-in-law preparing
Neivedyam
which was offered to God. One day it would be just plain steamed rice, other day it would be
Rice Payasam
. But it would always be
Pongal
for special occasions like birthdays, anniversaries and festivals. Rice and lentils cooked with few spices till they fall apart and become little mushy, a lovely medley offered to God. While green chilli and black pepper corns give it small dose of spiciness, tadka and ginger gives it a wonderful flavour. This
Neivedyam
was taken to the small temple in our estate where it was first offered to God and then given to us in a small bowl made using Jackfruit leaves as
Prasad
(blessed food). Oh!!! Fond memories of childhood and the people who made it so much special and wonderful….
My favourite way of making Pongal is with good spoonfuls of Thuppa or Ghee, just the way Doddamma made it. Whenever I make it here I can almost hear her saying
"Make sure you don't insult Pongal by using just a spoonful of Thuppa. Be generous with Thuppa when you make Pongal because it is God's food. If you can't make Pongal with lots of love and Ghee then it is not fit for you, your family and your God."
I try to remember my Doddamma's pearls of wisdom like these while cooking. Some foods are just divine and they are meant to be cooked that way. This post is very dear to me and it is dedicated to two people who are very close to my heart. In two days it will be the first death anniversary of my Doddappa. It will be a grand celebration because he believed in celebrating life and death, which was just the beginning of new life. Doddappa and Doddamma, I miss you. I am sending thsi food from heaven to Susan of the Well Seasoned Cook, who is hosting
My Legume Love Affair-Second Helping
.

Print This Recipe
---
Pongal

(Rice & Lentils Medley)
Prep Time: 10 mins
Cooking Time: 30 mins
Serves: 2-4
Recipe Source: My Doddamma
---
Ingredients:


1½ cups Rice (preferably Sona Masuri or you can use Basmati as I have used here)
1 cup Yellow Moong Dal/Split Green Gram
½ cup Cashews
8 cups Milk+Water (I used 1 cup Milk+7 cups Water)
2-3 Green Chillies, slit (Optional)
1 inch Ginger
1 tsp Black Pepper Corns, lightly crushed or used as whole
1 tsp Jeera/Cumin Seeds
Few Curry Leaves
3-4 tbsp Thuppa/Ghee/Clarified Butter
Salt to taste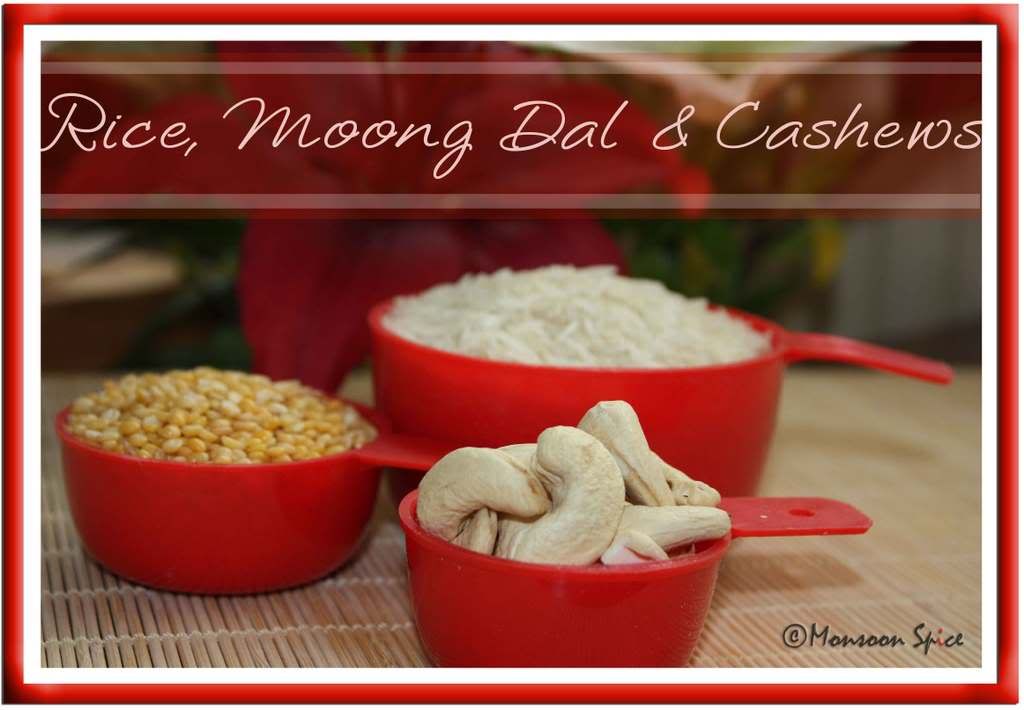 Rice, Moong Dal & Cashews for Pongal
Heat a pan and add yellow moong dal. Roast it on medium flame, sautéing continuously, till it turns golden yellow, about 3-4 mins. Let it cool completely.
In a same pan add ½ tbsp of ghee and add cashews. Roast it on medium to low heat till they turn golden. Keep it aside.
Mix roasted moon dal and rice and wash it in cold water 3-4 times till the water turns clear. Drain all the water and keep it aside.
Heat 2 tbsp of Ghee in a thick bottomed pan or pressure cooker. Add jeera, pepper corns and curry leaves. When jeera starts to sizzle, add slit green chillies, ginger, rice and dal and mix well till every grain is coated with ghee, about 1-2 mins.
Now add milk, water and salt to taste and mix well. Cover the pressure cooker lid with weight and cook it on medium-high flame for 15-20 mins. Let it the pressure be released completely before opening the lid, about 5 mins.
If using thick bottomed pan, cover the lid and let it cook undisturbed for 10-12 mins on high flame. By this time water will start to bubble and pour from vessel. Remove the lid; mix the rice and lentils properly. Again cover the vessel with lid, leaving little gap to escape the steam. Let it cook this way for another 5-10 mins till the rice and dal is plumped and doubled in volume. Remove the vessal from gas.
Mix in roasted cashews with ghee, 1-2 tbsp of ghee. Cover and let it sit for another 10 mins for the flavours to blend. Serve this hot with any chutney, lightly spiced curry/Kurma or with my favourite,
Raita
or plain curds.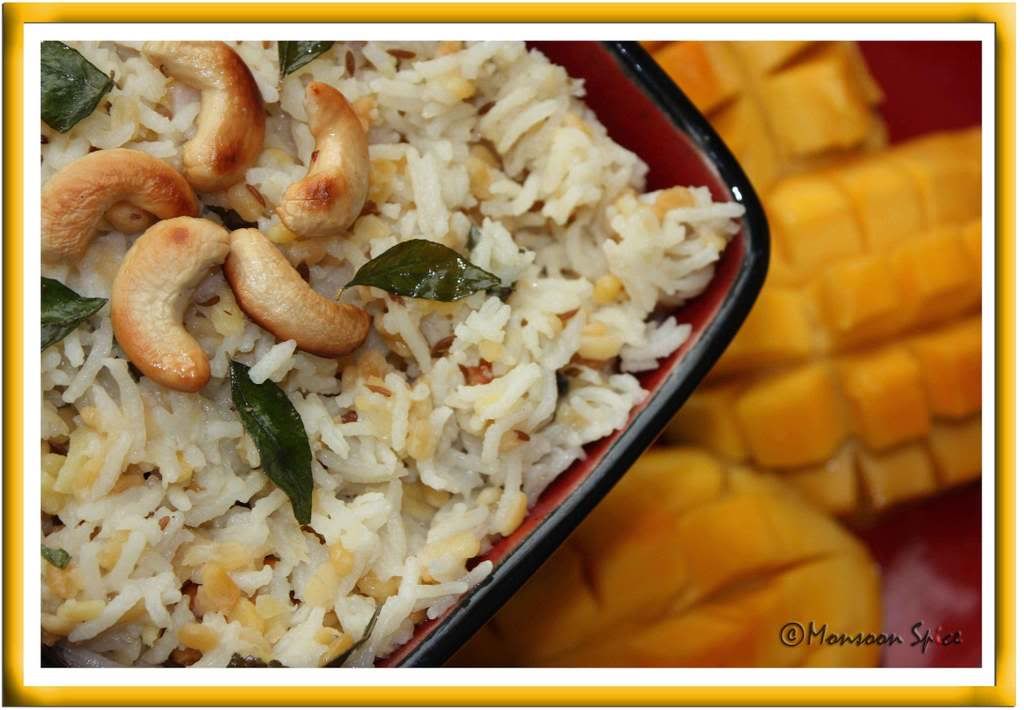 Pongal served with Mango & Yogurt : My Divine Food
---
The consistency of Pongal can vary depending on your preference. Some people prefer it very mushy like porridge and add more water while making it. So please adjust the water and milk quantity according to your preference.

Related Posts:

---
Reminder for JFI-Soya:
I invite you all to celebrate Jihva for Ingredients with this month's theme

JFI-Soya

. Choice of Soya products, the recipe, ingredients, method etc is entirely left to you. I would greatly appreciate if you can send me any Vegan or Vegetarian recipes but I leave it to your choice. Soya foods include tofu, tempeh, textured vegetable protein (chunks, mince etc), miso, soya sauces, soya oil and margarine, and soya dairy alternatives.




Deadline: 31st August, 2008





Please go through the guidelines and include all the required information in your post and also in your e-mail while sending your entry. Don't forget to add Your Name, Your Blog Name, Name of the Dish, Type of Dish and Perm Link of the entry along with the gorgeous Photo of final dish.





Click Here

or on the logo to find out more information on this event.