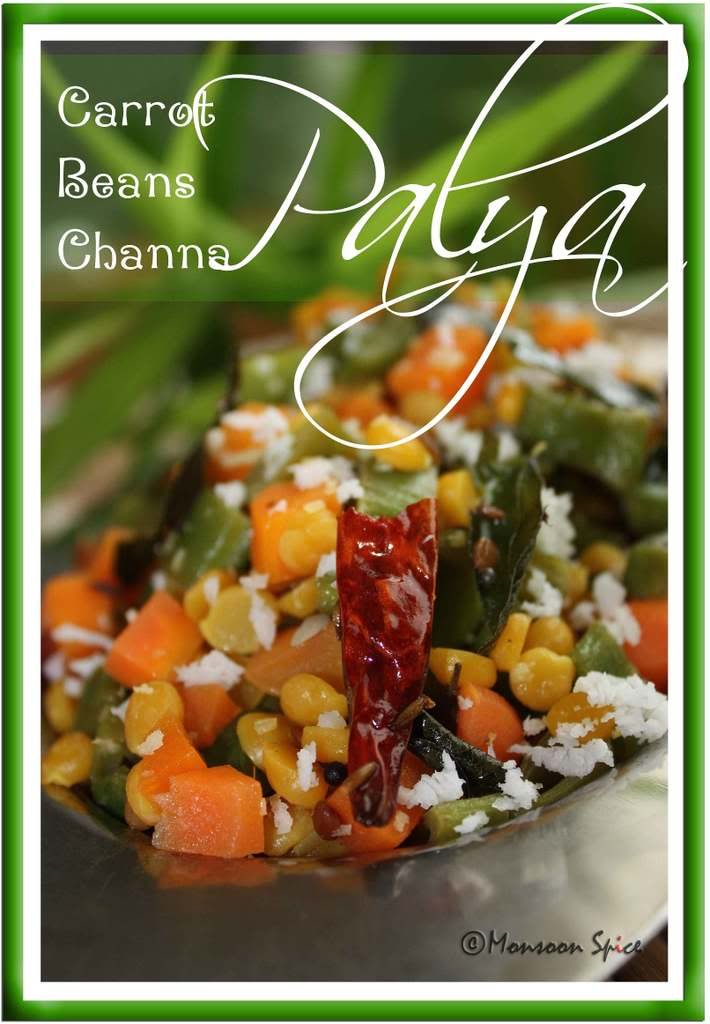 Carrot-Beans-Channa Dal Palya
For all the rants, ramblings, and grumblings you read in my blog, I won't be surprised if you think I am very social and chatty person in real world!!! But people who know me very well in real world would laugh out laud if someone even suggests that. I am one of those people who hate the lime-lights and small social talks and are comfortable when I am with few people who are very close to me. To be frank, I shy away from moments like that. So it is great surprise to my family and friends who read my blog how out spoken and chatty I am while posting recipes and how easily I share my feelings or memories with total strangers. You see, it took them quite long of time and lots of patience to know and understand me ;) Many people I met still believe I have major attitude problem where in reality they fail to notice how difficult I find it when it comes to small talks. Life is full of contradictions and after all we are just humans!!! So that's why I have many friends but very few close friends.

Likewise, I have many favourite recipes but very few which I like to eat every other day. These recipes are simple and homely, just like me ;) One such recipe which I cook very often and eat is Palya or simple vegetable stir-fry. Vegetables stir fried with a tempering of nutty channa and urad dal and mustard with a hint of spice from chillies, both dry red and fresh green, and sweet note of jaggery, with minimal oil what makes it healthy, quick and utterly delicious side dish. This time I made it bit different from usual vegetable stir fries. Usually my Amma made Carrot-Beans Palya where small pieces of Carrots and French Beans are stir fried with few spices. In the end she would squeeze few tsp of fresh lime juice giving it a little sour note. Addition of channa dal as one of the main ingredient is inspired from
Sailu's Kobbari Senaga Pappu Kura
recipe. So please do refer to her blog for another healthy way to eat your vegetables and lentils and to see beautiful photos. I used Runner Beans, which I have become very fond of, instead of French Beans. What I loved the most is the nutty taste of cooked Channa Dal. The Palya was so delicious I ended up eating it as lunch and later at night I served it as side dish with Phulkas and simple Tadka Dal. I am sending this bowl of
Carrot-Beans-Channa Dal Palya
to dear Pooja for her
Theme-Independence Day
event and also to Anisheetu who is guest hosting
SWC-Karnataka
.

Print This Recipe
---
Carrot-Beans-Channa Dal Palya

(Stir Fried Vegetables with Lentils)
Prep Time: 10 mins
Cooking Time: 25-30 mins
Serves: 4-5
Recipe Inspiration: Sailu's Food
---
Ingredients:


½ cup Channa Dal/Split Bengal Gram
1 cup Carrot, peeled & cut into 1 cm cubes
2 cups Runner Beans, cut into 1 cm pieces (alternately you can use French Beans or other beans of your choice and availability)
¼ tsp Turmeric Powder
1 tsp Jaggery (adjust acc to taste)
2 Green Chillies, slit
1-2 tbsp grated Coconut, fresh/frozen
1-2 tbsp Fresh Lime Juice (adjust acc to taste)
Salt to taste



For Tadka/Tempering:


½ tsp Jeera/Cumin Seeds
1 tsp Mustard Seeds
1 tsp Urad Dal
1 tsp Channa Dal
1-2 Dry Red Chillies, halved
Big pinch of Hing/Asafoetida
Few Curry Leaves
½ tbsp Oil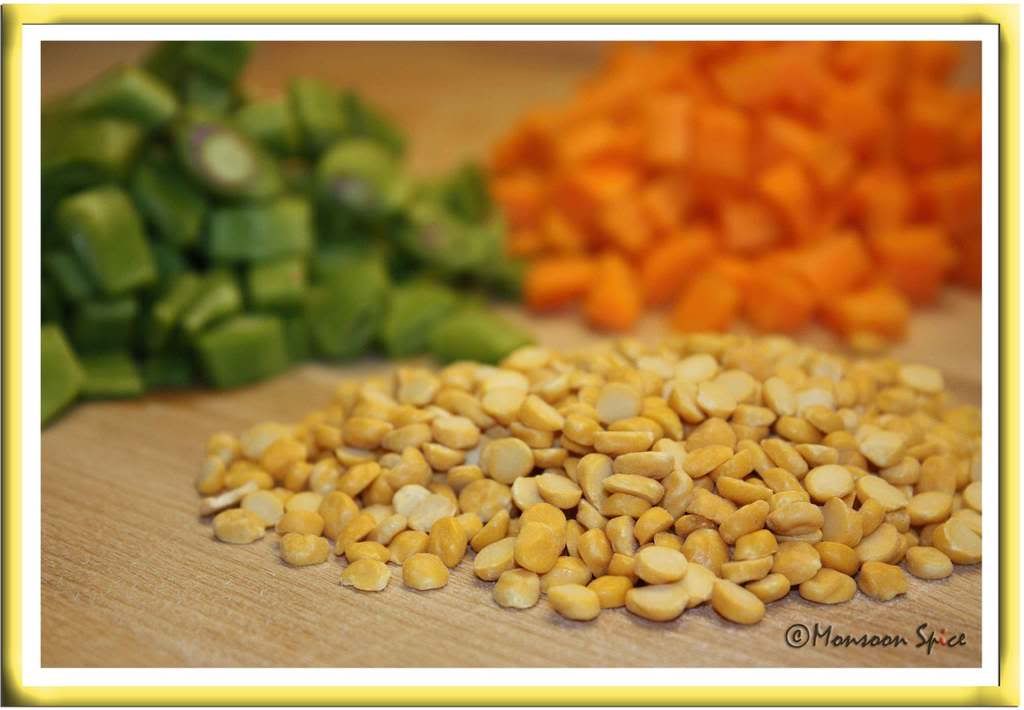 Carrot, Runner Beans & Channa Dal
Wash dal, 2-3 times, in clean water till the water turns clear. Place it in a pressure cooker or any thick bottomed vessel with lid. To this, add turmeric powder and few drops water. Cook covered in 1½-2 cups of water till it is cooked thoroughly, stirring in between. Make sure the dal should not turn mushy and should retain its shape. I cooked using thick bottomed pot and it took around 15-17 mins to cook. If using pressure cooker, cook for 8-10 mins or just one whistle. Drain water and keep it aside till needed.
Heat oil in a pan and add mustard seeds to it. Once mustard starts to pop and splutter, add urad dal, channa dal, broken dry red chillies, curry leaves and hing. Sauté till dals turns light golden yellow. Now add jeera and sauté for few more seconds till it turns light brown.
Mix in chopped carrots, runner beans, slit green chilli, salt to taste and jaggery. Add about tbsp of water and cook covered for about 5 mins on medium to low flame. Open the lid and mix cooked channa dal and mix well. At this stage add another tbsp or two of water and mix well. Cook covered for further 5-10 mins on medium to low flame, stirring in between to make sure vegetables doesn't stick to the pan.
Mix fresh/frozen grated coconut and fresh lime juice and switch off the flame. Serve this hot with Rice/Chapatti/Phulka and Rasam/Dal or serve as evening snack.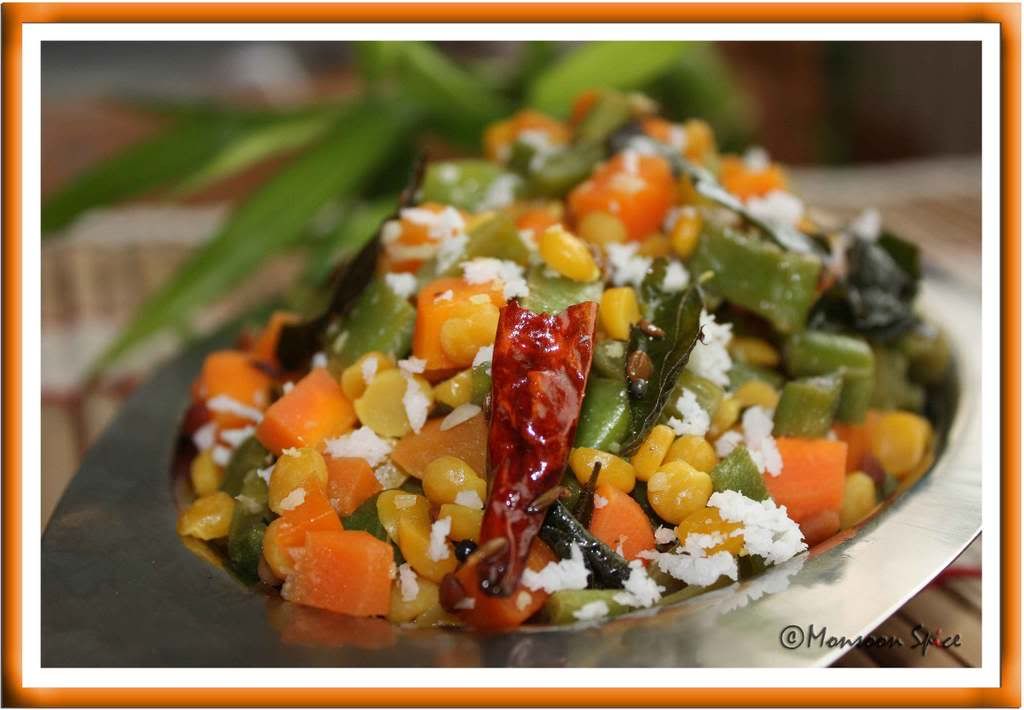 Carrot-Beans-Channa Dal Palya
---
Note:


Same dish can be prepared using other vegetables like Cauliflower, French Beans, Potatoes, and Capsicum/Bell Peppers.
Vary the quantity of carrot, beans and channa dal used according to your preference and taste.

Other Palya recipes blogged so far



---
Reminder for JFI-Soya:
I invite you all to celebrate Jihva for Ingredients with this month's theme
JFI-Soya
. Choice of Soya products, the recipe, ingredients, method etc is entirely left to you. I would greatly appreciate if you can send me any Vegan or Vegetarian recipes but I leave it to your choice. Soya foods include tofu, tempeh, textured vegetable protein (chunks, mince etc), miso, soya sauces, soya oil and margarine, and soya dairy alternatives.
Deadline: 31st August, 2008
Please go through the guidelines and include all the required information in your post and also in your e-mail while sending your entry. Don't forget to add Your Name, Your Blog Name, Name of the Dish, Type of Dish and Perm Link of the entry along with the gorgeous Photo of final dish.

Click Here
or on the logo to find out more information on this event.