Brinjal, often described as 'the king of vegetables' … You either love it or hate it! Luckily I fall into the Brinjal lover category and so does my Appa. When we were kids, sometimes after school hours my sister and I would go to my dad's clinic for routine dental check up and wait in his office till he finished his work. We both would sit in his office which had a glass partition and watch Appa treating his patients in fascination. We both never got tired of waiting for him to finish his work as the clinic was always filled with people and lots of small kids to play with. My sister and myself were quite used to the attention received by his assistants and patients and we enjoyed when we were called as Putani (small) Doctors. Appa being a generous soul would never take money for treatment from poor people or charge very less when they insisted on pay. Some of his patients were farmers and they would come with a big cane basket filled with fresh vegetables and fruits from their farm which would last for weeks.

So whenever my Appa got chance to buy vegetables he would jump at the chance and enjoy it. When most of the customers tried to negotiate the price with the vendor, Appa would stand quietly in one corner and watch them in amusement. Bargaining is something which my dad never liked and for this reason every vegetable vendor loved selling vegetables to him. Without wasting too much of time in picking the vegetables or negotiating the prices, he would come home with bag full of selected vegetables of his choice. It was a tough time for Amma as she had to throw half the rotten vegetables which those smart vegetables vendors used to sneak without my dad's knowledge. Every time Amma would beg Dad to not to buy vegetables and waste half of money on rotten vegetables and he would smile charmingly and continue to shop for vegetables. I am not sure if he enjoyed buying the vegetables or enjoyed watching my mom grumbling for getting vegetables without checking properly. I remember the day when he got a dozen of tomatoes when the tomato prices were rocketing and only three were good enough for cooking.
One vegetable he would always pick was Brinjal/Eggplant. My Amma used to cook different delicious eggplant dishes using different varieties of eggplants. Back in my native, we get a special type of eggplant which is famously known as
Udupi Gulla Badane or Matti Gulla
which is excellent for Sambar, Majjige Huli (buttermilk and coconut based) and sweet and tangy Gojju. Gulla Badane is round shaped, light green coloured Brinjal and Amma used to cook sweet and sour Badane Palya which I remember relishing with steam cooked rice and chilled yogurt. This thinly sliced eggplant delicately cooked in a tangy tamarind puree and sweet jaggery and lightly spiced up with aromatic sambar powder to give it extra flavour and aroma is a favourite dish in our family. Unlike other usual
Palyas
where we just stir fry vegetables, this Badane Palya is packed with three different flavours. The finished product is a silky smooth eggplant which tickles your taste bud and makes very satisfying meal all together. This is my contribution to this month's
JFI-Eggplant
guest hosted by Sangeeta of
Ghar Ka Khana
.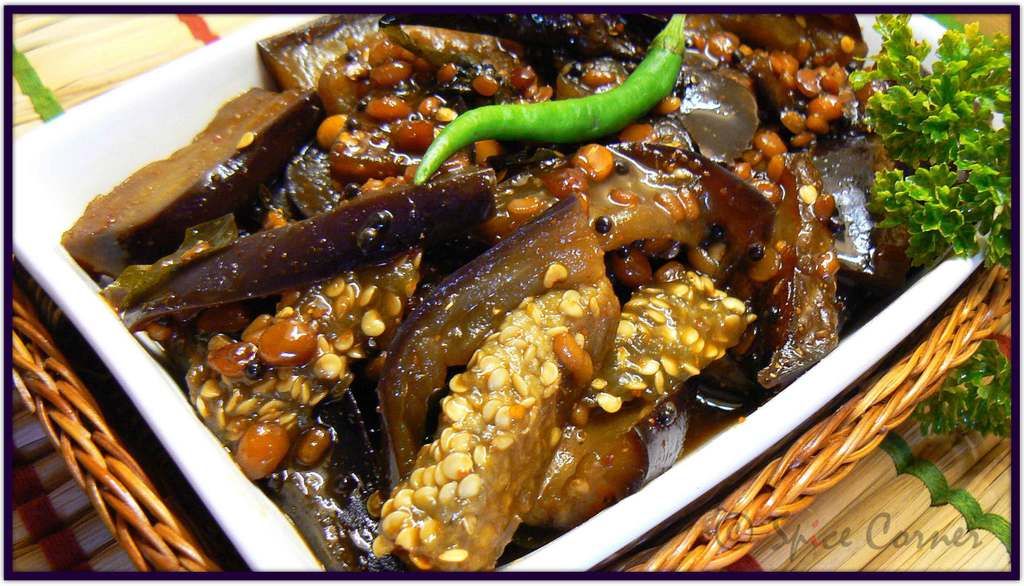 Sweet 'n Sour Badane Palya
---
Sweet 'n Sour Badane Palya
Prep Time: 10-15 mins
Cooking Time: 15-20 mins
Serves: 4-5
---
Ingredients:
1 big Eggplant
1-2 Green Chillies
1 small lime sized Tamarind
3-4 tbsp Jaggery
1 tbsp Sambar/Rasam Powder(Acc to taste)
½ tsp Turmeric Powder
Salt to taste
For Tempering:
1 tbsp Oil
½ tbsp Channa Dal
1 tsp Urad Dal
1 tsp Mustard seeds
1-2 Dry Red Chilli
A pinch of Hing/Asafoetida
Few Fresh Curry Leaves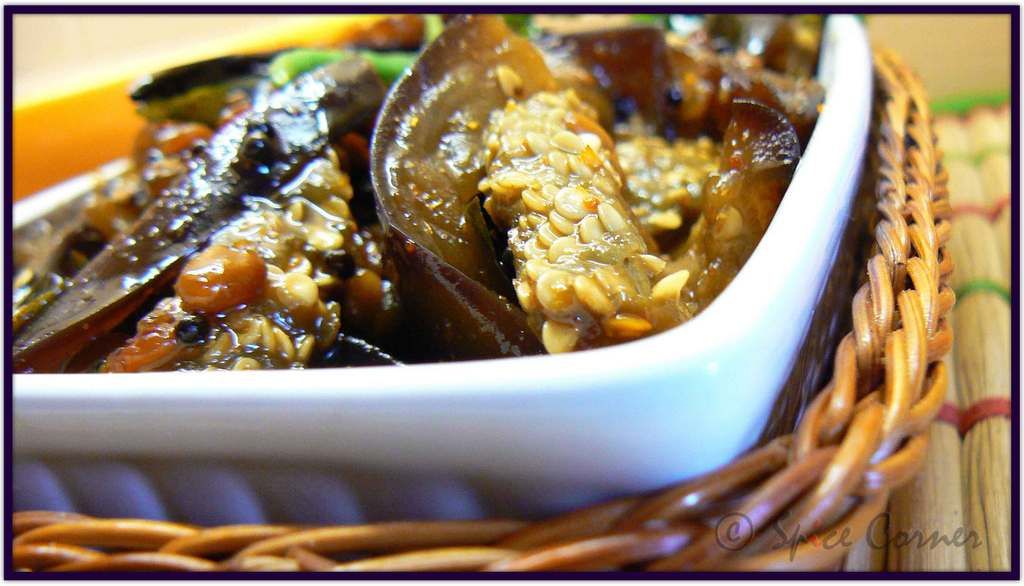 Method:
Soak tamarind in a cup of warm water for 10 minutes and squeeze out the pulp.
In a mean while cut the eggplant in the middle vertically and cut each halve into long, thin, vertical stripes. Chop these strips into 2 inch pieces and keep them immersed in cold water till needed. Soaking eggplants in cold water will help in stopping the eggplant pieces turning dark in colour.
Heat a tbsp of oil in a heavy bottomed pan and add all the ingredients listed for tempering.
When mustard stars to pop and sputter add the tamarind puree, jaggery, slit green chillies and another cup of water.
Bring this mixture to boil and then add sliced eggplant pieces and mix them well.
Cover and cook for 5 minutes and sauté them in between.
Now add sambar powder, turmeric powder and salt to taste and mix them well.
Cook this uncovered in medium to low flame for another 5-7 minutes till all the water is evaporated and the eggplant is cooked well.
Serve this sweet and sour Badane Palya hot with steamed rice and chilled yogurt.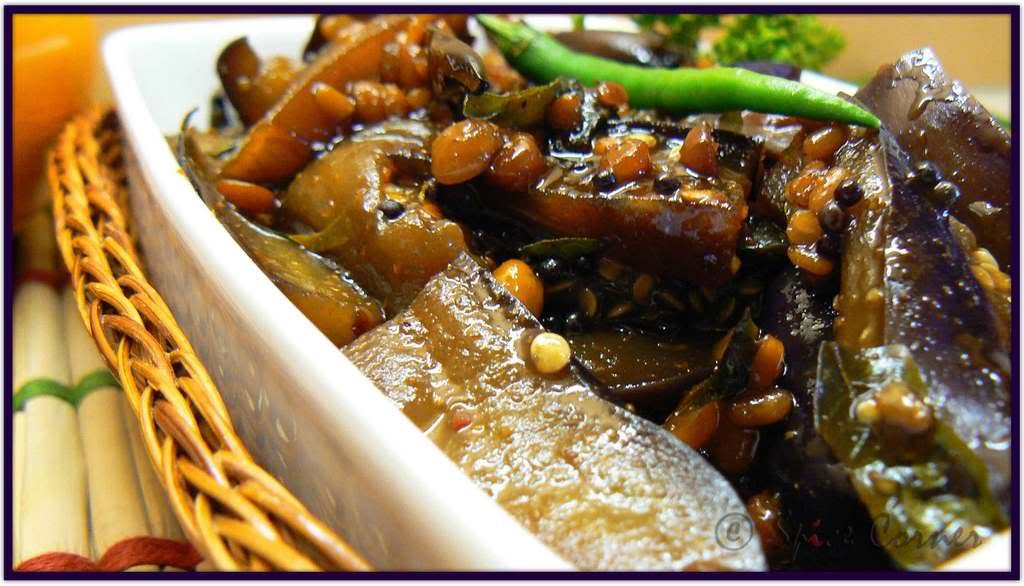 Sweet 'n Sour Badane Palya
---
Tip:
Mix this sweet 'n sour Badane Palya with the left over rice and make a delicious plate of Brinjal Rice in a minute.
---
---
Did You Know?
T
he eggplant is part of the "nightshade" family which includes tomatoes, potatoes and sweet peppers.
T
he eggplant actually becomes bitter as it ages so use it promptly. The older the eggplant, the tougher the skin.
E
ggplant is actually a fruit but is cooked and eaten as a vegetable.
W
omen in the Orient used to use the peel of the eggplant as dye to stain their teeth gray because that was the rage.
(Source: www.deliciousorganics.com)
---