Yeah, yeah… It's still soupy soup season for us here. Unlike other parts of the world where everyone is basking in golden sun and sand, we, not so privileged ones are snuggling under cosy blanket with a bowl of hot soup and dreaming of all that glorious sunshine. I just have to close my eyes to feel that cool breeze from palm-fringed beaches and lush green fields in my native. We are almost there… Right now while writing this post I can see the sun peeping out of the clouds and smiling. Oh!!! When will he grow up and stop playing that silly peek-a-boo. May be he did hear me grumbling about the same thing again and again. It's strange as how the weather can be so deceptive. We had early spring in this part of the world and according to the weather forecast (here they come) we are on the way to one of the hottest summers in the history and I am waiting for the day when I can start grumbling about hot and sweaty summer days. Oh!!! Let me stop sulking and come back to my favourite subject.
Here is the recipe of Green Pepper Soup which I found in one of my cook books by an anonymous author. I tweaked it to suite my taste and preference, as I usually do most of the times, to create a filling, good tasting bowl of soup. Although it's little fattening with that cream I sneaked into it, you can always lighten it my using milk in place of cream and modify it to suit your needs. The peppery taste of green capsicum is mellowed with cream which gives it extra richness and taste. Serve this hot bowl of soup with some bread and boiled vegetables tossed in your favourite herb/spice mix. The recipe below makes 3-4 servings of soup.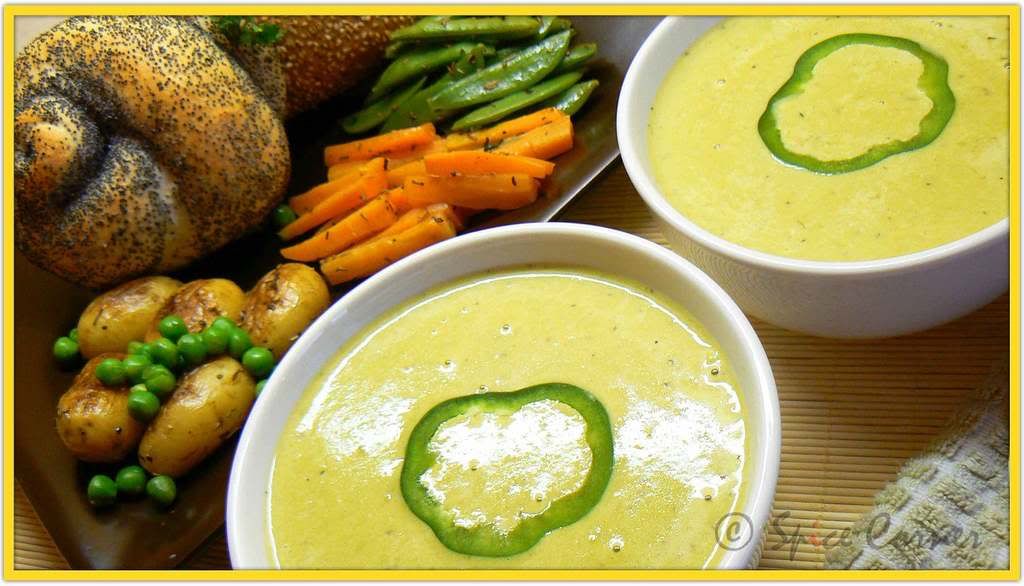 ---
Green Bell Pepper Soup
Prep Time: 10 mins
Cooking Time: 20-30 mins
Serves: 3-4
---
Ingredients:
3 Green Peppers/Capsicum, finely chopped
1 medium Onion, finely chopped
2 cloves Garlic, finely chopped
¾ tbsp Maida/All purpose flour
4-5 cups Vegetable Broth (or use 2-3 cubes of Veg Stock)
½ cup Fresh Cream(adjust as per taste)
1 tbsp Lime/Lemon Juice
1 tbsp Butter/Oil
1tsp Dry Mixed Herbs
Black Pepper & Salt to taste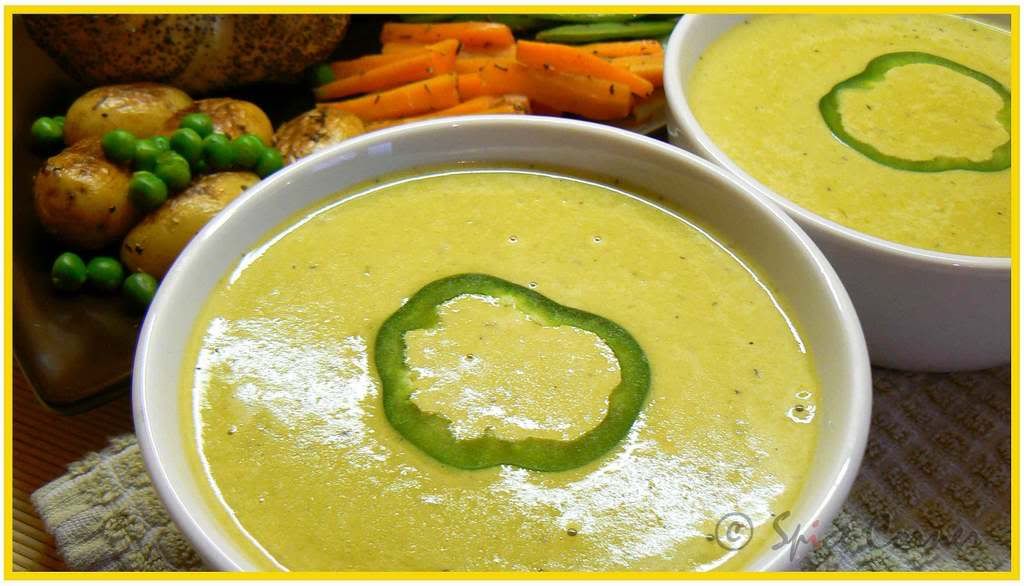 Method:
Heat butter/oil in a pan and add finely chopped garlic and onions. Sauté it at medium flame till onion turns translucent.
Now add chopped green peppers and sauté them continuously for about 5-6 minutes till the pepper become soft and skin starts to wilt.
Mix the Maida and cook on medium heat for about 2-3 minutes till the raw smell of Maida is gone.
Next add about 2 cups of vegetable broth and bring it to boil. Remove the pan from flame and let it completely cool down a bit.
Transfer the contents to a food processor and puree the mixture to smooth consistency without adding any more of water.
Transfer this puree back to the pan and add vegetable broth, dry mixed herbs and salt and freshly ground pepper to taste.
Simmer and cook uncovered till the bubbles are formed at the surface, stirring in between.
When the bubbles are formed, mix the fresh cream, lime/lemon juice and adjust the seasoning per taste. Cook this for further 4-5 minutes in medium flame.
Garnish with microwaved pepper rings and serve with boiled vegetables and roasted new potatoes and bread of your choice.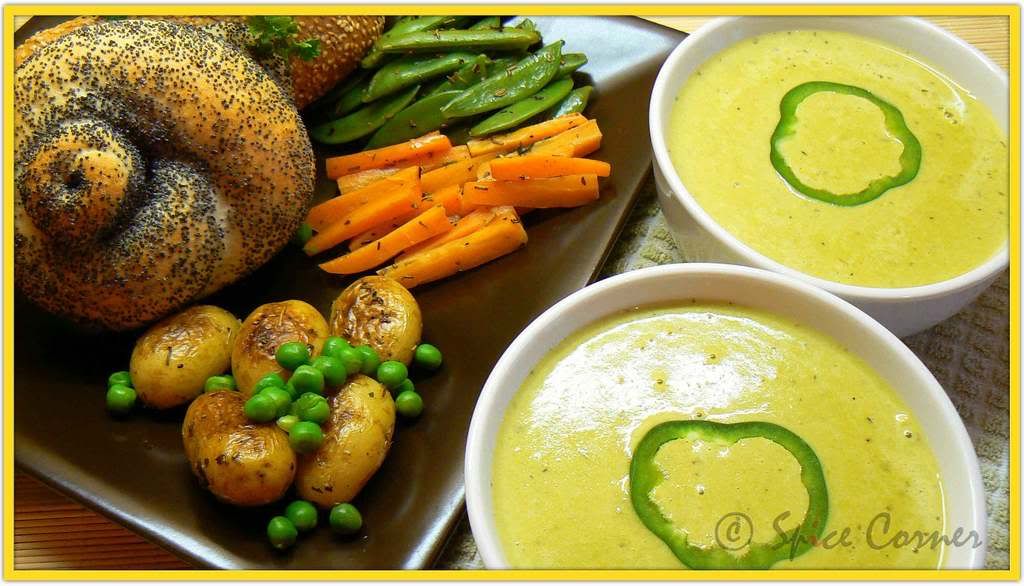 ---
Did You Know?
T
he bell pepper is low in Saturated Fat, Cholesterol, and Sodium and high in Dietary Fiber, Vitamin A, Vitamin C, Vitamin E, Vitamin K, Vitamin B6, Potassium, Manganese, Thiamin, Riboflavin, Niacin, Folate, Pantothenic Acid and Magnesium.
G
reen, sweet bell peppers have 2 times as much vitamin C as oranges; red and yellow bell peppers have 4 times as much.
T
he nutritional value and health benefit of bell pepper makes it ideal for maintaining optimum health and weight loss. So don't include too much bell pepper in your diet if you are interested in weight gain.
(Source: www.great-workout.com)

---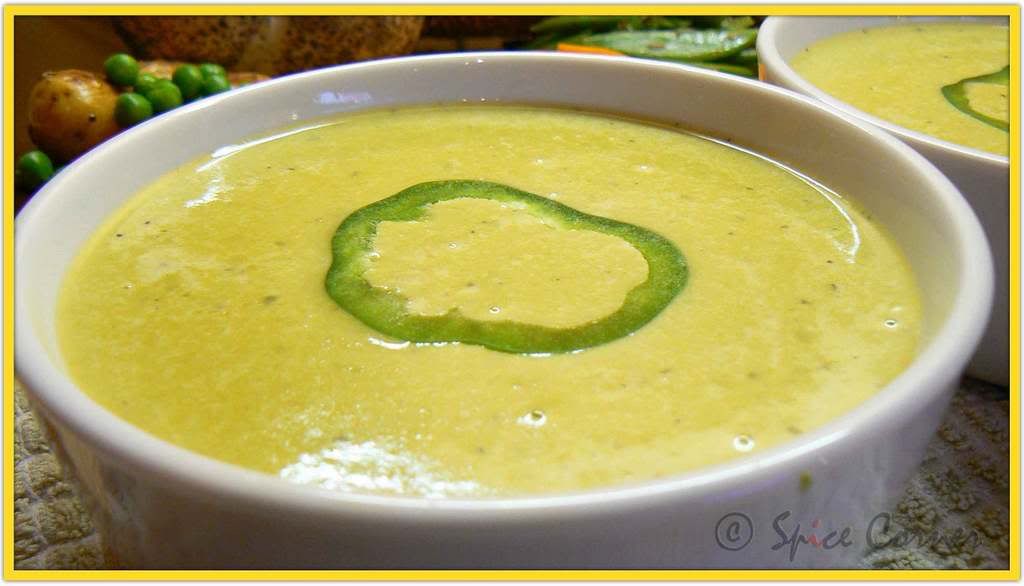 Green Bell Pepper Soup

PS:
Have you noticed a new Foodie Blogroll created by lovely Jenn of Leftover Queen which is for
people who have a passion for food? Click here for more information about Foodie Blogroll and join the ever growing community of all the Foodies around the world.