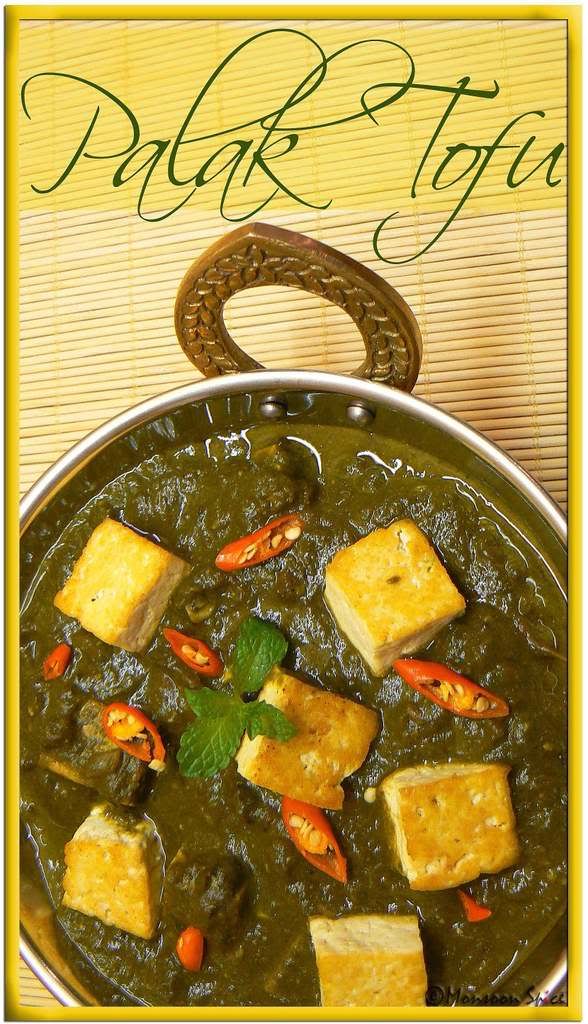 Me: Eiks… What's that ugly green thing Amma?
Mom: Its spinach. I am making spinach curry for tonight's dinner.
Me: Eww… Don't bother! I had rather eat plain rice than eating that yucky green thing!
Mom: Why don't you taste little and see if you like it.
Me: I don't want to taste it because I know I won't like it. So why tasting it when I already know I am not gonna like it?
Mom: Because it's good for you. You'll become strong if you eat it. Remember Popeye? He is strong because he eats spinach.
Me: oh yes! Popeye eats spinach and gets lots of energy and then he beats Bluto. That means even I'll get lots of energy to beat that bad boy in my class who pulls my hair everyday during school assembly!!! Mmm…
Mom: ~rolls her eyes~
Sounds familiar right? It's still unknown as why kids preferred to get their tongues burnt than eat greens. I too grew up hating green leafy vegetables with passion and there was no way my Amma could make me eat them. Like many mothers all around the globe Amma tricked me by mixing it with Paratha, Dosa, Poories, deep fried goodies which we kids would eat happily without knowing it had greens which we hated. There was one exceptional green leafy vegetable which I grudgingly ate and yes, it's Spinach or Palak. Reason for eating it was of course my childhood super hero
Popeye
, the sailor.
But there was one dish which I wouldn't have shared even with Popeye. I would happily eat it without anyone holding a gun on my temple! It is classic Punjabi dish
Saag Paneer
or
Palak Paneer
. Soft paneer cubes dunked in creamy, lightly spiced spinach gravy has to be one of the most liked side dish in Indian restaurants. It is mildly spiced and hence loved by people of all age groups from 8 to 80. As Paneer is little heavy on tummy and waist, I substituted it with Tofu to make it guilt free indulgence. Addition of cashews gives very creamy consistency for Palak gravy and makes it stand apart from usual Saag Paneer dish (Tip picked from Indira's
Palak Paneer
recipe where she says she learnt it from her Punjabi neighbor Deviji). We enjoyed this creamy
Palak Tofu/Saag Tofu
with
Mooli Parathas
(recipe will be posted soon).

Print This Recipe
---
Palak-Tofu/Saag-Tofu

(Lightly Fried Tofu in Spiced Spinach Gravy)
Prep Time: 10 mins

Cooking Time: 20 mins

Serves: 4-5
---
Ingredients:


1 big bunch of Spinach (Approx. 6-8 packed cups, here I used Baby Spinach)
2 cups firm Tofu, squeezed to remove excess water and cubed into ¾ inch pieces
1 medium Onion, finely chopped
2 medium Tomatoes, finely chopped
6-8 Cashew Nuts
3-4 Green Chillies (adjust acc to taste)
1 tbsp Coriander Leaves
1 tsp Ginger Garlic Paste
1+ ½ tsp Jeera/Cumin Seeds
½ inch Cinnamon Stick
2-3 Green Cardamom
2-3 Cloves
¼ tsp Coriander Powder
½ tsp Kitchen King Masala (Optional)
½ tsp Garam Masala
1 tbsp Kasuri Methi (Optional)
1 tsp Sugar
2 tbsp Sour Cream (Optional)
½ + ½ tbsp Oil
Salt to taste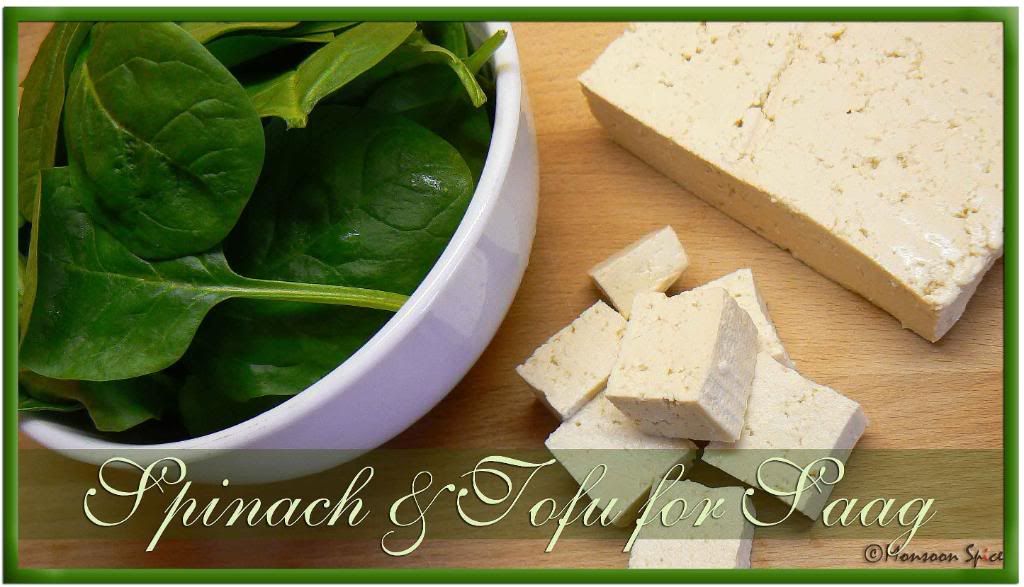 Spinach & Tofu for Saag



Method:


Heat about ½ tbsp of oil in a pan and add cinnamon, green cardamom and cloves. Sauté it for few seconds and add ½ tsp of cumin seeds.
When cumin seeds start to crackle add cashews and green chillies. Sauté it on medium flame till cashews turn light golden brown in colour.
Mix in roughly chopped spinach, sugar and cover the lid. Cook this spinach cover for few minutes on a medium heat till it is wilted. If needed sprinkle little water in between to avoid them sticking to the pan.
Cool the mixture and grind it to smooth paste with coriander leaves adding as little water as possible. Keep aside this mixture till required.
Heat ½ tbsp of oil in the same pan and remaining cumin seeds. When it starts to sizzle, add finely chopped onion and sauté it for a minute.
Now add ginger-garlic paste and sauté it till the raw smell disappears, about a minute. Mix in chopped tomatoes and sauté till it becomes pulpy.
Add coriander powder, kitchen king masala, garam masala and kasuri methi and keep stirring till nice aroma of masala fills the kitchen, about a minute time.
Mix in ground spinach paste and add about 1- 1½ cups of water and salt to taste. Let it cook on a low to medium flame for about ten minutes.
While the spinach gravy is cooking heat little oil in a pan and placed cubed tofu pieces. Pan fry both the sides of tofu till they turn golden brown. This step is optional and can be omitted if you don't prefer to fry tofu pieces.
Add lightly fried tofu and sour cream, if using, to spinach gravy and mix well. Cook for another 5 minutes so that tofu absorbs all the flavours. Serve this Palak-Tofu/Saag-Tofu with any Indian bread of your choice and enjoy.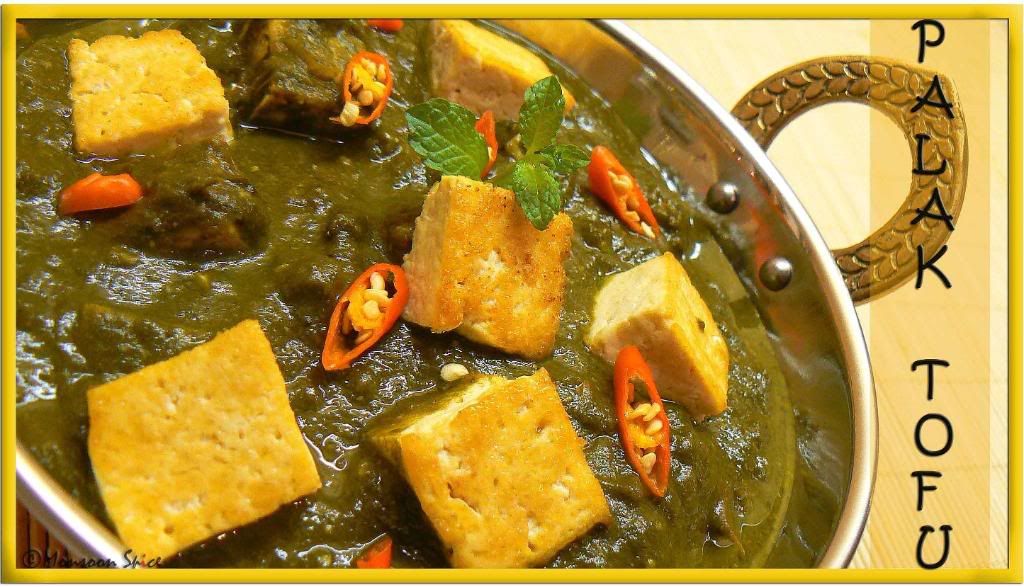 Palak Tofu/Saag Tofu


---
Note:


Replace Tofu with Paneer to make wholesome Palak-Paneer or Saag-Paneer.
Addition of cashew is optional. I have added it to give creamy texture to the gravy.


Other Tofu Recipes posted in Monsoon Spice:

---
Final Call for an 'Ode to Potato'! One more Day to Go...
An
Ode to Potato
ends on 15th of March (GMT Time). Send in your entry before the deadline and join us in the singing. Bake, boil, mash, fry, sauté, grill, stuff, cook... The choice is endless.

Deadline: 15th March, 2008
Please go through the
guidelines
and include all the required information in your post and mail when sending me your entry. Don't forget to add
Your Name
,
Your Blog Name
,
Name of the Dish
you cooked,
Perm Link
of the entry along with the gorgeous
Photo
of Potato dish.
Click Here
to find out more information on this event.