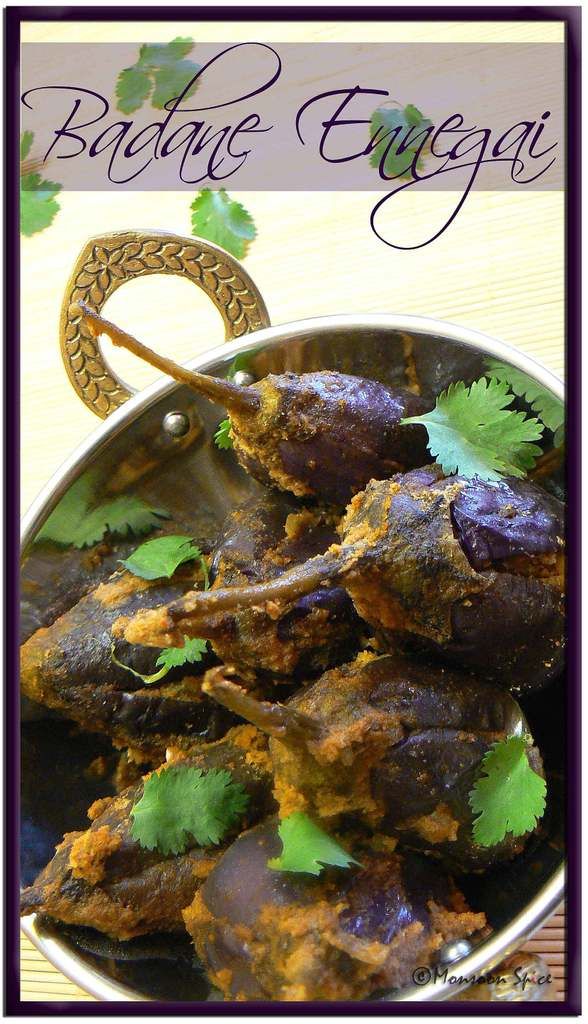 Badane Ennegai
Question: How to make Badane Ennegai?
Person #1: Oh, it's very simple. You take little bit of fresh coconut, and then…
Person #2: No, you don't use fresh coconut for Ennegai. You need desiccated coconut and you grind it with …
Person #3: Hey, hey… Aren't you forgetting something? The authentic recipe calls for roasting the spices and coconut.
Person #4: Yes, roast dry chilli preferably Byadagi Menasu.
Person #5: Oh not Byadagi, you have to use Kolhapuri Menasu. It should taste spicy not bland!!! That's how we Hubli-Dharwad people like!
Person #6: Cut the stem of the Brinjal and make '+' mark half the way.
Person #7: Hello… You always keep the stem. You don't take the crown away from this 'King of Vegetables'.
Person #8: Ennegai is a dry dish.
Person #9: I don't agree with you. Spicy, aromatic stuffed Brinjals are cooked in creamy gravy.
.
.
.
.
Person #N: …… This is the authentic recipe for Badane Ennegai.
Yes, ask some 'N' number of
Kannadigas
as how to cook
Badane Ennegai
and you will surely end up with 'N' methods of making them. Each and every household has their own 'authentic' recipe for cooking this delicious Baby Brinjals. Some stuff them with freshly grated coconut and some with desiccated one. Some roast the spices before pounding them and some grind them with out roasting first. Some make them mild where as some prefer spicy. So it's not a big surprise if you find different versions of Badane Ennegai at different source. Well, for that matter I have already blogged two different recipes for Badane Ennegai in my blog. So to make it perfect 3, here is another way to cook Badane Ennegai. This recipe is from my Aunt S who is not just a wonderful cook but also has published a wonderful cooking book. I usually refer to this cook book of hers, gifted to me by her on my wedding, when I am unable to clarify some doubts with my Amma or Atte at odd hours. Well, even after two years of cooking on my own there are quite many times I keep calling them if I am not sure of some ingredients. And yes, I still haven't learnt to write these recipes in my diary. Thanks to this blog, as it is just two or three times a week my Amma or Atte are forced to talk to me at odd hours. Well, it's a vast improvement from getting some half a dozens of calls every single day ;) May be they'll not have to worry about getting woken up at 2 in the morning in few years of time!!!
This delicious recipe of Badane Ennegai is a keeper for sure. My aunt stuffs the Baby Brinjals is lightly roasted dry/desiccated coconut with aromatic spices and peanuts for nutty flavour. Addition of onions in stuffing adds little crunch and sweet taste and the tamarind paste gives that oomph factor. Serve it with
Dal Rice
or
Rasam Rice
or with
Roties
. But the best way to eat it is with
Jolada Rotti
in Dharwad style. This favourite dish of mine goes to my dear friend Pooja for her
VOW-Brinjal.

Print This Recipe
---
Badane Ennegai (Stuffed Babay Brinjals)
Prep Time: 10 minutes
Cooking Time: 20-30 minutes
Serves: 3-4
---
Ingredients:

8-10 Baby Brinjals

1-2 tbsp Coriander Leaves, finely chopped

½ tsp Jeera/Cumin Seeds

Few Curry Leaves

1-2 tbsp Oil

For the Stuffing:

1 small Onion, finely chopped

½ cup Desiccated Coconut

2 tbsp Roasted Peanuts

¾ tbsp Channa Dal/Split Chickpeas

½ tbsp Urad Dal/Split Black Gram

½ tbsp Coriander Seeds

1 tsp Jeera/Cumin Seeds

6-8 Dry Red Chillies, halved (Adjust acc to taste)

½ tsp Turmeric Powder

¼ tsp Hing/Asafoetida

1-1½ tsp Tamarind Paste/1 big marble sized Tamarind Pulp soaked in warm water

2 tbsp coriander Leaves, finely chopped

Salt to taste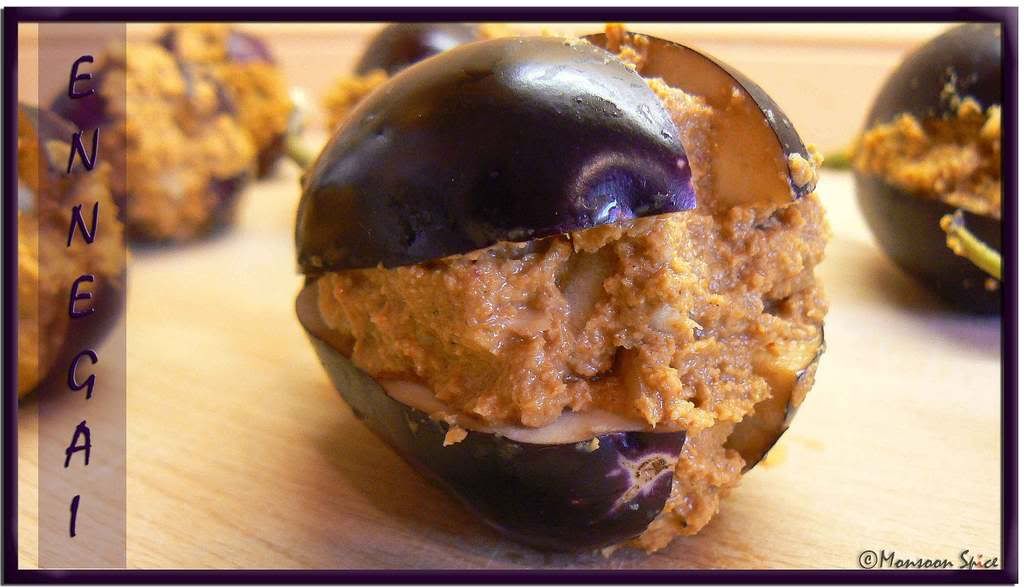 Baby Brinjals Stuffed with Ground Paste
Method:
For the Stuffing:
Dry roast desiccated coconut, channa dal, urad dal, coriander seeds, cumin seeds, hing and dry red chillies in low flame for 2-3 minutes till you get nice aroma. They should be roasted nicely and turn light brown.
Grind these roasted spices with turmeric powder, tamarind paste/water and salt to taste to smooth paste adding very little water at time.
Mix this ground mixture with finely chopped onion and coriander leaves and keep it aside.
To Assemble:
Clean and wash the baby brinjals and slit them from bottom making a '+' mark till 3/4th. Keep the stem intact. Keep them in a bowl of cold water to stop from discolouring till required.
Take about 1 tbsp of this ground paste and stuff these baby brinjals and keep them aside.
Now heat oil in a pan and add cumin seeds and curry leaves. When cumin starts to sizzle, arrange the stuffed baby brinjals in a pan. Make sure that the pan is big enough to hold all the brinjals in a single layer.
Sprinkle about a tbsp of water and cover the pan with lid.
Cover and cook these brinjals undisturbed for around 10 minutes on a medium to low flame. Open the lid and slowly turn the brinjals. Add left over ground paste if any and sprinkle another tbsp of water if required. Cover and cook for another 15-20 minutes. Check in between to make sure the ground paste doesn't stick to the bottom of the pan. Sprinkle little water in between if required.
Serve this Badane Ennegai garnished with chopped coriander leaves with rice or roties or with
Jolada Rotti
as it is traditionally served.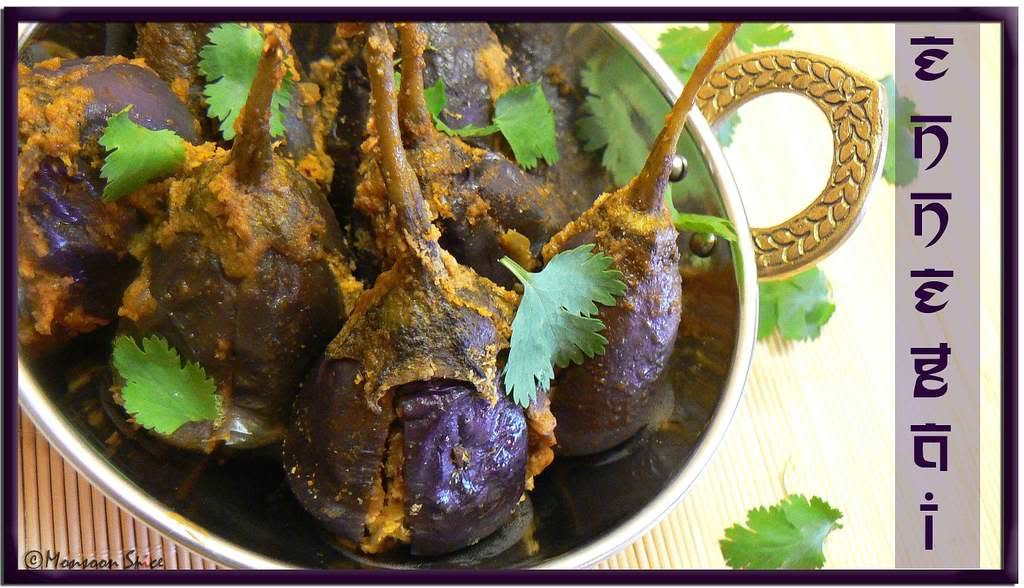 Badane Ennegai
---
Note:
Choose baby brinjals that are firm to the touch, have a smooth and shiny skin. The stem attached to them should be lively green in colour. The tender purple brinjals are the tastier ones. The ones with black seeds are mature ones and will taste bitter. So make sure that you choose the tender ones and have few extra ones just in case.
Store brinjals in a cool dry place, but avoid placing them near tomatoes and apples as they give off a gas that enhances the ripening process. Use the brinjals within 2 days. Refrigerating them doesn't necessarily keep them fresh but if necessary, the brinjals may be kept in a plastic bag in the refrigerator for as long as 5 days.
Other Brinjal/Eggplant recipes blogged in Monsoon Spice:
---
An
Ode to Potato
ends on 15th of March (GMT Time). Send in your entry before the deadline and join us in the singing. Bake, boil, mash, fry, sauté, grill, stuff, cook... The choice is endless.
Deadline:

15th March, 2008
Please go through the
guidelines
and include all the required information in your post and mail when sending me your entry. Don't forget to add
Your Name
,
Your Blog Name
,
Name of the Dish
you cooked,
Perm Link
of the entry along with the gorgeous
Photo
of Potato dish.
Click Here
to find out more information on this event.