There is a land that is drenched by five rivers, their shimmering magical water making it India's
'bread basket'
. It's the land that has its own colour, aroma and unique life style with cheerful and most lively people. In this same magical land there is one beautiful farm house with white washed walls and a large courtyard right in a centre of lively, lovely, golden mustard farm with delicate mustard flowers swaying with the cool breeze spreading their earthy aroma all around. It's early morning time. Birds are singing their welcome songs as the sun rises and spreads his golden rays making everything to gleam and glitter as he touches them. Women of the house are up and awake even before the sun rays could touch the mother earth and they are found in the courtyard busy with their rolling pins.
All ladies are busy as they roll thick poories and then stuffs them with a spoonful of spiced and flavoured vegetables and rolls again it into thick paratha. The
Chulha
in one corner cooks delicious flat breads one after another and with in no time you see stacks of parathas smudged with dollops of
Desi Ghee
. They hurry up as they know its just matter of time when the whole household will get up and get ready to face another morning. As one of the ladies cooks last few
parathas
, another starts making sweet/salty
Lassi
to go with the Parathas. In few minutes time all the members of the family sit together and enjoy home made delicious Parathas dripping with
Desi Ghee
and gulping big brass glass of
Lassi
. Who can resist second servings of these parathas served with dollop of mother's love? The feeling of fullness, satisfaction and contentment that comes from eating these delicious parathas cooked with mother's love is emotional family heirlooms for every kid and even grown-ups.
Whenever I make parathas this is the scene which comes into my mind! I guess I have been getting little too much of Bollywood dose these days. After all this is very common scene in most of the movies. Whenever I used watch those ladies (in real and reel life) squatting next to hot tava (griddle), slapping together dozens of roties for their family, I would always wonder if I could make at least one roti at that time period. With little bit of practice and patience I have come a long way from rolling geographical maps to round-puffed roties and neatly stuffed Parathas. Making perfect round shaped stuffed Parathas without the filling oozing is an art in its own way and I am still learning to master this art. We owe a lot to land of five rivers for giving us this opportunity to cook and explore this extraordinary culinary delight, fresh from home.
Paratha dripping with Desi Ghee and a big glass of refreshing Lassi is common breakfast item in Punjabi household. It might sound little odd and too heavy thing to have for early breakfast but Punjabi's by nature are extremely industrious and helps them to sustain throughout the day. Cooked with different fillings depending on preference and availability of ingredients, these Parathas are one whole meal by itself. Serve them with plain Yogurt with Pickle or with any side dish, they are sure to win everyone's heart.
This time I made these delicious
Mooli/Radish Parathas
flavoured with Chillies, Garlic, Garam Masala and Anardaana/ Dried Pomegranate Powder. This simple Mooli/Radish Paratha served with Chass or Spiced Buttermilk is my entry for
Mansi
of Fun 'n Food's
WBB-Blanced Breakfast
.

Print This Recipe
---
Mooli Paratha

(Indian Flat Bread stuffed with Flavoured Radish)
Prep Time: 20 mins (Excluding Resting time)
Cooking Time: 20-30 mins
Makes: 10 medium sized Parathas
---
For the Dough:

3 cups Whole Wheat Flour/Atta (I use Pillsbury's Chakki Atta)

¼ cup Yogurt

Warm Water for kneading

Salt to taste

For the Filling:

1 large White Radish/Mooli (Approx. 2 packed cups), washed, peeled and grated

2 tbsp Red Onion, finely chopped

2-3 Green Chillies, finely chopped (Adjust acc to taste)

2-3 Garlic Flakes, finely chopped

1 tsp Jeera/Cumin Seeds, roasted and powdered

½-1 tsp Garam Masala

½ tsp Anardaana/Dried Pomegranate Seeds Powder

1 tsp Lemon Juice (Optional, I like it little sour)

1-2 tbsp Coriander Leaves, finely chopped

Salt to taste

Other Ingredients Needed:

Oil/Ghee to brush while cooking the Paratha

Little Atta/flour for dusting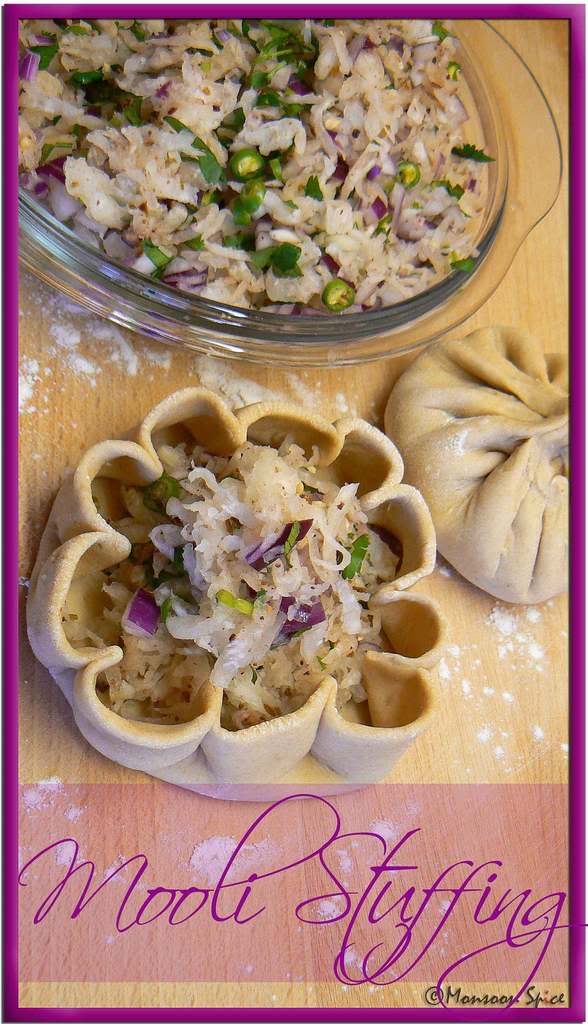 Method:
For the Filling:
Mix salt with grated radish and keep it covered for about 30 mins to 1 hour.
(Don't forget to cover the radish properly if you don't want your kitchen and house to smell of dead rat!)
Take handful of radish at a time and squeeze out the water
(which can be used while kneading the dough)
as much as possible. They should be as dry as possible or else the moisture content will make it difficult when rolling the stuffed paratha.
Mix in chopped onion, chillies, pomegranate seeds powder, garam masala, chopped garlic, lemon juice if using and roasted jeera powder and keep it aside.
For the Dough:
Sieve atta and mix in salt, yogurt.
Slowly add the sqeezed water from radish and warm water as and when required and make stiff dough.
Cover and keep it aside for at least half an hour.
For the Paratha:
Knead the dough again for a minute and make equal lemon sized balls.
Roll this dough ball in flour and roll them using a rolling pin into thick poories of 4 inch in diameter.
Place about 1 tbsp of filling in the centre. Cover and seal the ends and roll again, dusting flour if necessary, into ½ cm thick roties using rolling pin.
Mean while, heat a griddle at high flame and lower it to low-medium flame.
Gently dust off the excess flour and place Stuffed Paratha on griddle and cook on both the sides till its cooked and brown spots start to appear on top. Apply little ghee/oil if desired.
Serve hot Mooli Parathas immediately with any curry or with plain yogurt and pickle of your choice and enjoy.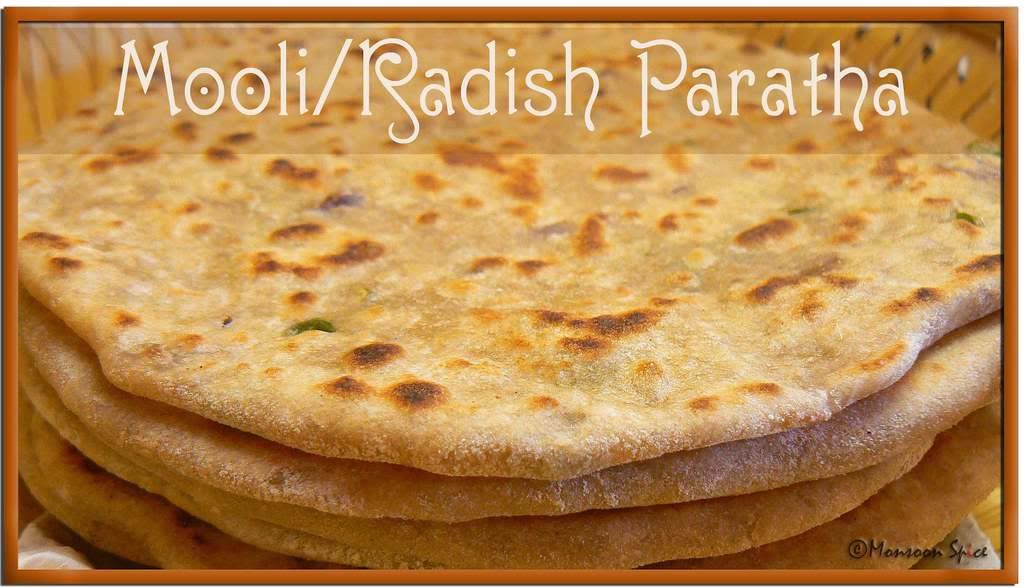 Stack of Mooli Paratha


---
Note:
Remember to cover the grated radish tightly as it has got very unpleasant smell when its raw.

Squeeze out as much of water as possible from radish to avoid from getting soggy parathas. If the water is not squeezed well then there is high chances of it getting difficult to roll them with out the stuffing oozing from the dough and breaking them.

If you are a beginner, start with small amount of stuffing/filling and roll into parathas. Once you learn the technic and are comfortable with the process, you can gradually increase the amount of filling.
Other Parathas posted in Monsoon Spice

---
The best drink to go with Parathas is
Lassi
or Butter Milk. I like
Majjige
as it is called in Kannada which is nothing but Spiced Butter Milk which is the quintessential summer drink in India. My
Ajji
(Grandma) had this big earthen pot of churned buttermilk which was offered to the visitors who would come to meet my
Ajja
(Grandpa) who was the village head. It would be an understatement if I were to say that I grew up drinking
Majjige
more than water. It still remains to be one of my most favourite drinks for summer and even winters. Although I have different recipes and variations for this
Spiced Butter Milk
, Sig darling wants us to try something from other blogs and post it. I tried Priya's
Healthy Yogurt Drink
which turned out to be absolutely refreshing and delicious. Thank you Priya for the recipe which we enjoyed a lot. This goes to
Sig
of Live to Eat who is guest hosting this month's
MBP-Mixed Drink
.

Print This Recipe
---
Lassi

(Spiced Butter Milk)
Prep Time: 5 mins
Cooking Time: -
Makes: 2 Glasses
---
½ cup Yogurt (preferably sour)
½-1 tsp Green Chillies, chopped finely (Adjust acc to taste)
¼-½ tsp Ginger, crushed
1 tsp Coriander Leaves, finely chopped
2 cups Water
½ tsp Roasted Jeera/Cumin Seeds, Powdered
1 tbsp Lemon Juice (Optional)
Salt to taste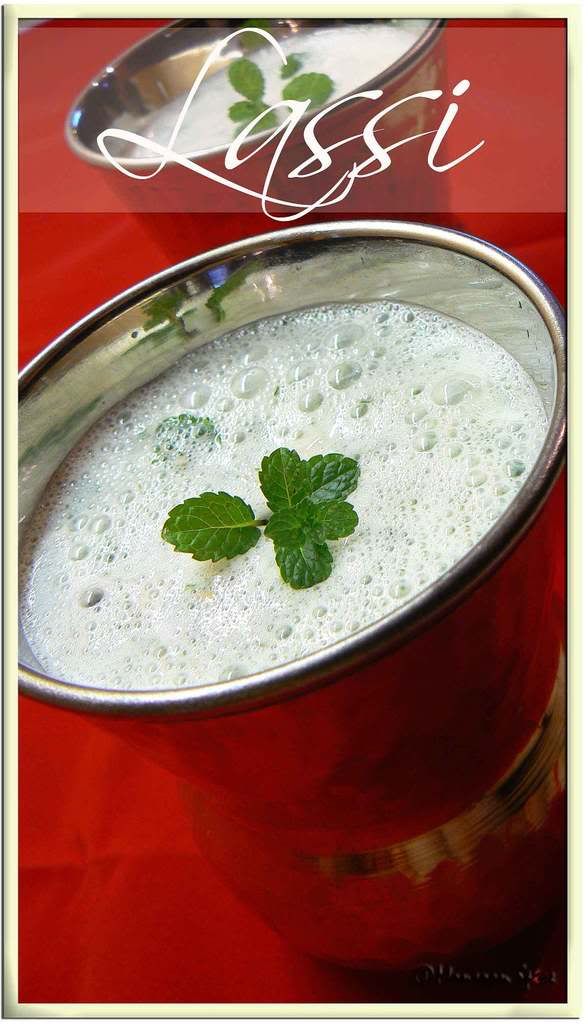 Method:
Place all the ingredients in a blender and blend for about a minute.
Strain and place it in a fridge till required. Serve chilled garnished with coriander leaves or mint leaves and enjoy this refreshing drink.
---
Surprise surprise!!! Little birdy just came and told me my recipe of
Badane Ennegai
has won an award of
Most Authentic Recipe-Brinjal
hosted by my dear friend Pooja.
Thank you
Pooja
for this wonderful event and thanks to all you people who voted for my recipe. And congrats to Gattina & Pooja for winning other two awards.
Click here
for the Badane Ennegai Recipe.