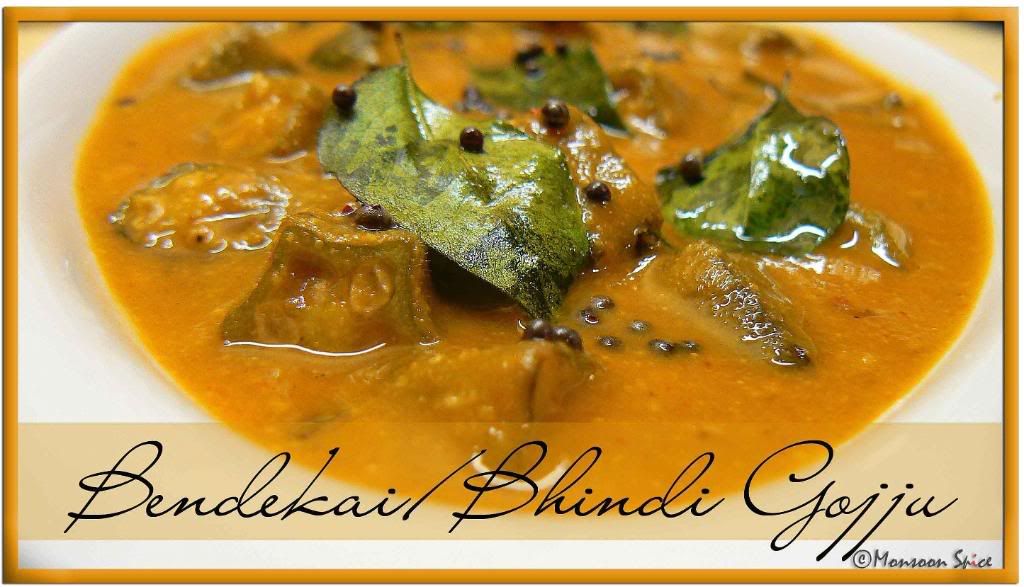 Ladies Finger… such an elegant name for Okra/Bhindi. Considered as the queen of vegetables with its slender shape and crown on top, it is one of my favourite vegetable to cook with. Not many people prefer it because of its sliminess. When cut into pieces this queen likes to cling to anything it touches, knife, chopping board, your fingers. Well, no wonder that it's not everyone's favourite vegetable to deal with, especially the person who is in charge of the kitchen. Who would really want to deal with this slimy vegetable when you have so many other wonderful vegetables to choose from? It will be me and millions others like me who simply love this vegetables in spite of its clinging nature. The reason behind this is the taste which lingers for long hours. Okra is one vegetable that absorbs all the wonderful flavours of spices and transforms into smooth, silky in texture and unbelievable taste still maintaining its crisp crunch. When cooked to perfection, you will not hear any grumblings or see that ugly frowns or much of resistance from the same people who just moments ago were not very fond of it.
One such dish which undoubtedly is loved by most people is
Bendekai/Bhindi/Okra Gojju
. Gojju is a classic Kannadiga dish cooked for everyday meal. The recipe varies from one part of the state to another and hence don't be surprised if you come across other recipes using whole different ingredients and cooking style. This is my Aunt's recipe which is different from the way my Amma makes it. Crisp, fried okra is simmered in the delicious gravy of tamarind, coconut, jaggary and chilli is everything one can ask for.
Is it spicy? Yes, it is.
Is it sour? Yes, it is.
Is it sweet? Yes, it is.
And is it delicious? You bet…
I am posting this recipe for Archana, one of the readers of
Monsoon Spice
who wants to introduce Bendekai/Bendekaayi Gojju to her hubby. Archana, I hope you both enjoy this Gojju.

Print This Recipe
---
Bendekai Gojju
(Okra/Bhindi in Tangy & Spicy Coconut Gravy)
Prep Time: 10 mins
Cooking Time: 15 mins
Serves: 4-5
---
Ingredients:


15-20 tender Okra/Bhindi

2 Green Chillies, slit (Adjust acc to taste)

1 lemon sized Tamarind Pulp/1 tsp Tamarind Paste (Adjust acc to taste)

1 lemon sized Jaggary (Adjust acc to taste)

¾ cups Grated Coconut, fresh/frozen

1 tbsp Oil

For Spice Powder:

4-6 Dry Red Chillies (Adjust acc to taste)

½ tbsp Sesame Seeds

1 tsp Black Peppercorns (Adjust acc to taste)

1 tsp Jeera/Cumin Seeds

1 tbsp Chana Dal/Bengal Gram Dal

½ tbsp Urad Dal/Split Black Gram

A big Pinch of Methi Seeds

¼ tsp Hing/Asafoetida

For Tempering:

1 tsp Mustard Seeds

Few Curry Leaves

A big pinch Hing/Asafoetida

1 tsp Oil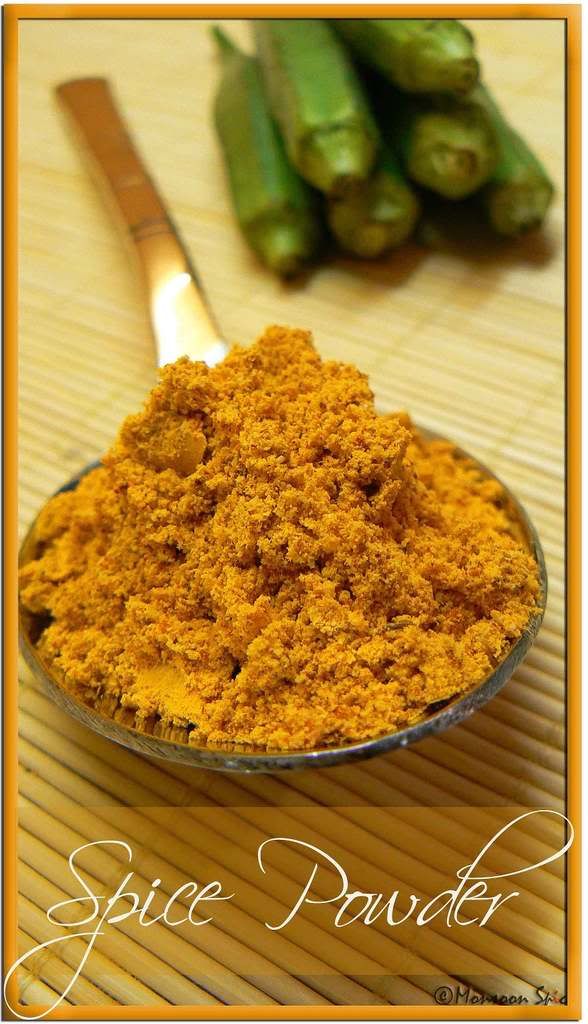 Ground Spice Powder for Gojju
Method:
Wash the Okra and dry thoroughly using a clean dry cloth. Make sure that all the moisture is removed. This is important step when using Okra in cooking to reduce its sliminess. Once they are dried, cut them into ½ inch rounds using dry knife and keep them aside.
Soak tamarind pulp in a cup of warm water for about 10 mins. Squeeze out the tamarind pulp and discard the seeds. Keep this squeezed tamarind puree aside.
Dry roast all the spices listed, from dry red chillies to hing on a low flame till they are lightly browned. Takes about 2-4 mins of time. Cool the spices and grind them to smooth paste with coconut adding very little water.
Heat 1 tbsp oil in a pan and when it is hot add cut okras. Sauté them continuously at medium to high flame till okra turns brown and retains its crispiness. Usually it takes around 5-7 mins.
Once the okras have turns crisp and brown, add tamarind puree, slit chillies if using and mix well. Add about 1 cup of water, salt and jaggary and let it simmer for about 3-4 mins.
Now add ground paste and mix well. Depending on the required consistency of gravy add water and mix well. Cook uncovered on a medium to low heat for about 5-10 mins till all the flavours blend well and small bubbles start to appear.
Remove Gojju from flame. Heat 1 tsp of oil in a pan and add mustard seeds and curry leaves. When mustard starts to pop and splutter transfer this tadka/tempering into Gojju and mix well. Cover and let it sit for about 10 mins for the flavours to blend well.
Serve this tangy, sweet and spicy Bendekai Gojju with plain steamed white rice and enjoy. You can serve this hot or cold depending on your preference.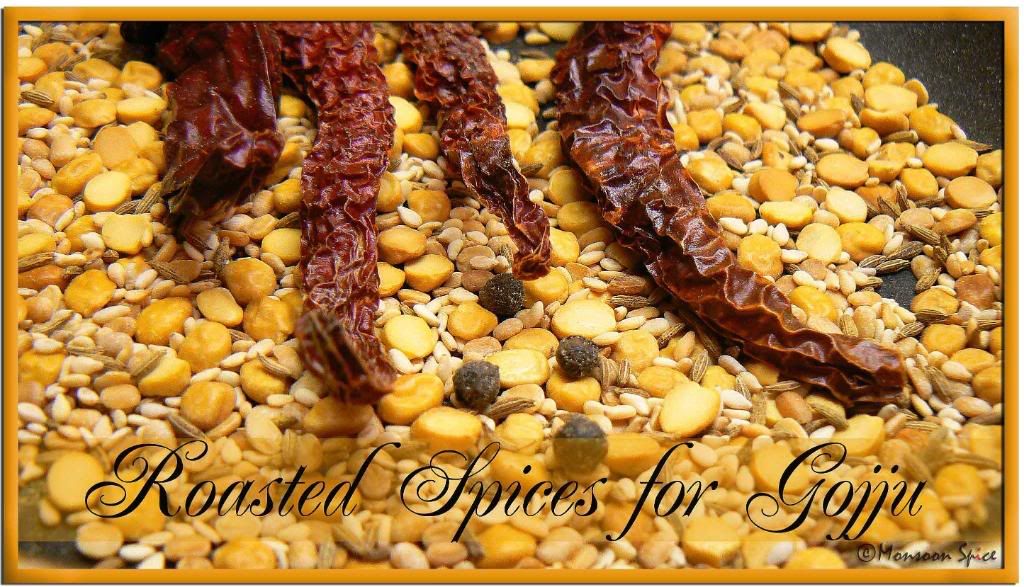 ---
Beginners, always remember not to wash the okra once it is cut into pieces (been there, done that).
To reduce the sliminess of Okra, clean the knife and cutting board in between with kitchen towel or napkin.
Stir fry okra at medium to high temperature till it turns brown and crisp. This way the okra will not be gooey with slime.
When using frozen Okra, thaw and wipe it using kitchen towel. Preheat the oven at around 250 deg C. Line the baking tray with baking sheet or simply spray it with cooking spray. Spread it on a baking tray in single layer and bake it for about 5-10 minutes. I picked this tip from
here
and it works very well.