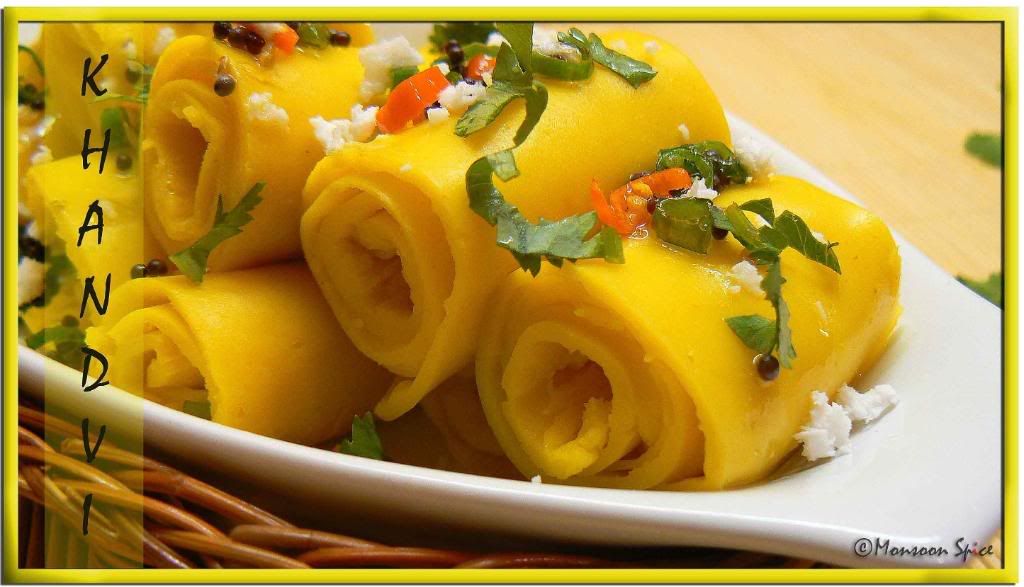 Microwave Khandvi
We meet hundreds and thousands of people all around the globe but there are only few who leave their foot prints in our heart. One such person is Trupti of
The Spice Who Loved Me
. We both started our food blogs together and I can't remember who was the first one to leave a note in our blogs. With in few days we were exchanging mails and chatting for hours on internet. Her love and passion for Gujarati food was evident when ever she posted a recipe in her blog and it was her simple recipes with detailed descriptions which attracted hundreds of amateur cooks like me to try and create wonderful Gujarati fair. It was always her blog which helped me to cook and impress my Gujju friends. She is a very special friend of mine whom I am missing a lot while writing this post. Although she no more blogs due to some personal reasons, I wish her all the luck and happiness. Dear T, this is to you and our friendship which I treasure.
Khandvi

is Gujarati delicacy made using Gram Flour/Chickpea Powder and flavoured with tempering of pungent mustard, spicy green chillies, sweet coconut grates and aromatic coriander leaves. Although I had tasted Khandvi made by my PG owner, I never ventured into making it at home thinking it's far from my reach to get those seductive spirals. Then one day while browsing for recipes I came across this

Microwave Khandvi and I could no more resist the temptation. The ingredients listed and the method sounded simple enough to give it a go. I gathered all the courage I could muster and prayed before venturing into making it. It was fun watching thin batter turn thick paste when cooked in microwave without wasting my elbow grease and then spread them thinly on my glass chopping board (I thanked my Amma at that moment for teaching me Dosa making skill;). The best part was to cut them into thin stripes and roll them without much fuss!!! Yes, I did it and I feel like I am on top of the world (Oh, all you Khandvi experts can stop making faces and rolling their eyes :P). Here I proudly present fluffy, soft, melt in mouth and sinfully delicious

Microwave Khandvi

which goes to RCI-Gujarat hosted by lovely Mythili of Vindu.

Print This Recipe
---
Microwave Khandvi
Prep Time: 10 mins
Cooking Time: 15-20 mins
Makes: About 20 pieces
---
Ingredients:


For Batter:


1 cup Besan/Gram Flour
3 cups Sour Butter Milk/1 cup Sour Yogurt+2 cups Water
1-2 Green Chillies, ground to paste
½ inch Ginger, ground to paste
A big pinch of Hing/Asafoetida
A big pinch of Turmeric Powder
Salt to taste



For Tempering:


1 tsp Mustard Seeds
2-3 Green Chillies, finely chopped
1 tbsp Fresh Coconut grates
1-2 tbsp Coriander Leaves, finely chopped
1 tbsp Oil
Method:
Take gram flour, turmeric powder, chilli and ginger paste, hing and salt to taste in a microwave safe bowl and mix well. Add butter milk to the mixture and mix well with a egg beater or spatula taking care that no lumps is formed. The batter should be thin and flowing without any lumps.
Place the bowl in a microwave and cook at high speed for 5 mins. Remove the bowl and mix the contents well.
Mean while, keep ready 2-3 steel plates or glass chopping board as I have used and a spatula to spread the batter. Don't grease them with oil.
Place again in a microwave and cook uncovered for another 5 mins. Mix well and check if you can spread them thinly on the back of steel plates or glass chopping board. If the mixture is still runny, place it again in microwave and cook for another 2-4 mins.
Spread the thick batter quickly on the back of steel plates or glass chopping bowl. Spread it as thinly as possible.
Let it cool for 2-3 minutes. Then slice them with knife into 2 inch long stripes and roll each stripe neatly. Place each rolls in a serving dish.
For tempering, heat oil in a skillet and add mustard seeds to it. When mustard starts to pop and splutter, add chopped green chillies and sauté it for few seconds.
Spread them evenly over rolled Khandvi. Serve them immediately garnished with coconut grates and chopped coriander leaves and enjoy.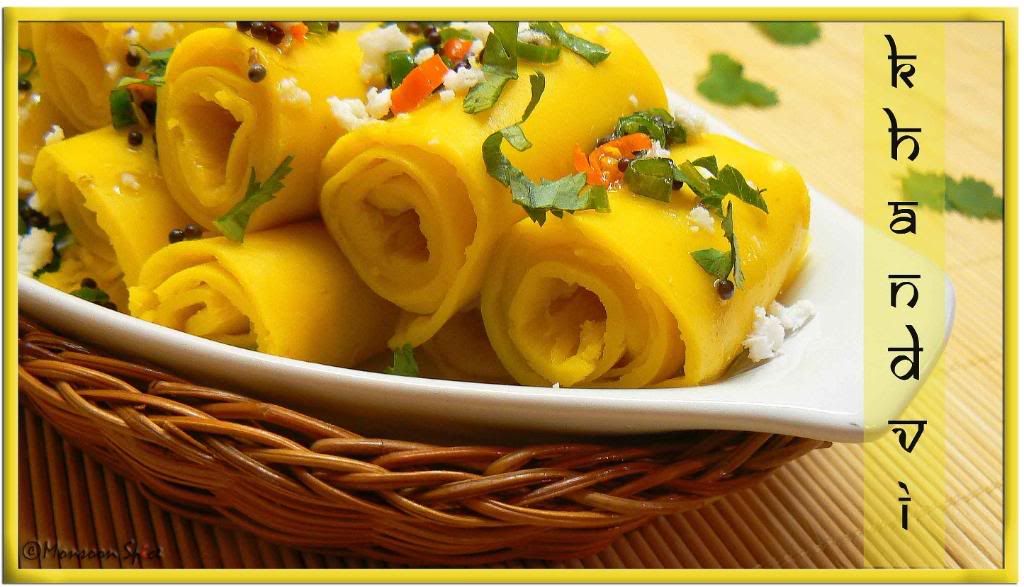 Microwave Khandvi
---
Note:
Few things worth remembering when making Khandvi are
While preparing the batter make it lump free as it will help you to evenly spread.
Keep at least 3 steel plates or smooth surfaced utensils ready before you spread the batter as it is important to spread the batter before it cools down and it is difficult to spread cooled batter thinly and evenly.
Other Popular Gujarathi Recipes in Monsoon Spice