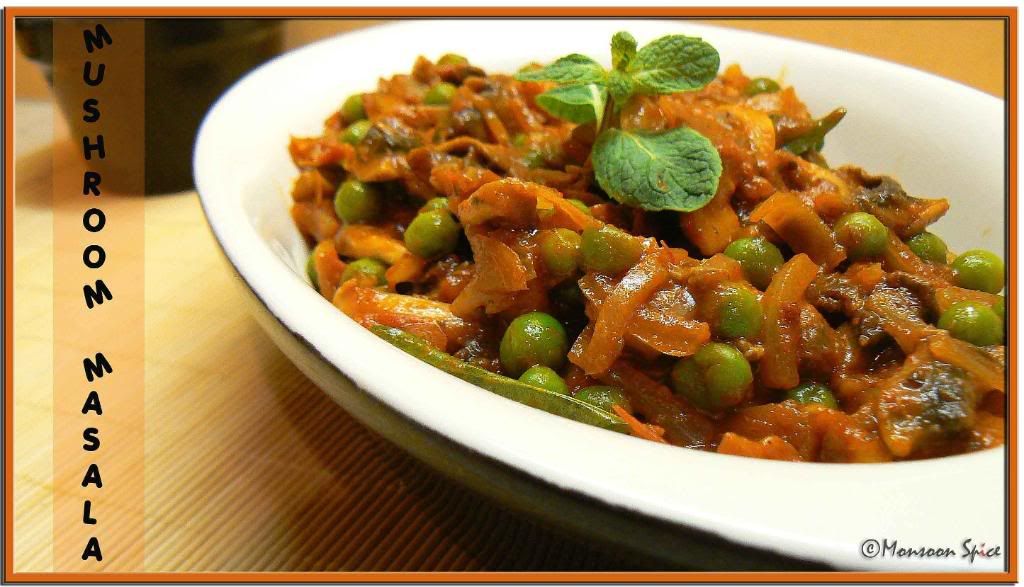 Spicy Peas-Mushroom Masala
What are you?
A foodie, or the gourmet, or the gourmand?

gour•met

noun

- A connoisseur of fine food and drink; epicure

adjective

- Of or characteristic of a gourmet, esp. in involving or purporting to involve high-quality or exotic ingredients and skilled preparation: gourmet meals; gourmet cooking.

- Elaborately equipped for the preparation of fancy, specialized, or exotic meals: a gourmet kitchen.

gour•mand

noun

- A person who is fond of good eating, often indiscriminatingly and to excess.

- A gourmet; epicure.

food•ie

noun Slang

- A person keenly interested in food, esp. in eating or cooking.

- A person devoted to refined sensuous enjoyment (especially good food and drink)
What would you call yourself, a foodie or the gourmet or gourmand? Well, I never would have thought about it until few months back when I was asked the same question by my colleague and then
dear blog friend
. All I knew was I loved food, both cooking and eating it. I would rather have a big plate of food which makes me feel good and content than sampling few tea spoons of fancy food. I would rather go for a double cheese burger or pizza with bunch of my friends' right in front of the TV than eat three course meals at some quiet fancy restaurant. I would rather drink a bowl of hot 'n spicy Rasam than sip some fine wine and I would gladly eat Curd rice with pickle than taste samples of fine cuisine. It means my love for food is not restricted to fine gourmet cuisine although I do love to indulge myself sometimes.
Whenever I think of food, I crave for some homemade simple foods than fancy eye candies. It's the simple, comfort food that makes me happy and warm when I am hungry. So I can happily say that I am a foodie through and through. Well, what else would you call a person who talks about food, daydreams of food and loves to cook food? A foodie right? And to top it all my blog is dedicated to foodie's food :) So what would you call yourself? A foodie or the gourmet or the gourmand?
Life's been hectic since couple of weeks and Krish and I are spending very little time in kitchen during weekdays. When life gets hectic and you don't have enough time to itch your a$$, all you want to cook and eat is something which is quick yet tasty. Spending little time in kitchen doesn't mean that we are hogging some burgers and wedges or frozen pizzas (I am on diet remember?). Far from that we are eating some healthy food. Again, healthy food is not restricted to green salad or fruits tossed in our bowl but some sinfully delicious food with a touch of exotic spices. I had a big batch of frozen
Tofu Stuffed Kulchas
in freezer and it was begging to be eaten with some spicy curry. All I was left in fridge was a box of button mushrooms and tomatoes. With quick brainstorming session, Krish and I ended up making this
Spicy Peas-Mushroom Masala
which tasted great with Kulchas. The crisp onions and tangy tomatoes were well balanced with chewy mushrooms and exotic spices. Do give it a try if you love mushrooms and peas like me and I can guarantee that you won't be disappointed.

Print This Recipe
---
Spicy Peas-Mushroom Masala
Prep Time: 5 mins
Cooking Time: 15 mins
Serves: 3-4
---
Ingredients:

1 box Mushroom (approx 4-5 cups), quartered

½ cup Green Peas, fresh/frozen

1 large Onion, sliced thinly

2 large Tomatoes, finely chopped

2-3 Green Chillies, finely chopped

½ inch Ginger, finely chopped or ½ tsp Ginger Paste

1 tbsp Garlic, finely chopped or ½ tsp Garlic Paste

1-2 tbsp Tomato Paste

1 tsp Kashmiri Chilli Powder

¼ tsp Turmeric Powder

½ tsp Black Pepper Powder

½ tsp Garam Masala

½ tsp Kitchen King Masala

½ Lime Juice/ ½ tsp Amchur Powder

1 tbsp Kasuri Methi (Optional)

1-2 tbsp Coriander Leaves

Few Curry Leaves (Optional)

1 tsp Jeera/Cumin Seeds

½ tbsp Oil

Salt to Taste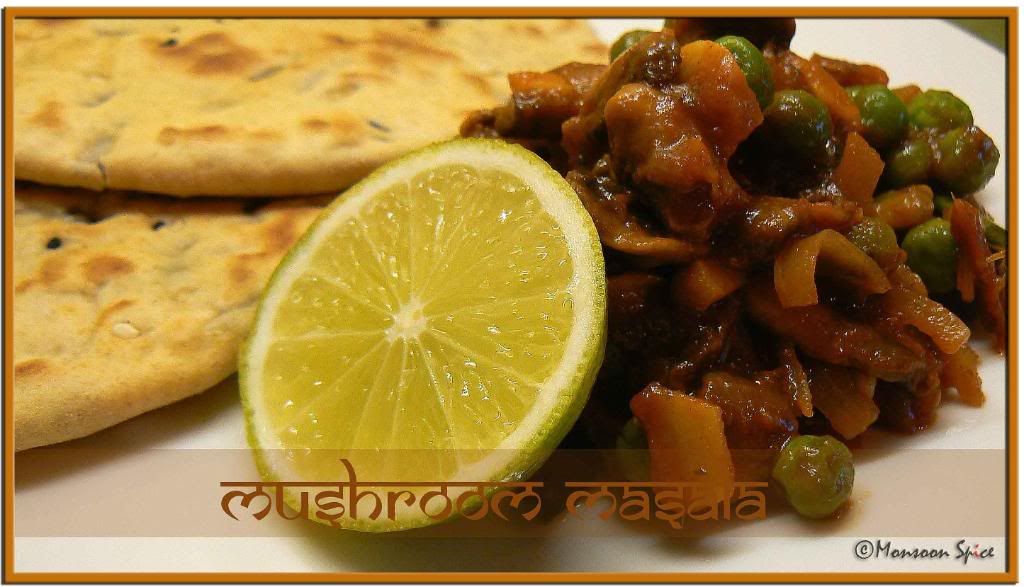 Method:
Heat oil in a pan and add cumin seeds and curry leaves to it. Add sliced onion and chopped garlic when cumin seeds start to sizzle and sauté it on medium flame till onion turns translucent.
Add chopped green chillies and ginger and sauté it for about 30 secs. Mix in quartered mushrooms and sauté on medium flame for 2-3 minutes till the mushrooms are wilted and wrinkled.
Mix in green peas, chopped tomatoes, tomato paste and salt to taste and cook for about 2 minutes on medium flame till tomatoes get pulpy and releases its juice.
Add chilli powder, turmeric powder, black pepper powder, garam masala and kitchen king masala and mix well. Cook for another 4-5 minutes till all the flavours blend well.
Add kasuri methi and juice of half a lime and mix well. Cook for another two minutes on a reduced flame.
Serve hot Spicy Mushroom Curry garnished with chopped coriander leaves with Roti/Kulcha of your choice.