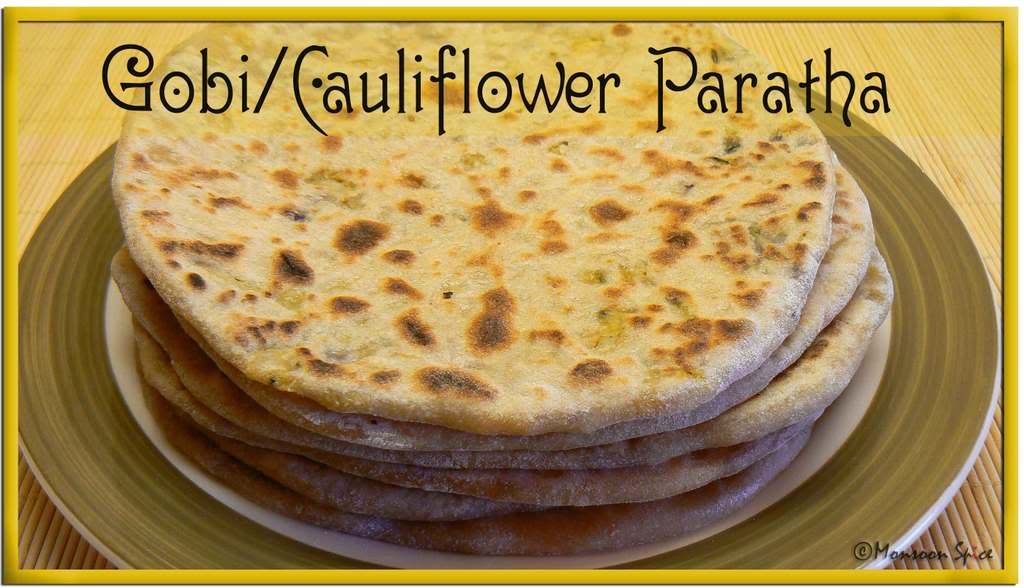 I was a typical headstrong, independent, strongly opinionated teenager who never hesitated to say "NO" for food cooked using particular vegetable or greens. With 90%+ vegetables and greens which belonged to my black list, it was not an easy task for my Amma to cook something which every family member loved. For me Green Leafy Vegetables were simply horrible to look at let alone taste it. Root Vegetables were loaded with little too much of carbohydrates for my taste. This strange piece of information I seemed to have picked from our Botany class taken by handsome lecturer with cute dimple on his left cheek whenever he smiled and I could see every girl in my college falling for!!! And there were not many vegetables which grew above ground level that caught my fancy. So what did I really eat as a teenager? If your answer is junk food containing lots of deep fried, greasy, spicy, bubbly, unhygienic food cooked every other place except home, then think again.
Like many millions caring, smart mothers all over the world who knows what to cook for their opinionated kids, my Amma too smartly belonged to that category. Amma always made it a point to sneak vegetables in our diet without giving us much choice other than eat it grudgingly. Grudgingly because I knew it contained the greens and vegetables which I simply hated but still the taste made it for everything else. Amma made Uttappas, Stuffed Parathas, low fat Veggie Burgers, grilled Vegetables which I couldn't resist in spite of not being very fond of veggies and greens. Now when I think of it I cant help but wonder how Amma managed to hide her smile when she saw me stuffing all these goodies one after another with a typical teenager
'don't you dare to laugh at me or lecture me'
look on my face. Its not easy being a cool and bindas teenager in India I say!
One vegetable I loved to hate was Cauliflower. I was never fond of this stinking vegetable and always rolled my eyes at people who would go gaga over its shape, texture and taste. It was great unsolved puzzle for me to see people adoring this vegetable which smells (read stinks) and tastes like cabbage, yet another vegetable that topped my hate list. As usual all my theories of why we should ban Cauliflower dishes went to deaf ears of my Mommy dear and as if I really had any fat chance of making her change her mind. Right when I was grumbling as how bad it smells, Amma grated it while I covered my nose with a hanky. My entire lecture on ugly cauliflower, how stupid it was to look at and how I had rather eat cow dung in its place, went to deaf ears. She gave me knowing smile and went on adding a pinch of this and a dash of that and with in few minutes this stinky vegetables dressed with aromatic spices was stuffed in a whole wheat dough and rolled flat. Cooked to perfection with little bit of Ghee on both the sides it smelled almost heavenly to my utter disbelief. She placed this perfectly round, hot, delicious smelling
Gobi ke Paranthe
with a small bowl of Yogurt and my favourite Pickle in front of me and asked me to taste it if I wanted. I not only tasted it but reluctantly asked for more.
Since then I am completely hooked to this delicious
Cauliflower/Gobi Parathas
which is second best thing to Aloo/Potato Parathas for me. Served simply with a cup of thick home made Yogurt and spicy Pickle, it sure to win every Cauliflower haters hearts. Amma, this is to you if you are reading it by any chance :) This
Cauliflower/Gobi Paratha
also goes to my dear friend
Srivalli
who is hosting
Roti Mela
after hosting successful
Dosa Mela
. Valli, I am eagerly looking forward for yet another wonderful round-up.

Print This Recipe
---
Cauliflower/Gobi Paratha

(Stuffed Indian Flat Bread with Spiced Cauliflower Gratings)
Prep Time: 20 mins
Cooking Time: 20-30 mins
Makes: 10 medium sized Parathas
---
Ingredients:

For the Dough:

3 cups Whole Wheat Flour/Atta (I use Pillsbury's Chakki Atta)

¼ cup Yogurt

Warm Water for kneading

Salt to taste

For the Filling:

2-2½ cups Cauliflower Florets, grated

1 small Onion, very finely chopped

2-3 Green Chillies, finely chopped (Adjust acc to taste)

1 tsp Jeera/Cumin Seeds

½ tsp Roasted Jeera/Cumin Powder

½ tsp Turmeric Powder

½ tsp Amchur/Dry Mango Powder or 1 tbsp Lime/Lemon Juice

½ tsp Garam Masala

¼ tsp Kitchen King Masala (Optional)

½ tbsp Kasuri Methi

1 tbsp Fresh Coriander Leaves, finely chopped

1 tsp Oil (If cooking the Cauliflower)

Salt to taste

Other Ingredients Needed:

Oil/Ghee to brush while cooking the Paratha

Little Atta/flour for dusting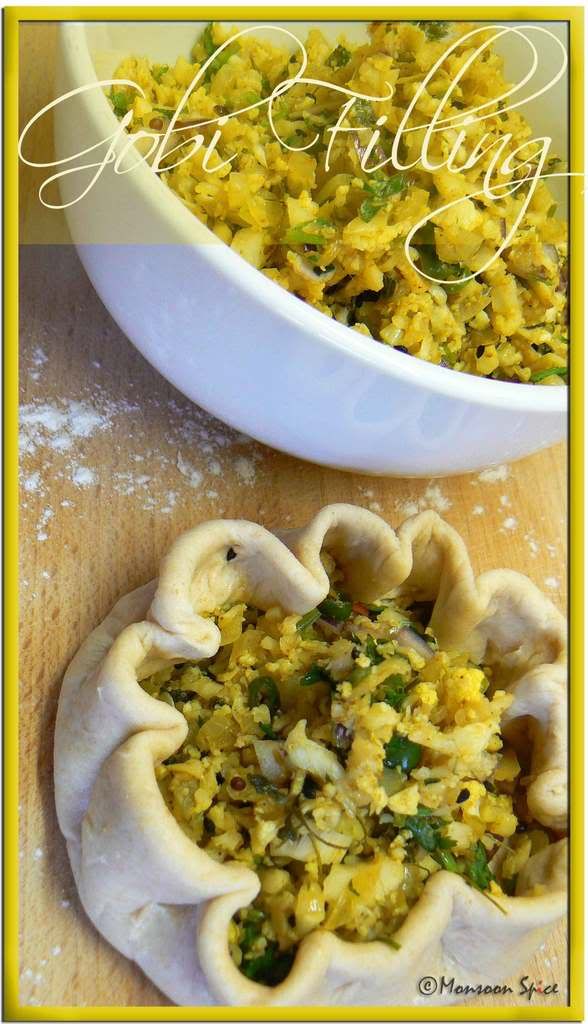 Method:
For the Dough:
Sieve atta and mix in salt to taste and yogurt.
Slowly add warm water as and when required and make stiff dough.
Cover and keep it aside for at least half an hour.
For the Filling:
For the Paratha stuffing you can either cook Cauliflower for few minutes or just mix in all the ingredients with out cooking and then stuff the Parathas. If you prefer to cook it a little bit then follow the following steps.
Heat oil in a pan and add cumin seeds. When it starts to sizzle, add finely chopped onions, green chillies and sauté it on a medium heat for about 1-2 minutes till onions becomes translucent.
Now add roasted cumin powder, turmeric, dry mango powder, garam masala, kitchen king masala and sauté it for about 30 seconds.
Mix in grated cauliflower florets, salt to taste and kasuri methi and sauté it for about a minute till all the spices are mixed well.
Turn off the gas and mix in finely chopped coriander leaves and let the stuffing come to a room temperature. It is important to make sure that the filling is completely cooled before stuffing as it might ooze from parathas while rolling due to moisture content.
For the Paratha:
Knead the dough again for a minute and make equal lemon sized balls.
Roll this dough ball in flour and roll them using a rolling pin into thick poories of 4 inch in diameter.
Place about 1 tbsp of filling in the centre. Cover and seal the ends and roll again, dusting flour if necessary, into ½ cm thick roties using rolling pin.
Mean while, heat a griddle at high flame and lower it to low-medium flame.
Gently dust off the excess flour and place Stuffed Paratha on griddle and cook on both the sides till its cooked and brown spots start to appear on top. Apply little ghee/oil if desired.
Serve hot Cauliflower/Gobi Parathas immediately with any curry or with plain yogurt and pickle of your choice and enjoy.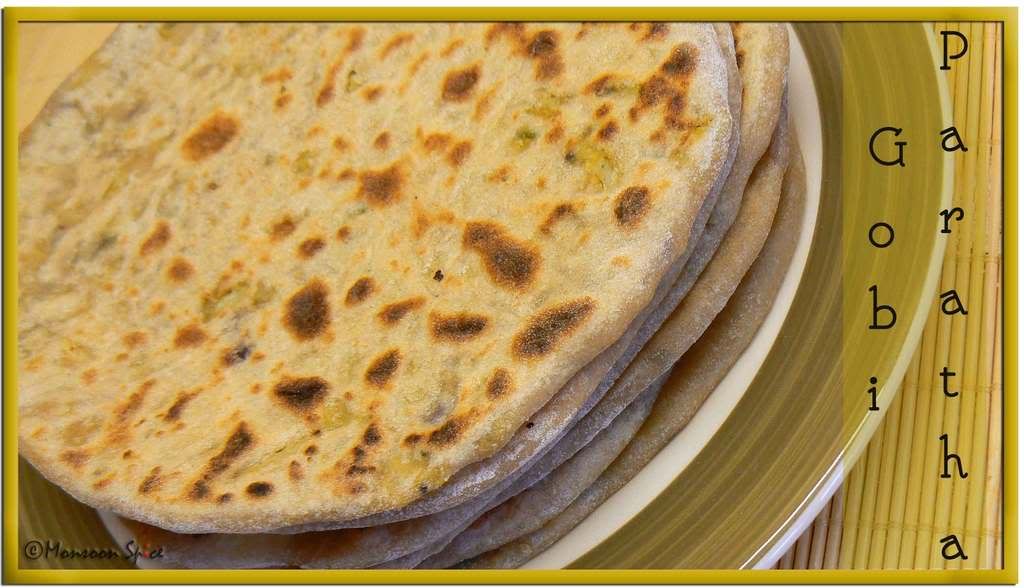 ---
Always make it a point to see that the stuffing is as dry as possible. If not there is a high chance of it oozing out while rolling the parathas due to moisture content.
If you are a beginner, start with small amount of stuffing/filling and roll into parathas. Once you learn the technic and are comfortable with the process, you can gradually increase the amount of filling.
Other Parathas posted in
Monsoon Spice
---
Thank you
Swati
and
Dee
for thinking of me and passing this award. I really appreciate your kind gesture. I pass this award to every food blogger as only we know how difficult it is to maintain and update your blog with new posts filled with yummilicious pictures and interesting recipes and articles. You all deserve a tight hug and pat on your back.