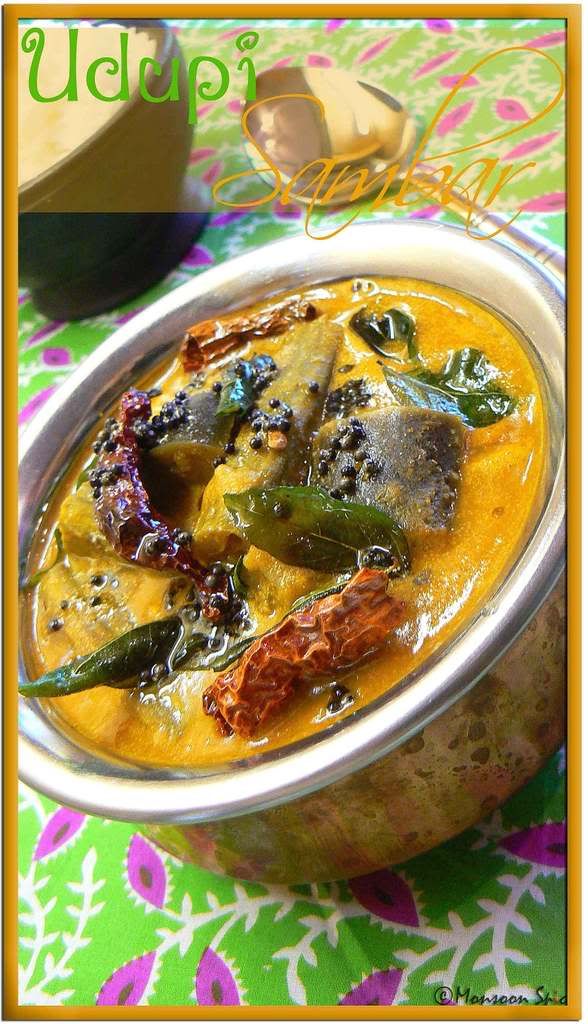 Tucked in between the majestic mountains of Western Ghats on the east and mighty Arabian Sea on the West, there is a beautiful small town called
Udupi
. There are not many places like Udupi that has rich history, colourful diversity, vibrant people, virgin beaches, incredibly charming buildings and simply irresistible cuisine. I remember visiting the Krishna Temple with my parents and grandmother once in every six months when we were small and a walk on a Ratha Maarga (Chariot Street) was one of my favourite parts of the trip. Dad would take us to small shops on Ratha Maarga looking for any unusual piece of art and craft for his antique collection and promise us to take to our favourite hotel on a way back home for sinfully delicious, crisp Masala Dosa. A lazy stroll along the streets of
Ashta Matha
(8 temples) with Ajji while she narrated an amazing story of Saint Kanakadasa and Lord Krishna is something I will always cherish. It's been quite some years since I visited the temple but the memories are as fresh as morning dew on rose petal.
Another part of our trip to Udupi that is one of my wonderful childhood memories is the food served at Udupi, be it at Krishna Temple or at my favourite restaurants Diana and Kidiyoor. For a foodie like me Udupi is food paradise. Even simple every day food has magical feel to it. According to history, the
Udupi Cuisine
has its origin in
Ashta Matha
's of Udupi founded by the
Vaishnavite
saint
Shri Madhvacharya
in the 13th century. Locally grown grains, beans, vegetables and fruits are the hallmark of this divine cuisine. The world famous
Krishna Matha/Temple
is believed to be the centre of Dasa Saahitya, a form of literature originated in Udupi. And this same temple serves free food, called as Annadana, for thousands of devotees every single day. The temple food is simple with no frills. Rice, one or two
Palyas
(vegetable stir Fries),
Rasam
(thin, spicy Tomato Soup), Papad/Happala,
Sambar
(South Indian vegetable curry), Majjige Neeru (Spiced Butter Milk) and Payasam (Indian pudding) to finish this divine meal. This is one meal that not only satisfies your stomach but also touches your soul.
One such recipe is
Udupi Sambar
usually made with no onion and garlic at Krishna Temple. The following recipe uses small pink Sambar/Pearl Onions. The vegetables used here Brinjal and Drumsticks are made for each other. The tang of tamarind and tomatoes, sweetness of jaggery and coconut and heat from roasted spices complements each other in this coconut-lentil medley. Back at my native we use
Udupi Gulla Badane
which has got big seeds compared to usual purple eggplants we get here. Nevertheless, you can use any vegetables of your choice like gourds or pumpkins as it is on slight sweet notes. The ingredient list might scare you but trust me when I say it's really simple to make. Serve it with lacy and crisp
Dosas
or fluffy and soft
Idlis
or just plain steaming bowl of white Rice and Ghee to enjoy this divine food straight from Temple Town, Udupi.

Print This Recipe
---
Udupi Samabr

(Vegetable Coconut-Lentil based Curry from Temple Town, Udupi)
Prep Time: 15 mins
Cooking Time: 20-25 mins
Serves: 5-6
Recipe Source: Pachakam & Amma

---
1 large Brinjal/Eggplant, cut into 1 inch cubes (Thai Green Eggplant or Udupi Gulla Badane is preferred)

3-4 Drum Sticks, cut into 2 inch pieces

10-12 small Sambar Onions/Pearl Onions, peeled or 1 large Onion, thinly sliced

2 large Tomatoes, cubed

2-3 Green Chillies, slit

½-¾ cups Toor Dal/Split Pigeon Pea/Red Gram, washed, pressure cooked with pinch of Turmeric Powder and tsp of Oil and mashed well

1 tsp Tamarind Paste/1 small lime sized Tamarind Pulp, soaked in warm water and juice extracted

1 tsp Jaggery (Adjust acc to taste)

½ tsp Turmeric Powder

Small bunch of Coriander Leaves, finely chopped

1 tbsp Oil (Preferably Coconut Oil)

¼ tsp Hing/Asafoetida

Few Curry Leaves

Salt to taste

For Udupi Sambar Powder:

1 tbsp Urad Dal/Split Black Gram

½ tbsp Channa Dal/Spilt Bengal Gram

2 tsp Jeera/Cumin Seeds

1 tbsp Coriander Seeds

½ tsp Methi/Fenugreek Seeds

4-6 Dry Red Chilli (Preferably Byadagi, adjust acc to taste)

1 cup Grated fresh/frozen Coconut

For Tempering:

1 tsp Mustard Seeds

1 Dry Red Chilli, halved

¼ tsp Hing/Asafoetida

Few Curry Leaves

1 tbsp Oil, preferably Coconut Oil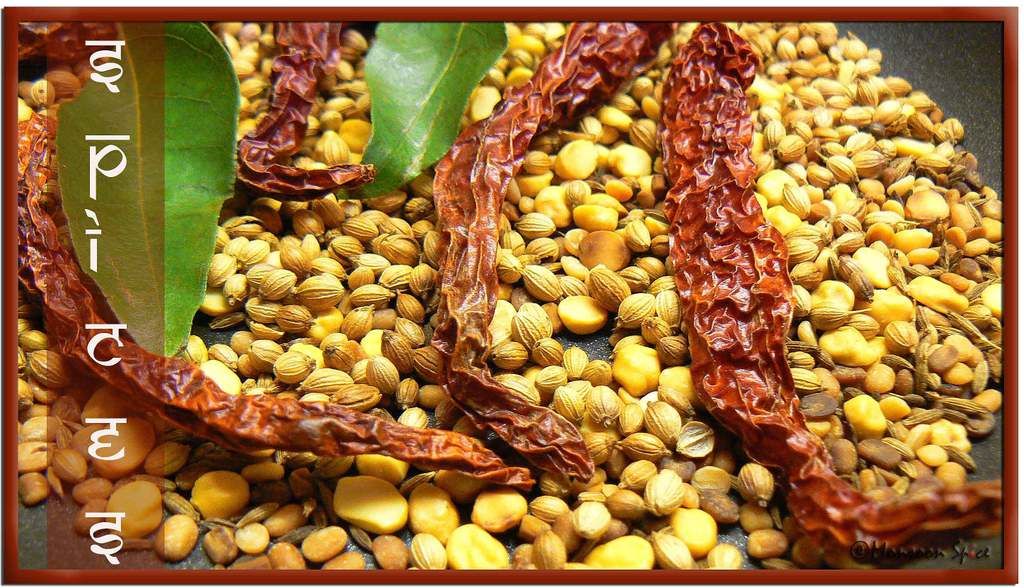 Roasted Spices for Udupi Sambar
Method:
Heat 1 tbsp of Coconut Oil in a pan and add sambar/pearl onions, hing and few curry leaves. Sauté it on medium flame for about 2-3 minutes till they turn glossy and translucent.
Add vegetables of your choice with cubed tomatoes and just enough water to cook the vegetables. Mix in turmeric powder, jaggery, tamarind puree/paste and salt to taste. Cover and cook for 10-15 minutes till the vegetables are cooked well.
While vegetables are cooking, heat the pan and dry roast all the ingredients listed from Urad Dal to Dry Red Chillies for about a minute. Mix in grated Coconut and roast it along the spices for another minute or so till it turns light golden and aromatic.
Cool and grind these roasted spices and coconut to a smooth paste by adding very little water at time.
Add this ground mixture and mashed toor dal to cooked vegetables and mix well. Adjust the seasoning and add water depending on the required consistency of Sambar. Make sure that the sambar is not too thick or thin. Simmer and bring the whole sambar to gentle boil (takes about 5-7 minutes).
Heat oil in a pan and add mustard seeds, dry red chilli, hing and curry leaves in that order. Transfer the tempering to Sambar when mustard starts to pop and splutter.
Mix in finely chopped coriander leaves and let it sit covered for about 10 mins for all the flavours to blend well. Serve this delicious Udupi Sambar with
Idli
,
Dosas
or plain steamed Rice and enjoy.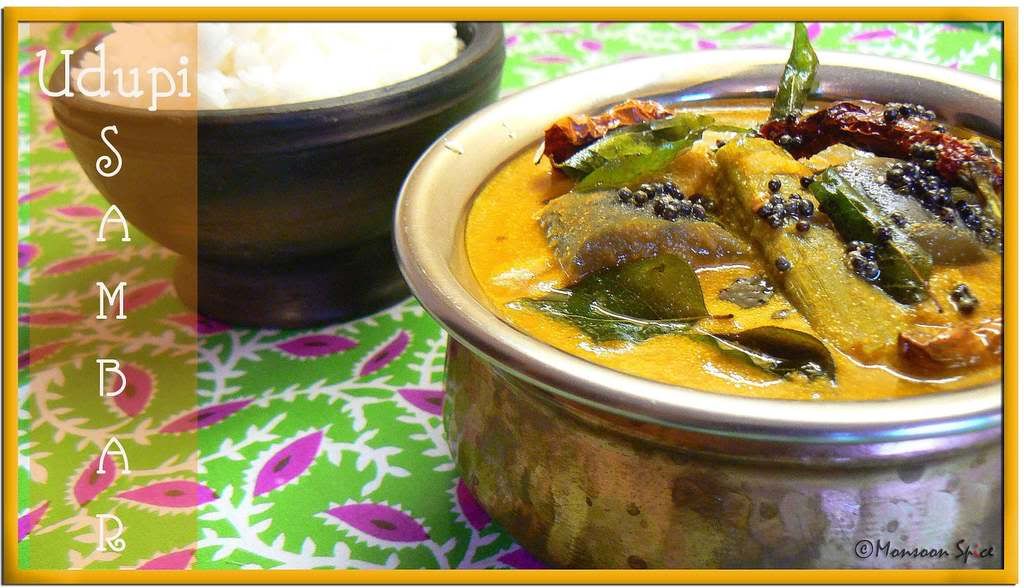 ---
Prepare Udupi Sambar Masala (minus Coconut from the list) in bulk quantity and store it in an air tight jar for months. When needed dry roast coconut for a minute and grind to smooth paste with this Masala.
You can make Udupi Sambar with just onions by replacing other vegetables.
Make sure that you don't boil the sambar for too long once ground coconut paste and cooked lentils are added. And also note that the sambar should not be very watery or thick while serving.