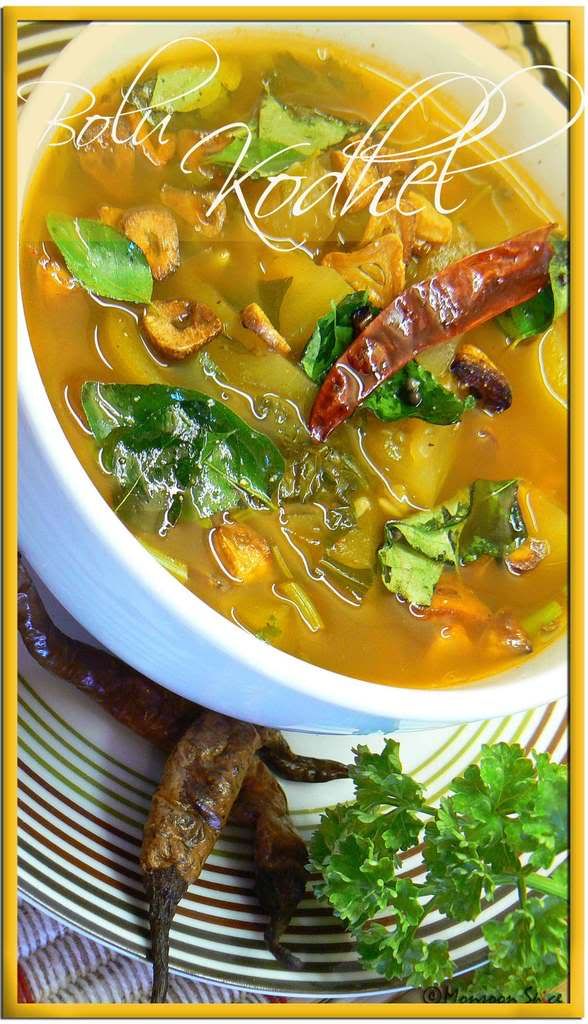 Sorekai/Bottle Gourd Bolu Kodhel
We are back from short yet wonderful vacation from India and already missing home! Here I am in my office, feeling sleepy and jetlagged and terribly homesick. Each and every minute of those 18 days were filled with excitement and fun and our ears are still buzzing. It feels strange to be here away from all buzz and excitement. The two big family weddings in two weeks of our vacation kept us on our toes all the time. Mehendi, shopping, facials, flower decorations, shopping for gifts, last minute purchases, travelling, houseful of guests, shopping (did I say shopping again?!), phone calls to friends… It was complete madness and we enjoyed each and every moment of it. It won't be exaggeration if I had to say that we hardly got time to think about coming back (Will write about it more in my later posts). Surprisingly even the flights were on time and everything went smoothly.
Can't believe that we had been away for just few days and there is already change in weather. Thankfully the gloomy, cloudy weather is over and we were pleasantly welcomed by bright and sunny day. After 10+ hours of journey and forcefully eating the food served on flight all we craved for is some simple food, food which is also comforting.
Ganji
with
Tender Mango Pickle
and simple
Bolu Kodhel
is what comes to my mind whenever we fly back from India. Unlike other Coconut based Mangalorean Kodhels, this one uses very few ingredients sans much loved Coconut. Some things in life are better when they are simpler. How many times have we really tried to be simple but ended up complicating it more in that process? Keeping things simple is indeed complicated and it is very true when it comes to recipes. I am always impressed with the recipes which are traditional and handed down from one generation to the next. Most of them are uncomplicated, simple and yet the end result is always the winner. One such recipe which is handed down to me by my Amma, who in turn learnt it from her mom (my Ajji) is Bolu Kodhel. Bolu means plain and Kodehl means Curry from
Mangalore
. Bolu Kodhel is unfussy, comforting food for me that takes away all the ill-feelings after eating the food served on flights. Silky Bottle Gourd is cooked with spicy and aromatic
Rasam/Sambar Powder
and sweet
Jaggery
is the simplicity at its best. The simple
tadka
/tempering of Garlic and Hing gives it a touch of richness. Try it if you like simple food which tops the chart when it comes to taste and I can assure you that you won't be disappointed with the end result. I am sending Sorekai/Bottle Gourd Bolu Kodhel to
Laurie
who is guest hosting
WHB
started by lovely
Kalyn
.

Print This Recipe
---
Bolu Kodhel

(Plain Curry of Bottle Gourd from Mangalore with Rasam/Sambar Powder and Garlic Tadka)
Prep Time: 5-10 mins
Cooking Time: 20 mins
Serves: 4-5
---
Ingredients:

5 cups Bottle Gourd, peeled and diced into 1 inch cubes)

1- 1½ tbsp Rasam/Sambar Powder (Adjust acc to taste)

½ - 1 tbsp Jaggery (Adjust acc to taste)

1 big marble sized Tamarind

1-2 Green Chillies, slit (Optional, adjust acc to taste)

1 tbsp Coriander Leaves, finely chopped

Salt to taste

For Tempering:

½ tbsp Ghee + 1 tsp Oil

1 tsp Mustard Seeds

1 Dry Red Chilli, broken

A big Pinch of Hing/Asafoetida

Few Curry Leaves

½ bulb of Garlic Cloves, peeled and sliced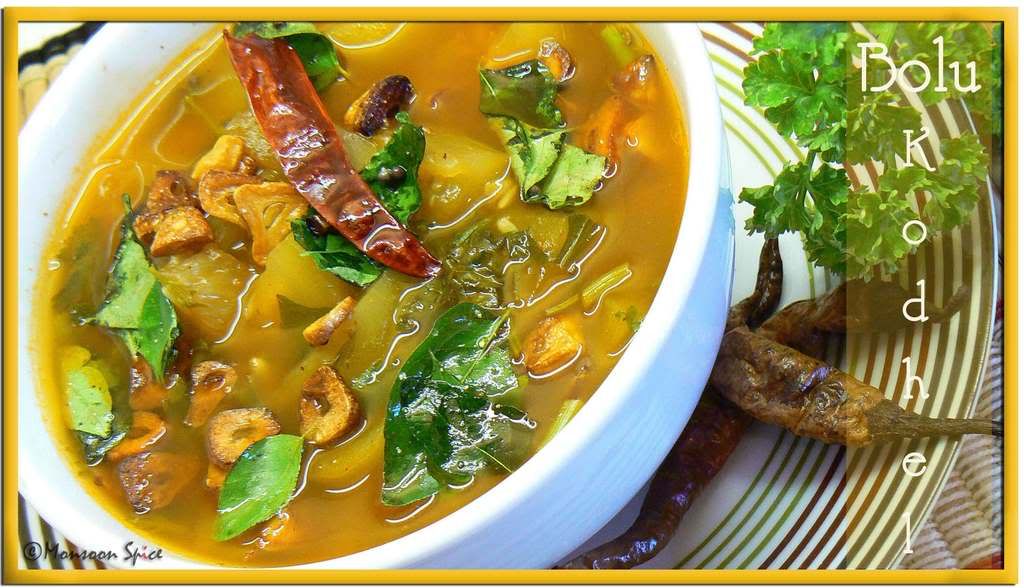 Cook bottle gourd cubes with jaggery, salt to taste and tamarind in a pan with enough water (approx 5-7 cups of water) for about 5-10 minutes till they are half cooked.
Mix in Rasam/Sambar powder and slit green chillies. Adjust the seasonings and water as per your taste and cook on a medium to low flame for another 10 minutes till the water is reduced to 2/3rd and flavours are blended well.
For tadka, heat ghee and oil in a pan and add sliced garlic. Sauté till garlic turns golden yellow and add mustard seeds, broken red chilli, curry leaves and hing.
When mustard starts to pop and splutter transfer the tempering into the Kodhel and mix well.
Mix in chopped coriander leaves. Cover and let it sit for another 5-10 minutes for all the flavours blend well. Serve hot with steamed Rice and Papad and enjoy.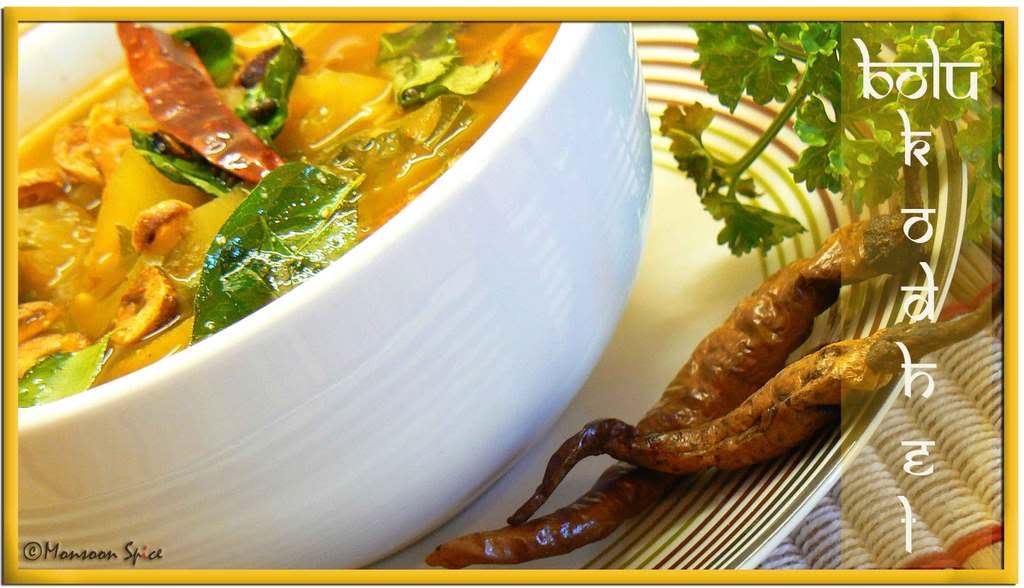 ---
Slow cooking is the best method to make Bolu Kodhel.
Make sure that the water quantity is reduced to 2/3rd from original quantity. This way of cooking is known as 'Battisuvudu' in Kannada which is also used when making simple Rasams and Dals so that the flavours are blended well.
Other than Bottle Gourd, Okra is also cooked in a similar fashion with little bit of Toor Dal sans Garlic.