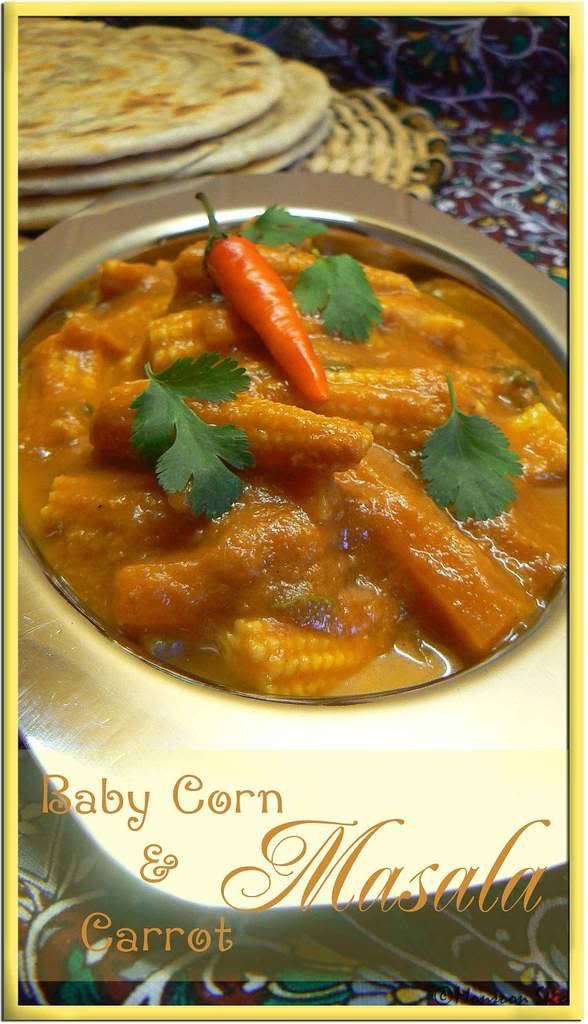 Every time I come back from India I kind of go under emotional roller coaster ride. There you are, surrounded by your loved ones at any odd time of the day or night sipping a cup of filter Kaapi and talking about everything under this sky and it feels like time just flies without you knowing. And here you are, with only your partner to talk to (that to when he is not busy giving bubble bath to love of his life
Lajjo Rani
(don't fret, its our car I am referring to) or jumping up and down like crazy guy while stuck to idiot box watching football or cricket (I call it
kiri-kiri
meaning irritating)). There you are, eating all wonderful food cooked by every other person other than you and hardly required to move your big fat ass. Here you are, fretting over what to cook everyday and arguing whose turn to empty the waste bin. There you are, just required to walk few steps to eat your heart's content and yet pay few pennies. Here you are, travel miles together to eat at reasonably good restaurant and end up lightening your wallet and half full stomach. Ah!!! Some pleasures of staying away from home!!!!!!
While still recovering from jet lag (I blame my Boss for making me go to office very next day we landed here and now you know why I've not been able to blog hop these days. Bhohoo) all we have been eating is Ganji with Ghee and Pickle or just plain Curd Rice. Well, I am not really complaining here. All we wanted after eating the food served on flight was just simple ones as our taste buds were not ready to volunteer as a guinea pig in anymore of laboratory testing. So it was only during weekend after sleeping till noon that we finally managed to eat something other than simple Comfort Food. With big batch of
Aloo Parathas
I had cooked and tucked in the freezer before leaving to India, we had to just worry about some simple curry to serve. Well, not exactly simple when it comes to taste department. This delicious Baby Corn-Carrot Masala in creamy gravy of onion, tomato and cashews is what we enjoyed with Aloo Parathas. Very tender Baby Corn and Baby Carrots from Farmer's Market are the highlights of this yummilicious Curry which simply retains is crunchiness and sweet taste even when cooked with spices. And another addition to this gravy is my ever favourite Kitchen King Masala and Kasuri Methi (Dried Fenugreek Leaves) which enhances its taste. Do try this Curry of Tender Baby Corns and Baby Carrot fingers simmered in rich gravy of sweet onions, tangy tomatoes and flavourful cashews and well balanced spices which is sure to awaken all your senses.

Print This Recipe
---
Baby Corn & Carrot Masala

(Veggies cooked in Creamy Gravy of Onion, Tomato and Cashew)
Prep Time: 10 mins
Cooking Time: 20 mins
Serves: 4-5
---
Ingredients:


15-20 tender Baby Corn, cut into fingers




10-12 Baby Carrots/ 2-3 medium Carrots




1 medium Onion, finely chopped




2-3 Green Chillies, slit (Adjust acc to taste)




1 tsp Jeera/Cumin Seeds




½ tbsp Kasuri Methi/Dried Fenugreek Leaves




1 tbsp Coriander Leaves, finely chopped




¼ tsp Turmeric Powder




½ tbsp Oil/Ghee
For Ground Masala:

1 small Onion, quartered

3 large Tomatoes, blanched in hot water and peeled/1 canned Chopped Tomato

2-3 cloves of Garlic

¾ -1 inch Ginger, peeled and roughly chopped

2-3 Dry Red Chilli (I used Byadagi for Colour, adjust acc to taste)

¾ -1 tsp Garam Masala

½-1 tsp Kitchen King Masala

½ tsp Amchur/Dried Mango Powder (Optional)

½ tsp Jeera/Cumin Seeds

1 tsp Coriander Seeds

1 tsp Sugar

10-12 Cashews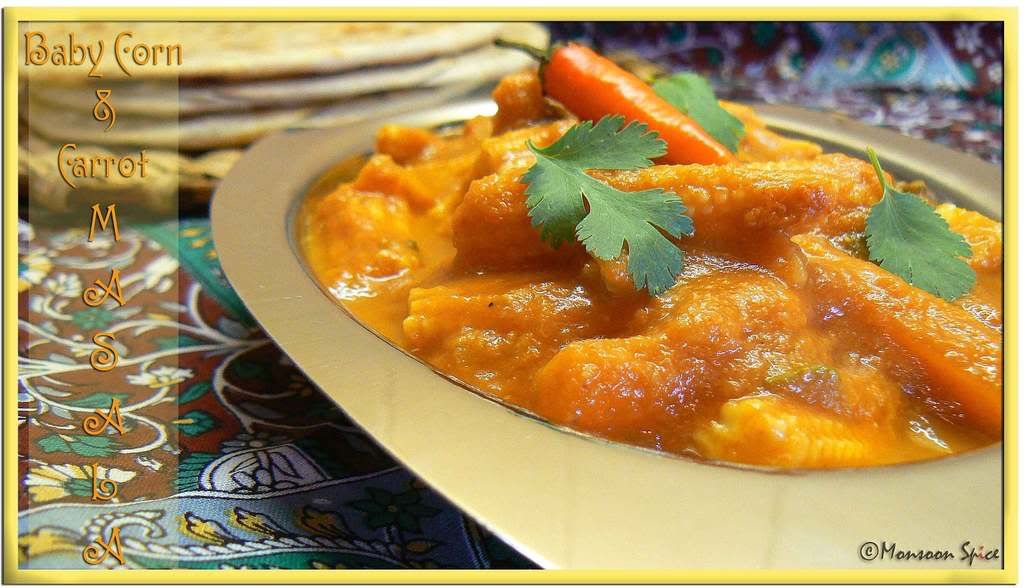 Baby Corn & Carrot Masala
Grind all the ingredients listed above from onion to cashews to smooth paste without adding any water and keep it aside.
Cook Baby Corn and Baby Carrots with turmeric powder and salt to taste in enough water for about 5-6 minutes till they are fork tender. Drain and reserve the water.
Heat oil in a pan and add cumin seeds to it. When cumin starts to sizzle, add finely chopped onion and slit chillies and sauté on medium flame till it turns golden brown.
Now add ground paste, Kasuri Methi and sauté it continuously for about 2-3 minutes on medium to low flame till raw smell of masala disappears.
Mix cooked Baby Corn and Carrots. Add reserved water as and when required to get required gravy consistency. Simmer and cook for another ten minutes for all the flavours to blend well.
Mix finely chopped coriander leaves before serving it with Chapatti, Roti or Paratha of your choice and enjoy this creamy goodness.