Warm, cold, cold, cold, warm, warm, cold, warm, cold…

No, I am not chanting some mantra nor I have gone mad. Well, it's my usual grumbling about the weather here in Britain. I guess I can write a thesis on changing weather and still be left with much more thing to talk about. Two weeks back it was earthquake and now its flood warning!!! Mother Earth is really angry at us and I am not surprised! Even 5 year olds are talking about Global Warming and its consequence!!! When I was of their age all I talked about was how snow white got her price charming and thinking of getting married to my prince charming. I even remember asking my parents for coloured television as my wedding gift!!! Ah!!! My first love, an Idiot Box.
I did it again, drifted away from current topic. Well, what was I talking about?! Oh yes, weather. We are experiencing quite unusual change in weather once in every few hours. Don't be surprised to see if it starts to snow just when the sky was clear a moment ago with bright sunshine kissing the lovely daffodils. At once you see sun shining and next moment he is hiding behind the black clouds. It feels like weather god is busy playing games with us but not everyone is amused with his little games here. It's very common to see people falling sick as the weather changes. With truck loads of work on my desk and deadline fast approaching I try not to take any risk when it comes to health. So we have been cooking and eating food which are good source of anti-oxidants and help in keeping us fit. If you are planning to visit us be prepared to be welcomed with big steaming pot of broth cooking in our kitchen. It's a common to see piping bowl of soup and warm bread direct from oven in our household.
K and I both enjoy soup with bread. We both love experiment with the ingredients and use fresh produce from farmer's market. Last weekend we bought big basket full of carrots from farmer's market and decided to make soup. As carrots are rich source of vitamin A and C and also anti-oxidants we use them quite often, be it raw or cooked. Carrots are considered to be the 'best vegetable' for balanced diet. Sometime back I had watched Sanjeev Kapoor's recipe of
Carrot-Coconut Shorba
which immediately caught my attention. Carrot and coconut, a marriage made in heaven!!! He used king of spices and Indian spices to spice up this sweet vegetable and creamy coconut milk. No more convincing was required to cook this for our dinner. Although carrot and coconut milk are the main ingredients which are sweet in flavour, the real punch comes from black peppercorns, chilli, fresh cilantro and other spices. The burst of flavour you experience when sipping this bowl of soup is makes this recipe a keeper. I am sending this Carrot-Coconut Shorba to
Holler of Tinned Tomatoes
who is hosting March edition of No Croutons Required and the theme is
Spicy Vegetarian Soups
.

Print This Recipe
---
Carrot-Coconut Shorba
Prep Time: 5 mins
Cooking Time: 20 mins
Serves: 3-4
Recipe Source: Sanjeev Kapoor
---
Ingredients:

4-5 medium Carrots, peeled and sliced to ½ cm pieces

1 cup Coconut Milk

1 medium Onion, roughly sliced

1 tsp Black Peppercorns (Adjust acc to taste)

2-3 Green Chillies (adjust acc to taste)

1 tsp Jeera/Cumin Seeds

½ tsp Mustard Seeds

1 tbsp Coriander Leaves, finely chopped

Few Curry Leaves

1 tsp Oil

4-5 cups Water

Salt to taste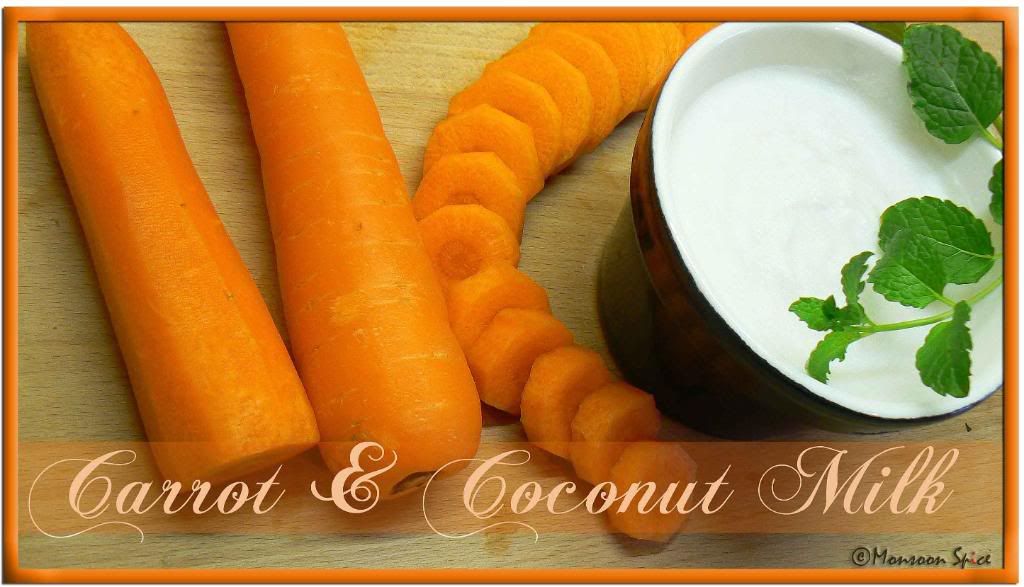 Carrot & Coconut Milk for Shorba
Method:
Heat oil in a pan and add mustard seeds and curry leaves. When mustard starts to pop and splutter, add jeera and sauté.
When jeera starts to sizzle, add roughly sliced onion, whole green chillies, black peppercorns and sauté for a minute.
Mix in sliced carrots, salt to taste and close the lid. Cook the carrots covered without adding any water for five minutes, sautéing in between.
Add water, coriander leaves and cook for further five minutes over a medium heat till carrots turn tender.
Drain the water and reserve. When it is cool enough to handle grind carrot mixture adding little reserved stock at a time to smooth paste.
Transfer reserved stock, ground carrot paste and cook for 2-3 minutes. Mix in coconut milk and cook for another 2-3 minutes on a medium flame.
Adjust the seasoning and serve hot garnished with a splash of coconut milk and enjoy.
---
An
Ode to Potato
ends on 15th of March (GMT Time). Send in your entry before the deadline and join us in the singing. Bake, boil, mash, fry, sauté, grill, stuff, cook... The choice is endless.

Deadline: 15th March, 2008
Please go through the
guidelines
and include all the required information in your post and mail when sending me your entry. Don't forget to add
Your Name
,
Your Blog Name
,
Name of the Dish
you cooked,
Perm Link
of the entry along with the gorgeous
Photo
of Potato dish.
Click Here
to find out more information on this event.