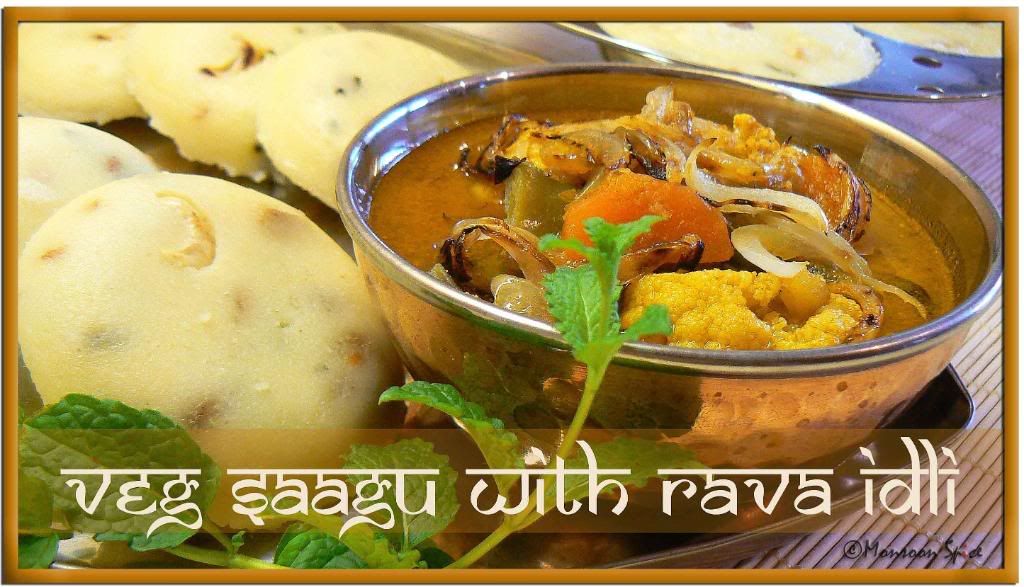 Vegetable Saagu with Rava Idli
There lived a house wife in some part of Karnataka with her husband, kids, in-laws and other family members. Every morning, be it on weekday or weekend, she would get up early before the golden sun rays caressed the mother earth. With pearls of water adorning her long curly hair and the diamond studded nose ring sparkling from the golden glow of Diyas she entered her humble kitchen to prepare breakfast for her whole family. She had to prepare something which all her family members enjoyed and it was not an easy thing to achieve. To make the matters worse it was month end and there wasn't many vegetables left in her kitchen pantry to cook with. She wished it was a bad dream and she just have to close her eyes for a second and open to see an array of baskets filled with vegetables which all her family members liked.
But it wasn't any nightmare and all she could find were few potatoes, some wrinkling carrots, few beans from backyard vegetable garden and a bowl of green peas and lilva which she had shelled a few days before with her mother-in-law and sisters-in-law while gossiping over a cuppa. This wasn't the thing she expected to cook with, which not only should fill her family's tummy but also please their palette. Sighing deeply she opened the kitchen cabinet and took out her prized possession, the spice box. She took a pinch of this and handful of that, added touch of this for flavour and splashed little of that for colour. The heady aroma of roasted spices lifted her spirit! With her lifted spirit she ground these spices with freshly grated coconut which she knew for certain will be loved by her family. She added this ground masala to cooked vegetables and let it simmer for the flavour to blend well with the vegetables. While the curry was simmering she made few poories for her children, rotties for her in-laws, fluffy idlies for her sisters-in-law and crispy dosas for her brothers-in-law. To add the final touch she fried some onion rings to golden brown and mixed with the curry. Thus the new dish was born, packed with flavour and oh so aromatic!!! It is what we know today as

Vegetable Saagu

, a dish which is a crowd pleaser and great side dish for poori, chapatti, rotti, dosa, idli or even with simple steam cooked rice. While roasting the spices I thought this might be the story behind the birth of Veg Saagu :)
Vegetable Saagu is a classic Kannadiga dish. Visit any of the Darshini hotels or Dosa corners and you are sure to see Vegetable Saagu as their signature dish. Just visit any Kannadiga home at breakfast time and the probability of finding Saagu for breakfast is very high. And why not? It is one of the delicious blends of spices with sweet coconut which is sure to show its magic on any vegetables it touches. The leftover vegetables at the weekend or month end dazzle with flavour and aroma and are not less worthy than any other exotic dish. Here is my Amma's signature Vegetable Saagu recipe which I treasure a lot. It is full of flavours and scores high when it comes to taste department. And I love it more the next day. So don't forget to make extra batch of Saagu which is sure to blow you away when you taste it next day. I just love the aroma of Saagu which lingers for hours on my finger tips and can't help but feel hungry again in spite of having it just few minutes back.

Print This Recipe
---
Vegetable Saagu
Prep Time: 15 mins
Cooking Time: 30 mins
Serves: 4-5
---
Ingredients:

1 large Potato, chopped into ½ inch cubes

2 medium Carrots, cubed

Few Cauliflower Florets

½ cup Avarekaalu/Tuvar Lilva

¼ cup Green Peas, fresh/frozen

Few French Beans

Few Flat Beans

(Basically, take about 5-6 cups of mixed vegetables of your choice)

½ tsp Turmeric Powder

1 tbsp Jaggary/Brown Sugar (Adjust acc to taste)

1 tbsp Coriander Leaves, finely chopped

1 large Onion, thinly sliced

1 tsp Mustard Seeds

Big pinch of Hing/Asafoetida

1 tbsp Oil

Few Curry Leaves

For Ground Masala:

1-1½ inch Cinnamon Stick

3-4 Cloves

3-4 Cardamom pods

4-6 Dry Red Chillies (adjust acc to taste)

1 tbsp Coriander Seeds

1 tsp Jeera/Cumin Seeds

1-2 Green Chillies (Optional)

¾ - 1 cup Coconut, fresh/frozen

1 tbsp Raw Rice, soaked in water for 15 mins

½ tbsp Poppy Seeds

2 tbsp Coriander Leaves, including stems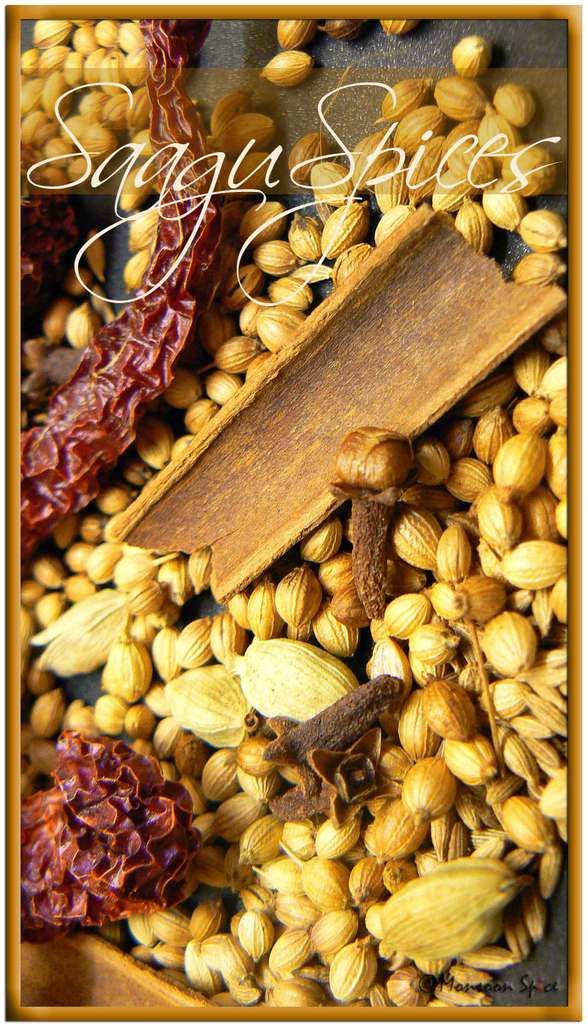 Roasted Spices for Saagu Masala
Method:
Cook vegetables with turmeric powder and salt to taste in a pan or pressure cook till they are fork tender.
While the vegetables are cooking, dry roast all the spices (cinnamon, cardamom, cloves, coriander seeds, jeera, dry red chillies) for 1-2 minutes on a medium to low heat till nice aroma appears.
Grind these spices with coconut, soaked rice, poppy seeds, coriander leaves, and green chillies, if using any, to a smooth paste adding very little water.
Mix this ground paste with cooked vegetables. Add jaggary and adjust the seasoning and let it cook on a medium flame for 15-20 minutes for all the flavours to blend well.
While the Saagu is cooking, heat oil in a pan and add mustard seeds. When the mustard starts to pop and splutter, add curry leaves and hing. Sauté it for few seconds and add thinly sliced onion. Saute it on a medium flame for about 5-10 minutes till it turns golden brown.
Remove Saagu from fire and mix browned onions and coriander leaves. Cover and let it sit for 10-15 minutes for the flavours to blend well. Serve hot Saagu with Poori, Chapatti, Dosa, Idli or with steaming Rice and enjoy. It tastes better the next day.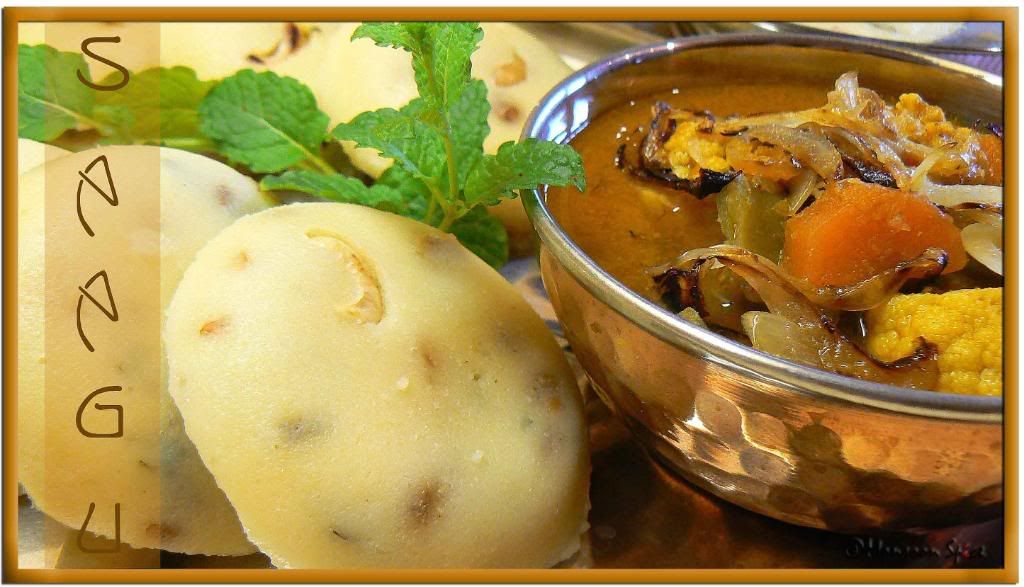 Veg Saagu with Rava Idli
---
---
An
Ode to Potato
ends on 15th of March (GMT Time). Send in your entry before the deadline and join us in the singing. Bake, boil, mash, fry, sauté, grill, stuff, cook... The choice is endless.
Deadline:

15th March, 2008
Please go through the
guidelines
and include all the required information in your post and mail when sending me your entry. Don't forget to add
Your Name
,
Your Blog Name
,
Name of the Dish
you cooked,
Perm Link
of the entry along with the gorgeous
Photo
of Potato dish.
Click Here
to find out more information on this event.