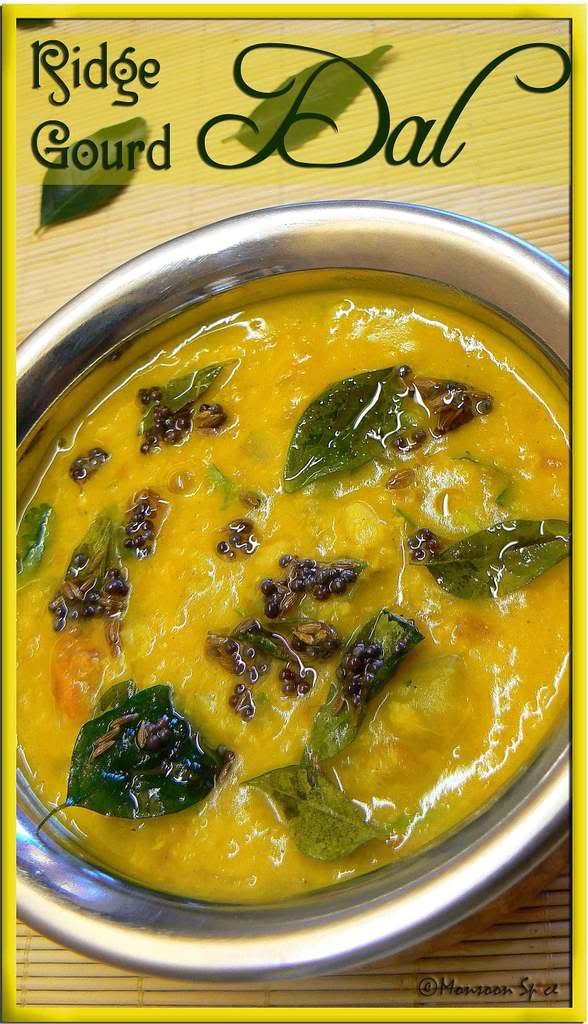 Bowl of popcorns, soda, crisps and pakodas, thick pillows and duvet and we are all set to watch one movie after another… Most of the Sundays are spent this way and last weekend we decided to roll back the time and go to 60's and 70's
Bollywood
movies. Boy, why don't we have those kinds of movies with great storylines anymore!!! Watching them is like travelling through kaleidoscope of colours and reliving your colourful past. Every emotion is portrayed in a very subtle manner with generous doses of discreet symbolisms put in between. Just one look at the characters or the setting, you can easily decipher who they are and what is the situation. Through dress codes you can easily identify who is who. The hero of the movie is shown either wearing some colourful bell bottoms held with thick flashy buckled belt with matching shirt and driving a long, big car if he is from wealthy
Khandan
or spotted wearing simple
kurtha-pyjama
or simple shirt and trousers if he happened to be from poor/middle class family. Heroine is seen wearing colourful
'decent'
frocks with matching high heels, sun glass and scarf if she is from wealthy family or draped in simple plain sarees with long hair when playing dutiful daughter. When it comes to the villain and vamp, they are always dressed in stripped t-shirt with a big mole or a scar on the cheek and figure hugging short dress with heavy make-up respectively. And then comes the most important roles next to these four characters, mother. She is always in kitchen cooking her son's favourite
Kheer
or
Besan ke Ladoos
or
Parathas
and delivering standard dialogues with bucketful of tears!
And then comes to the shooting locations. Romantic scenes? It's usually hero following the heroine in bicycle or cars or dance sequence in disco with dome shaped wigs, or on snowy backdrop of
Himalayas
. Its common to see Hero and heroine dancing in the lush green garden and suddenly two flowers popping up and are shown brushing each other (those who are unfamiliar with
Bolloywood
movies, it means hero and heroine are indulging in physical romance). Fight sequence? Use dark and dingy go downs with gunny bags, huge glass partitions, drums, thick ropes, or market place with carts filled with tomatoes, mud pots, hills of colours, or use out door locations like edge of a cliff where hero is seen hanging like a hanging pot fighting with some dozens of bad guys and heroine screaming at top of her voice '
Bachaoo
' (help!). Song sequence? It's either hero or heroine playing piano or running around the trees.
All said and done, movies of those days still grabs our attention with strong story lines and in spite of standard dialogues they still remain magical. Who can ever forget ever green songs like
Tumne Muje Dekha
,
Neele Gagan Ke
,
Ehsaan Tera Hoga
,
Kora Kagaz Tha Yeh Man Mera
,
Mohe Panghat Pe
,
Yeh Shaam Mastani
,
Tere Ghar Ke Saamne
,
Tere Mere Sapne
,
Aaj Phir Jeene Ki Tamanna Hai
,
Yaadon Ki Baarat
,
Zindagi Kaisi Ye Paheli
,
Maine Tere Liye Hi
,
O Mere Sona Re
,
Tere Bina Zindagi Se Koi,
Dil Dhoondta Hai Phir Wohi, Dil Kya Kare,.....
The list is endless… these songs are still hummed, cherished and will always be my favourite. Yes, it's true that "
Old is Gold
".
Similar to old movies and songs are some recipes. Dal remains to be my comfort food and this special dal is no exception. This classic my Amma's recipe of
Ridge Gourd Dal
is one such ever-green one. Silky ridge gourd is cooked in creamy moong dal and coconut paste is full of flavours. Like vintage movies and songs, this dal gets better and better when cooked every time. And this goes to brave lady
Barbara of Winos and Foodie
's
Taste of Yellow
event supporting
LiveSTRONG Day
which is on 13th of May, 2008.
She Says,

"Please join me again as we remember those loved ones who are no longer with us, support those still fighting and celebrate with those who have won the fight."
I couldn't participate last year due to time constraints and i almost forgot about it this year. Thanks to blog buddies I am back on track and sending my mother's recipe of Ridge Gourd Dal to her.


Print This Recipe
---
Ridge Gourd Dal

(Ridge Gourd Cooked with Moong Dal and Coconut)
Prep Time: 10 mins
cooking Time: 20-30 mins
Serves: 4-5
---
Ingredients:

4 cups Ridge Gourd, peeled and cut into 1 inch cubes

1 large Onion, chopped

2 large Tomatoes, chopped into big chunks

¾ cup Split Moong Dal

¼ tsp Turmeric Powder

1-2 tbsp Coriander Leaves, finely chopped

Salt to taste

For Coconut Paste:

½ cup grated Coconut, fresh/frozen

2-3 Green Chillies (adjust acc to taste)

½ tsp Jeera/Cumin Seeds

1 inch Ginger

For Tempering:

1 tsp Ghee/Oil

½ tsp Mustard Seeds

½ tsp Jeera/Cumin Seeds

Few Curry Leaves

A big Pinch of Hing/Asafoetida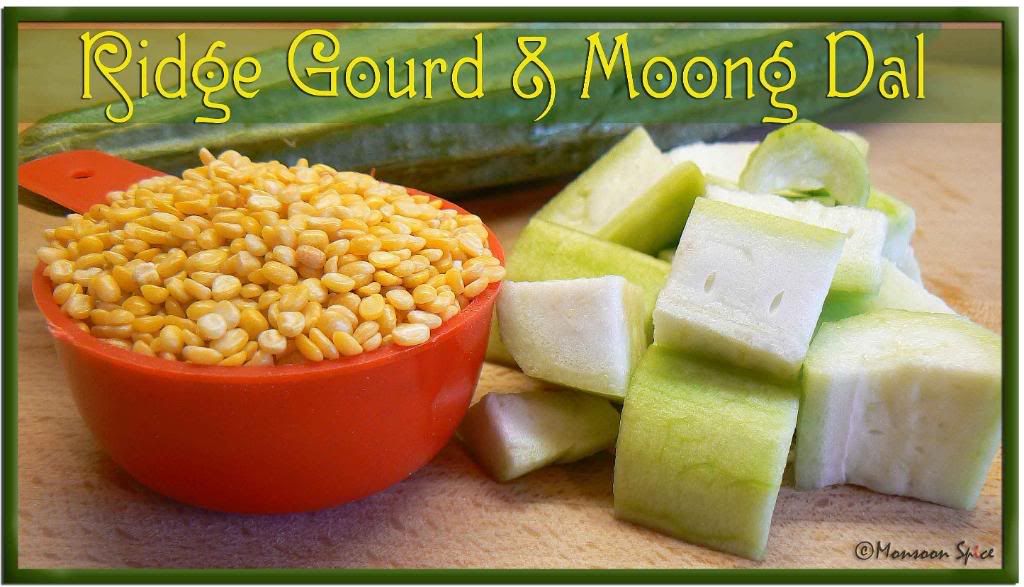 Method:
Wash and cook Moong Dal with turmeric powder, ridge gourd cubes, onion and tomatoes and few drops of oil with enough water (about 2-2½ cups of water) in a pressure cooker for about 10-15 minutes/2 whistles till dal is cooked.
Release the pressure from pressure cooker and let it cool before opening the lid.
Meanwhile, grind coconut, green chilli, ginger and jeera to smooth paste by adding little water at time.
Transfer this ground paste to cooked dal and mix well. Add salt to taste and let it simmer on low flame for about 5-10 minutes for all the flavours blend well. Add water to the dal if needed to get required consistency.
Heat oil/ghee in a pan and add mustard seeds. When mustard starts to pop and splutter add jeera, hing and curry leave in that order and sauté. When jeera starts to sizzle, transfer the content into dal and mix well.
Mix in chopped coriander leaves and serve this Ridge Gourd Dal with steaming bowl of Rice or Chapatti and enjoy.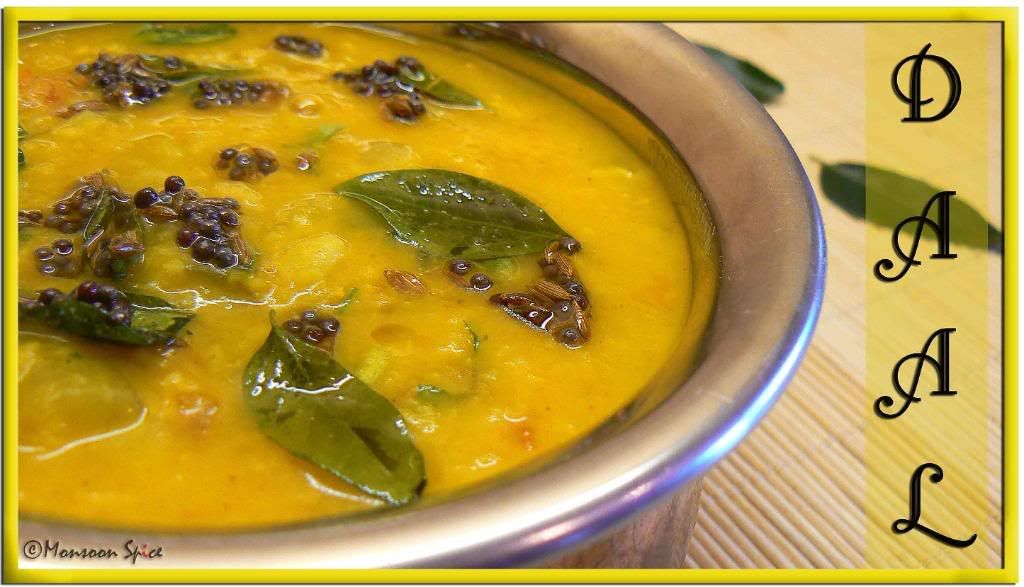 ---
Notes:
Some variations are, use Toor/Masoor Dal in place of Moong Dal and use coconut milk in place of grated coconut for different flavours.
You can also replace ridge gourd with bottle gourd, ash gourd or any other gourds.
Other dazzling dals posted on

Monsoon Spice