"A man who prides himself on his ancestry is like the potato plant, the best part of which is underground"
-
Spanish Proverb quotes
The humble, modest and unassuming Tuber grows out of sight, underground and when pulled up it looks like a part of earth. Have you ever seen it competing with any of the vegetables? Have you ever heard a vegetable vendor calling attention to this humble Tuber? When he is praising the goodness and beauty of other vegetables you will find a sack of these Spuds sitting quietly in some dark corner. Unlike other vegetables, Potatoes may not be even being considered when it comes to looks. It doesn't have clear complexion of white Eggplant, glow of tomato, frills of cauliflower, slenderness of Ladies finger, nor radiance of Sweet Corn. One thing what it has is popularity and you wonderful bloggers proved it again how much this modest looking tuber is loved by everyone, aged from eight to eighty.
Make a way and cheer… Let us celebrate and sing along an
Ode to Potato
. The bright lights are on, Cameras are clicking away, people are cheering and there it is, Potato playing on center court… Pick your choice from these
135 wonderful, delicious entries
… Chips, Chats, Soups, Fries, Masalas, Curries, Breads, Roties, Parathas, Mash, Pulao, Biriyanis, Raitas and even Sweets all made using Potatoes. Here I am spreading Potato Buffet… Pick your plates and help yourself…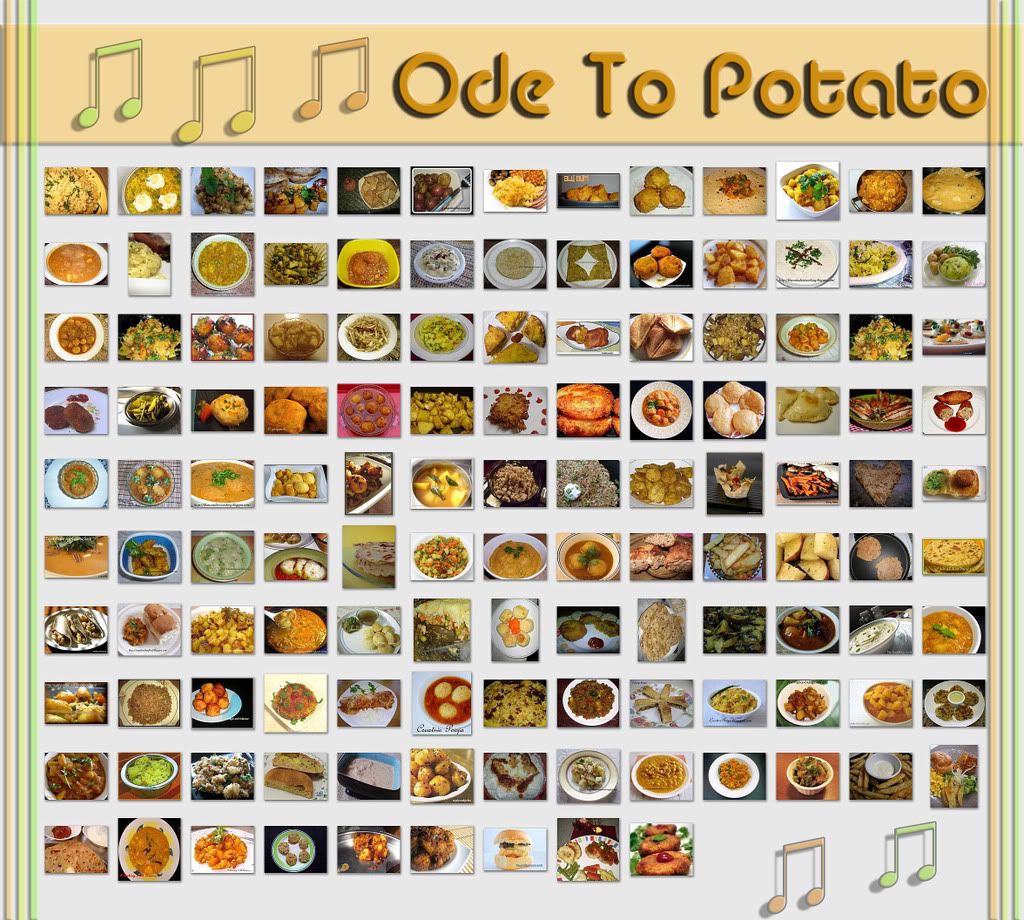 Click here
or on the image above to view the gallery...
"Pray for peace and grace and spiritual food,
For wisdom and guidance, for all these are good,
but don't forget the potatoes."
-John Tyler Pettee, 'Prayer and Potatoes'

I have posted the entries in the order I recieved them. I have tried my best to collect all the entries and post them. If there is any errors or omissions, please mail me or leave a note in comment section. An
Ode to Potato
logo poasted in the side bar of Monsoon Spice will bring you to this event round-up page for future reference.
Thank you all dear Bloggers and non-bloggers for participating. Some of you resumed your blogs and some even started blogging just to participate in this event. I greatly appreciate you taking time and cooking delicious entries for me and giving due respect to this humble Tuber. Thank you once again….