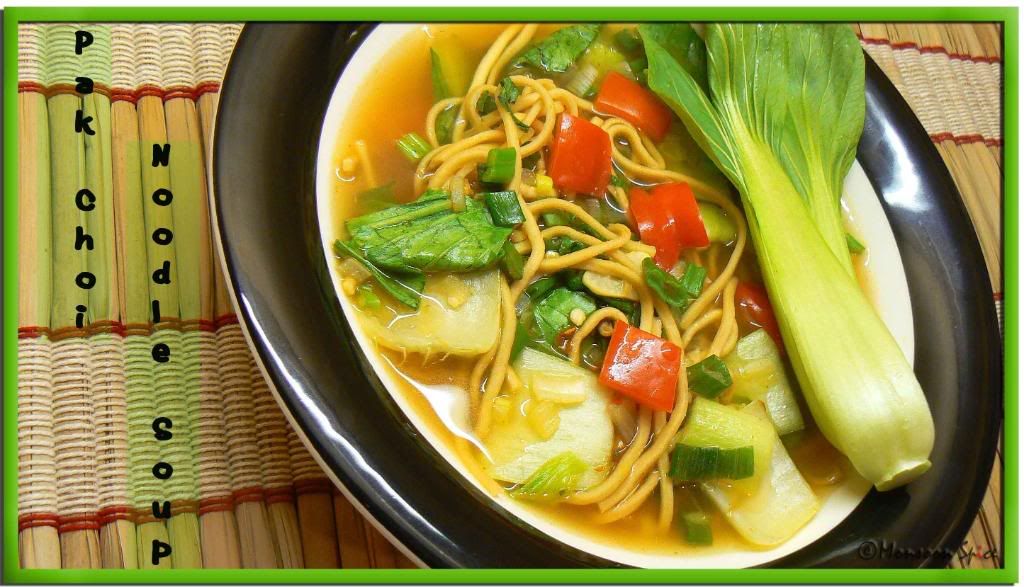 Where else could you catch a massive cold, if not in wet and cold Britain? I was surprised to see how I survived from Jan to mid Feb from the clutches of cold and flu when colleagues in my office were walking around with a tissue stuck to their nostrils!! Just when it seemed like we are going to celebrate early springs with daffodils smiling at clear blue skies, the temperature plunged to -10 degree celcious. Ha!!! Serves me right for planning my early spring shopping. Once I stocked up enough of cold remedies and boxes of Kleenex, I tried to research the latest findings on how best to tackle the illness that is still eluding the pharmaceutical industry. Well, what else I could have expected. As usual the results were not very encouraging. It seems there is actually no remedy for cold and one wise (wo)man even mentioned "Medicate a cold and it will be gone in 14 days; ignore it and it will be gone in two weeks." So if the cold usually lasts for two weeks then there is not conclusive proof that popping Vitamin C or zinc supplements is gonna work for you. These supplements might simply mask the cold but they don't actually cure you.
With my nose looking like that of a buffoon's, blood shot eyes watering continuously due to my coughing night concert, and tissue dangling from my nostrils I usually rely on some tried and tested recipes like pepper rasam, kashayam or bowl of piping hot soup. After all, there is nothing more comforting than boiling few tomatoes with little spices and a good pinch of salt or boiling a glass of water with tulsi (holy basil) with few crushed peppercorns and honey/jaggary. Well, it's also all you likely to feel up to if you have a really nasty cold. But if it's your hubby dear who is cooking for the poor you, then you as well give yourself a special treat;)
We created this Pak Choi-Noodles Soup using the ingredients which is sure to comfort me and clear the congestion. Who says creativity can't kick in when your nose is blocked? It's just your nose that is blocked not brain;). This sunshine coloured soup doesn't require any fancy ingredients or too much of time and energy to prepare. The ingredients used are lemon grass stalk, ginger, black pepper corns and garlic which is a natural remedy for cold and a splash of soya sauce and lemon juice for tingling taste. Addition of noodles, pak choi, and red bell peppers make this filling as well as very comforting meal. I am sending this bowl of Sunshine to Lisa who is hosting
No Croutons Required
event and she wants us to make a soup that even the most carnivorous diner would drool over. Thank you Pooja for the tip:)

Print This Recipe
---
Pak Choi – Noodles Soup
Prep Time: 5-10 mins

Cooking Time: 10 mins

Serves: 2
---
Ingredients:

4-5 cups Vegetable Stock

1-2 Pak Choy/Pak Choi, cut into bite size pieces

Handful of Noodles (I used medium noodles)

1 small Red Bell Pepper, cut into bite size pieces

1 small Onion, finely chopped (Optional)

4-5 stalks of Spring Onion, sliced

1 inch Ginger, crushed

2-3 Garlic flakes, sliced thinly

¾ tsp Lemongrass Paste/1 stalk of Lemon Grass, outer skin removed and bruised

Few Black Pepper corns, crushed

1-2 Green Chillies, slit (Optional)

¾ tbsp Soya Sauce

1 tbsp Lime Juice

1 tsp Sambal Olek (Optional)

Few Basil, roughly chopped

1 tsp Oil

Salt to taste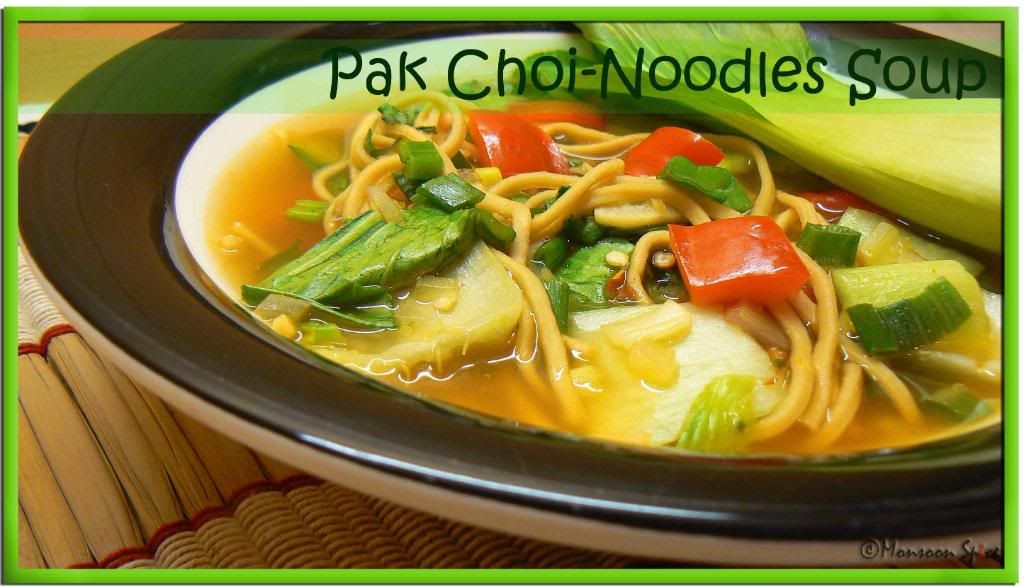 Method:


Heat oil in a pan and add finely chopped onion and sliced garlic. Sauté it on medium flame till onions turns translucent.
Pour in vegetable stock and add bruised lemon grass stalk, sambal olek, slit green chillies and crushed ginger. Bring it to gentle boil.
Mix in noodles, red bell pepper, crushed peppercorns, soya sauce and salt to taste. Cook on a medium heat till noodles are cooked.
Add pak choi, spring onion and cook for another minute or two.
Switch off the flame and discard the lemongrass stalk and crushed ginger. Mix in lemon juice and basil and serve hot.

---
Update:
With my nose and brain blocked, I kind of forgot to thank
Sig
for sending me this cute
You Make Me Smile Award
. Thank you sweetie for this award (You can send me the confession mail stating whether I really make you smile. I cross my heart and promise not disclose the contents of your mail). Well, it really means a lot to me when somebody says I make them smile and I take it as a great compliment. And the big surprise (read shock;) was there are some people who really read my l-o-n-g posts filled with everything under the sun. Boy!!! You guys really have patience ;) So thank you for reading my rants and continue to knock on my door in spite of driving you all mad with my non stop talking. Now to keep my reputation I think I need to post some jokes instead of my monologues dialogues to make you all smile! And I am passing this award to all you people who make me smile with your wonderful comments, suggestions and feedbacks. So spread the smile around because that's what the world really needs.