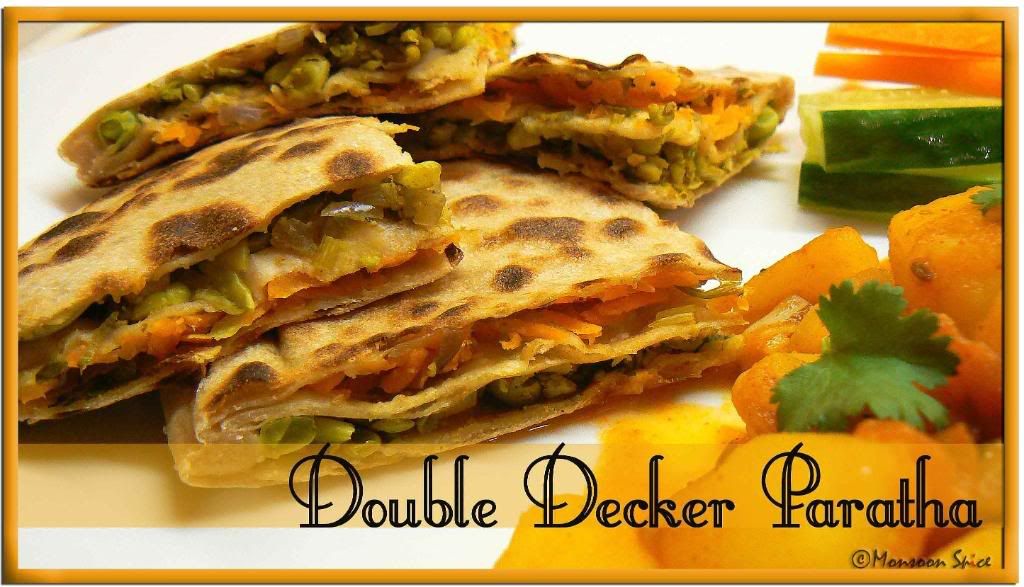 Have u ever been obsessed with anything? Something you can't stop thinking about it. You see it everywhere even with your eyes closed. You dream of it when you fall asleep and still day dream about it when you are wide awake. Yes, that type of obsession and my current obsession is rolling Parathas. Not just plain parathas but some mean stuffed parathas. It feels good when you master (no place for modesty here ;) something which you thought to be impossible to make let alone master. No, actually it doesn't feel good… It feels great!
I can already visualise many of you shaking your head and some even banging it against the wall. I am very well aware of the fact that many of you skilfully roll hundreds of these stuffed parathas everyday with ease. I salute all you Aunties. ~ducks her head ;) ~ But it's a different paratha story for me. I feel like a small baby who just learned to walk without any support and happened to be enjoying this new found freedom!
After my successful attempt with
Tofu
,
Aloo
, Gobi, Mooli etc stuffing I wanted to make little different parathas. With little bit of googling (Long Live Google!!!) I came across very unusual recipe from none other than Indian cooking diva
Mrs. Tarla Dalal's blog
. Although I don't own even single book of hers (I really can't call my single digit cook books as my cook book collection) and never cooked any of her recipes, I have had seen many of her creations being recreated and appreciated in blog world. More than everything what attracted me to this particular recipe of hers is the challenge involved! It was not some usual stuffed paratha. It was unique paratha which she calls
Double Decker Paratha
where two different fillings are used to create two layered paratha. One look at the recipe I knew I am not gonna rest until I make them. And that's what exactly what I did on last weekend after postponing my spring shopping!!! For a shop-o-holic, I didn't regret even for a moment to stay at home and create these babies. Although taste wise it might taste similar if you had to combine these two fillings and make just a usual stuffed parathas, it was gorgeous to look at. Two thin layers of parathas stuffed with crunchy carrots and sweet green peas were lovely to look at. For a foodie they were nothing less than a stunning piece of jewellery studded with corals and emeralds!!!
Click here
to view the original recipe. I used the same main ingredients used by Mrs. Dalal but made few changes to suit our palette. I am planning to follow same technique and use different ingredients for my friends during Easter break. Yeah, what can I say? I am a big show off ;) I am sending this to dear Suganya who is guest hosting
WBB-Healthy Eats
. With colourful raw vegetables and just few drops of oil, I think it does qualify for healthy breakfast eats. Sug, I hope you like it:)

Print This Recipe
---
Double Decker Paratha
Prep Time: 30 mins
Cooking Time: 30 mins
Makes: 4-5 Large Paratha
Recipe Inspiration: Mrs. Tarla Dalal
---
Ingredients:

For the Dough:

3 cups Atta/Wheat Flour

¼ tsp Salt

Warm Water for kneading

For the Carrot Stuffing:

1½ cups Carrot, grated

1-2 Green Chillies, finely chopped

½ tsp roasted Jeera/Cumin Powder

¼ tsp Red Chilli Powder

½ tsp Anardaana/Pomegranate Seeds Powder

1-2 tsp Lime Juice

1 tbsp Coriander Leaves, finely chopped

Salt to taste

For the Green Peas Stuffing:

1 cup fresh/frozen Green Peas, boiled and mashed

2 tbsp Onion, finely chopped

1 tsp Ginger-Garlic Paste

½ tsp Aamchur/Dry Mango Powder

½ tsp Kitchen King Masala

1 tbsp Mint Leaves, finely chopped

Salt to taste

Other Ingredients:

Little Atta/Wheat Flour for rolling

Ghee/Oil for Cooking (Optional)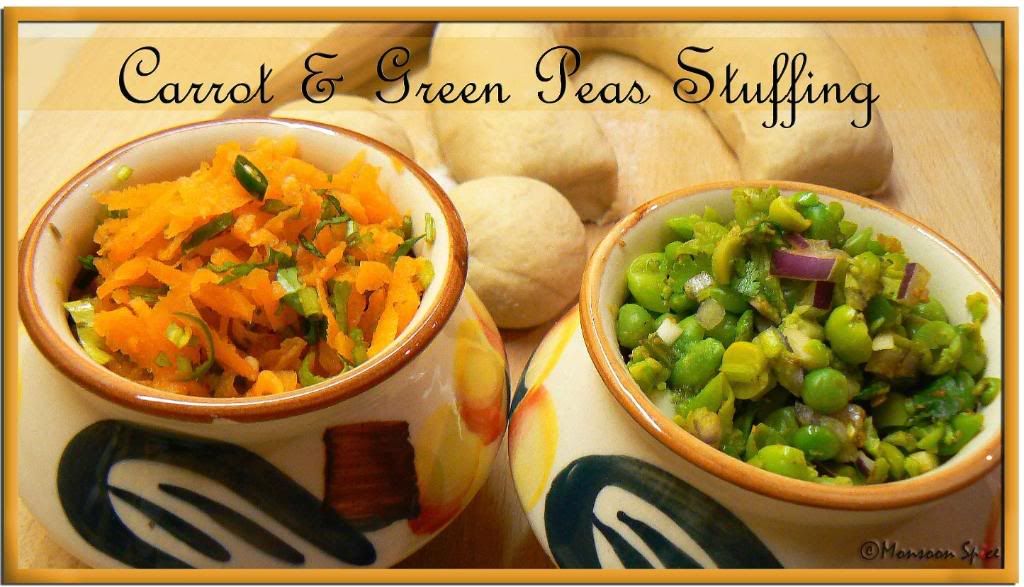 Carrot and Green Peas Stuffing for Paratha




Method:




For the Dough:


Place atta, salt and warm water in a bowl and mix well to form smooth dough. Keep aside for at least 30 mins covered with a wet cheese cloth.



For the Carrot Stuffing:


Mix grated carrot with all the ingredients listed and keep it aside.
Original recipe instructs to cook carrot for 2-3 minutes but I just mixed the raw ingredients to retain its colour and nutrition and also its crunch. And also it gets lightly cooked when you pan fry the Paratha over medium heat. So the choice is yours.



For the Green Peas Stuffing:


Mix cooked and mashed green peas with all the ingredients listed and keep it aside.
Again the original recipe instructs to cook the ingredients for few minutes.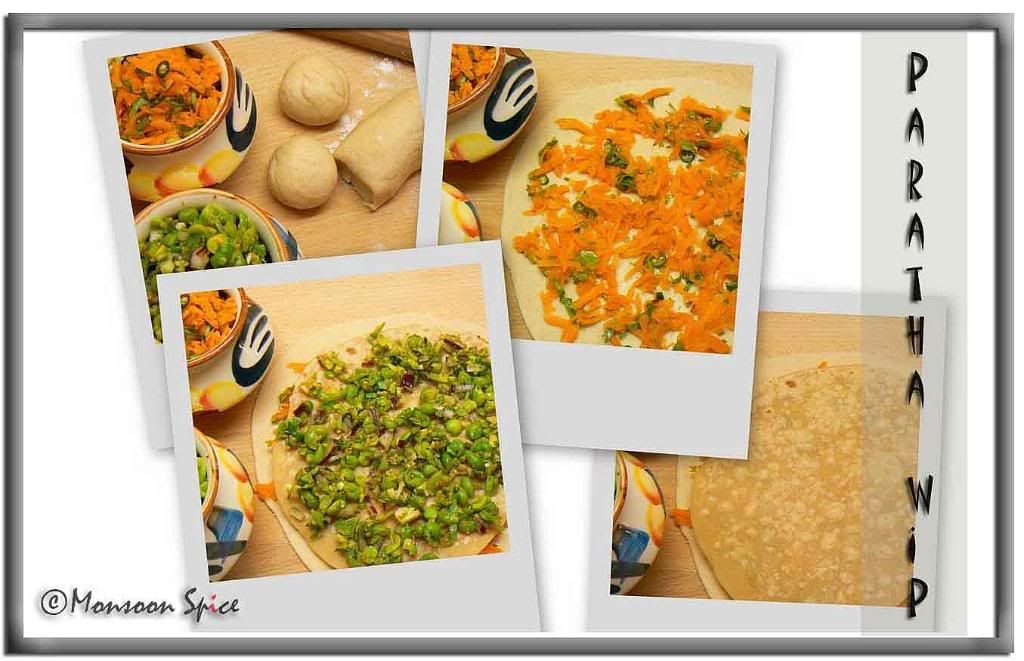 Step-by-Step Instruction for Assembling the Paratha - Clock-wise from Top Left



Assembling, Stuffing and Rolling the Paratha:


Heat the tawa/griddle at high flame and reduce to low to medium flame.
Knead the dough for another minute or a two and divide it into 12 or 15 equal sized balls (for 4 or 5 Parathas respectively).
Roll them into equal sized discs and cook 4 or 5 chapattis lightly (for 4 or 5 Parathas respectively) and keep aside. Let them cool completely before you proceed.
Now place one uncooked chapatti on a surface and spread about 1 tbsp of carrot stuffing evenly leaving 1-1½ cms in the end.
Cover this carrot stuffing with a cooked chapatti and spread 1 tbsp green peas stuffing evenly on top of this.
Now place the second uncooked chapatti on top of this and seal the edges by pressing it lightly with your fingers. Make sure that you seal the edges well.
Place this Double Decker Paratha on tawa and cook on a very low heat by applying little ghee/oil if desired. Cook till the both the sides are cooked well and brown spots starts to appear.
Cut them into quarters and serve hot with a curry or just plain yogurt and enjoy.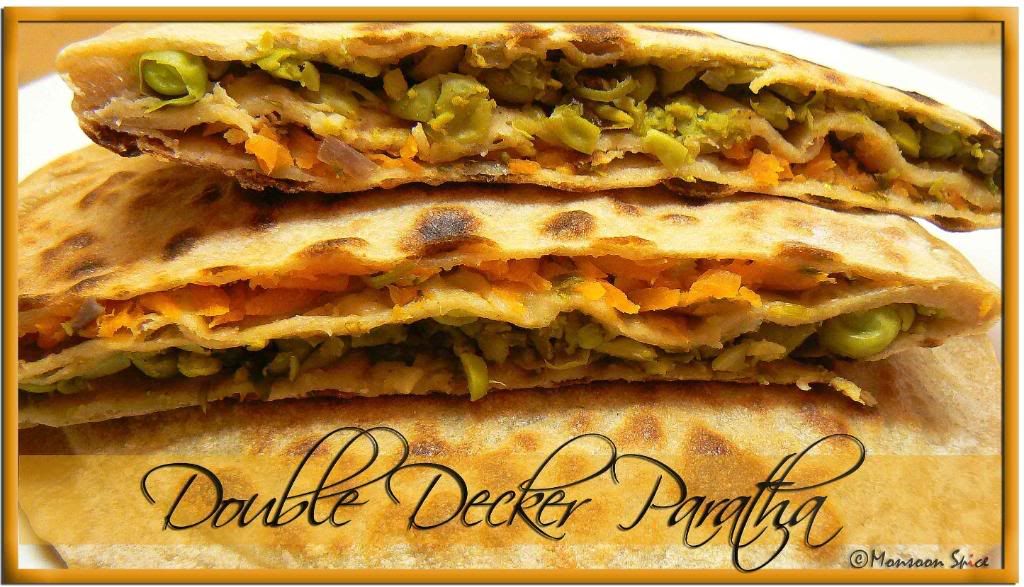 Double Decker Paratha


---
Notes:
Make sure that the chapattis are completely cooled down before you proceed with assembling the paratha as if assembled when it is still warm may tear the uncooked paratha due to moisture produced.
If you are a beginner, you can start off by making small parathas and not stuffing too much of filling.
You can also cook these parathas in Quesadilla maker.
Try using different ingredients for stuffing and follow the same technique to create different flavoured parathas.
---
Reminder!
An
Ode to Potato
ends on 15th of March. Send in your entry before the deadline and join us in the singing. Bake, boil, mash, fry, sauté, grill, stuff, cook... The choice is endless.
Deadline:

15th March, 2008
Please go through the
guidelines
and include all the required information in your post and mail when sending me your entry. Don't forget to add
Your Name
,
Your Blog Name
,
Name of the Dish
you cooked,
Perm Link
of the entry along with the gorgeous
Photo
of Potato dish.
Click Here
to find out more information on this event.