Bitter Gourd Marinated in Salt
Bitter gourd, either you love it or hate it. I have seen many people who initially hated this bitter, odd looking vegetable and lately fall in love with it. It takes many meals over years to develop a taste for Hagalakai, as we call it. But there are some who still don't seem to come in terms with this vegetable even after they have had upgraded their wardrobe from sneakers to tailor-made pants;) Unlike my siblings, who are still struggling to acquire taste for this vegetable, I have grown up appreciating its rich bitter and pungent flavour for some strange reasons which are unknown to me. I was always a picky eater as a kid and my love for this bitter vegetable was unsolved mystery to my parents. Every fortnight my Amma made it a point to cook some bitter vegetables and bitter gourd always topped the list. We always had bumper crop of bitter gourd growing in backyard and hence there was no chance of Appa pretending to have amnesia when asked to buy them. The vegetable is reported to be a blood purifier, digestion enhancer and stimulating agent of liver. And now when your read how good Bitter Gourd is for your health, all grown-up and mature ME (!!!???) can't ignore it right? No fat chance!
When my sister and brother would run a mile at the bare mention of this vegetable, I would happily lick my plate clean whenever Amma made Bitter Gourd dish. One such recipe from my mother's large collection is Hagalakai Saaru, roughly translated as Bitter Gourd Rasam where bitter taste of Bitter Gourd is lightly concealed with the sweet Jaggary, sour Tamarind and spicy blend of spices. This mixture of five flavours- bitter, sweet, sour, salty and spicy defines the taste of life in a bowl. I love to eat this lightly bitter, spicy, tangy, sweet Saaru with aromatic Basmati rice with a dollop of Ghee and Tender Mango Pickle.


Print This Recipe
---
Bitter Gourd Saaru
Prep Time: 10 mins
Cooking Time: 20-25 mins
Serves: 4-5
---
Ingredients:


2 medium Bitter Gourd
1 medium Onion, finely chopped
½ tbsp Garlic, finely chopped (Optional)
2 Green Chilli, slit
½ inch Ginger, crushed and chopped
1 small Lime sized Tamarind
1-2 tbsp Jaggery (Adjust acc to taste)
½ - 1 tbsp Rasam Powder
¼ tsp Turmeric Powder
¼ tsp Chilli Powder (Optional)
1 tbsp Coriander Leaves, chopped
Salt to taste



For Tempering:


1 tsp Mustard Seeds
1 Dry Red Chilli
A big pinch of Hing/Asafoetida
Few Curry Leaves
1 tbsp Oil
Method:
Cut thin round slices of bitter gourd, about 1 packed cup, and add little salt to it. Mix well and keep it aside for at least 30 mins. This way the bitter taste of bitter gourd will be released from them.
After 30 minutes or so squeeze as much of water as possible from these bitter gourd slices. Wash them with cold water and drain and keep aside.
Mean while, soak tamarind in hot water for about 10 minutes and extract its juice and keep it aside.
Heat oil in a pan and add mustard seeds to it. When mustard starts to pop and splutter, add halved dry red chilli, hing and curry leaves. Sauté it for few seconds.
Mix chopped onion, garlic and sauté on medium flame till they leave raw smell and lightly browned.
Add slit green chillies, bitter gourd slices, ginger and mix well. Keep sautéing for about 5 minutes till bitter gourd turns light brown.
Mix in tamarind juice, about 1 cup of water, jaggery, turmeric powder and salt to taste. Bring the mixture to gentle boil at medium flame.
If required add more water and add rasam powder and red chilli powder. Check for the seasoning and make changes according to taste. Cook on a low to medium flame for another 5 minutes and bring it to boil.
Switch off the flame and add chopped coriander leaves. Cover and let it sit for about 10 mins for the flavours to blend well. Serve hot with steaming bowl of rice and pickle and enjoy this bitter goodness.
Another recipe I tried over weekend was Kay's
No Fry Bitter Gourd Chips
. Being a bitter gourd fanatic I couldn't resist trying this recipe which is not just simple to make but also uses very less oil and not much work is involved. I made little changes to the ingredients used and simply followed her recipe. Thank you
Kay
for this wonderful recipe. Try them to see how good they are.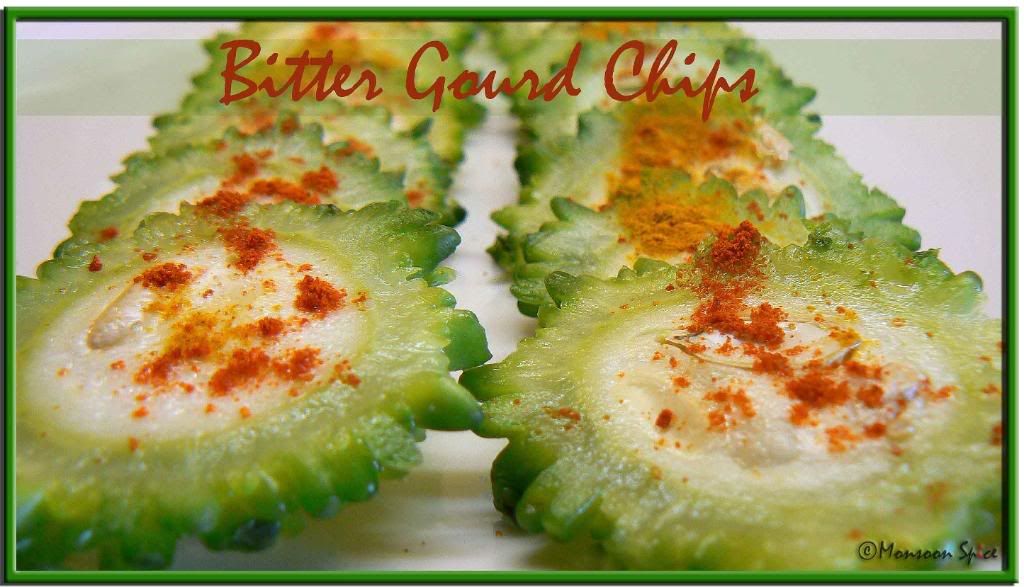 Bitter Gourd Slices Marinated with Spices

Print This Recipe
---
No Fry Bitter Gourd Chips
Prep Time: 5 mins
Cooking Time: 15 mins
Serves: 3-4
---
Ingredients:


2 Bitter Gourds
1-2 tbsp Oil
1 tsp Red Chilli Powder (adjust acc to taste)
½ tsp Turmeric Powder
¼ tsp Amchur/Dry Mango Powder (Optional)
Salt to taste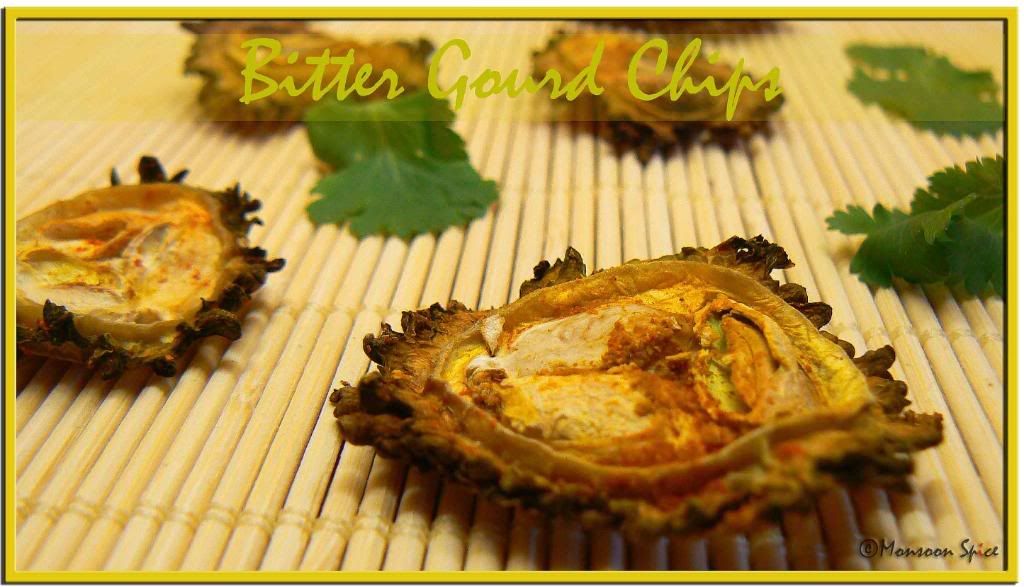 No Fry Bitter Gourd Chips
Method:
Slice bitter gourd to thin round slices using mandolin or knife.
Mix in oil, chilli powder, turmeric powder, amchur and salt and marinate for at least half an hour.
Pre-heat the oven at 375 F. Arrange the slices neatly in rows, on a foil covered baking tray and bake it in a middle rack of the oven for about 10 mins. Place the tray on top rack for 3-5 mins so that chips becomes crisp and brown or else broil them. Watch them closely and make sure that they don't get burned.
That's it. Serve bitter gourd chips with Rice and Rasam and enjoy.