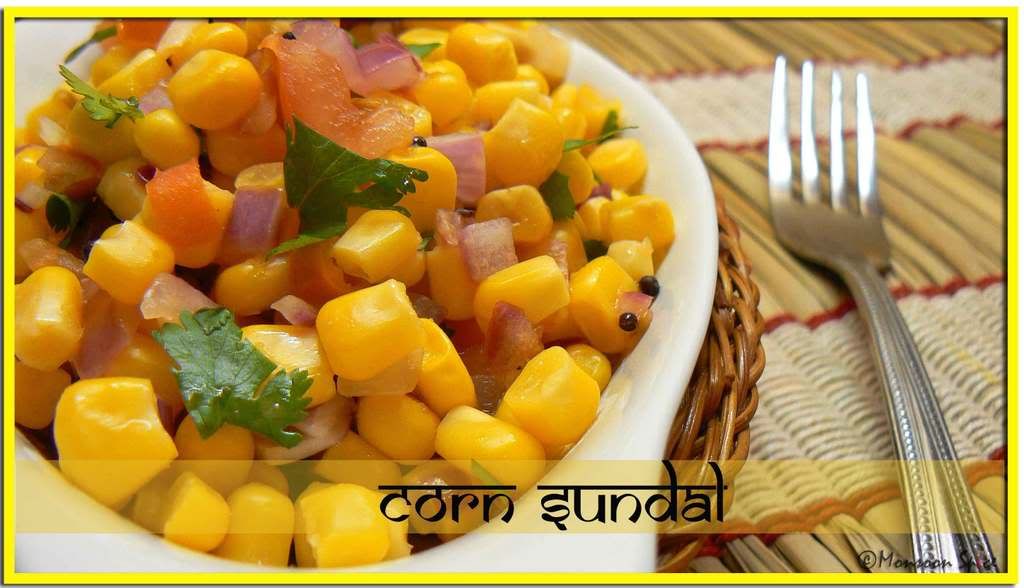 The sky is ablaze with glorious colours- fiery red, searing orange yet the outer edge of the blazing sky had begun to cool with the indigo of the night. The golden globe of sun was slowly descending in the backdrop of red-orange water and one could see all the colours of rainbow reflecting off the sea as the sun and water becomes one. You see the birds heading back to their nest and hear the roaring sound of tides hitting the shore. A light, cool breeze sweeps across, wiping all the stress and worries. You take a deep breath inhaling the smell of sea, sand and
Bhutta
….
Yes,
'Bhutta'
or
'Makkaai'
in Hindi is the roasted corn on cob. When the first rain indicated the onset of
Monsoons
in India, I would eagerly look forward for delicious treat. The sight of corn vendor or
Bhuttawalah
with his wooden cart stocked high with fresh corn and a small coal stove would make my taste buds tingle and eyes twinkle. Parked on road side, beaches, cricket play grounds, school/collage gates, this corner, that corner, every nook and corner would become the center of frenzied activity as the Bhuttawalah's lured the passers-by with the delicious roasted aroma of Bhutta being roasted on open charcoal stove. The smell of the fresh roasted corns is so enticing that people are drawn to the cart to pick and choose the
Bhutta
.
The process of eating these
Bhutta
may sound very simple and straight forward but to actually experience the real taste of
Bhutta
the process starts right from selecting the right corn; the one which is neither too hard nor too tender. The hard ones with yellow colours give your teeth a tough time to chew and the tender one with creamy colour leaves you unsatisfied and wanting for more. The trick to get the right one is to open the husks and poke few of the kernels by digging your sharp nails to see how fresh and right the corn is.
Once the right corn is selected, the Bhuttawalah puts the corn on iron coal stove and keeps turning the corn to roast it evenly. Within few minutes of perfect technique of roasting as he fans the coal to keep them astir, you have your aromatic, roasted corn on the cob ready. The best is yet to come… that is the zesty end to the Bhutta story. With freshly cut piece of lime dipped into a mixture of hot red chilli powder and salt, the Bhuttawalah artfully massages the length of cob, leaving trails of hot, sweet and sour flavour all over the kernels. If you are like someone like me who likes to test her spice scale then you are in for treat. With another coat of fiery green chilli chutney deftly applied on them you will be testing your spice scale to its limit. Can't handle too much of spice? No worries. Bhuttawalah is too happy to apply silky butter which will melt at the very touch of hot Bhutta. As the butter dissolves chilli, lime, salt and chilli chutney creating perfect harmony of flavours, the pleasure of biting into Bhutta and savouring the taste is something which one needs to experience to understand.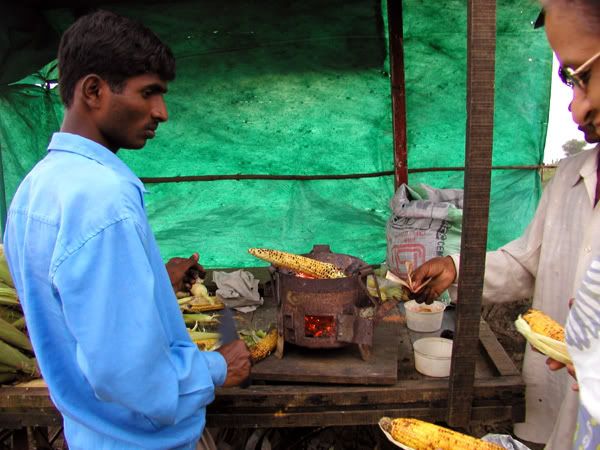 Bhuttawalah roasting Bhutta on Charcoal
Photo Courtesy: Arun Shanbhag (Thanks Arun:)
"....pray what more can a reasonable man desire, in peaceful times, in ordinary noons, than a sufficient number of ears of green sweet-corn boiled, with the addition of salt?"
-Henry David Thoreau, 'Walden'
I do agree with you Mr. Thoreau. With non-stop rain pouring without any break, all I could think of is biting into sweet, spicy, tangy and hot Bhutta. It being Sunday evening and all the supermarkets closed I had to settle for canned Sweet Corn!!! I chose to make Sundal which is usually made using Black or White Chickpeas/Kabuli Channa and is given as Prasadam in most of South Indian Temples. Cooked black/white channa is tempered with mustard and urad dal and garnished with fresh coconut flakes is my favourite Prasadam in Temple which always makes me wanting for more. To this basic recipe of Sundal I used canned sweet corns which quite surprisingly tasted great. This crisp sweet corn is sautéed lightly with crunchy onion and sweet tomatoes with a touch of green chilli and a splash of lime juice to give it a zest. It was a quick and great snack to munch on while we watched rain dancing around us. I am sending this to lovely Mansi of
Fun and Food
who is hosting fun event
Game Night Party
as its a perfect dish to prepare within ten mins and enjoy with your friends.
---
Prep Time: 5 mins
Cooking Time: 5 mins
Serves: 2
---
Ingredients:


2 cups Sweet Corn (We used canned)
1 small Red Onion, finely chopped
1 small Tomato, finely chopped
1 Green Chilli, finely chopped
1-2 tbsp Lime Juice
1 tbsp Coriander Leaves, finely chopped
Salt to taste



For Tempering:


½ tsp Mustard Seeds
1 dry Red Chilli, halved
1 tsp Oil
Few Curry Leaves (Optional, but recommended)
Method:
Heat oil in a pan and add mustard seeds, red dry chilli and curry leaves.
When mustard starts to pop and splutter add finely chopped red onion, green chilli and sauté it for 30 seconds.
Now add finely chopped tomato, sweet corn, salt to taste and sauté it for 1-2 mins over medium flame.
Turn off the gas, add lime juice and chopped coriander leaves and mix well. Serve hot and enjoy.
---
Notes:
Add grated fresh coconut and raw mango to get different flavour.
Replace sweet corn to cooked black or white kabuli channa.
Omit onion when preparing it for Neivedyam.