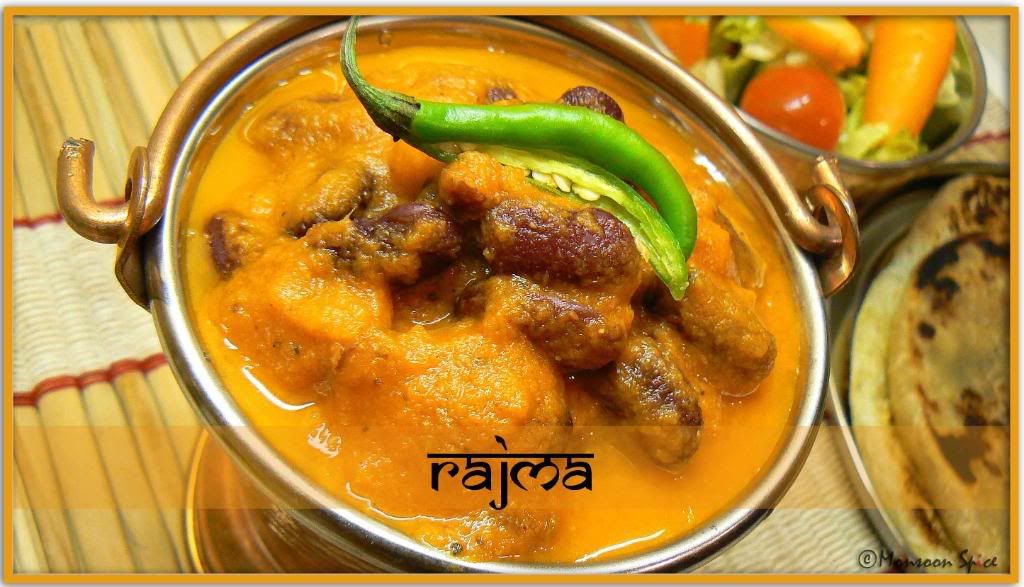 January, cold January…. As I stare down another long, bitter cold, horrid and dark January, my thoughts turn to the kind of food that nurtures my tummy and soul, brightens my mood, soothes my senses. When I ask myself what's soothing on a gray winter day, I picture tucking into deep bowl of soup or dal rice. First thing I reach for is comfort food when the weather turns bitterly cold in the depths of British winter. And who can blame me for this when the central heating at home is on full blast and air-conditioning unit in office don't seem to get over the fact that it's no more summer. For most of us comfort food has three characteristics- it offers a substantial hit of carbos; it is never over-flavoured, neither bland nor too spicy/sweet; and it is always easy to eat without much fuss. From the time I got back from my trip I seem to have spent most of last two weeks feeling miserable, homesick and continuously struggling with my work deadline. Ultimately it's comfort food that sooths my nerves and hugs me in its warmth as it touch my lips and spreads its warmth to my soul.
Yes, lately I have been cooking comfort foods. I am not talking about some high calorie sins here. I am cooking and eating simple, traditional, no-fuss food which I crave for. It's a food which takes me on a virtual tour to back home where I see little 6 something me eating holding small balls of rasam/dal rice in my little chubby fingers and eating it while listening to stories. These small balls of rasam/dal rice with ghee,

"Kai Thuttu"

as we call, was given by Amma would taste heavenly in spite the fact that it was just every day food. It's mother's love that transferred this common food to something extra ordinary. It's one experience which every one of us will treasure for rest of our life. Even now in my mid 20's I never spare a chance of eating

Kai Thuttu

when I am at home with my Amma.
Apart from simple

Dals

and

Rasams

one such dish which I strongly believe falls into comfort food zone is

Rajma-Chawal

. Delicious Red Kidney Beans simmered in creamy and aromatic onion-tomato gravy lightly touched with right spices served with a steaming bowl of basmati rice is special favourite of mine for seeing off the winter blues. Rajma is one dish where you hardly need to sweat out in front of the stove yet unbelievably the end result is one lip smackingly delicious meal. When ever I cook some lentil/pulses I follow slow cooking method where the pulses are simmered in gravy for long hours to blend in all the flavour. One thing to remember when you go for slow cooking method is to use heavy bottomed pan or utensils so that the gravy doesn't stick to the bottom of the pan. If you own an earthen pot then you will sure to experience another dimension of taste. With little stirring here and there this Rajma recipe is simple to nothing and it is sure to please everyone's taste buds. I'm sending this comforting bowl of Rajma to Susan of The Well Seasoned Cook who has asked us to cook with beans/pulses for her My Legume Love Affair and Meeta of What's for Lunch Honey who is hosting MM-Comfort Foods. How can I say no to these lovely ladies!!! Hope you girls enjoy it.

Print This Recipe
---
Rajma (Kidney Beans in lighly spiced Onion-Tomato Gravy)
Prep Time: 5-10 mins (Excluding soaking time)
Cooking Time: 45 mins - 1 hour
Serves: 3-4
---
Ingredients:




1 can Kidney Beans or 1 cup Rajma/Red Kidney Beans, soaked over night




1 large Onion, finely chopped




1 can chopped Tomatoes or 3 large tomatoes, finely chopped




1 inch Ginger, thinly sliced




2-3 Garlic Flakes, finely chopped




2 tbsp Coriander Leaves, finely chopped




1 tsp Kashmiri Chilli Powder




1 tsp Amchoor/Dry Mango Powder or Anardaana Powder




1 tbsp Kasuri Methi




1 inch Cinnamon




3 Green Cardamoms




2 Cloves




½ + ½ tbsp Oil




1 tsp Jeera/Cumin Seeds




¼ tsp Hing/Asafetida




Salt to taste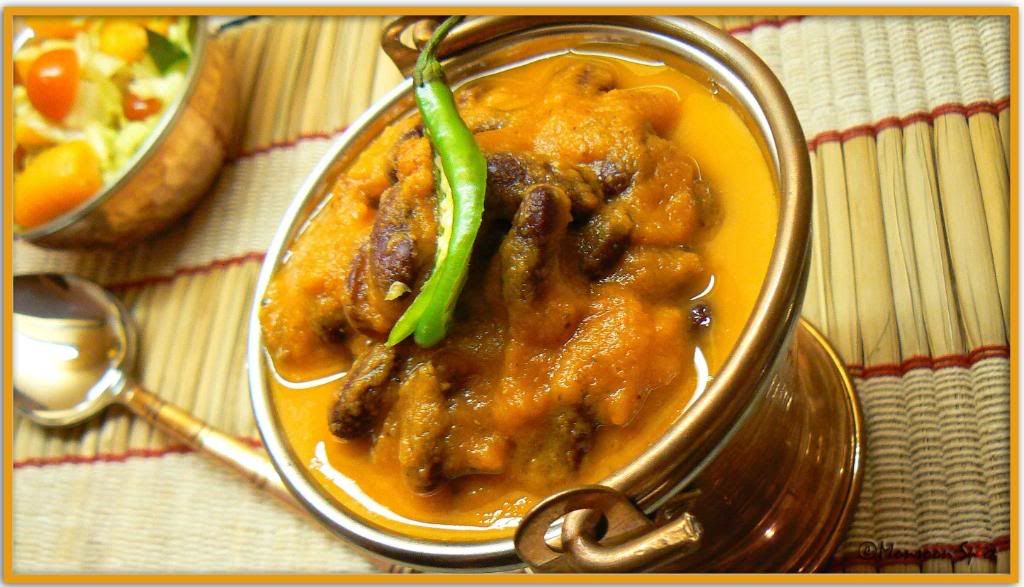 Rajma
Method:
If using soaked kidney beans, cook the beans in pressure cooker with little salt and enough water for about 15 minutes till it is cooked.
Heat ½ tbsp of oil in a pan and add ginger, garlic and onion pieces to it. Sauté it for about 1-2 mins till onion turn translucent and raw smell of ginger garlic is gone.
Add chopped tomatoes or canned tomatoes and sauté it for about 2 minutes. Switch off the flame and let the onion-tomato base cool down a little.
Once cooled take onion-tomato base, cardamom, cinnamon and cloves in a blender and grind them to smooth paste.
Heat ½ tbsp of oil in a heavy bottomed pan and add cumin seeds and hing. When jeera starts to crackle transfer the ground mixture to the pan and give a good stir. Cook on a medium flame for about 3-4 minutes.
Add cooked/canned Rajma, chilli powder, amchoor/anardaana powder, kasuri methi and salt to taste. Mix 1-2 cups of water and reduce the flame.
Cook cover in low flame, stirring occasionally for about 20-30 minutes till all the flavours blend well. This slow cooking gives creamy texture to the gravy as well as great taste.
Serve hot Rajma garnished with coriander leaves with steaming bowl of Basmati Rice or Roties and enjoy.
---
Note:
Substitute Rajma with White Kabuli Channa or Black Channa with Potatoes and follow the same recipe for different flavour.
Add greens like Spinach/Palak, Methi/Fenugreek leaves to add more green intake.
Few more Comfort Foods (Dal/Rasams) of mine posted in Monsoon Spice are