Watermelon, watermelon,

On the vine, on the vine,

Green and ripe and juicy,

Green and ripe and juicy

Please be mine,

Please be mine.
Summer and watermelons… Like many (grown up;) kids, I too have fond memories of eating a big crescent of watermelon greedily after playing outside in blazing hot sun, just plain or sprinkled with little salt or dipped in honey. It was dad's department when it came to buying a huuuuuuuuge watermelon and cut it into big equal sized slices so that we kids don't get any chance to argue as who got the big chunk of watermelon :) Red and juicy watermelon dotted with slippery and oval black seeds covered with green and white striped skin was one among favourite fruits of mine. Who can forget seed-spitting competition as who would spit the seeds as far as we could and the fear and panic when our elders would tease us saying swallowing these seeds would result in a watermelon plant growing in our tummy:)
When it comes to food, I have one more fond watermelon memory. Once we kids had our fill of watermelon my dad would cut the watermelon into small pieces and store it in refrigerator for late morning snacking and mom would collect all thick skin to make delicious Dosa. My sister and brother preferred sweet watermelon dosa prepared adding grated jaggery ground with rice and white part of watermelon pieces. The spicy version of dosa prepared adding dry red chillies and aromatic cumin and coriander seeds were my and my dad's favourite.
When Bee and Jai chose Watermelon for this month's
AFAM
which is a brainchild of
Maheshwari
, I knew what I wanted to contribute without any hitch and hesitation or confusion which I usually have whenever I participate in food events. Watermelon Dosa might sound bit unusual to most of readers but you have to try it to know how tasty and delicious it is and how quick and simple it is to make. Unlike many dosa recipes, water melon dosa doesn't need any fermentation process. Addition of coriander and cumin seeds with dry red chillies takes it to another level of taste. The peel left after eating the red part of watermelon is used to make this dosa. The outermost green part is peeled and only the remaining white part is used to make this dosa. Cut these white parts into small pieces and grind them with rice and other spices to make batter.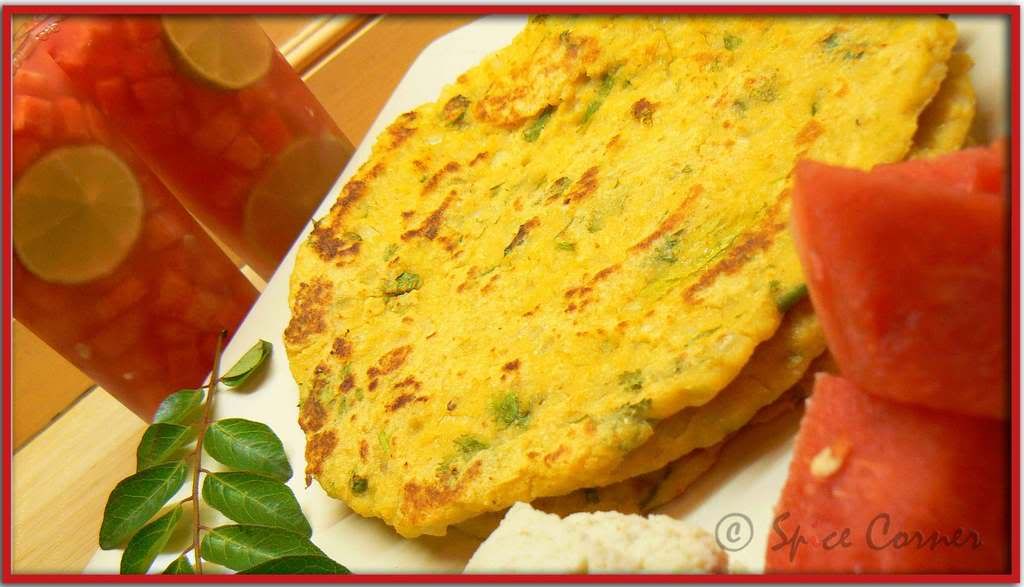 Watermelon Rind Dosa with Ginger-Coconut Chuteny and Watermelon Lemonade


---
Watermelon Rind Dosa
Prep Time: 10-15 mins (excluding soaking time)
Cooking Time: 15-20 mins
Serves: 3-4
---
Ingredients:
1 cup Rice
3-4 cups Watermelon rind, chopped-only the white part as mentioned above
½ cup Fresh/frozen Coconut
3-4 Dry Red Chillies, according to taste
½ tbsp Coriander Seeds
1 tsp Jeera/Cumin Seeds
1 small Onion, chopped finely
2 Green Chillies, chopped finely
2-3 tbsp Coriander Leaves, chopped
Few Curry Leaves, chopped
Salt to taste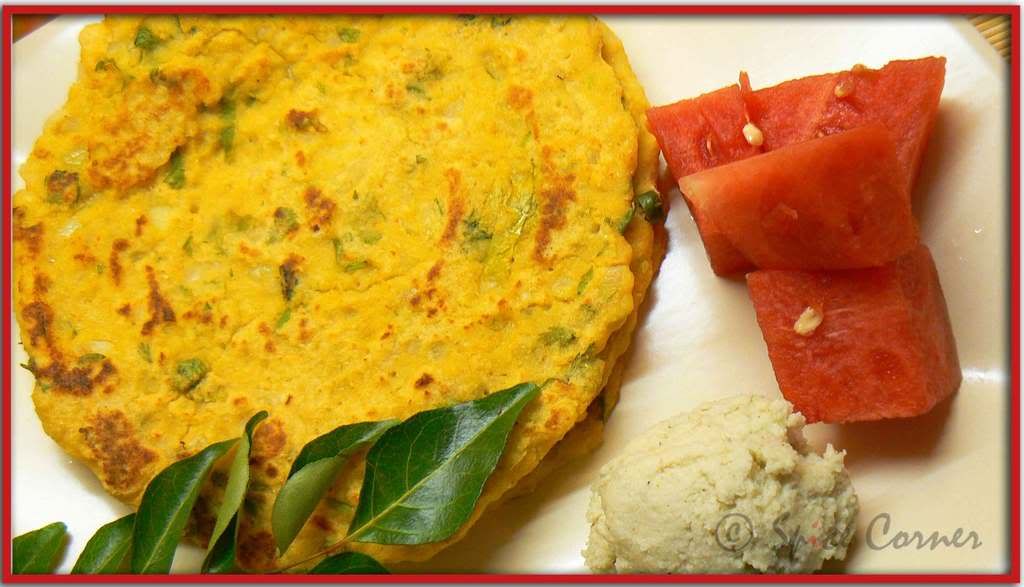 Watermelon Rind Dosa with Ginger-Coconut Chuteny

Method:
Soak rice in warm water for at least 2 hours and drain water completely.
Grind coconut, rice, red chillies, coriander seeds, cumin seeds, salt to taste and about 3 cups of chopped watermelon rinds without adding any water. If the batter is too thick add little more watermelon rinds and grind. The batter should be little thinner than Idli batter consistency.
Now add finely chopped onion, green chilli, coriander and curry leaves to the batter and mix well. Keep this aside for about 15 minutes so that all the flavours blend well.
Heat tawa/griddle and pour a ladle full of batter in the centre. Using back of ladle spread this into thick circle.
Cook both the sides in medium-low heat till they turn golden brown by applying little oil or ghee if desired.
Serve hot with Chutney or Sambar or with honey.
I love my plate of watermelon dosa with honey and Ginger-Coconut Chutney. Here is the simple recipe for making Ginger-Coconut Chutney.
---
Ginger-Coconut Chutney
Prep Time: 5 mins
Cooking Time: -
Serves: 3-4
---
Ingredients:
1 cup Fresh/Frozen Coconut
¾ inch Ginger
2 Green Chillies
1 marble sized Tamarind
Salt to taste
Method:
Grind all the above ingredients adding little water (about ¾ cups of water) at a time to a smooth paste and serve with
Dosas
or
Idlies
.
Watermelon Rind Dosa with Ginger-Coconut Chuteny
---
Did You Know?
E
very part of a watermelon is edible, even the seeds and rinds.
W
atermelon is grown in over 96 countries worldwide.
I
n China and Japan watermelon is a popular gift to bring a host.
I
n Israel and Egypt, the sweet taste of watermelon is often paired with the salty taste of feta cheese.
W
atermelon is 92% water.
W
atermelon's official name is Citrullus lanatus of the botanical family Curcurbitacae and it is a vegetable! It is related to cucumbers, pumpkins and squash.
A
watermelon was once thrown at Roman Governor Demosthenes during a political debate. Placing the watermelon upon his head, he thanked the thrower for providing him with a helmet to wear as he fought Philip of Macedonia.
W
atermelon is an ideal health food because it doesn't contain any fat or cholesterol, is an excellent source of vitamins A, B6 and C, and contains fiber and potassium.
T
he first recorded watermelon harvest occurred nearly 5,000 years ago in Egypt.
T
he word "watermelon" first appeared in the English dictionary in 1615.
(Source: www.mrspohlmeyerskinderpage.com)

---