June… A month of heavy down pours, loud claps of thunders, sharp lightening… Yes. I am talking about
Indian Monsoon
rain. It is raining here in UK but I still miss the monsoon rain. For me they were always wild yet serene. I miss the heavenly smell of damp earth when the rain hits the ground for the first time, first drop of rain falling on my face, subtle scents of jasmine from garden, aroma of hot cup of coffee, the swaying of palm trees, pittar-patter of rain drops on roof, knee-deep water on roads, the falling of mangoes and coconut in backyard… Ah monsoon… There is magic in that word, there is romance in season and there is life in it.
Magical beauty of monsoon cloud always reminds me the poems of
Kalidasa
's
Meghaduta
. Meghaduta, the cloud-messenger is a collection of poems which narrates the story of a
Yaksha
(a divine attendant of
Kubera
, God of wealth according to Hindu mythology) who is exiled for a year from his home and his new bride. Yaksha during his exile passes his messages to his beloved through passing monsoon cloud and the poem beautifully covers the vivid journey of cloud passing through mountains, rivers, forests and the love, longing and passion these lovers share. No wonder monsoon is aptly called as lover's season because monsoon brings with it a feeling of love, romance and longing.
If you want to see the true colours of India, visit her during the season of monsoon rains. It brings out the best colours of beautiful India with festivity and joy. How can you not fall in love with monsoon when you see kids dancing on streets, elders enjoying their cup of tea in the balcony of their home, mothers preparing naram-garam pakodas and coffee, lovers holding their hands and spending some intimate moments, farmers welcoming the rain goddess, the breath taking beauty of lush green landscape, palm trees gently swaying to the rhythm of rain… Yes, just thinking about brings lot of happiness and breath of fresh life for a people like me who are thousands of miles away from home. I do miss my home and I do miss monsoon…
Majjige Huli is one such recipe which brings back fond memories of home. Lightly spiced coconut and buttermilk curry is my favourite dish to eat with aromatic basmati rice and spicy mango pickle. It is one of the dishes which bring out the true taste of vegetable as usually only one vegetable is used to make it. My favourite vegetables for cooking Majjige Huli are green bell pepper, Thai eggplant (
Udupi Gulla Badane
), green tomato,
chayote
, yellow cucumber and
ash gourd
. Majjige Huli is much similar to Mor Kulumbu of our neighboring state and can be prepared with minimum ingredients and very little time.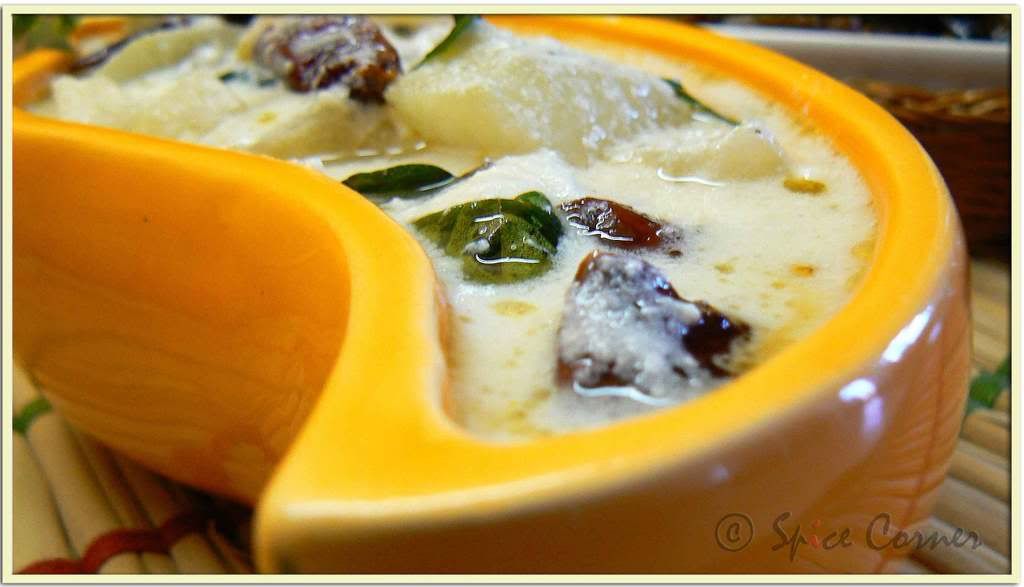 ---
Ash Gourd Majjige Huli
Prep Time: 10 mins
Cooking Time: 15-20 mins
Serves: 4-5
---
Ingredients:
3-4 cups Ash Gourd, peeled, deseeded and cut into 1 inch cubes
¾ cup Grated Coconut, fresh or frozen
1 cup Sour Yogurt or 1½ cups Sour Buttermilk
1 small marble sized Tamarind (Optional)
¼ tsp Turmeric Powder
1-2 Green Chilli
¼ tsp Jeera/Cumin Seeds
Salt to taste
For Tempering:
1 tsp Mustard
1 Dry Red Chilli
A Pinch of Hing/Asafetida
Few Curry Leaves
1 tbsp Oil (preferably Coconut Oil)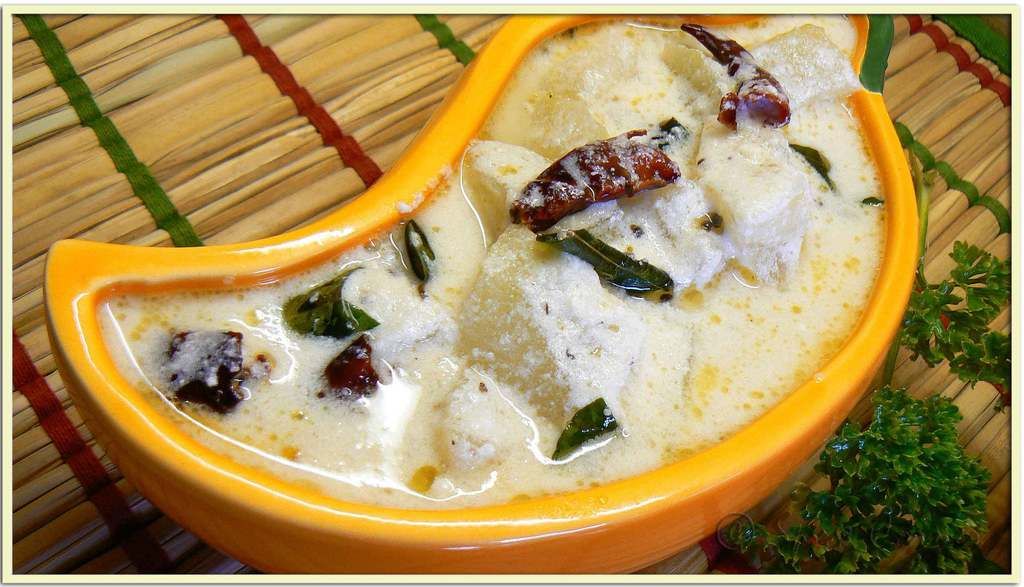 Method:
Cook ash gourd in about 2½ cups of water with salt to taste and tamarind for about 5-7 minutes. Use tamarind only if the buttermilk/yogurt is not sour enough.
Grind grated fresh/frozen coconut with green chillies, jeera and turmeric powder adding little water to make a smooth paste and keep aside.
When ash gourd is cooked add this ground paste and mix well. Add little more water if the gravy is too thick and bring it to boil.
In a mean while, beat yogurt by adding little water at a time to get buttermilk consistency and add it to the curry and mix well.
Cook it for further 1-2 minutes in low flame and turn of the gas.
Heat coconut oil in a tadka pan and add mustard, hing, broken red chilli and curry leaves. When mustard starts to pop and sputter transfer the tadka to Majjige Huli and mix well.
Serve hot Majjige Huli with rice and pickle of your choice.

PS: We will be leaving for a short vacation; away from all hustle-bustle, ringing phones and mobiles, glaring computers… Talk to you all when we get back :) Will miss you all. Happy cooking and happy blogging buddies :)