How many of you agree that curry powder that is sold in supermarkets in colourful plastic/glass container is nothing but much hyped saw dust?
I am really pleased to see most of you nodding your head in agreement :)
Curry powder!!! Not that I want to sue these stores/super markets for selling something that is totally un-Indian but given a chance I am more than willing to blow their heads off! As if it was not enough to pass the vegetables or meat that float in thick red gravy of oil as Indian curries, many a times people are misguided when it comes to ingredients used in Indian cooking. And hear me loud and clear, please be kind to yourself and your taste buds and throw that awful yellow powder into nearest bin and get a packet of fresh Garam Masala (homemade is still better) and few basic spices used in Indian cooking. Once you cook with these spices and spice powders, you will not go near the aisle that displays this saw dust in little containers. Stock up your pantry with little cumin-coriander powder, turmeric powder, red chilli powder, garam masala and you are ready to cook one pot after another pot of delicious Indian curries.
While we are on the topic of cooking curries, how about keeping that bag of maida/all purpose flour away when you are making curry? I have seen many people use them to thicken the gravy. When we have much better options to try out why not use them instead of using bland, white flour? There are many better options to thicken the gravy like onion paste, fresh cream, yogurt, cashew/almond paste than chocking your palettes with maida. Use one of them or combination of two or three and you will be surprised see how creamy and delicious the curry tastes!
Today, I am determined to demonstrate that we needn't use any curry powder (not even Garam Masala) or maida to get thick, creamy gravy. What we have today is

Methi Matar Malai

, a delicious blend of fresh fenugreek leaves (=methi) and sweet green peas (=matar) cooked in, what else, fresh cream (=malai). The ground paste of onions, green chilli and ginger along with whole spices forms the base for delicious gravy. The addition of fresh cream, cashews and ground green peas is what thickens the gravy. Yes, no curry powder nor maida. All we have is some fresh herbs and spices and fresh cream that sure to tickle your taste buds. If you are on diet or watching those calories, simply replace fresh cream with yogurt and you will have low fat version of this creamy curry. Looks can be deceptive! Yes,

Methi Matar Malai

may look like the recipe that needs you to slave in front of stove for hours after another, but in reality it is one of the simple and quick recipes that you can cook to impress your guests. And what more, you get to enjoy goodness of greens without overpowering taste of spice powder.
Green Peas and Fenugreek Leaves for Methi Matar Malai


Ground Paste of Fresh Herbs & Spices for Methi Matar Malai



Print This Recipe
---
Methi-Matar Malai

(Fresh Fenugreek leaves and sweet Green Peas cooked in creamy and mildly spiced gravy of Onion, Whole Spices and Fresh Cream)
Prep time: 5-10 mins
Cooking Time: 15-20 mins
Serves: 4-5
Recipe Level: Easy/Beginner to Medium
Spice Level: Medium
Serving Suggestion: With any Indian flat bread or flavoured/steam cooked rice

---
Ingredients:


1½ packed cups Fresh Fenugreek Leaves (Or use frozen)
1 cup Green Peas, fresh/frozen
1 large Potato, peeled, cut into ½ inch pieces and cooked
¼ - ½ cup Fresh Cream (I used low fat single cream. If using cashews ¼ cup is more than enough)
1 tsp Sugar (Optional but recommended, to mellow the bitter taste of fenugreek leaves)
¼ tsp Turmeric Powder
1 tsp Jeera/Cumin Seeds
1-2 tbsp Oil
Salt to taste



Grind to Smooth Paste:


1 medium Onion
3-4 Green Chillies (Adjust acc to taste)
½ inch Ginger, peeled
½ tsp Jeera/Cumin Seeds
1 inch Cinnamon Stick
3 Cloves
2 Green Cardamoms
4-6 Cashews
3-4 tbsp Green Peas, fresh/frozen (for creamy gravy)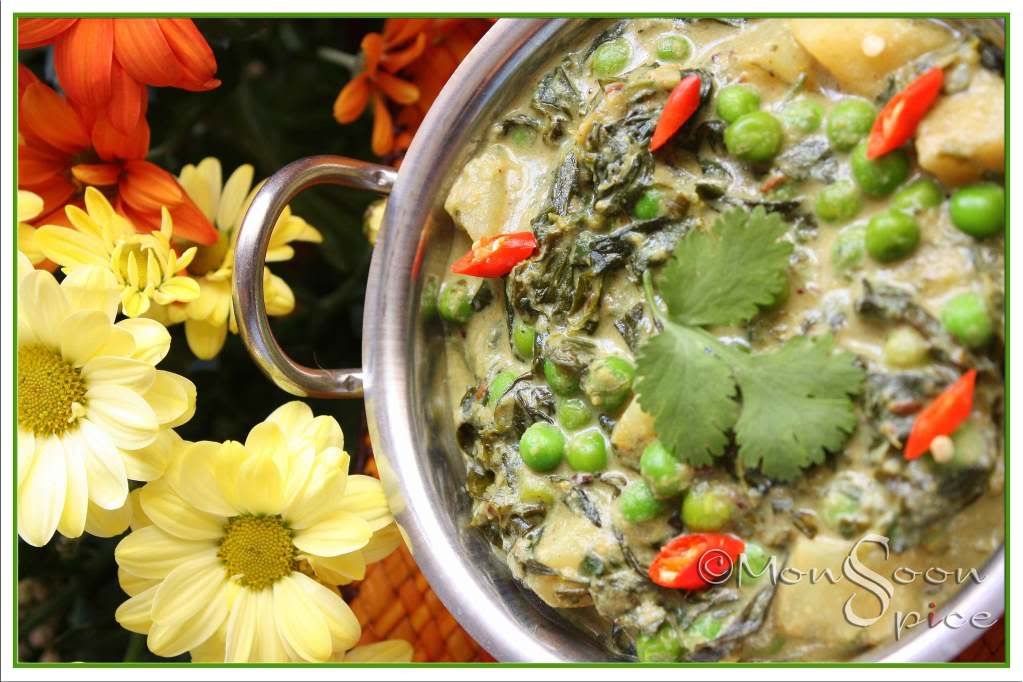 Methi Matar Malai


Heat oil and add cumin seeds to it. When it sizzles and turns golden red, add ground paste and keep stirring till the raw smell of onions disappears. It takes usually 5-6 minutes for the paste to turn light golden brown and the paste should become little dry. Be patient, or else the gravy will taste bitter.
Once you have cooked the paste, add fenugreek leaves and cook until the leaves are wilted, about 2 mins. Add cooked potato cubes, green peas, sugar, turmeric powder, and salt to taste and cook for 2 minutes.
Now add fresh cream, ½ cup of water and mix well. Simmer the heat and bring the gravy to gentle boil. Add little water if you think the gravy is too thick for your taste. Cook for another 2 minutes.
Transfer Methi-Matar Malai to serving dish and drizzle little cream on top if desired and serve hot with any Indian bread or flavoured Rice and enjoy.
---
For low fat version of this Methi Matar Malai, replace fresh cream with yogurt. You can also avoid using cashews or replace it with almonds to get thick gravy. Or simply add ¼ cup of ground green peas that will simply thicken the gravy. But please avoid adding maida which will simply ruin the taste.
You can also add ½ tsp of Garam Masala if needed. I prefer it without any overpowering taste of spice powder.
Addition of sugar is optional. I add it to gently mellow the bitter taste of fresh fenugreek leaves.