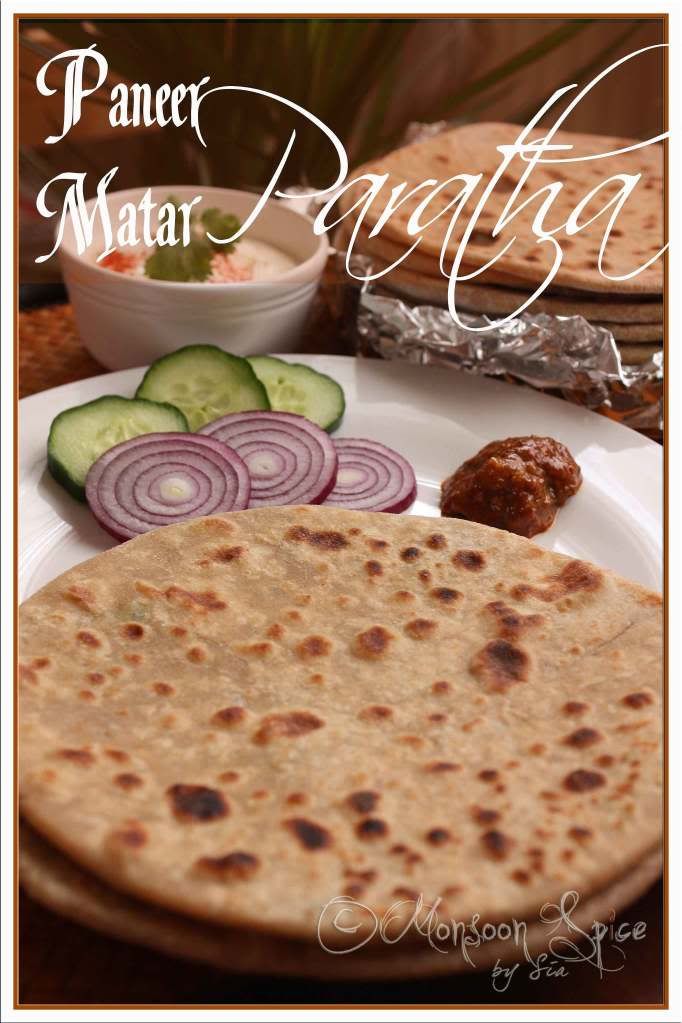 "The most remarkable thing about my mother is that for thirty years she served the family nothing but leftovers. The original meal has never been found."

~Calvin Trillin
But I can easily argue there are many leftovers that taste better than the fresh ones and in my honest opinion Indian curries belong to that category of food that tastes best when served on next day or still after 2 days since it was cooked. And how can I even forget to mention one of my favourite rice dish Bisi Bele Bhath that builds more flavour when served on next day. So Mr. Trillin, think again. May be you been served the best tasting food all the way in the form of leftovers! ;)
These days our kitchen adventures are limited to twice or thrice a week. With our ever growing workload, which by the way is giving serious competition to Mt. Everest, we either don't have the energy or mood to cook anything when we get back home. So it's either leftovers or a canned soup which comes to our rescue as we absolutely loath the idea of ordering food from takeaways. Hence the great need to cook in bulk quantity and storing it in fridge or freezer has arisen and we have been cooking the foods that can be easily stored for long time.
One such food item that can be easily cooked in bulk and tucked in freezer is Parathas. Just the thought of rolling stuffed Parathas was biggest nightmare for me few months ago. I was known for creating funny looking roties that had very unique shape as that of different countries and states in world map. May be that was the reason I didn't venture into stuffing and rolling the Parathas for quite a long time till one day I couldn't hold the temptation of devouring freshly prepared Parathas with yogurt and spicy pickle. That's how my love for homemade Parathas took different dimension and I have been enjoying the whole process of kneading, stuffing and rolling almost-perfect Parathas. And best thing about it is you can make them in big batches and freeze them to be savoured whenever you feel like. Don't we just love leftovers?
There few basic tips for beginners when it comes to making Stuffed Parathas. First, don't worry too much if you end up getting some funny shaped Parathas. Remember amoeba from your school biology classes? My roties were compared to them in the beginning by my family and friends and surprisingly, the very last crumbs of roties were devoured by the same people. So its taste that matters, not how they look. Second, go for the easy and simple stuffing/filling for Stuffed Parathas in the beginning. IMHO, the best stuffing is simple mashed potatoes, with no lumps, flavoured with spice powder. As long as you have well mashed potatoes it is quite easy to stuff them and roll. Take small quantity of stuffing and roll them into parathas or place the stuffing between two rolled chapattis and seal the edges. Once you are comfortable with simple stuffing you can try with other fillings like cauliflower, radish, zucchini, carrot, green peas etc. The choices are endless. Third, the quality of wheat flour or Atta is very important when it comes to soft, fluffy Parathas. I prefer Annapurna, Ashirwad and Pillsbury Chakki Atta brands where they use the age old technique of grinding the whole wheat into fine powder. I have tried other brands but they don't come half as good as the qualities of these three brands (hey, I am not paid by these companies to endorse their product). Given a choice I would opt for freshly ground Atta from girNi shops like my Amma. If you keep these basic tips in mind, it won't be too long for you to get perfectly shaped stuffed parathas.
Coming to today's recipe, we have delicious

Paneer-Matar Parathas

. Sweet green peas and grated Indian cottage cheese flavoured with green chillies and heady spice powder is one of the simple yet exciting combinations. Instead of mashing the cooked peas, I roughly ground them in food processor which helps you to get evenly stuffed parathas without oozing. When these

Paneer-Matar Parathas

are served with a bowl of cool, creamy yogurt and spicy pickle along with fresh vegetable salad it becomes a comforting and very satisfying meal. I am sending this stack of

Paneer-Matar Parathas

to dear Roma who is guest hosting JFI-Wheat, an event started by Indira of Mahanandi.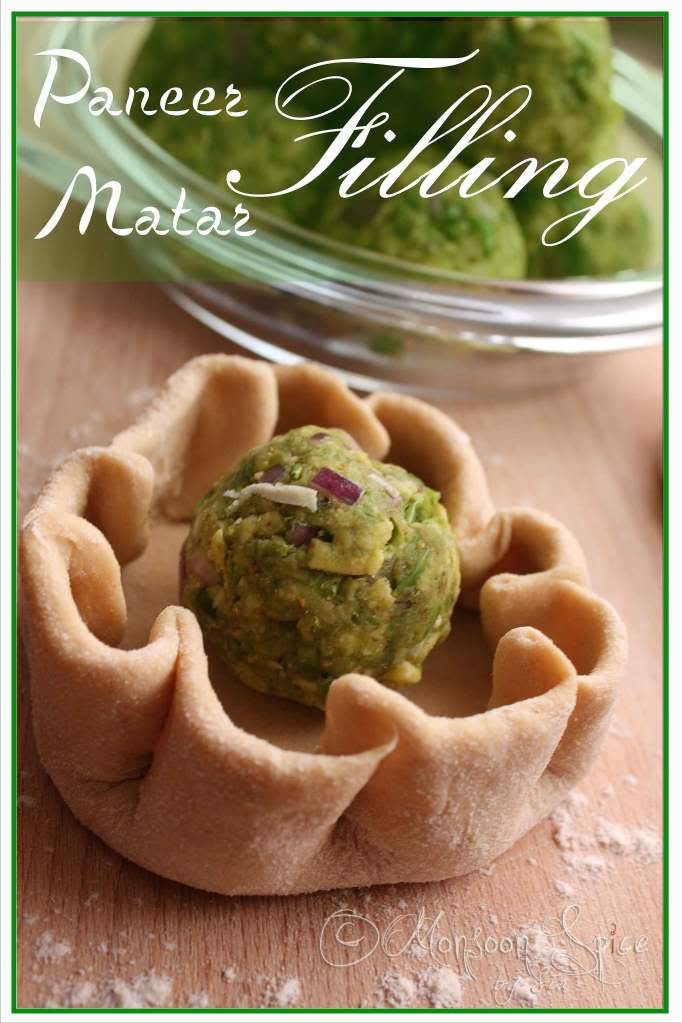 Paneer & Peas Filling for Paneer-Matar Parathas

Print This Recipe
---
Paneer-Matar Paratha

(Flat bread of whole wheat flour stuffed with spiced Indian cottage cheese and green peas)
Prep Time: 20 mins
Cooking Time: 30 mins
Makes: 10-12
Recipe Level: Intermediate to Difficult
Spice Level: Low to Medium
Serving Suggestion: With any curry of your choice or with a bowl of raita/yogurt and pickle

---
Ingredients:




For Paratha:


2-2½ cups Atta/Whole Wheat Flour
¼ cup Yogurt
1-2 tbsp Oil/Ghee
Warm Water for kneading
Salt to taste

For the Stuffing:
1½ cups Paneer/Indian cottage Cheese, grated
1 cup Green Peas
1 small Red Onion, finely chopped
3-5 Green Chillies, finely chopped (Adjust acc to taste)
1 tsp Garam Masala
½ tsp Jeera/Cumin Powder
Salt to taste



Other Ingredients:


Little Atta/Whole Wheat flour for dusting
Little Oil/Ghee
For the Dough:
Sieve atta and mix in salt, oil/ghee and yogurt.
Slowly add warm water little at a time and knead well to make stiff dough.
Cover and keep it aside for at least half an hour.
For Stuffing:
Place green peas in a microwave safe bowl with lid. Add pinch of salt and cook at high power for 3-5 minutes. Drain the water produced during cooking and let it cool for a while. Now you can either mash it using a potato masher or use food processor. I usually go for the latter. Place cooked green peas, garam masala and salt to taste in a food processor and grind to coarse paste. Mix this paste with grated paneer, finely chopped onion and green chillies and mix well. If possible use your hand to combine all these ingredients. Make small lime sized balls and keep them aside.
For the Paratha:
Knead dough again for a minute or two and make equal lemon sized balls.
Roll this dough ball in flour and place them on a flat surface. Flatten it little using your palm and roll them using a rolling pin into thick poories of 4 inch in diameter.
Place one panner-matar ball in the centre. Cover and seal the ends and roll again, dusting flour if necessary, into ½ cm thick roties using rolling pin.
Mean while, heat a griddle at high flame and lower it to low-medium flame.
Gently dust off the excess flour and place Stuffed Paratha on hot griddle and cook on both the sides till brown spots start to appear on top and the parathas are cooked well. Apply little ghee/oil if desired.
Serve hot Panner-Matar Parathas immediately with any curry or with plain yogurt and pickle of your choice and enjoy.
Paneer-Matar Parathas with Yogurt & Pickle
---
If you find it too difficult to roll the parathas with stuffing, add ¼-½ cups of maida/all purpose flour when kneading the dough. Maida gives little elasticity to the dough and helps in rolling the stuffed parathas without the stuffing oozing out.
Make sure that you drain any excess water generated while cooking the green peas. The filling should be dry or else it will ooze out when you roll it into paratha.
The leftover parathas can easily be frozen. To do this, cut few square sheets of butter paper or baking sheet of equal size so that it covers the paratha well. Place a paratha on one sheet and cover it with another square sheet. Place another on top of it and repeat till all the parathas are over. Place this in a large zip lock bag and store it in a freezer. It is better to write down the date on which the parathas were cooked. I usually use them by one month.