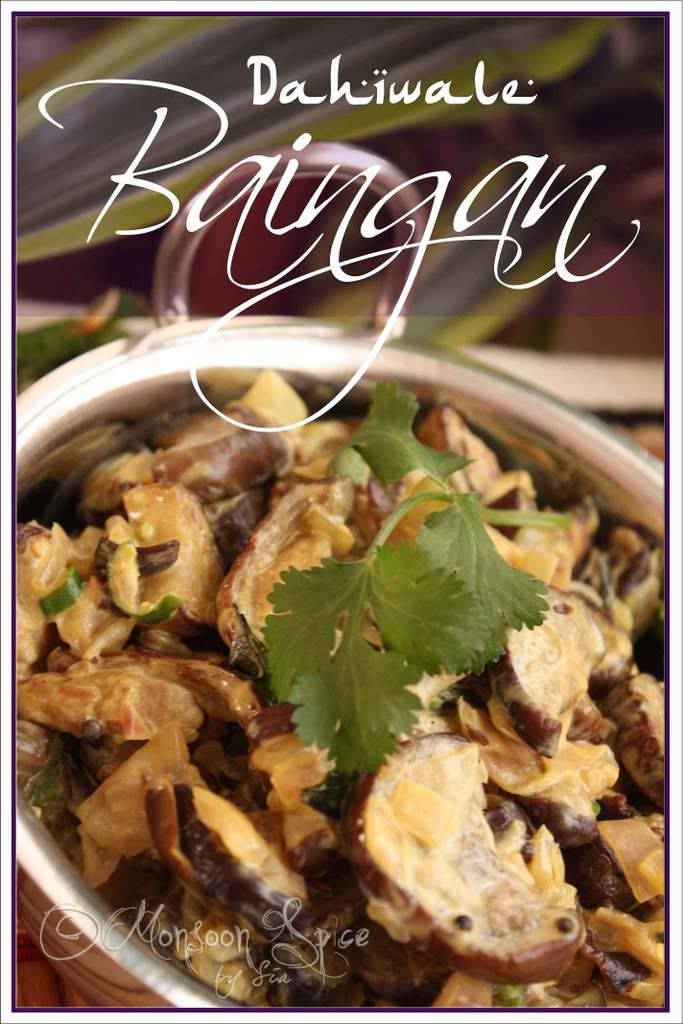 Some times a bright sun beam escaping from grey clouds is enough to lift your mood…
Some times a small cup of coffee at the end of long, hectic day is enough to cheer you up…
Some times a funny forward in your email box is enough whisk away the blues…
Some times a smile from small baby is enough to wipe away the tiredness…
Some times a little card from your dear one is enough to brighten your day…
And some times a simple food is all we need to comfort us and make us feel at home…

Some times all we need is little things that make your day… Just small things that makes us happy and content!
Yes, today we are talking about simple pleasures of life today and also the theory of less is more. Food that we cook or eat everyday is no exception when it comes to simple pleasures of life. And to prove this age old theory, we have a very simple recipe that uses very few ingredients in creating one of the best tasting curries! I made this
Dahiwale Baingan
following the recipe posted by
Saffron Hut
. Saffron Hut was one of the very few Indian blogs I came across during initial days of my blogging and I was instantly hooked to her breath taking photographs and wonderful narration. I had bookmarked her recipe for
Dahiwale Baingan
, or to be precise, Sour Creamwale Baingan long back and almost forgot about it till yesterday. Why till yesterday? Well, yesterday was the first day in last three years of living here in UK that I came across this popular type of Eggplant that we grow in India. Yes, I got hold of the very old Chinese Eggplants I have been so craving for using in
Vangi Bhath
and
Sweet & Sour Eggplant Palya
. At last I found them in new Indian grocery in our city and came back home singing and dancing and all that goes with it! Did I hear some one say "What big show-off"? Well, then you definitely don't have a clue about my love for these purple beauties! I call it simple pleasures of 'my' life…
After cooking and eating Vangi Bhath and Palya to my heart's desire, I was left with three more Chinese Eggplants. One quick look into my bookmarks and I knew instantly what I wanted to try next. It was
Dahiwale Baingan
from
Saffron Hut
and I didn't waste any time in creating this wonderful recipe. I followed her recipe to T except I used a combination of fresh cream and yogurt in place of sour cream. The end result was something that is hard to put into words! I have never thought simple recipe like this would turn into one of the best tasting eggplant dishes and trust me when I say I have tasted quite many recipes made using the king of vegetables. Thanks to Saffron Hut for making me believe once again that less is definitely more and tastier!
Dahiwale Baingan
is a simple dish of pan fried eggplants that had been marinated with ginger-garlic paste and salt and then mixed with sour and spicy yogurt gravy. Nothing fancy about it except it can give tight competition to any recipe that uses exotic and exclusive ingredients. Don't you believe me? Then may be it's time you tried this
Dahiwale Baingan
for your self and please let me know how you liked it.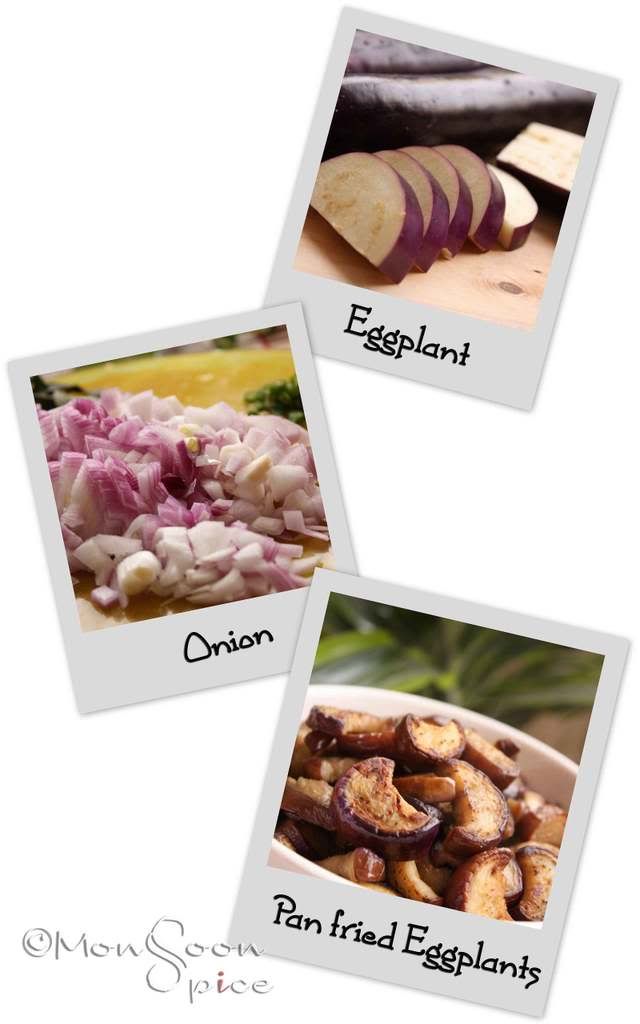 Dahiwale Baingan
:
Work-in-progress

Print This Recipe
---
Dahiwale Baingan

(Pan fried Eggplants served with creamy gravy of Fresh Cream and Yogurt)
Prep Time: 5 mins (excluding marinating time)
Cooking time: 30 mins
Serves: 4-5
Recipe Source: Saffron Hut
Recipe Level: Easy/Beginner to Intermediary
Spice Level: Low to Medium
Serving Suggestion: With any Indian flat bread or flavoured/steam cooked rice

---
Ingredients:


3-4 long Chinese Eggplants (slit in middle and cut into 1cm half moons)
1 large Onion, finely chopped
1 tbsp Ginger-Garlic Paste
3-5 Green Chillies, finely chopped (Adjust acc to taste)
½ tsp Turmeric Powder
2 tbsp Fresh Cream (I used low fat single cream)
¼ cup Yogurt
Salt to taste
2-4 tbsp Oil



For Tadka/Tempering:


1 tsp Jeera/Cumin Seeds
1 tsp Mustard Seeds
Few Curry Leaves
A pinch of Hing/Asafoetida
½-1 tbsp Oil
Rub little salt and ginger-garlic paste to cut eggplant paste. Make sure that you mix them well. Place these eggplant pieces in a colander for 1-1½ hours to marinate. Make sure that you place it near sink as the liquid generated from salted eggplants will drain away. You can also place a bowl filled with water on top (that fits within the colander) which helps in draining more bitter juice from eggplants. Once the juice is drain out, the eggplants fried up very well.
Pan fry these marinated eggplants in little oil, on medium to high heat, till they turn brown and crisp. It's best to fry them in small batches so that you get evenly fried eggplants. Place them in a plate lined with kitchen towel till needed.
Heat oil in a pan and add mustard seeds to it. When mustard starts to pop and splutter, add cumin seeds, curry leaves and hing. Saute till cumin turns golden red. Mix in finely chopped onion and green chillies and sauté till onion turns translucent, about 3-4 minutes.
Add turmeric powder and sauté the onions for another 2 minutes. Mix in fresh cream and yogurt and reduce the heat to low. Keep stirring the cream and yogurt for another 3-4 minutes and bring it to gentle boil. Switch off the flame and mix in pan fried eggplants and serve this delicious Dahiwale Baingan immediately, garnished with finely chopped coriander leaves, along with chapattis or Roties and enjoy.

---
It is important to marinate the eggplants for at least one hour before you pan fry. It not only helps in draining the bitter juice from eggplants, it also helps in frying them quickly and evenly.
Next time I might bake the marinated eggplants than pan frying. To do this, simply line the baking sheet with aluminium foil or parchment paper and spray little oil on top of it. Arrange eggplant slices in single layer and bake them till they are nicely browned.
Use pan fried Okra/Bhindi/Ladie's Fingers in place of eggplants and follow the recipe for Dahiwale Bhindi.