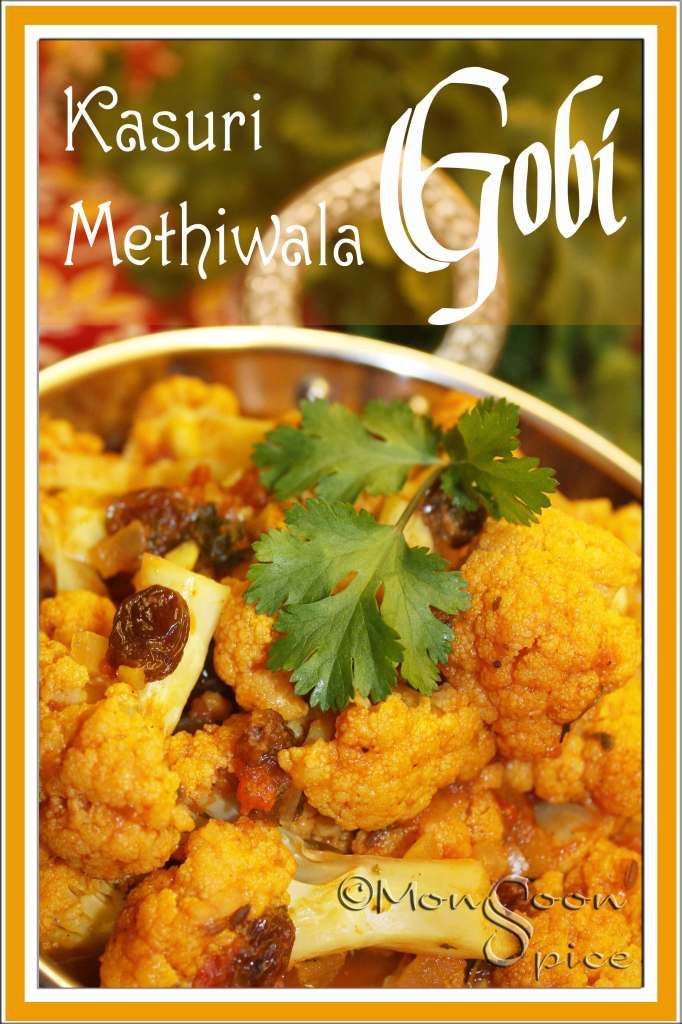 Kasuri Methiwala Gobi Ki Subji
Tall, dark and handsome…
Rich, powerful and charismatic…
Beautiful, fair and simple…
Young, virgins and innocents…

You don't need to appoint detectives from Scotland Yard to figure out what I am talking about. This is how almost all the heroes and heroines of
Mills & Boon
novels. For all those people who are twitching their nose in disgust at the mention of M&B, did you know it's been a whole century since Mills and Boon began publishing? Yes, 100 years of romance and romance alone and surprisingly even now at 21st century it has vast readership by selling 130 million books a year in 26 different languages. And did you also know that the company turnover is over £21 million and it has 1,600 writers dedicated to writing romantic novels?
The documentary on BBC channel on a Century of Romance: Mills & Boon triggered the memories of my teen days when I read first M&B book which was stuck in between Hardly Boys and Nancy Drew novels I was addicted to. It was the story of rich, powerful business man falling in love with a pretty secretary of his. And since then I have had read hundreds of similar stories with the same storyline with almost similar characters. The men are always rich, handsome and powerful millionaires or billionaires who are either successful business men or doctors or Arabian sheikhs or business tycoons with a smile that would set every (submissive) female specie's heart ablaze.
I have lost the count of numer of times I have had read M&B novels, tucked safely in between thick text books of logistics or graphic designing, at boring college lectures. They were notoriously famous among girls as the books were small enough to hide comfortably between any texts books which almost resembled large print oxford dictionaries and dream of their prince charming between coding and programming. Since the book was small with 40 to 50 thousand words, it was easy to finish in a session or two. Well, you don't need to use your mind when you read M&B novels, just turn pages and finish it and pass it on. Ever wondered why these books were so famous? Do share your stories and thoughts with us :)
Moving on to recipe part, I have different things to romance these days, food and cooking. What did you think? Tsk, tsk… Anyways, I have been seen lately romancing with Dudhi which ruled our kitchen for the past few months and also other vegetables which make regular appearance in our kitchen. But Gobi/Cauliflower is one vegetable which I buy reluctantly, mainly it stinks!!! Did I say that? Hmmm… It does stick when over cooked and I know you too know that!!! Even when I buy Gobi I disguise it among other vegetables, especially I like to pair it with potatoes which makes it much bearable. And I absolutely hate over-cooked cauliflower. But this time hubby dear was particular about cooking it alone without pairing with other veggies. Well, it took me more than one week to think and decide and by yesterday I was almost ready to give up and cook Aloo-Gobi if not for very intriguing recipe posted by dear Indira of Mahanandi.
Indira's recipe of
Gobi Kasuri Methi with Raisins
sounded too interesting to be ignored. Kasuri methi rules my kitchen and I usually buy big packs of it from India instead of buying here which hardly gives any flavour. So I was all set to try this recipe and with in few minutes I was chopping cauliflower into medium florets. My recipe of
Kasuri Methiwala Gobi Subji/Subzi
uses three main ingredients cauliflower, kasuri methi and raisins used by Indira but my recipe is slightly different from the original. I skipped coconut and added little bit of garam masala and aamchur powder. And I also used fresh ginger and garlic along with sweet onions and tart tomatoes. While kasuri methi gives a mild, pleasantly bitter taste, sultanas soaked up in spicy tomato gravy gives it a nice sweet bite to this absolutely delicious Subzi/Subji. Thank you Indira for this delicious inspiration and I am packing this bowl of delicious Kasuri Methiwala Gobi Subji/Subzi to dear Zu for her
T&T-Mahanandi
event.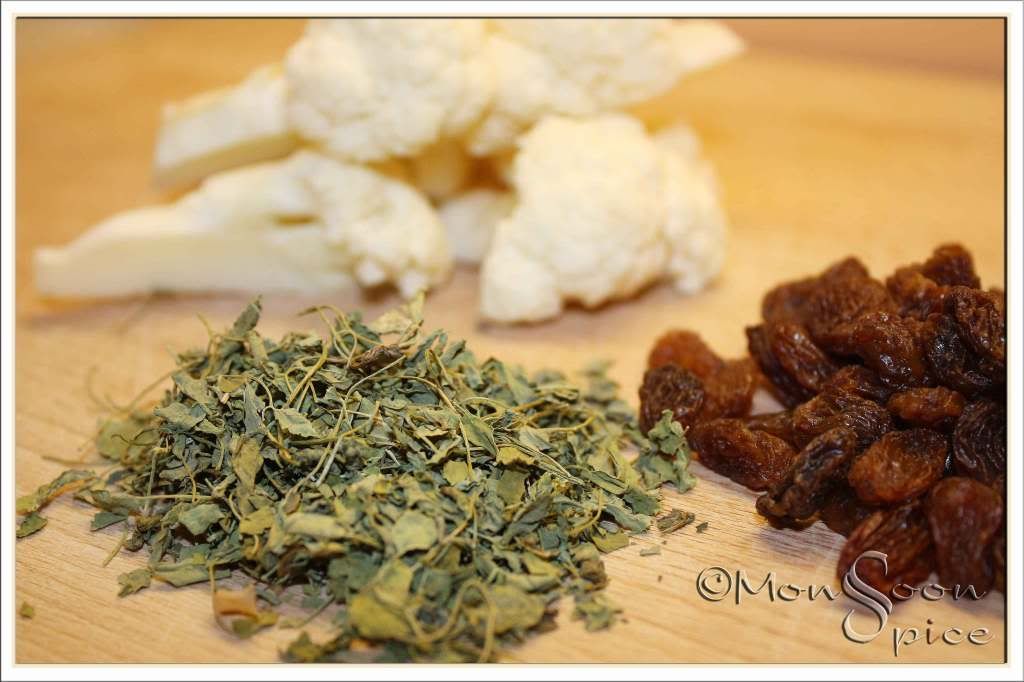 Cauliflower, Kasuri Methi & Sultanas

Print This Recipe
---
Kasuri Methiwala Gobi Subzi/Subji

(Sweet and Spicy Cauliflower Curry cooked with pleasantly bitter Dried Fenugreek Leaves and sweet Sultanas)
Prep Time: 10 mins
Cooking Time: 20-25 mins
Serves: 4-6
Recipe Inspiration: Mahanandi
---
1 medium Cauliflower, cut into medium florets
1 large Onion, finely chopped
1 can or 3 large Tomatoes, finely chopped
1 inch Ginger, peeled & finely chopped
3-4 large Garlic cloves, finely chopped
¼ cup Sultanas or Raisins
1 tbsp Kauri Methi/Dried Fenugreek Leaves
½ - 1 tsp Garam Masala
½ tsp Kitchen King Masala (Optional)
½ tsp Turmeric Powder
½ - 1 tsp Aamchur/Dry Mango Powder (Adjust acc to taste)
1 tsp Jeera/Cumin Seeds
¼ tsp Hing/Asafoetida (Optional but recommended)
1 tbsp Oil
Salt to taste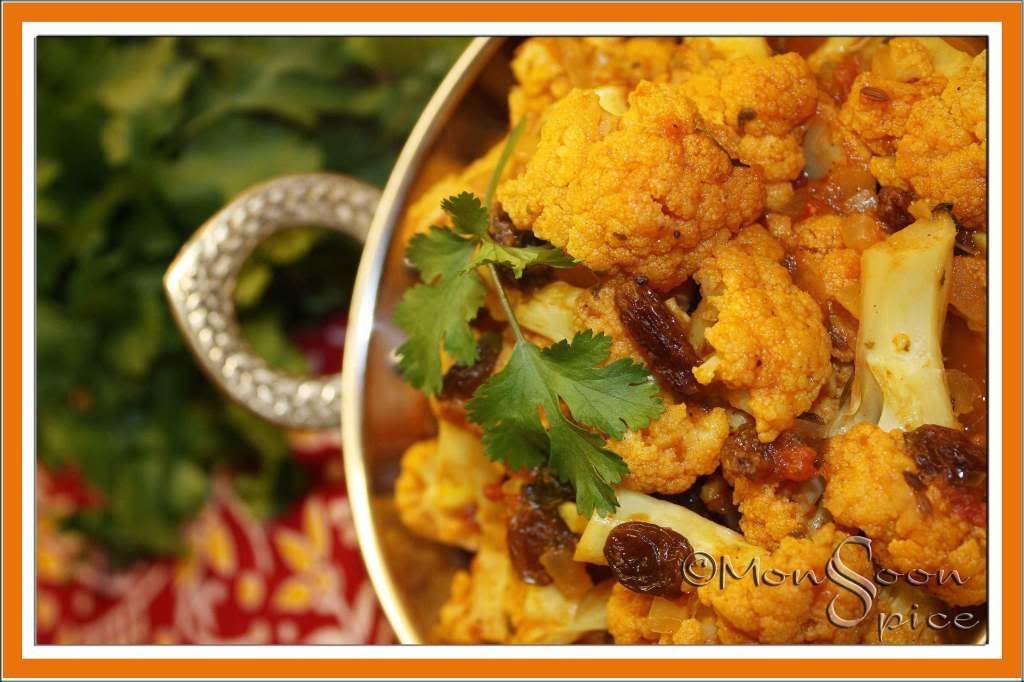 Kasuri Methiwala Gobi Ki Subji
Method:

Heat oil in a pan and add cumin seeds and hing. When cumin starts to sizzle and change golden red, add finely chopped ginger and garlic and sauté them for about 30 seconds. Then add finely chopped onions and sauté till they turn golden brown, about 2-3 mins.
Mix in kasuri methi, garam masala, kitchen king masala and turmeric powder and fry for half a minute. Add canned chopped tomatoes or finely chopped tomatoes and cook for 3-4 minutes on medium flame till they turn pulpy.
Now add ½ - 1 cup of water, salt to taste and aamchur powder and mix well. Mix in cauliflower florets and cover the lid. Let it cook for 10-12 minutes on medium flame, stirring in between, till cauliflower is almost cooked.
Uncover and mix in sultanas or golden raisins and let it simmer for another 5-7 minutes. Mix in finely chopped coriander leaves and serve the delicious Kasuri Methiwala Gobi Curry with any Indian Breads or steaming bowl of Rice and enjoy.