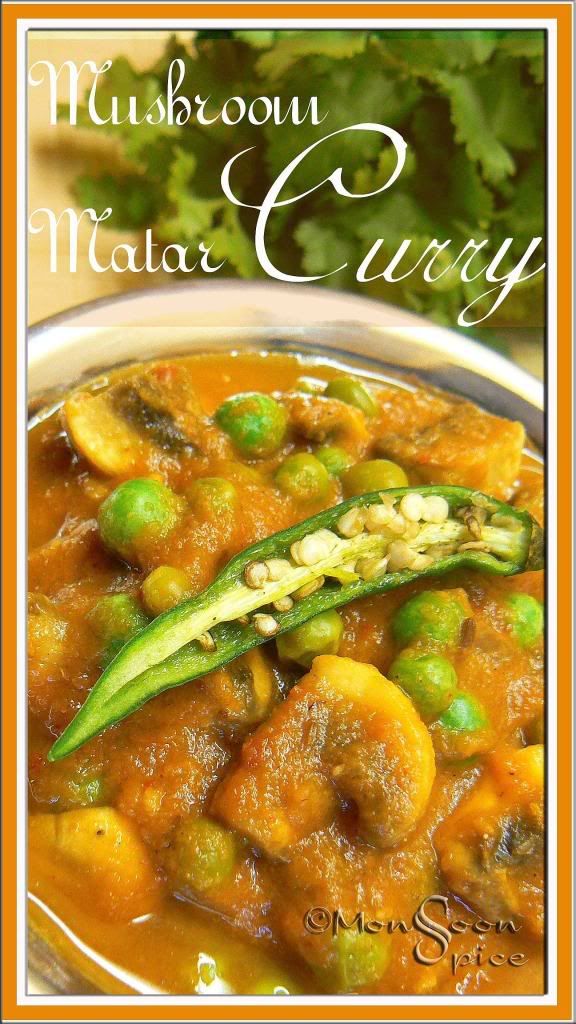 Creamy Mushroom-Matar Curry
How many days or hours have you spent cooking in your mom's kitchen before you left to pursue higher education or got married and moved to different city/state/country? I am talking about whole cooking process which includes peeling, trimming, chopping, grinding, cooking and also cleaning the whole mess you have made. Is it years, months, weeks, days, hours or just few minutes?

If I were to include everything, then the fingers in my hands will be enough to do all the calculations. Growing up in India, kitchen was my Amma's territory. Sometime I would help my mother in peeling the potatoes or chopping the beans. Other times I helped her in roasting the spices and grinding them. And when I was too lazy to do anything I declared myself as a certified quality control officer by tasting and testing for salt and spices. And embarrassingly I was not even good at that as many a times I failed to figure what was missing in the dish; whether it needed a sprinkle of chilli powder or dash of lemon juice. 'Little bit of this and little bit' of that is what we call '
andaJu
or
andaz
in cooking' and little did I know it all comes from experience!
After moving to UK and sampling few foods cooked by my dear husband I realised that I needed to improve my culinary skills if I were to eat different kinds of food which will also taste differently. Krish is a good cook but his culinary skill is limited to making a bowl of Rasam and Sambar using the same curry powder which was used in almost all the curries he made. I can't blame him completely as his pantry was stocked with a bottle of all purpose curry powder, dried Italian herbs and a jar of dried coriander leaves. You can hardly cook any curry with them, let alone authentic ones. That was the time I decided to learn cooking seriously. To my surprise I was blessed with beginners luck when it came to cooking and luckily some how most of the things I cooked tasted good if not best. After countless late night overseas SOS calls, few burnt pans and some over cooked veggies with little extra dose of spice and salt, I was blessed by goddess
Annapurna
and rest all, as we say, is a history.
Today when I cook I can't help but think of my the initial days of cooking adventures. I can see the improvement in the way I cook and the way the food tastes. Gone are the days of hesitating and confused girl who spent half the time refering particular recipe on cookbook or website. Today in her place I see a person who is confident enough to use and change the ingredients which she knows will enhance the flavour. There is a girl who is not afraid to try her own recipes, using whatever is available in her fridge-freezer and pantry and still be assured that it would be well accepted by her family and friends! So do you see that girl in your kitchen too? Do share your stories with me…
Today's recipe of
Creamy Mushroom-Matar Curry
is a result of my successful cooking experiments which seems to be increasing these days. This is a rich, creamy dish of sweet green peas and delicious mushrooms cooked in wonderful gravy of onion, tomato and cream or milk. The ground onion paste along with ginger-garlic and red chillies gives a lovely creamy texture to the gravy and hence the cream used in it can easily be forgotten.
Creamy Mushroom-Matar Curry

Print This Recipe
---
Creamy Mushroom-Matar Curry

(Delicious Mushrooms and sweet Green Peas cooked in a creamy and spicy gravy of Onion, Tart Tomatoes and Cream or Milk)



Prep Time: 10 mins
Cooking Time: 20-30 mins
Serves: 4-6
---
15-20 Button or Close cupped Mushrooms, cleaned, pat dried and quartered
¾ cup fresh/frozen Green Peas
2-3 tbsp fresh Cream or ½ - ¾ cup Milk
1 cup Onion, finely chopped
3 large Tomatoes, pureed
3-4 Garlic Flakes, thinly sliced
1 inch Ginger, finely chopped
3-5 Dry Red Chillies, halved (Adjust acc to taste. Preferably Byadagi or Kashmiri Chillies)
½ tsp Garam Masala
½ tsp Kitchen King Masala (Optional)
¼ tsp Aamchur/Dry Mango Powder or ½ tbsp Lime Juice (Adjust acc to taste)
1 tsp Sugar (Optional but recommended. To help in balancing the tart taste of tomato)
1+1 tsp Jeera/Cumin Seeds
1 + ½ tbsp Oil/Ghee
Salt to taste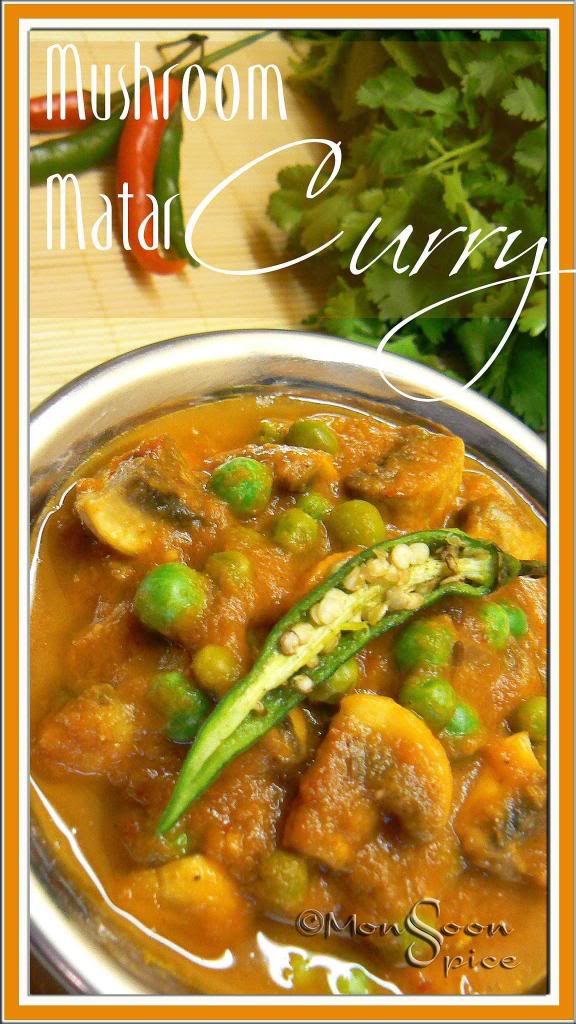 Creamy Mushroom-Matar Curry
Heat ½ tbsp of oil in a pan and add a tsp of cumin seeds to it. When cumin starts to sizzle and turn reddish in colour, add finely chopped garlic and ginger to it. Sauté on medium flame till the garlic turns light golden on the edges.
Now add finely chopped onions and halved red chillies and sauté till onion turns light golden, about 2 minutes. Switch off the flame. Once the onion mixture has cooled a bit, grind it to a smooth paste without adding any water to it.
Heat a tbsp of oil in a pan and add a tsp cumin seeds to it. Again when cumin starts to sizzle and change in colour, add ground onion paste to it and fry till the whole mixture becomes dry, about 4-5 minutes, on medium flame. Make sure that the ground onion mixture turns little brown in colour.
To this, add garam masala and kitchen king masala and fry for half a minute. Mix in quartered mushrooms and sauté for 2-3 minutes. Add tomato puree, green peas, cream/milk, dry mango powder and salt to taste and mix well. (If using just cream, add ¼ cup of water to the pan.)
Simmer the flame and let it cook covered for 10 minutes, stirring in between. Add little more water or milk if needed to get the required consistency of gravy and adjust the seasonings. Then remove the lid and let it cook for another 5 minutes for all the flavours to blend well.
Serve it hot, garnished with finely chopped coriander leaves, with any Indian flat breads or flavoured Rice and enjoy.