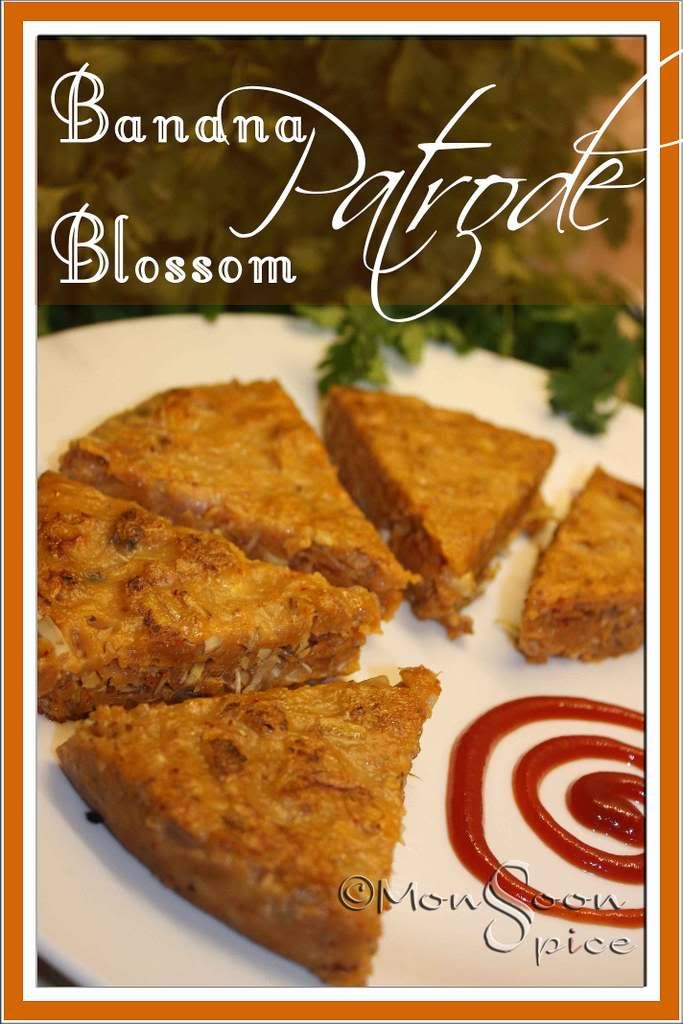 Mangaloreans love two things, one coconut and another curry leaves. Between these two there is another vegetable/fruit which is indispensable to us and it's plantain or banana. Most of the houses in South Canara, even with small garden, will have one coconut tree and a banana tree along with wildly grown Curry plant swinging to cool evening breeze. I grew up with three banana plants in the backyard and hundreds of them in our estate. So it is no surprise that I have tasted almost everything cooked from its stem, fruit and even its flower/blossom using banana leaves as organic and bio-degradable plates.

I have had tasted many recipes using Banana Blossoms ranging from simple stir-fries to delicious Chutneys cooked by my Amma, aunts and Ajji. Our recent summer trip to India I was first time introduced one very novel dish by my mother in law and that dish is
Banana Blossom Patrode
. Last year during casual chat with my MIL she mentioned about making Patrode/Patra using Banana Blossom and like any foodie I was totally intrigued and couldn't wait to try it. In spite of being really busy with the last minute wedding preparation of my BIL's, my Atte managed to cook this for me. And to my surprise it turned out to be one of the very best foods I have ever tasted. I have been craving for this Patrode ever since we came back from India but never got around to make this as Banana Blossom is not easily available at my neck of woods and I was not very sure if I will be able to manage chop them in a right way and cook without any problem.
During our recent trip to down under (nope, not Aussie ;) I couldn't resist from buying two banana blossoms in hope of making patrode. And boy, did I manage to cook it beautifully or what!!! Traditionally
Patrode
is made using Taro/Colacasia Leaves by spreading spicy paste on their surface, rolling and then cooked to perfection using a steamer. Same spicy batter is used here but banana blossom is used in place of taro leaves and no rolling is involved. This was the first time I have ever used Banana Blossom in cooking without any help from my mother or MIL and I was really proud with the end result. Except for laborious cleaning and chopping of banana blossom, this is really a very simple recipe and can be cooked very quickly. To top it all, it can be simply stored in a freezer for months together. Banana Blossom Patrode is spicy with mild note of sweet and tanginess from dry red chillies, tamarind, coconut and jaggery used; a taste which is hard to resist and even harder to forget. Without further delay let me give you step by step instructions on how to make
Banana Blossom Patrode
and please make sure that you go through the instructions carefully before cooking it. I am sening it to this week's
Weekend Herb Blogging
guest hosted by
Zorra
& initiated by dear
Kalyn
.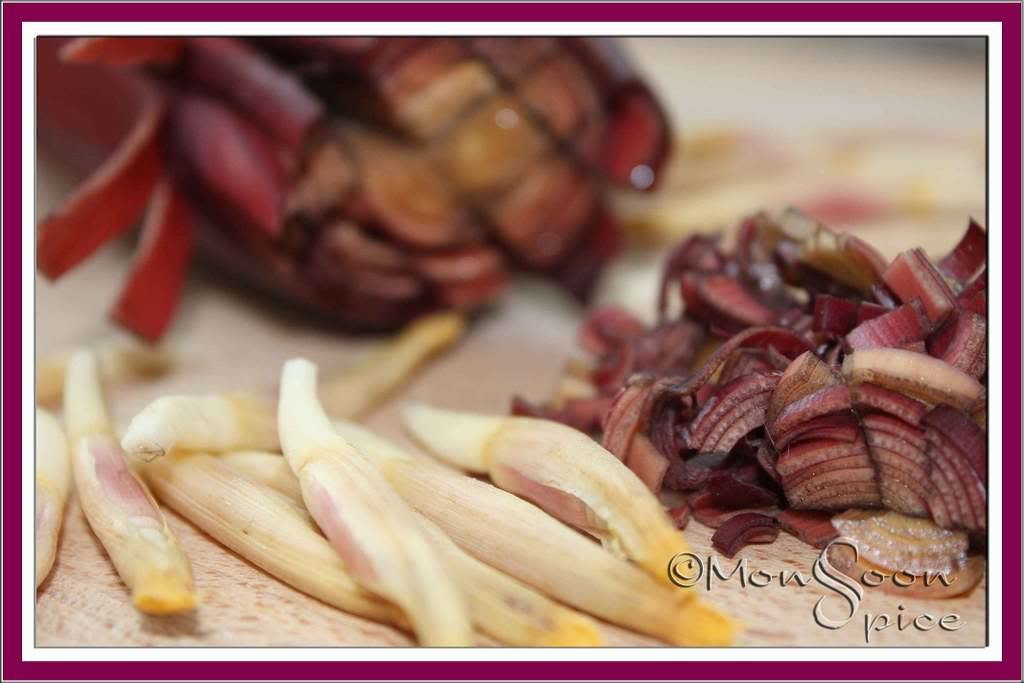 Print This Recipe
---
Banana Blossom Patrode

(Steam cooked & Pan fried Spicy Rice Cakes made using Banana Blossoms)
Prep Time: 15-20 mins
Cooing Time: 20-30 mins
Serves: 4-6
Recipe Source: MIL
---
Ingredients:


1 Banana Blossom
1 large Onion, finely chopped
2-3 tbsp Oil, preferably Coconut Oil
1 tsp Turmeric Powder
10-12 Curry Leaves, finely chopped



Grind to thick Batter (Dosa batter consistency):


2 cups Rice, washed and soaked overnight for about 8-10 hrs
½ packed cup Coconut, fresh/frozen/dried
1 tbsp Coriander Seeds
½ -¾ tbsp Jeera/Cumin Seeds
Medium lime sized Tamarind Pulp (Adjust acc to taste)
6-8 Dry Red Chillies (Adjust acc to taste)
1 inch cube Jaggery
Salt to taste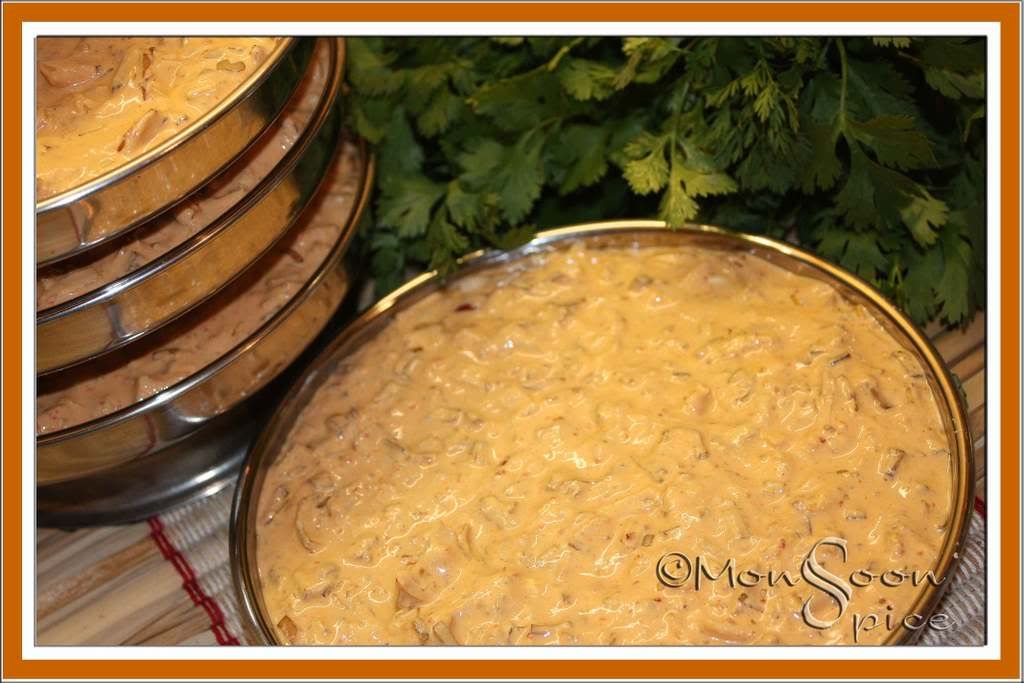 Banana Blossom Patrode- Before Steaming
Method:
Drain water from rice and grind it to smooth batter by adding water and all the ingredients listed above. Make sure that you have little thick batter than that of dosa batter consistency. Adjust tamarind, chillies and jaggery according to your preference.
Now comes the little tricky bit of chopping the banana flower. First apply 1 tbsp of coconut oil to your palm and rub well. Applying oil to your palms help in preventing the sticky sap oozing from banana blossom to your hand which leaves nasty black colour for few days. Remove the outer tougher covering and discard, around 2-4 outer tough skins. In my case I had to remove two outer skins. Don't discard the florets. Now chop this banana flower and florets into very fine pieces.
Usually these chopped pieces are soaked in very sour butter milk to prevent from discolouring. In spite of doing so it discolours to some extent. So you can simply skip this step as we will be mixing them in the prepared batter.
Add 2-3 tbsp of Coconut oil and mix them well. This way you can easily separate layers which otherwise would be sticking to one another.
Now add this chopped banana flower, finely chopped onion, turmeric and chopped curry leaves to the ground batter and mix well.
Here comes the important step of steaming. You can either use usual Idli stand or flat bottomed vessel and steam cook them in a streamer or pressure cooker without putting its weight. Or another best way is to wrap it in banana leaves and steam cook it, same way as
Genasale
. I have used Tatte-Idli Stand. Grease the plates with oil and pour the batter with ladle into each plate. Place each plate back in the stand and steam cook in pressure cook or Idli steamer or Steamer for about 20-30 minutes till cooked properly.
Let it cool for 5 minutes before opening the lid. Remove cooked Patrode from plates and cut them into desired shapes. You can serve it with Ghee/Coconut oil or proceed to next step.
Heat tawa/griddle and place cut Patrode pieces on it. Add a tsp of Oil/Ghee for each piece and cook on both the sides for about 2 minutes till nice brown spots starts to appear on the surface.
Serve it immediately with or without any chutney or plain tomato ketchup and enjoy. It tastes best when roasted with Ghee/Coconut Oil.
Banana Blossom Patrode- After Steam cooked and Pan fried
---
Notes:
Banana Blossom or Banana Heart grows on the end of long stem holding cluster of Bananas and this deep cherry red blossom is id considered as one of the delicacy in southern Indian states, both when cooked or eaten raw. Banana blossom has layers of tightly packed reddish flaps which wrap around rows of creamy florets with black stigma. Usually this black, hard stigma and transparent covering on every floret is removed as they are difficult to cook. I skipped this step as the steaming process helps in cooking them thoroughly. You can go ahead and remove them or just leave them as they are.
Try to stick to the amount of Tamarind and Jaggery used as they helps in mellowing the bitter taste of Banana Blossoms and spicy red chillies. If using old tamarind, reduce the quantity by ¾ th of the original quantity.
To steam cook, add about water depending on the size of pressure cooker you use. In my case I had to add about 2½ cups of water (about 1½-2 inches). Place the Idli stand and cover the lid without putting its weight and steam cook for about 20-30 mins.
The left over Patrode pieces can be stored in zip lock bag once they are completely cooled and can be frozen for about 1-2 months in freezer. When needed heat then in microwave (don't thaw) and then roast them on tawa with ghee/oil and serve.