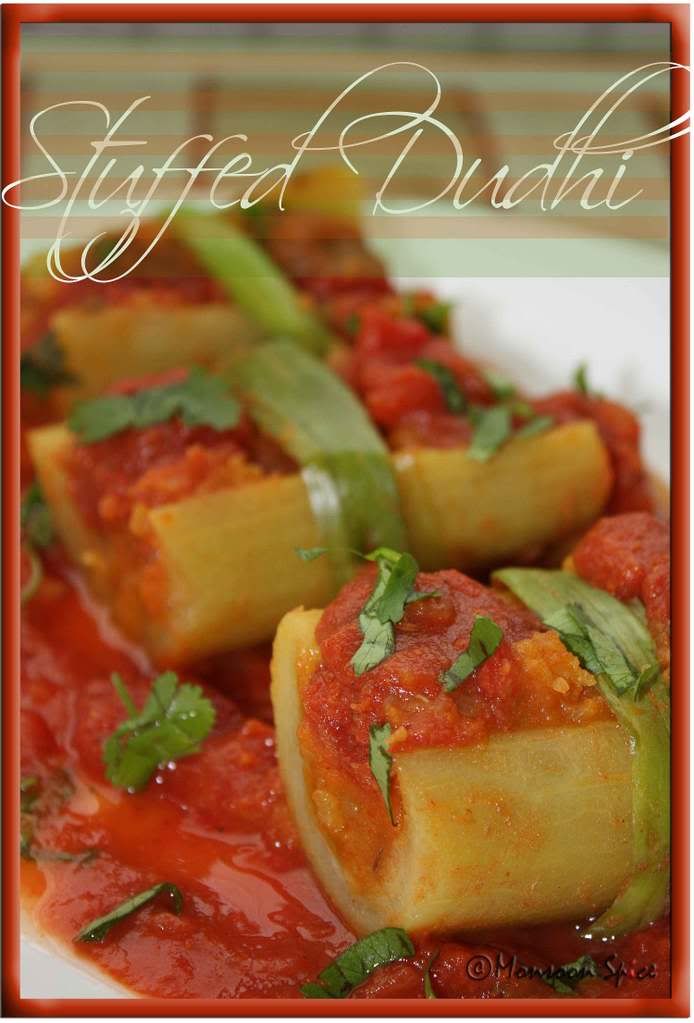 What is Curry?


In England and the rest of the world, "curry" describes anything Indian that is mottled with hot spices, with or without a sauce, and "curry powder" is the blend that delivers it. In keeping with my culture, I define a curry as any dish that consists of meat, fish, poultry, legumes, vegetables, or fruits, simmered in or covered with a sauce, gravy, or other liquid that is redolent of spices and/or herbs. (Page 3)
Raghavan clarifies that curry isn't about the dish spiced from a jar labeled "curry powder" that most of the western world is familiar with, but gravy. His quote "No self-respecting Indian kitchen world would have curry powder" was enough to make me itch to have his book in my hands. Then I read raving review at Juglabandi's (15 Dudhi/Bottle Gourds recipes is what got my full attention as I am a sucker for Dudhi). And surprise, surprise!!! 660 Curries is one of my birthday loot from my much-better-half :) I was thrilled to get hold of this book (and also other gifts which Krish bought me keeping my blog in mind;) and in last 3 days we have had tried 3 recipes from this book with outstanding results. Wonder of wonder, no two curries taste the same!!! No wonder we are addicted to this near-encyclopedic curry bible and we will be cooking and posting many more recipes here in Monsoon Spice.

"I wanted it to be as if a cooking teacher is talking, so there is more explanation, as if I'm there".
Other than over 700 recipes (701 to be precise, 660 curries and the remainder for what he calls cohorts), what we loved about this mammoth of a book is the way in which the author has given the recipe instruction. He not only gives substitutes for the ingredients which may not be available in non-Indian kitchens but also clear cut and precise recipe instruction which is very easy to follow even for the novice cooks and those who are unfamiliar with Indian cooking techniques. Well not every author gives you step-by-step instructions as how to clean the lentils before using!!! This book is a labour of love and it shows in each and every recipe given. No wonder he claims his 4 years journey to get this book written and published was like "giving birth to a horse"!!!


The book has neatly written glossary lists for almost every ingredient used in all 701 recipes and also clear metric conversion charts for quantities and temperature. And what more, the author also gives mail-order sources for particular ingredients which otherwise may not be available outside India. From "Appetizer Curries" to "Contemporary Curries", this book has it all. About 25%-30% recipes are non-vegetarian and there is one whole chapter dedicated to "Paneer based Curries" for all you Paneer lovers.

In almost all the recipes Raghavan uses his background as a chemist to describe the process of "building" the recipes based on these elements he describes in his first chapter "The Curry Quest" which is a must read if you are practically new to Indian cooking. Raghavan's quest for bringing the Indian subcontinent to the western kitchen has surely won our heart.
The downside of this book?


One, there are not many glossy photographs which are my weakness. Second, once you have chosen a recipe, you may need to refer to some other recipe for particular ingredient required. Third, it would have been better if author could have given approximate estimation of preparation and cooking time for every recipe which would give us rough idea as how long it will take to get the food on your table.
But when you think of it, it is not exactly the downside. First of all the book is so thick, adding more picture will only mean more weight. And no glossy photo means you can imagine the end-product and thus makes you eager to cook and taste it (and you won't get complex when you compare the dish you cooked with those extra glossy, out of this world food photographs;). And as per the flipping the pages to and fro, most of the spice blends will be ready in hand in almost every Indian kitchen and it is not necessary to give recipe of Garam Masala which is used in almost 30% of recipes.

What I love about this book?


What? You sure are reading this post right? With all the things mentioned above, you can't fail to notice that each and every recipe is well researched with detailed step-by-step instructions which sure to please both novice and expert cook. The recipes are both authentic and creative. Overall a must have book for every Indian food lovers.
One of the curries I tried from this book is
Bharwan Lauki or Potato Stuffed Dudhi/Bottle Gourd.
Oh yes!! One of the main reasons for my quest to purchase this book was the fact that it has 15 bottle gourd recipes and I was not disappointed with the end result. Bottle gourd was never this sizzling hot before. Bottle gourd 'boats' stuffed with spiced mashed potatoes and cooked with chopped tomato masala. Just the title was enough to make me all excited as it was something which I have had never heard of and never tasted. It was delicious alright and it was one fancy looking dish too. These delicious Squash boats goes to dear Pooja's
VOW-Bottle Gourd
and also to Valli's
Curry Mela
. Since it was cooked for brunch with fresh Summer Vegetables and served with Paratha, it is my entry for
WBB-Summer Feast
hosted by yours truely:)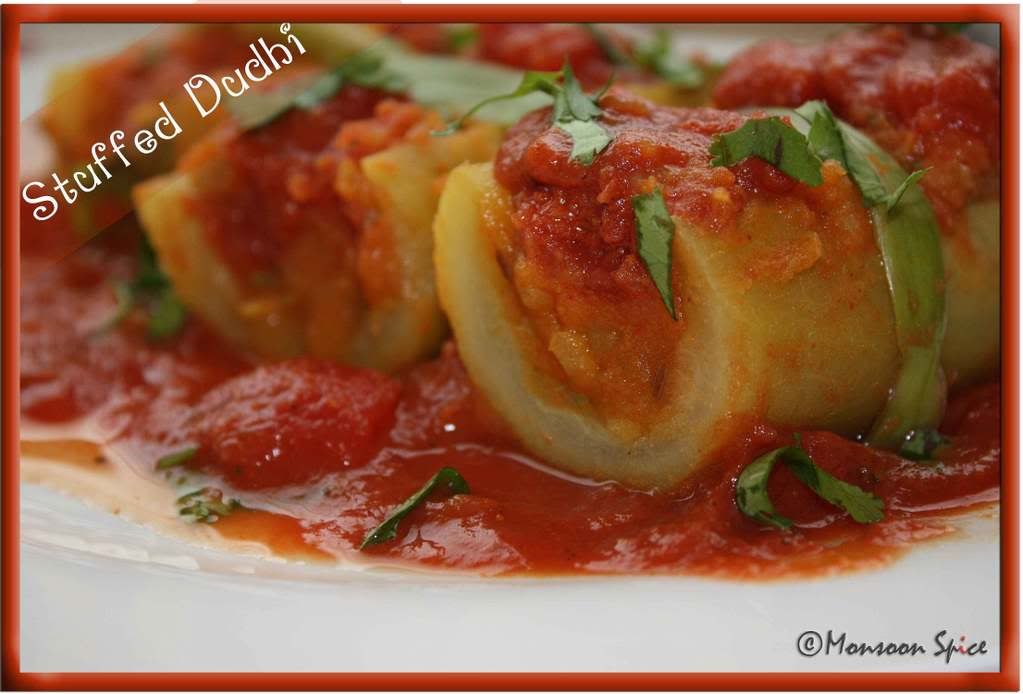 Bharwan Lauki/Stuffed Squash


Print This Recipe
---
Bharwan Lauki

(Potato Stuffed Squash/Dudhi)
Prep Time: 20 mins
Cooking Time: 1 hr to 1 hr 30 mins
Serves: 5-6
Recipe Source: 660 Curries: The Gateway to Indian Cooking
---
Ingredients:




For Dudhi Boats:


1 medium Dudhi/Bottle Gourd
2 tbsp Coriander Leaves, finely chopped
Salt to taste



For Potato Stuffing:


2 medium Potatoes (Russet or Yukon Gold), peeled, diced, cooked, drained and roughly mashed
½ cup Reserved Water from Potato
1 small Red Onion, finely chopped
1 inch ginger, finely chopped
¼ tsp Turmeric Powder
½ tsp roasted Cumin Powder
½ tsp Coriander Powder
1 tsp Deggi Mirch or ½ tsp Cayenne (Ground Red Chilli) + ½ tsp smoked sweet Paprika (adjust acc to taste)
½ tsp Jeera/Cumin Seeds (optional)
½ tbsp Kasuri Methi/Dried Fenugreek Leaves (optional)
½ tsp Sugar (optional)
½ tbsp Oil
Salt to taste



For Tomato Sauce:


1 can chopped Tomatoes
1 tsp Garam Masala (original recipe calls for Maharastrian Garam Masala)
½ tsp Kitchen King Masala (optional)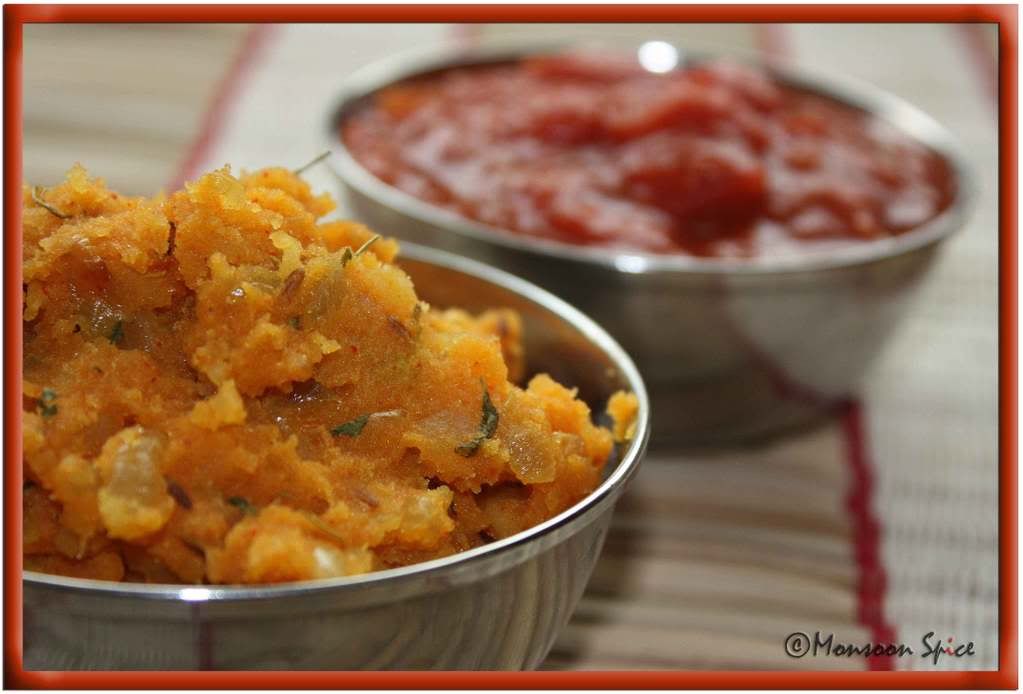 Spiced Potato Stffing & Tomato Sauce
Method:
For the Dudhi Boats:
Trim the ends of dudhi and peel it with a vegetable peeler. Slit it length-wise in middle so that you are left with two long pieces. With a help of a spoon scoop out the seeds and the surrounding spongy mass carefully so that you are left with two dudhi 'boats'.
Place this in a large sauce pan and add about a tsp of salt. Pour in water so that the dudhi is completely immersed and cover and cook for 5-7 mins till dudhi turns limp, little transparent and is tender. Remove it from a pan and gently place it in a large oven proof dish, scooped side facing up.

Mix in turmeric, jeera, coriander and deggi mirch powder with roughly mashed potatoes and keep aside.
Heat oil in pan and add cumin seeds. When it starts to sizzle, mix in finely chopped onion and ginger and kasuri methi if using. Sauté it on medium flame till onion turns light golden brown, around 2-3 mins.
Now mix in spiced potato and mix well. Add sugar and salt to taste. Cook for 4-6 mins till potato starts to stick to the bottom of pan forming a light thin brown layer.
Stir in ½ cup of reserved water and mix well. Cook for further 2-3 mins till all the water is absorbed and the flavours are blended.

For Tomato Sauce:
In a bowl, add garam masala and kitchen king masala with canned chopped tomatoes and mix well. Keep this aside.

For Assembling:
Preheat the oven at 350 F.
First stuff the potato filling in halved dudhis making sure to cover it well. Now pour in the tomato sauce covering the dudhi well, lifting them a little to allow the juices to run under and form a thin layer which will prevent the squash from drying out when baked.
Cover the dish with tin foil and bake it undisturbed for around one hour until the potatoes are warm and squash is tender and the tomatoes are softened.

To serve:
Cut each Potato stuffed Dudhi into 3 equal pieces and sprinkle chopped coriander laves before serving. I served it with simple Jeera Rice.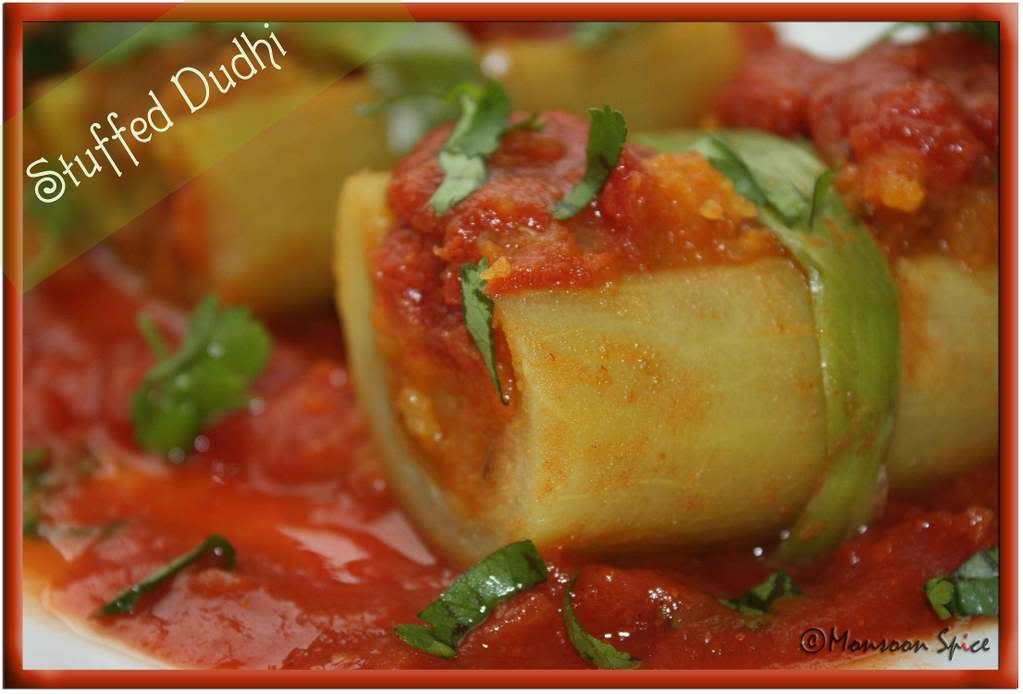 ---
Note:


Other Dudhi recipes blogged so far



Other useful links:



---
Reminder: WBB-Summer Feast
For this edition of WBB, your challenge is to cook anything with summer fruits and vegetables. Yes, the theme is
WBB-Summer Feast
. Go to your town/city's Farmer's Market and pick fresh season's produce and make your favourite breakfast or brunch and join in the Summer Feast.
Deadline: 31st July, 2008
Please go through the guidelines and include all the required information in your post and mail when sending me your entry. Don't forget to add Your Name, Your Blog Name, Name of the Dish you cooked, Perm Link of the entry along with the gorgeous Photo of final dish.

Click Here
or on the logo to find out more information on this event.