This post might lead to some serious side effects in human behaviour and please read through the disclaimer before you proceed. Strictly no cursing and blaming and pointing finger at any person living or dead (especially at the blog owner) for your serious cravings and hunger pangs caused by this delicious spread! This post might be injurious to your diet plan, so please get your doctor or nutritionist's advice before indulging. Proceed with caution.

Pani Puri, Dahi Puri, Sev Puri, Bhel Puri…




Manchurians, Hakka Noodles, Summer Rolls…




Pav Bhaji, Ragda Patties, Dabeli, Kachori…




Kottu Parotta, Kati Rolls, Roti John…




Samosa, Fritters, Dhoklas, Vadas…




Bajjis, Bondas, Pakodas, Puries…




Frankie, Sandwiches, Chats, Pot Stickers…
You name it and I have them all… Yes, each and every thing that makes you go hungry just by thinking. Wait, there is more to it. Along with wonderful recipes I have killer photos of each and every street food listed above.

Welcome to the round-up of MBP-Street Food. Hey Coffee dear, thank you for giving me this wonderful opportunity to host MBP with my favourite theme. Thank you one and all for your delicious contributions and making it a very successful event. It's because of you all lovely bloggers now we have One-Stop-Shop for Street Food. Here is what you have been looking forward to… Presenting you MBP-Street Food Round-up…

Don't wait for too long or else you will be really sorry. Go and grab your plates and feast on your favourite Street Food. I am sure you will be spoilt for choices ;)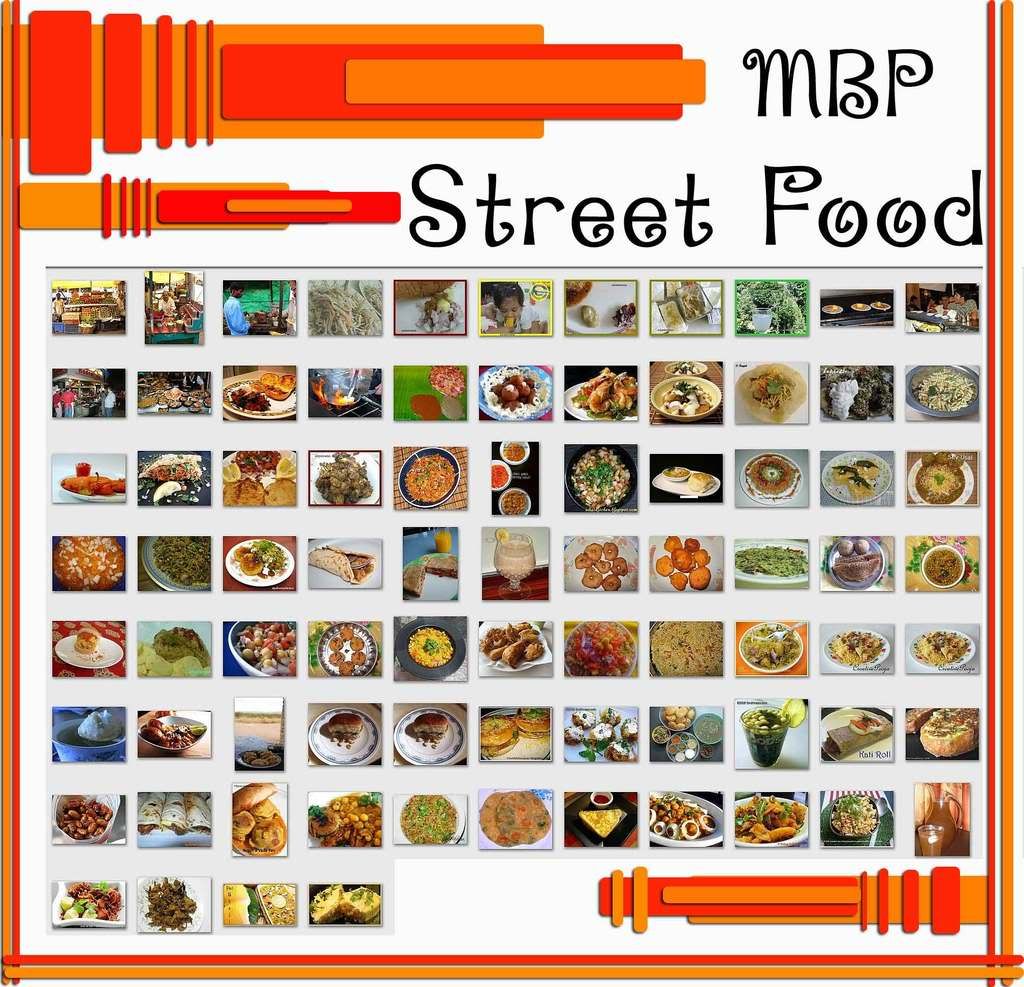 Click on the collage or
click here
to take you to the MBP-Street Food photo gallery

And last but not the least, dear friend Arun shares few drool-worthy pictures with beautiful write-ups of Shanbhag Fastfood at Hospet in Karnataka, Murugan Idli House in Chennai, Alaskan Killer Shrimps, Salzburg Seafood, Kebabs at Bademiya: Colaba's Culinary Firmament, Paanwallah in Mumbai and Butta: Roasted Corn. His photo eaasay of Kailash Parbat, Colaba on How to eat a Paani Puri left me with bulging eyes and drool.

I have posted the entries in the order I received them. I have tried not to miss any of your entries and please leave a comment or mail me if there are any errors or omissions and I will make the correction accordingly. MBP-Street Food logo/link posted in the side bar of Monsoon Spice will bring you to this event round-up page for future reference.



Thank you once again for participating in MBP-Street Food. I greatly appreciate each and every one of you and some of you who chose to participate in blog events for the first time. Thank you one and all… Have a wonderful weekend.