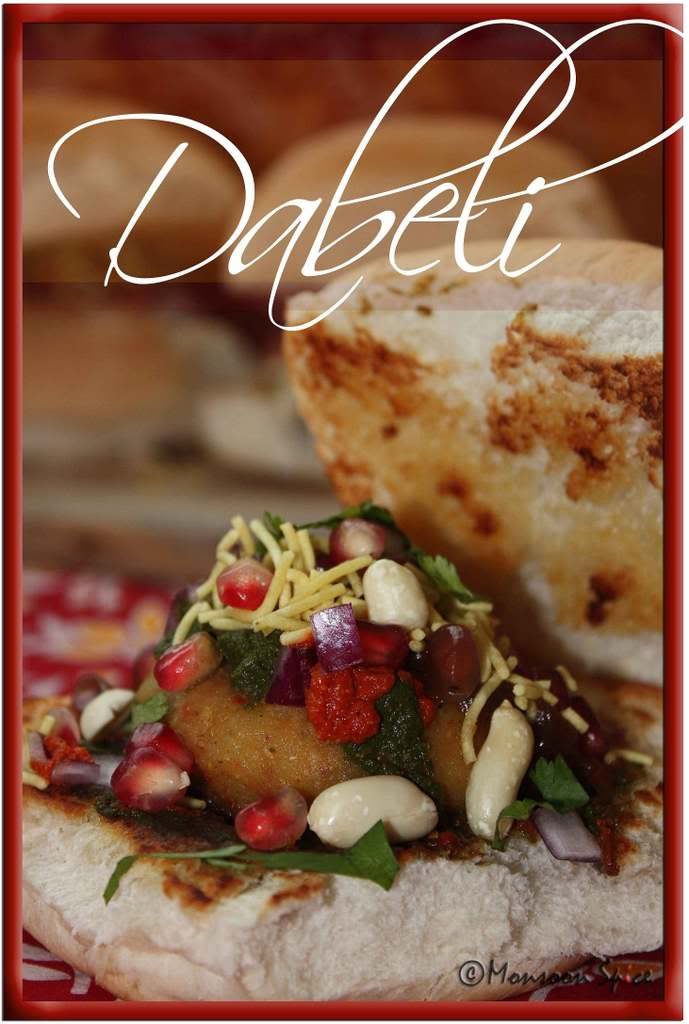 Grow Your Own
a.k.a.
GYO
is a twice-a-month blogging event that celebrates the foods we grow ourselves and the dishes we make using our homegrown products is a brainchild of
Andrea
who blogs at Andrea's Recipes. This fortnight it is being guest hosted by dynamic
Jugalbandi's Jai and Bee
.
Here comes the problem. Well, it's another food blog event and the rules are quite straightforward. You might ask me what exactly the problem is. For the last couple of weeks every blogger is showing off their gardening talents. Well, after all its summer and everyone seems to be growing something or the other in their vegetable patch resembling football stadium or snooker table and some even managed to grow in their small sized balconies and containers. I went through all these blogger's posts with dozens of photographs of their summer bounty and admired their skills.


Then the realization hit me hard!!! All we had grown in a small patch of our backyard is few flowering plants and mind you they were not from seeds we had sown!! We just bought few plants from weekend farmer's market and just planted them. Now its not that we are lazy (Ok, little bit). The reasons for not growing our own summer vegetable and fruits bounty are many. First and most important of all is the unpredictable weather. Just when we had cleaned our vegetable patch from all those wild weeds (my goodness, they have very strong and had deep roots), slugs and snails (they are so yuck!), it started to rain cats and dogs. After 2-3 weeks of these heavy summer rains the vegetable patch was filled with new bounty of weeds and snails and we didn't fancy cooking those Dandelions in soups and stews and being a vegetarians eating those snails were unimaginable ;) So again we cleared our veggie patch and again it started to rain!!! We ended up planting few plants of Geranium, roses, lavenders. Second reason, our work schedule. Leaving to work at 7 in the morning and coming back at 7 in the evening doesn't give much time to spend time in gardening during weekdays. Next reason is the visits to our vegetable patch by unwanted guests. You see some way or the other many cats in our neighborhood feel that it's their birth right to come and empty their stomachs in our vegetable patch. We have 6 different cats coming and leaving behind their smelly trails. Sometimes we do wonder how roasted and grilled cats taste, just like
Manisha
. (Ok, I am kidding big time;)
With all these problems, we did manage to grow few herbs in pots. Some mint leaves are growing wildly and we are making good use of it in summer drinks. We have two curry plants donated by our close friends. And we have successfully grown a big pot of coriander leaves. I have been using them in most of the curries as garnishes. And Bee did say coriander used as garnishes can make it to the event. Thank you Bee, my coriander garnish is what I am sending you for GYO. This time its Dabeli garnished with fresh corianders from our garden makes its grand entrance for Jugalbandi's GYO event.

Dabeli or Katchi Dabeli or Double Roti
is a street food mostly originated in Kutchi/Gujarat and very popular street food sold in Mumbai/Bombay. In my engineering days I survived eating these Dabeli for my lunch and sometimes for dinner from our campus Bakery. It is also known as Kutchi Dabeli or Double Roti and uses a special spice blend called Dabeli Masala. When I hosted
MBP-Street Food
, I had many Dabeli entries and I couldn't wait to try my favorite street food. When I received
Raghavan Iyer's 660 Curries
book for my birthday, I was rejoiced to see detailed recipe for Dabeli with its spice blend.
In Raghavan's own words,




"Maharashtrian's are very creative when it comes to combining multiple sources of carbohydrates in the same dish. This curry-in-a-bun is love at first bite-topped with luscious-red, juicy-tart pomegranate seeds. It's really a cinch to make as a do-ahead dish. Just lay everything out in a bowls assembly-line style, in the same order as they go into the bun, and folks can help themselves by making their own. Those ho-hum taco parties will make a run for the border."
I made Dabeli Masala by strictly following Raghavan's recipe and then assembled the Dabeli according to our taste. So without any delay, I made these wonderful street food and relived my college days:) Straight this goes to Jugalbandi's for their
GYO
.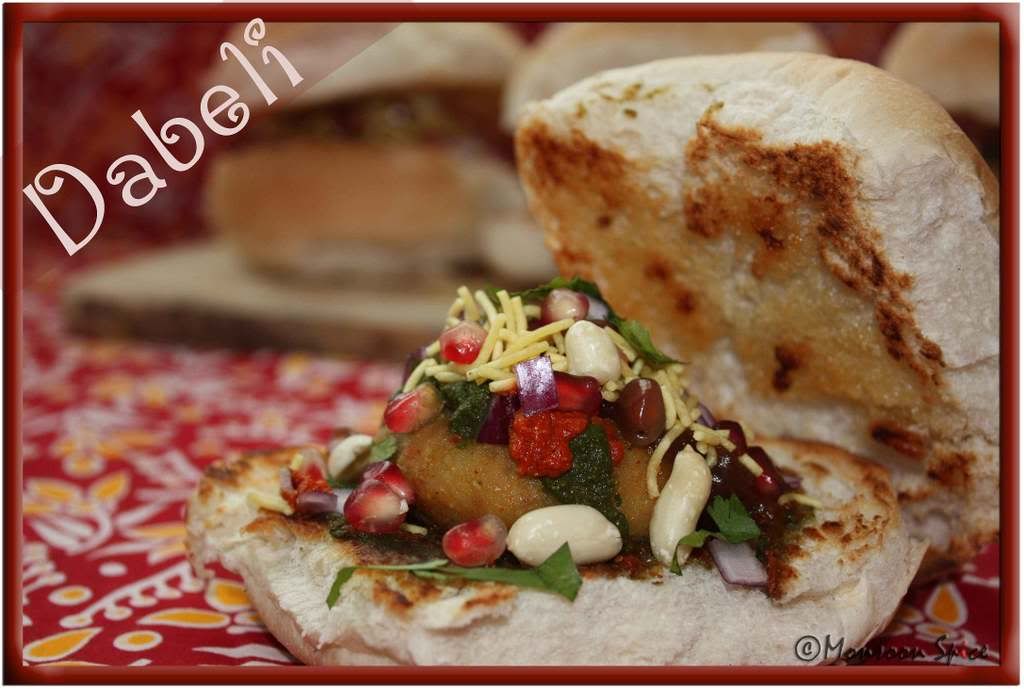 Print This Recipe
---
Dabeli

(Spiced Potato & Pomegranate Sandwiches)
Prep Time: 10 mins
Cooking Time: 20 mins
Makes: 4-6
Recipe Source: 660 Curries
---
Ingredients:




For Dabeli Masala:


1 tsp Whole Clove (about 4-5)
½ tsp Fennel Seeds
½ tsp Black Peppers
½ tsp Coriander Seeds
4 dried Red Chilies (Thai or Cayenne), stems removed (I used Byadagi Chilies)
4 blades of Mace or ¼ tsp Ground Mace (I omitted it as I didn't have any)
2-3 Whole Star Anie
1-2 Dried Bay Leaves
Seeds from 1-2 Black Cardamom Pods
½ tsp Ground Ginger (You will get them in any Asian stores)
Pinch of Turmeric Powder



For the Filling:


3 large Potatoes (Russet or Yukon Gold), peeled, boiled and mashed
1 small Onion, finely chopped (Optional)
1 tbsp Dabeli Masala
1 tsp Sugar Powder
½ tbsp Oil
Salt to taste



For the Sauces:


Recipe calls for just Sweet & Sour Date-Tamarind Chutney and Green Mint-Coriander Chutny but I also used Spicy Red Chutney.



For Sweet Tamarind-Date Chutney:


1 lemon sized Tamarind Pulp, soaked in water
6-8 Dates, pitted
½ tsp Red Chilli Powder
4-6 tbsp Jaggary (adjust acc to taste)
Salt to taste



For Green Mint Chutney:


1 packed cup Mint Leaves
½ packed cup Coriander Leaves
4-6 Green Chillies (adjust acc to taste)
1 tsp Jeera/Cumin Seeds
¼ tsp Tamarind Paste
Salt to taste



For Spicy Red Chutney:


10 Dry Red Chillies
2-3 Garlic flakes
1 small Tomato (Optional, it helps in grinding the chilies to smooth paste)
½ tsp Tamarind Paste
1 tsp Jeera/Cumin Seeds
Salt to taste



For Assembling the Sandwiches:


4-6 Ladi Pav/Burger Buns
Butter for Spreading
Seeds from 1 small Pomegranate
½ cup Spicy Roasted Peanuts (I used plain ones)
1 small Red Onion, finely chopped
½ cup Sev (Gram flour noodles, deep fried. You will find them in any Asian stores)
1-2 tbsp Coriander Leaves, finely chopped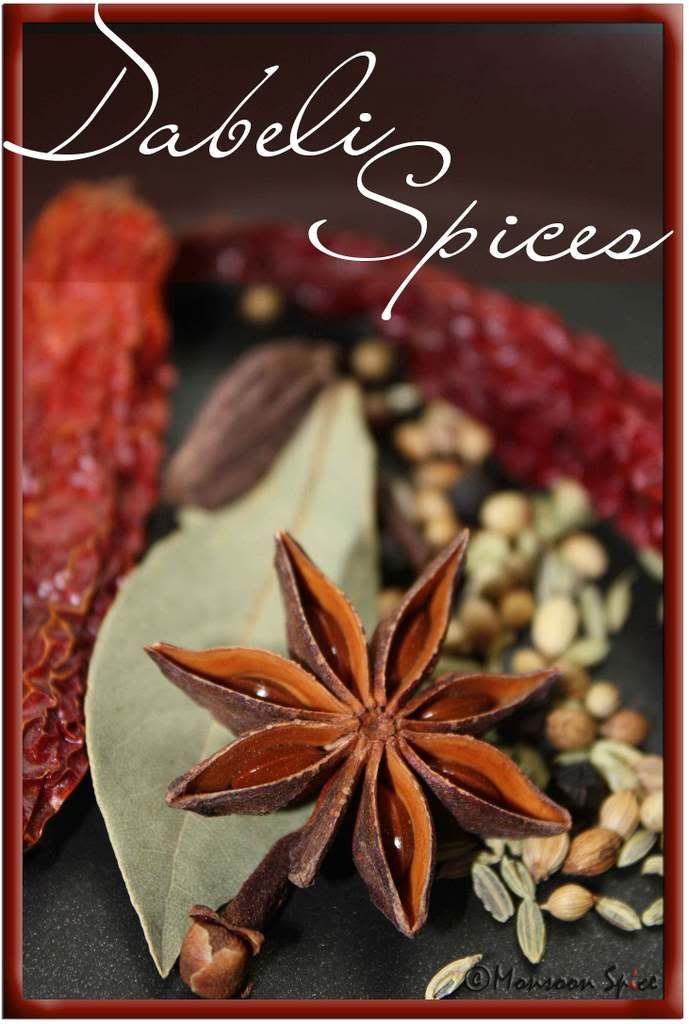 Spices for Dabeli Masala

For Dabeli Masala:
The above ingredients make about 2 tbsp of Dabeli Masala. Place all the ingredients in a spice blender or coffee grinder and grind to fine powder. Store it in an air tight container till needed. I will last for 2 months.

For Potato Filling:
Combine mashed potatoes, dabeli masala, salt and sugar and mix well.
Heat oil in a pan and add finely chopped onion if using (adding onion is optional but I remember having it in the dabeli potato filling back in my campus bakery). Sauté it on medium heat till onions turn golden, about 2-3 mins.
Mix in spiced potato and cook, stirring occasionally, until the potatoes are warmed and the spices are cooked, 5-6 mins. Keep this potato mixture aside.

For Sweet Tamarind-Date Chutney:

Grind all ingredients listed to very smooth paste adding very little water at time. This paste should be little thick not runny.

Grind all the ingredients listed to smooth paste adding very little water at time. Adjust the number of green chilies according to taste. I personally like little hot. Make sure that the chutney is not very watery.

For Spicy Red Chutney:

Grind all the ingredients to very smooth paste adding very little water at time. If you find it difficult to grind, add small tomato (tip learnt from my favorite Chaatwalah).

Heat a griddle or skillet over a medium heat. Cut the ladi-pav or sandwich bun in centre and apply little butter on cut side. Place this bun, buttered side down, on a skillet and cook until they are browned, 1-2 mins. Remove the bunds from griddle and keep aside.
To make the sandwich, first spread a tsp each of date-tamarind sauce, mint-coriander chutney and spicy red chutney. You can adjust these chutneys depending on your taste.
Next, place 1/6th of Spiced Potato. You can make a medium lime sized potato balls and pat it a bit and place it on the bun.
Sprinkle a tbsp of juicy pomegranate seeds, followed by a tbsp of roasted peanuts, ½ tbsp finely chopped red onion and a tbsp of Sev.
Garnish with finely chopped coriander leaves on top and then cover it with the other half of bun and serve them.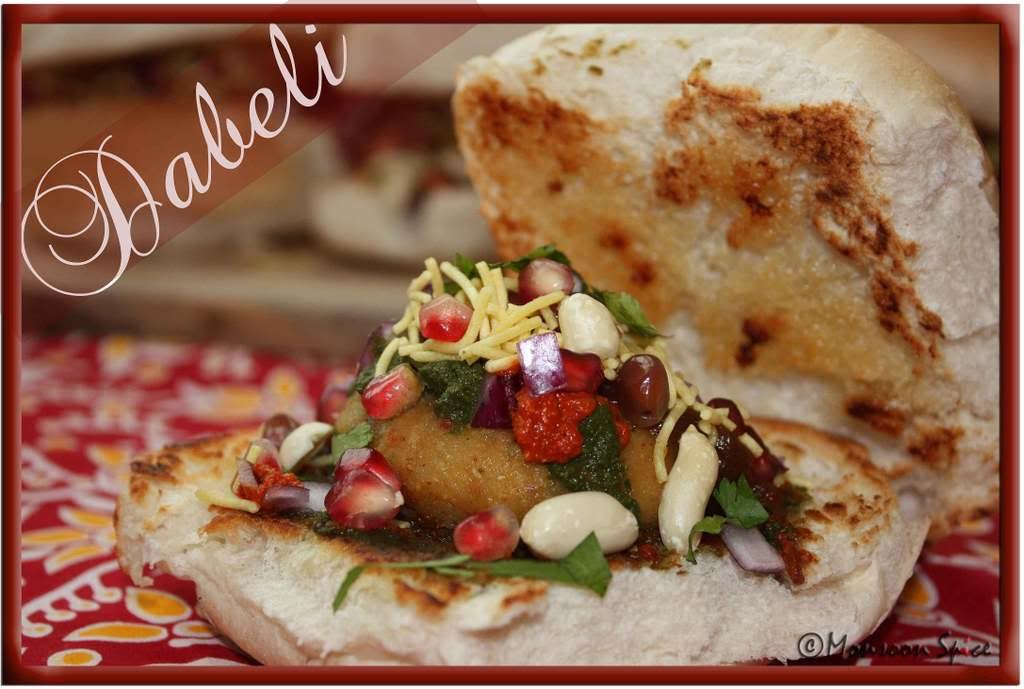 Dabeli

---
Reminder: WBB-Summer Feast
For this edition of WBB, your challenge is to cook anything with summer fruits and vegetables. Yes, the theme is
WBB-Summer Feast
. Go to your town/city's Farmer's Market and pick fresh season's produce and make your favourite breakfast or brunch and join in the Summer Feast.
Deadline: 31st July, 2008
Please go through the guidelines and include all the required information in your post and mail when sending me your entry. Don't forget to add Your Name, Your Blog Name, Name of the Dish you cooked, Perm Link of the entry along with the gorgeous Photo of final dish.

Click Here
or on the logo to find out more information on this event.