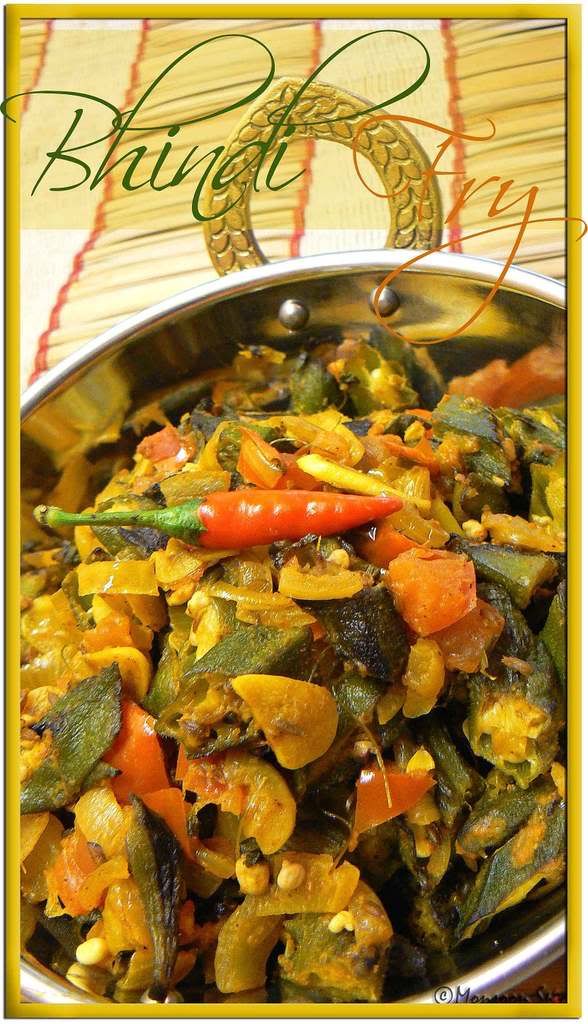 I have a crown yet I am not the king
You cut my crown and feet off with a fling
I carry lots of eggs, yet I nothing but a veggie
Even with all that I am thin and long not podgy
I am green and I am gooey
If u don't pay attention, I will make your dish go mushy and chewy
I do good to your health and to your brain
Which is what your elders told you without refrain


Now its up to you to think and guess
To who I am ...Cos I am good too and no less.
(

Source:

riddle from Siri and DK's Open Sesame event)
How well the Bhendi/Bhindi/Okra/Bendekai is described by these two dear girls :) This slimy vegetable tops my list of favourite vegetable. Once you know how to handle this gooey goodness, you are sure to fall in love with it (it was true in my case, can't talk for others :). I like my bhindi cooked in a very simple way without much frills. It's very common in our home to have minimum of two side dishes along with Rice or Roties for dinner and I give full credit to my Amma and MIL for spoiling us when we were kids.
With hectic schedule at work place it's become a habit to reach home at late evenings. During these times and days there are few recipes which come to my rescue that not only take few minutes to cook but also taste delicious. One such recipe is
Bhindi Fry
which is served in almost every Indian Restaurants and Takeaways. Other than it being my favourite dish to order at restaurants, I love to cook it at home on regular basis. Sometimes it's best to apply KISS (short for Keep It Simple and Straightforward) principle when it comes to cooking and Bhindi Fry is a fine example for it (Aha… now you know why I mentioned Bheja Fry in my post title ;).
My recipe for Bhindi fry is quite simple and straight forward where fresh okra is pan fried with onion and tomatoes and few spices. While the onion gives it a crunch, tomato imparts little sour note. The spices used are minimal to keep natural sweetness of the bhindi/okra intact. Well, I never said you need to compromise on taste department even when the recipe calls for few minutes of your time. Cook this Bhindi Fry when you don't have much time to spend in your kitchen and also when ever you feel like eating something light yet delicious.

Print This Recipe
---
Bhindi Fry

(Okra pan fried with onion and spices)

Prep Time: 5-10 mins

Cooking Time: 15 mins

Serves: 3-4
---
15-20 tender Bhindi/Okra, washed, towel dried and cut into 1 inch pieces
1 small Onion, finely chopped
1 large Tomato, finely chopped (Optional but recommended)
1-2 green chillies, slit (adjust acc to taste)
3-4 Garlic flakes, finely chopped
½ inch Ginger, finely chopped
½ tsp Turmeric
½-1 tsp Garam Masala
1 tsp Amchur/Dry Mango Powder or 1-2 tbsp Fresh Lime Juice
½ tsp Sugar (Optional)
1 tsp Jeera/Cumin Seeds
1 tbsp + 1 tsp Oil
1 tbsp Coriander Leaves, finely chopped
Salt to taste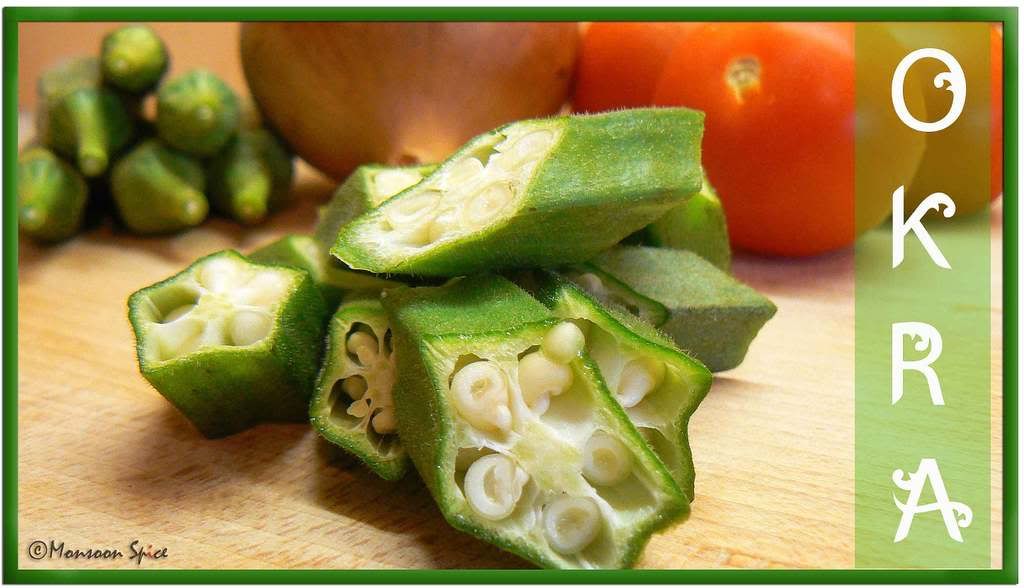 Heat 1 tbsp of oil in a pan and add okra/bhindi to it. Sauté them on high to medium flame continuously till the sliminess is reduced and they start to brown. It should take around 5-8 minutes in total.
In another pan heat 1 tsp of oil and add cumin seeds to it. When they sizzle, add finely chopped onion. Sauté the onion till it turns translucent.
Now add slit green chilli, finely chopped garlic and ginger and sauté till onion turns golden brown in colour.
Mix in garam masala and turmeric powder and sauté for another minute till you get nice aroma of spices.
Add finely chopped tomatoes, sugar if using and cook on a medium flame for about a minute or two. I like the tomatoes little undercooked. If you prefer, you can cook for little longer till the tomato releases its juice and becomes pulpy.
Mix in amchur or lime juice, fried okra, and salt to taste and keep stirring for another 3-5 minutes till all the flavours blend well.
Serve this garnished with fresh coriander leaves and enjoy with chapatti or rice.

---
Notes:


Other Bhindi/Okra recipes blogged so far

---
Reminder:

MBP-Street Food
ends on 24th of June, 2008. Start patrolling the blogs and cook your favourite Street Food that your tummy begs and heart desires and spread link love.
Deadline: 24th June, 2008
Please go through the guidelines and include all the required information in your post and mail when sending me your entry. Don't forget to add Your Name, Your Blog Name, Name of the Dish you cooked, Perm Link of the entry, Perm Link of original recipe along with the gorgeous Photo of final dish.
Click Here
or on the logo to find out more information on this event.