Simplicity in cooking is something I am learning these days. It's not necessary for you to add all the spices and more ingredients to cook delicious food. There were times when I couldn't think of cooking without adding onions, tomatoes and garlic with minimum half a dozen of spices to jazz it up. With time I feel more confident in choosing just few spices that is right for the main vegetables. In other words I don't panic and hop around when I have to use just few ingredients to cook something exceptionally delicious. These days I am seeing different me when it comes to cooking. I have stopped harassing the vegetables with extra handful of herbs and suffocating them with overdose of spices. I see dramatic change in my style of cooking. It's like seeing mirror image of my mother who always cooks exceptionally great food with just few ingredients. Well, I may never be able to reach her standard of cooking but I am on my way of becoming at least one decent cook.
Such simplicity in cooking is very common when it comes to Udupi-Mangalorean cuisine. Everyday food is cooked with very few ingredients and lots of love and coconut. Coconut is the heart of this region's cuisine and you will find most of the recipes using it in one form or other. Don't be surprised to see people getting little carried away when it comes to Coconut be it coconut oil, gratings, desiccated coconut, coconut milk and even coconut water. Coconut not only dazzles any dish it touches but also gives it very distinct flavour by easily complimenting any vegetables, herbs and spices it is blended with.
One such recipe is Kodhel or Kodheal, a coconut based curry from Mangalore. Recipe is quite simple and straightforward, vegetables cooked with a ground paste of fresh coconut and few handfuls of spices. Sounds simple isn't it? But the taste is unforgettable. Every time I make Kodhel it tastes different when used with different vegetables. From humble vegetables to royal fruits, the choice of main ingredient is many. This time I made summer special and my all time favourite Raw Mango Kodhel using Totapuri Mango which is a best choice for this recipe. Don't fret if you don't find Totapuri mangoes. Instead go for those mangoes which have mild sweet note with sourness. The rich and vibrant golden red colour of the gravy comes from special type of dry red chillies called Byadagi Menasu/Chilli which comes from Byadagi region in North Karnataka and is a must for Managlorean cuisine. This Raw Mango Kodhel where sweet and sour Totapuri mangoes are cooked in lightly spiced coconut gravy is delight to every foodie's senses. And off this goes to Suganya who is guest hosting this month's AFAM-Coconut. Oh yes, Coconut is really a fruit and like many of you I too learnt it recently.

Print This Recipe
---
Raw Mango Kodhel

(Raw Mangoes cooked in Mangalorean Coconut Gravy)

Prep Time: 5 mins

Cooking Time: 15-20 mins

Serves: 3-4
---
Ingredients:

1 large Totapuri Mango, cut into 1 inch cubes (no need to peel its skin)

1-1½ inch cube of Jaggery

Salt to taste

For Ground Paste:

¾ cup grated Coconut, fresh/frozen

4-5 Dry Red Chillies (I used Byadagi, adjust acc to taste)

1 tbsp Coriander Seeds

1 tsp Jeera/Cumin Seeds

½ tbsp Urad Dal

Big pinch of Methi/Fenugreek Seeds

1 small marble size Tamarind (adjust acc to taste, if mangoes are quite sour them omit it)

For Tempering:

1 tbsp Oil (preferably Coconut oil)

1 tsp Black Mustard Seeds

1 dry Red Chilli, halved

A big pinch of Hing/Asafoetida

Few Curry Leaves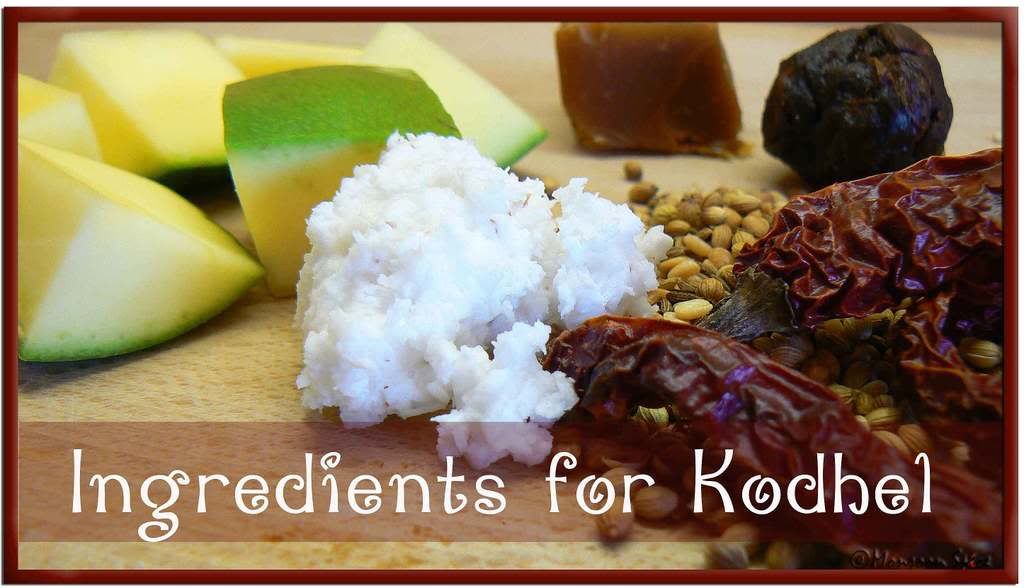 Ingredients(clockwise): Raw Mango, Jaggery, Tamarind, Roasted Spices & Coconut

Cook cubed mango pieces in 3-3½ cups of water adding jaggery and salt to taste for between 7-10 mins on a medium flame. Make sure that the mangoes are just cooked and its peel change to dirty green colour.
Mean while, dry roast coriander seeds, cumin seeds, dry red chillies, urad dal and methi seeds for about 1 min in a medium flame till they turn light brown in colour and gives out nice aroma. Grind these roasted spices with coconut, tamarind pulp and just enough water to very smooth paste.
Add this ground paste to mango pieces and mix well. Add little water if needed to get required consitancy of base gravy. Cook this mixture for another 5-7 minutes and bring it to gentle boil.
Heat oil in a tadka pan and add mustard, dry red chillies, hing and curry leaves. Transfer this tempering to the curry when mustard starts to pop and splutter. Mix well and cover and keep it aside covered for about 10 mins for all the flavours to blend well. Serve this delicious Raw Mango Kodhel with Rosematta or Basmati Rice or with Dosa and Idli and enjoy.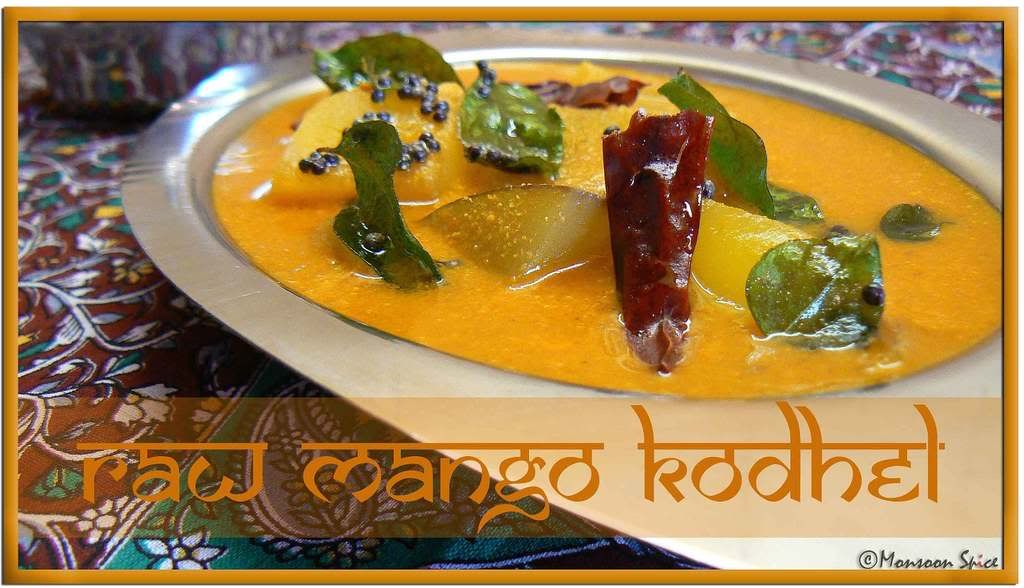 ---
While cooking mangoes make sure that you don't over cook them as it is important for mangoes to retain their shape and not become mushy.
Don't cook for too long once you add ground mixture of coconut.
This Kodhel tastes great the next day when all the flavours are blended well.



Other mango recipes blogged so far

Thanks to dear Skribles of Food with a Pinch of Love (for Nice Matters & Good Chant Blog) and lovely Happy Cook of My Kitchen Treasures (for Arte y Pico) for passing me these awards. I am honored and feel cherished girls :)





---
Reminder:

MBP-Street Food
ends on 24th of June, 2008. Start patrolling the blogs and cook your favourite Street Food that your tummy begs and heart desires and spread link love.
Deadline: 24th June, 2008
Please go through the guidelines and include all the required information in your post and mail when sending me your entry. Don't forget to add Your Name, Your Blog Name, Name of the Dish you cooked, Perm Link of the entry, Perm Link of original recipe along with the gorgeous Photo of final dish.
Click Here
or on the logo to find out more information on this event.