Baby Corn and Green Peas Curry
Conversation with my boss:

Good morning. Lovely weather isn't it? I hope it stays like this till this weekend.

Conversation with my friend on phone:

Oh!!! You know what? It's supposed to be summer here but I can't see even one single ray of sunshine!!!

Conversation with hubby:

I don't feel like going out in this dreadful weather!!! Let's just sit back and watch some movies. If the weather gets better we can always do bit of gardening and BBQ.

Conversation with a perfect stranger:

Nice weather isn't it?
Ever since I came to England all I have been talking is about the weather. I read it somewhere that more than 90% of people in UK talk about the weather, as "whether the weather will improve!!!" The best way to start conversation with any perfect stranger here is, yes you guessed it, the weather! I guess it is because the weather is so uncertain here and that itself makes it quite interesting topic of conversation. Sometime when you are in jolly good mood you tend to find it quite amusing and start laughing out loud when it starts to pour just when the weather reporter on news channel is dancing around the screen saying how bright and sunny day it's going to be! One thing I learnt through hard lesson is you must never contradict anybody when discussing the weather, as this is considered to be very bad etiquette. Even if it is snowing outside and someone says, "Nice weather, isn't it?" you must reply, "Yes, it is!"
Is the weather a topic of discussion a global thing? I mean, is it only here that we talk about the weather or is it the same all around the world? I don't remember weather being a topic for conversation back in India, well not to this extent! With the continuing rise in global warming and its impact on the weather pattern, we have become more aware of the change in weather condition and it has never been so important. Talking about it can not be considered as just a way of passing the time of the day anymore.
The weather to some extent controls our moods and activities (at least in my case). And for me it is very evident when it comes to food! Well, it's not some kind of story I am cooking up. Many a times I have noticed that the weather influences my cooking. When it's dark, gloomy and cloudy, I take out the bright coloured vegetables and fruits with colourful lentils to cook with. When it's sunny and bright, I go for fresh and crisp vegetables and fruits with very little spices to jazz it up. May be I am crazy to some extent (oh crap, don't tell me I am one gone case ;). While writing this, I just peepd out of the window and unfortunately its one of that gloomy weather here. May be I need some coloured peppers to jazz up tonight's dinner and my mood ;)
Well, on rare summery days of my part of the world I cooked this delicious pot of
Baby Corn and Green Peas Curry
. Unlike my previous Creamy
Baby Corn & Baby Carrot Masala
, this one is bit dry and goes well with any Roti or Poori or Chapatti or as a side dish to any rice items. If you like crispiness of baby corns and sweetness of fresh green peas, then this is a curry for you. Crisp and crunchy baby corn and sweet peas are cooked with very little spice blend to retain its own taste. Addition of tomatoes gives it mild note of tanginess and onions give it sweet touch. This dish goes to
Maninas
who is guest hosting this week's
WHB
that is initiated by dear Kalyn of
Kalyn's Kitchen
fame.

Print This Recipe
---
Baby Corn & Green Peas Masala
Prep Time: 10 mins
Cooking Time: 20 mins
Serves: 4-5
---
Ingredients:

15-20 Baby Corns, cut vertically and chopped to 1 inch pieces

1 cup Green Peas, fresh/frozen

1 medium Onion, very finely chopped

2 large Tomatoes, finely chopped

2 Green Chillies, slit

1 tsp Ginger-Garlic Paste

1 tsp Jeera/Cumin Seeds

1-2 tsp Sugar (Adjust acc to taste)

1 tsp Garam Masala

½ tsp Kitchen King Masala (Optional)

½ tsp Turmeric Powder

½ tsp Aamchur/Dry Mango Powder

1 tsp Kasuri Methi/Dried Fenugreek Leaves

1 tbsp Fresh Lime Juice

1-2 tbsp Coriander Leaves, finely chopped

1 tbsp Oil

Salt to taste
Baby Corn and Green Peas Curry
Cook baby corns in enough water with turmeric and salt to taste for about 7-10 mins. Baby corns should be fork tender and still retain their crunch. Drain and keep them aside. Save 1 cup of water in which baby corn is used for later.
Heat oil in a pan and add cumin seeds. When it starts to sizzle add finely chopped onions.
Sauté the onions till it turns translucent, about 1-2 mins, on a medium flame. Now add slit green chilli, ginger-garlic paste and sauté it for another minute or so till the raw smell of ginger-garlic paste disappears.
Add garam masala, kasuri methi, kitchen king masala and sauté it over a low flame for about 30 secs to 1 min till the raw smell of spices disappears. Now add finely chopped tomatoes and cook till they become pulpy. Add sugar, amchur powder and mix well.
Mix in cooked baby corn, green peas, ½ cup of water saved from cooked baby corn and mix well. Cover and cook for another 5-10 mins till all the flavours blend well. Add little water in between making sure that curry doesn't stick to pan.
Squeeze in fresh lime juice, chopped coriander leaves and mix well and serve hot with any roti or rice of your choice.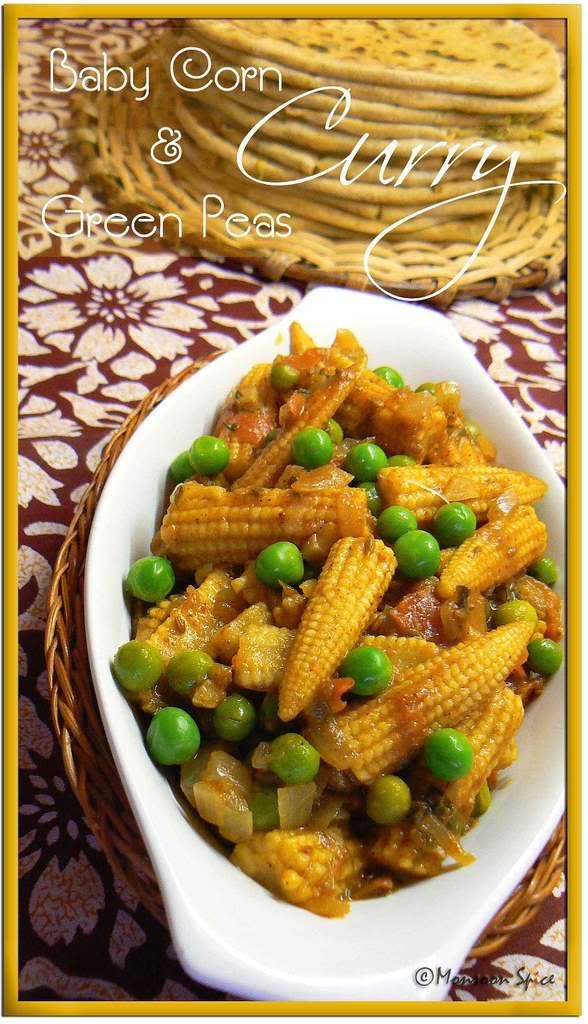 Baby Corn and Green Peas Curry
---
Other Baby Corn Recipes blogged so far

---
Reminder:

MBP-Street Food
ends on 24th of June, 2008. Start patrolling the blogs and cook your favourite Street Food that your tummy begs and heart desires and spread link love.
Deadline: 24th June, 2008
Please go through the guidelines and include all the required information in your post and mail when sending me your entry. Don't forget to add Your Name, Your Blog Name, Name of the Dish you cooked, Perm Link of the entry, Perm Link of original recipe along with the gorgeous Photo of final dish.
Click Here
or on the logo to find out more information on this event.