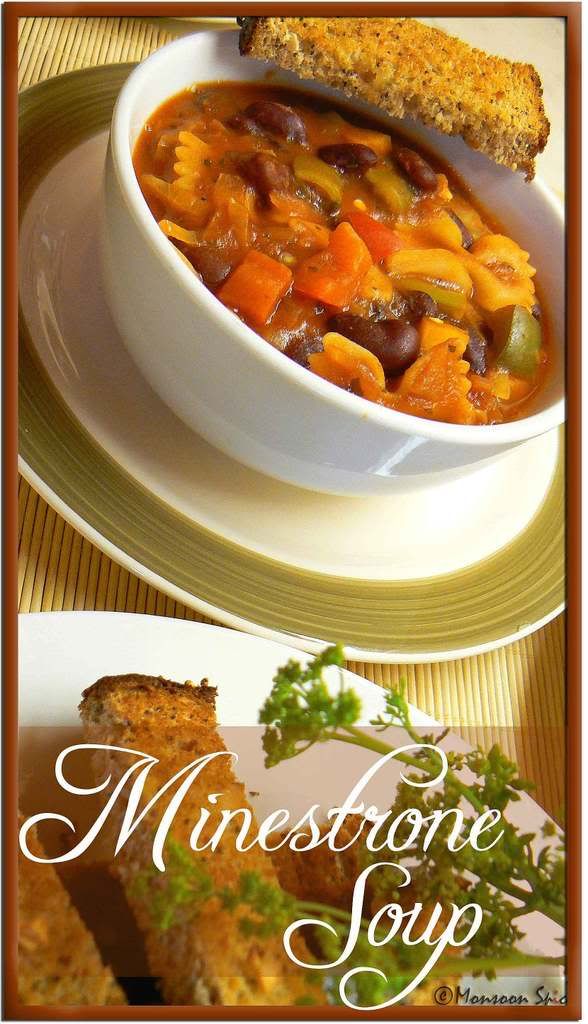 Can of Red Kidney Beans – Check

Two Cubes of Frozen Spinach – Check
One each Red & Green wrinkled Peppers – Check
Fistful of Pasta – Check
One Almost Dead Carrot – Check
Last Few Tomatoes – Check
A cup of Pasatta – Check
Sprinkle of Dried Herbs – Check

Makes -> Delicious & Nourishing Bowl of Soup, a complete meal.
For a notorious hoarder in me who can't stand the sight of empty shelves, it is always challenging task to empty the fridge/freezer and pantry. I kind of hate late November days when we start packing for our annual trip to India for one full month and I am not allowed to buy any fresh ingredient from mid month itself. It is very nerve-racking experience when we have to cook frozen and canned products skipping my favourite visit to weekend Farmer's market for freshest of fresh ingredients with bright colours and packed with nutrition.

This weekend I had to go through similar experience. We are leaving to India in 2 days time. Oh, I simply can't seem to hide that stupid smile stuck on my face since past few days. I have been counting the days and then hours and now minutes. Although it's a short trip for just 18 days, I have already planned up for each and every day of our stay. I am excited about eating all that delicious food cooked by Amma and Atte, two big functions at home, beach parties, lots of shopping, catching up with all hot gossips with cousins and friends and most importantly enjoy Indian Monsoon and Mangoes.
With our trip to India and lots of other things to think of, this time it was not that difficult to deal with Spring Cleaning. With just few days left for our trip, it wasn't surprising to see almost empty fridge staring at me. There is hardly enough vegetables to use in curries and we opted for using them in heart warming Soups, next best thing to eat and enjoy. And what is better than delicious bowl of Minestrone Soup packed with flavours and nutrition. We used the ingredients based on what we had on hand rather than strictly following the recipe. We ended up with enough soup for two dinners which indeed was one complete satisfying meal. Please free to use any vegetables and beans of your choice and enjoy this bowl of goodness.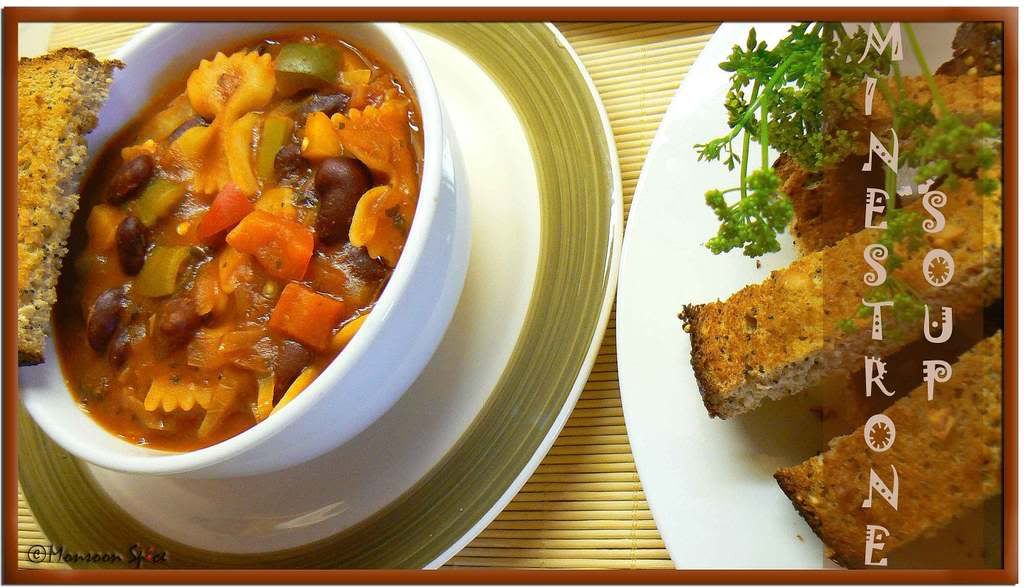 Print This Recipe
---
Prep Time: 10 mins
Cooking Time: 15 mins
Serves: 3-4
---
Ingredients:

1 small Onion, finely chopped

1-2 Flakes of Garlic, finely chopped

2-3 large Tomatoes, finely chopped

1 large Carrot, cut into 1 cm cubes

1 Green Pepper, chopped into bite sized cubes

1 Red Pepper, chopped into bite sized cubes

½ cup French Beans, chopped (Optional)

1 cup Spinach, fresh/frozen

1 cup Pasta (I used Bow tie pasta, use any pasta of your choice)

1½ cups or 1 can cooked Kidney Beans/Rajma, drained and washed

1 cup Pasatta/1 tbsp Tomato Paste/½ cup Tomato Puree (adjust acc to taste)

1 tsp Red Chilli Flakes (Adjust acc to taste)

1 tsp Mixed Dried Herbs/Italian Seasoning (Adjust acc to taste)

5-6 cups Vegetable Stock/2 cubes of Vegetable Stock (Optional, can use just plain Water)

1 tbsp Olive Oil

Salt and Pepper to taste
Heat oil in a pan and add chopped Garlic and Onions. Saute it for 1-2 minutes on a medium flame.
Now add dried Mixed Herbs or Italian Seasonings, crushed Chilli Flakes and mix well.
Mix in chopped tomatoes and sauté till it becomes pulpy, approx 1-2 mins.
Add vegetable stock or water, carrot, beans, red kidney beans, peppers, french beans, pasta and mix well. Cook on a medium flame till pasta is cooked well for about 5-10 minutes.
Mix in Pasatta or tomato puree (if using), spinach and salt and pepper to taste. Adjust the seasoning and cook for another 2-3 minutes.
Serve hot with toasted bread slices and enjoy this nutritious bowl of soup.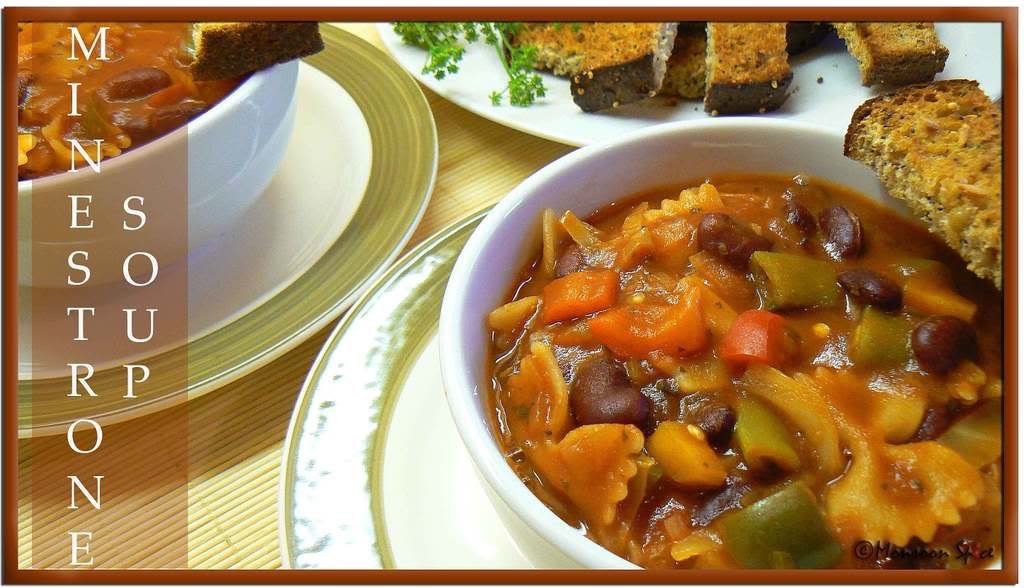 ---
You can also use other vegetables like potatoes, courgettes, green peas, corn etc of your choice. Any beans like Chickpeas, Pinto Beans etc can be used.
Sprinkle the soup with Parmesan cheese if desired.
Click Here
for other heart warming Soups posted in Monsoon Spice.
---
Wishing all the readers of Monsoon Spice a very Happy Vishu, Baisaki and Shubho Naboborsho.
Happy New Year to you all...