Here are sweet peas, on tiptoe for a flight;

With wings of gentle flush o'er delicate white,

And taper fingers catching at all things,

To bind them all about with tiny rings.
- John Keats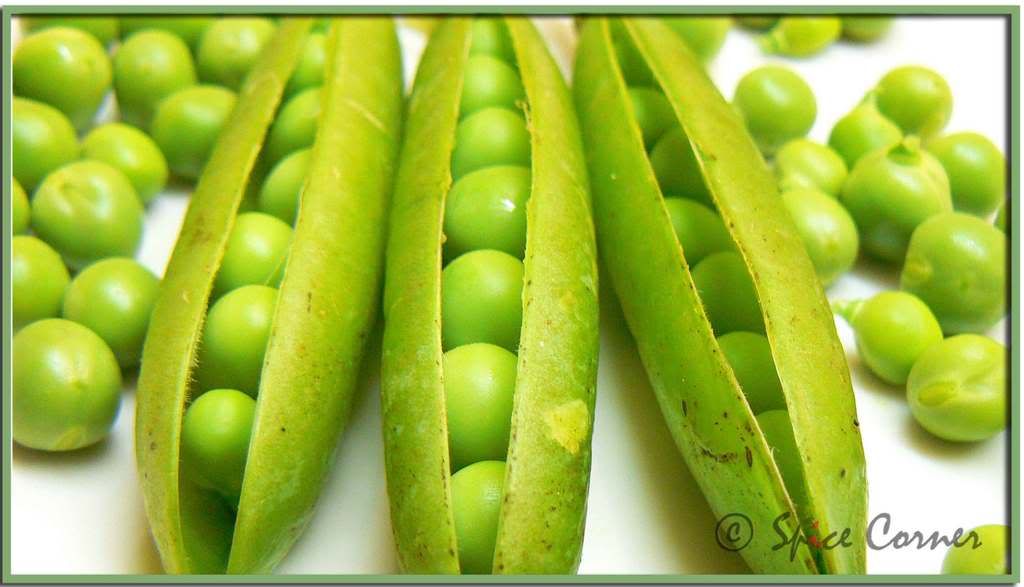 O
ne thing my mother never had to say even when I was in little polka dot frock was to eat peas. We kids at home loved our job of shelling sweet peas from their pods and collect all those bouncing little green gems in our little hand. Snap, shell and pop some peas into mouth; how simple is that? Knowing our love affair with fresh peas, Amma always bought large bag of shelled peas from farmer's market. Little more than half of those little gems would disappear well before it was put into the basket and little more would easily disappear on its way to kitchen.
I don't remember when my love affair with peas started. It had to be love at first bite and I still can't get enough of it. Although we can consume peas throughout the year as they are available in cans, dried form or frozen, they can never match the taste of fresh peas from their pods. I have been buying fresh peas from our farmer's market as April, May and June are usually the only months that they are available fresh. So if you've never had fresh peas, straight from the pod, you're in for a treat. Fresh peas are sweet and delicious and I feel they taste best uncooked as they are nutritious and low in fat. With overflowing peas in our kitchen we decided to use them in cooking. So we have been having good servings of Peas Pulao, Peas stir fry and Peas with different vegetables. When it comes to peas how can anyone not cook Matar Paneer. Fresh Peas of summer and creamy Paneer (Indian Cheese) gently cooked in thick gravy of onion and tomato seasoned with aromatic Indian spices and generous dollop of butter is a pleasure to savor. When served with soft Butter Naan it's a treat for all your senses.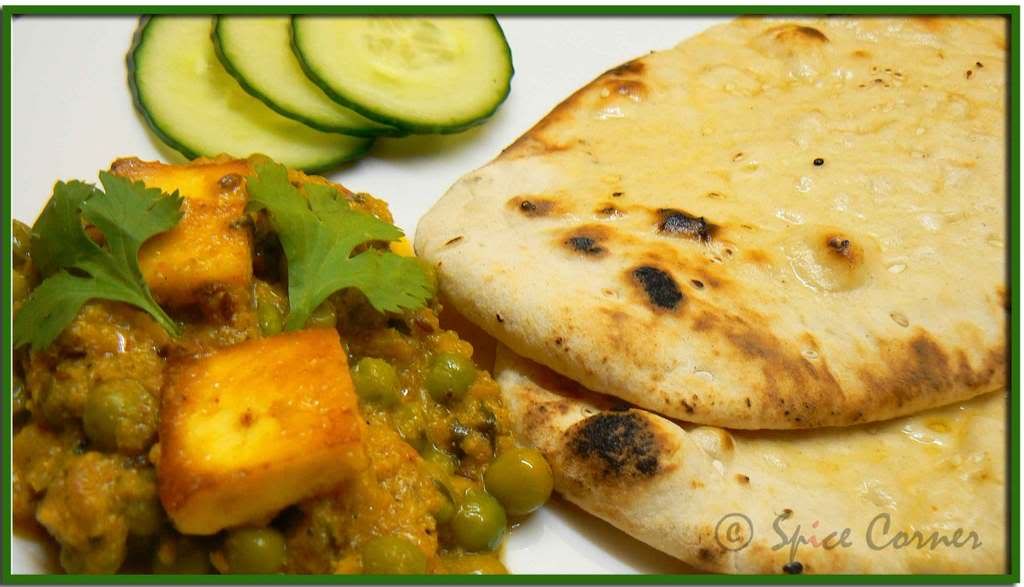 Matar Paneer with Butter Naan
---
Matar Panner
Prep Time: 15 mins
Cooking Time: 25-30 mins
Serves: 3-4
---
Ingredients:
1½ cups Fresh Peas, shelled
2 cups Paneer, cut into 1 inch square
2 large Tomatoes, chopped finely
½ cup single Cream/Sour Cream/Evaporated Milk
1 tbsp+2 tbsp Butter/Ghee
1 tbsp Kasoori Methi
1 tsp Jeera/Cumin Seeds
1 Star Aniseed/Marathi Muggu
1 Bay Leaf
2-3 tbsp Coriander Leaves, finely chopped
Salt to taste
To Grind to Paste:
2 medium Onions, roughly chopped
1 tsp Kashmiri Chilli Powder/Paprika
1 tsp Garam Masala
½ tsp Kitchen King Masala
¼ tsp Turmeric Powder
½ tsp Amchur/Dry Mango Powder
2-3 tbsp Cashew Nuts, broken
½ inch Ginger
2-3 Garlic Flakes
2 Green Cardamoms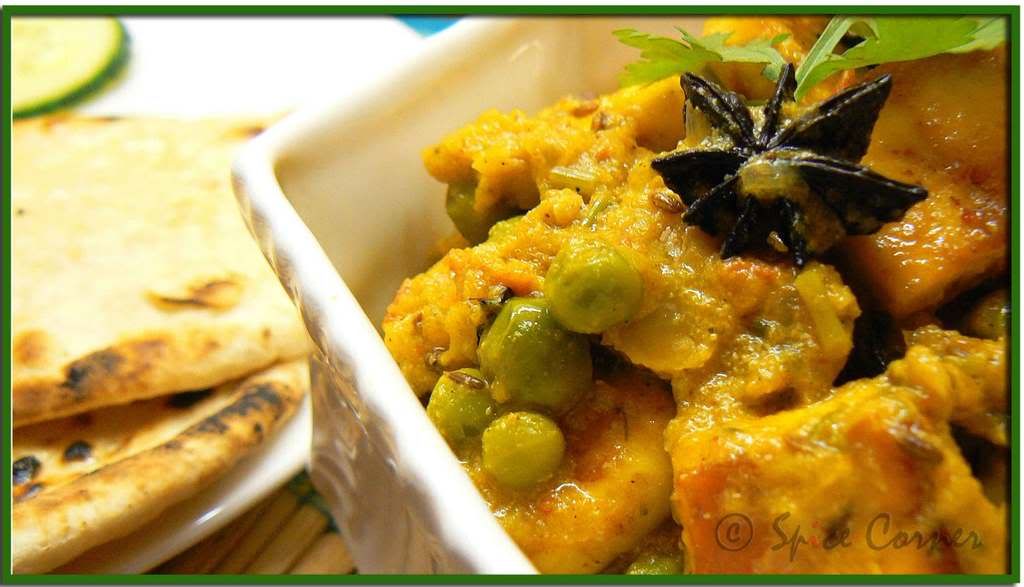 Method:
Heat butter/ghee in a pan and shallow fry paneer cubes both the sides till they turn light golden brown colour. Immerse them in a warm water till required so that they don't harden.
To the same ghee/butter add jeera, star aniseed, bay leaf and kasuri methi and sauté till jeera starts to pop and splutter.
Now add ground masala and fry it on a medium flame till oil starts to separate.
Add finely chopped tomatoes, salt to taste and about ¾ to 1 cup of water and boil till gravy thickens.
Add fresh/frozen peas, paneer and cream and cook for further 5-7 minutes over a medium flame.
Garnish with chopped coriander leaves and serve hot with naan or roties.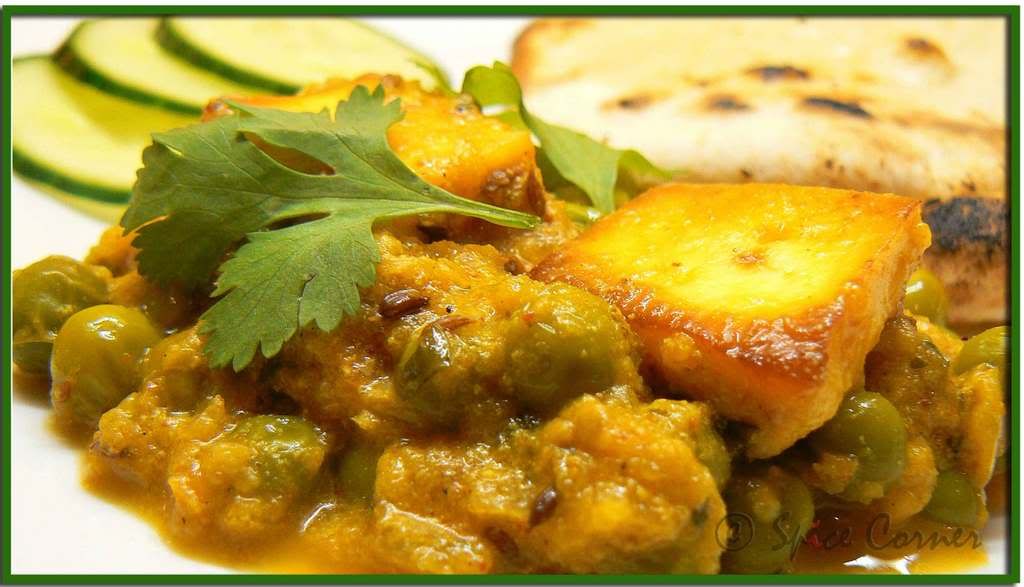 Naan is a round flat bread made of maida and cooked in a Tandoor or clay oven. You can make naan using pressure cooker or oven or grill or stove top. This time I tried
Coffee's Stove Top method
which is not only easy but made beautiful tandoor style naan.
Remember to use Cast Iron Tawa and NEVER use non-stick tawa for this method.
---
Butter Naan
Prep time: 15 mins (excluding rising time)
Cooking Time: 15-20 mins
Serves: 3-4
---
Ingredients:
2 cups All Purpose Flour/Maida
2 tbsp Yogurt
1 tsp Sugar
1 tsp Active Dry Yeast
1 tsp Salt
¼ tsp Baking Powder
2 tbsp Oil
¾ cup Luke Warm Water
1 tbsp Sesame Seeds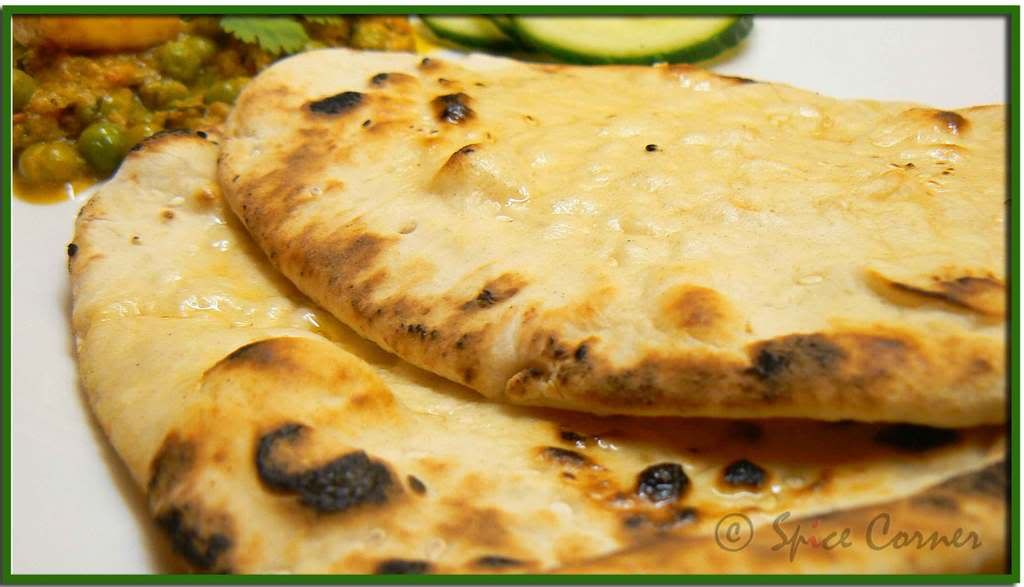 Method:
Dissolve yeast in warm water and keep aside for 5-10 minutes.
Meanwhile mix all dry ingredients: maida, sugar, salt and baking powder.
To this add yogurt and oil and mix.
Make a small well in the center and slowly add dissolved yeast water. Keep mixing till you get soft pliable dough.
Cover this dough with a wet cheese cloth or plastic wrap and keep it in a warm place for 1½ to 2 hours till the dough rises and doubles its original quantity.
Punch down this raised dough to release air and divide it into big lemon sized balls.
Heat iron tawa and roll the dough ball into a ¼ inch thick oval shaped roti with a rolling pin. Sprinkle little sesame seeds and gently roll the naan.
Sprinkle generous amount of water to one side of the naan and gently place it on the heated iron tawa. Remember to put the water side down.
When you see bubbles forming on the surface of naan in few seconds time, lift the tawa and turn it down so that the surface of naan is directly exposed to the flame. While keeping the flame on high, move the tawa so that naan is cooked evenly.
Naan is well cooked when you see brown patches on the surface of naan.
Apply butter or ghee and serve hot with any Curry of your choice.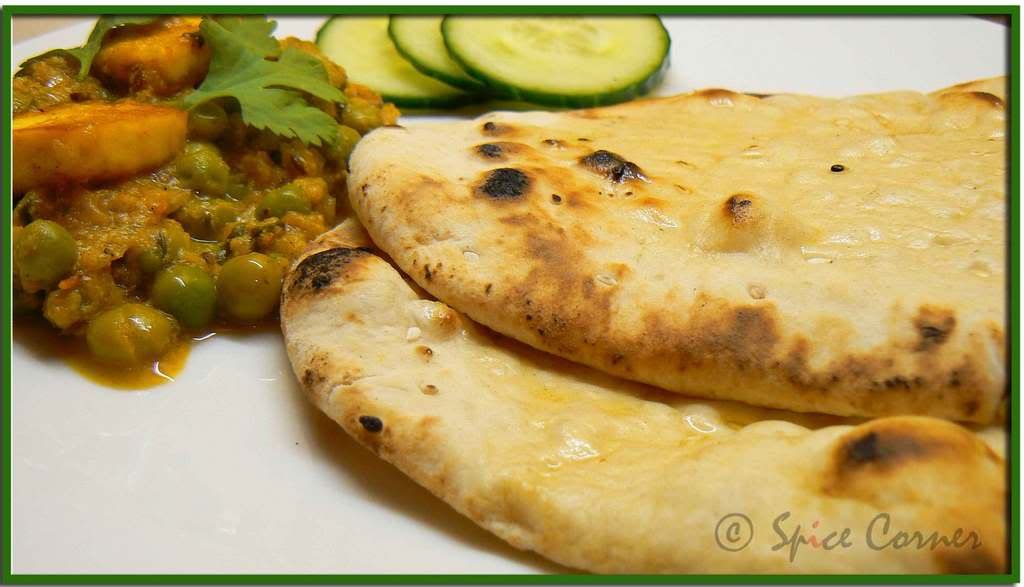 Matar Paneer with Butter Naan
PS: Thankyou for your concern and mails/messages. I was not be able to response to your comments and visit your blogs as I had crazy busy schedule. And more than that I am trying cope with the pain of losing a loved one who was very special to me in many ways. Till now I have only heard about the way how death touches others life and now I understand. This is the first time I am experiencing the pain of losing a precious one who was a backbone of our family.