Luscious, succulent mango fruit!

How do we guard you from the brute?

King of fruits, without dispute

To you we all humbly salute!


Ripe, and unripe in forms many,

Enjoyed universally by all and any!

Ah., delicious and sweet as sugar cane,

Protecting you can be wildly insane!


Your name derives from the word "mAngaai"

You are linked to the legend of Surya Bai!

Food of the gods! How you enchant!

O' tangy Drupe! Wishes you grant!


Akin to Maya - you are the fruit of gold,

That sages in Arunachala have extolled;

Witness to battle and thunder storm

You let Soorapadman take your form!


O' earthy, ripe "Sappattai" delight,
Envy of the "Alphonso" this starry night!

Gazing at onlookers from the compound wall,

How gracefully you sway amidst trees tall!


Then, in the quiet afternoon Chennai sun,

When the siesta of ladies has just begun,

Fearless street urchin and vagabond alike

Gear up towards you to aim and strike.


Alas! Shouting to protect is of no avail,

For the wily ones on the prowl prevail;

As adroitly they grab and you will snatch
Pray,
can any match a more princely catch?


A well directed stone at you they throw

Following victory cries of "kokku"* ru kO!

Ah.. heavenly "kokku" sweet as cane,

Yes, protecting you is indeed in vain!
Mango mania… I just need to take a quick peek at food blogs and my heart goes mmmm….Mango. This is the magic of the "food of the Gods". Ask any Indian child to share his/her childhood memories and mangoes will be golden part of his/her childhood. I remember the mango orchard in my grandma's home, where hundreds of mango trees laden with beautiful shades of green and gold would lure me and turn me into mischievous brat. My mango memories match the vibrant golden colour of mangoes. We cousins a bunch of monkeys, loved eating mangoes the way monkeys eat them:) Raw or ripe, just bite and suck the whole mango and enjoy that sweet, sticky juice squirting all over our chin, arms and cloths. Pure bliss… Although eating mangoes from our orchard was fun, aiming a slingshot at our neighbour's tree felt more appropriate ;) When confronted by our elders, we would innocently deny the fact that we stole mangoes from our neighbour's tree. Staying in Pardes I can imagine the fruit markets in India with the bewildering array of mangoes, heaped lustily on straw baskets or placed in hay to ripen evenly from cool green to hot yellow. Most of my childhood memory strings are attached to the king of fruits and hence there is no question of I am getting tired of mangoes, be it rambling or eating. We Indians have been talking excitedly about the fruit for 3000, yes 3000 years, where as the western world has savoured it for only 300 years!!! More reasons to celebrate the mango season.

One particular dish I always liked was Amma's Raw Mango and Spinach Dal. Everyday boring dal would dazzle with the addition of sour and tangy mangoes. The combination of mixed dals with power packed spinach and mango is a marriage made in heaven. Just few pieces of mangoes not only enhances the flavour but gives the much needed anti-oxidant supply to the body. Sweet, spicy and tangy dal will be ready to serve in no time.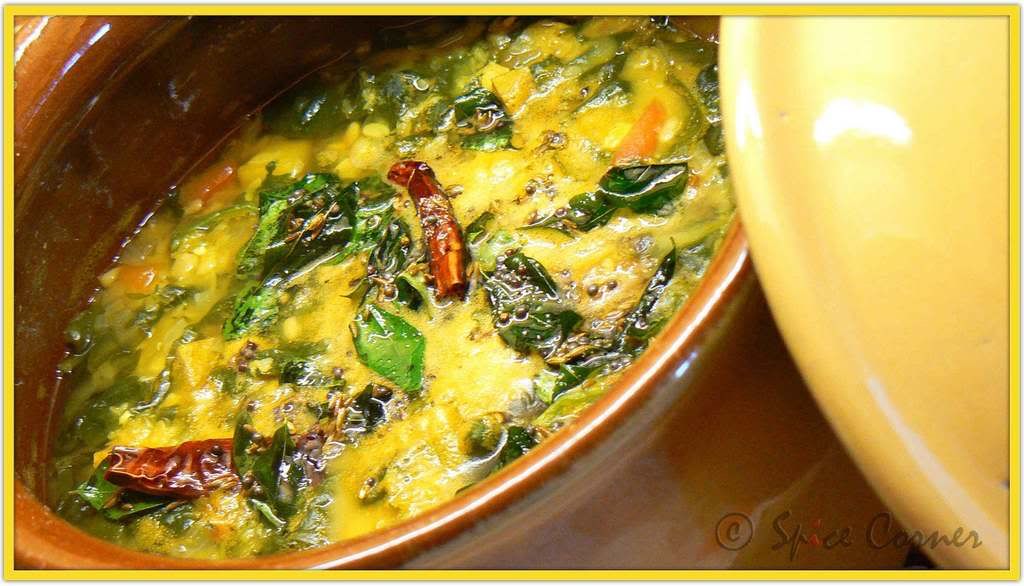 ---
Raw Mango & Spinach Dal
Prep Time: 10 mins
Cooking Time: 25-30 mins
Serves: 4-5
---
Ingredients:
1 cup Raw Mango, diced into 1 cm cubes
2 cups Spinach, finely chopped
1 large Tomato, finely chopped
1 small Onion, finely chopped
½ cup Masoor Dal/Red Lentils
½ cup Split Moong Dal
½ cup Split Channa Dal
½ tsp Turmeric Powder
½ inch Ginger, crushed
½ tbsp Jaggary
3-4 Green Chillies, slit
½ tsp Jeera/Cumin Seeds
½ tsp Coriander Powder
2-3 tbsp Coriander Leaves, finely chopped
1-2 tbsp Fresh Lime/Lemon Juice (optional, use them if the mangoes are not sour)
1 tbsp Oil/Ghee
Salt to taste
For Tempering:
1 tsp Jeera/Cumin Seeds
1 tsp Mustard seeds
1-2 Dry Red Chilli
Few Curry Leaves
¼ tsp Hing/Asafoetida
½ tbsp Ghee/Oil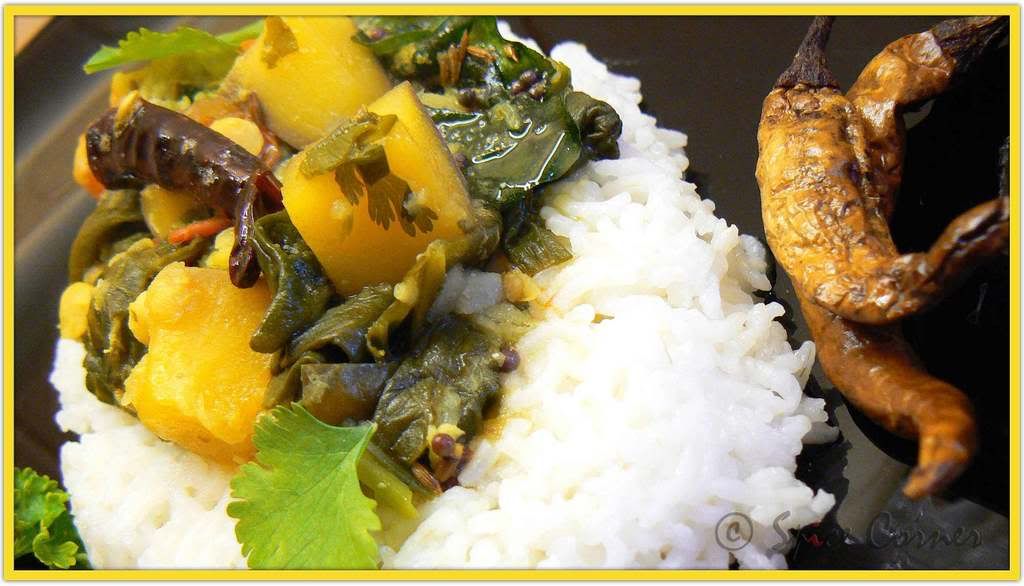 Method:
Wash all three dals in water and add about 2½ cups of water.
Cook these dals in a pressure cooker with turmeric powder and few drop of oil for about 10 minutes or one whistle.
Cool the cooker before opening the lid.
Heat oil in a heavy bottomed pan and add chopped onion.
Sauté the onion till it turns transparent for about 2 minutes and add slit chilli, crushed ginger, cumin and coriander powder.
Sauté it in a medium flame for a minute till nice aroma comes and then add finely chopped tomatoes, cooked dal, spinach and about 2 cups of water. Adjust the amount of water based on the consistency of dal.
Cook this on a medium flame for 5 minutes until the spinach leaves are half cooked.
Now add diced mangoes, jaggary and salt to taste and cover and cook for another 5-10 minutes till the mangoes become tender and all flavours blend well.
Just before switching off the gas, add chopped coriander leaves and lime/lemon juice. Omit lime/lemon juice if the mangoes are sour.
In a tadka pan, heat oil and add jeera, mustard, red chilli, hing and curry leaves.
When mustard starts to pop and splutter transfer this to dal and mix well.
Serve this hot and delicious mango-spinach dal with Chapatti or with Jeera Rice or with plain rice and papad.
---
Did You Know?
T
he name mango comes from Tamil. From man-kay or man-gay, it changed to manga.
T
he people who gave it the name manga or mango were the Portuguese. They first came to India, across the oceans, about 500 years ago. As they settled down in parts of India, they discovered the mango.
I
t was Portuguese who started experimenting with new varieties of mango -- the famous Alphonso or Mulgoa that we cherish today, is the result of their hard work.
D
own the ages, several qualities have got attached to the mango. It is seen as a symbol of good luck and in many parts of west and south India, mango leaves are put up at the front door.
I
t is a belief that the mango tree has the power to make wishes come true.
T
he mango tree is also associated with the god of love "Manmatha'; its blossoms are considered to be the god's arrows.
I
t is said that the Buddha created a white mango tree which was later worshipped by his followers.
(Source:www.pitara.com)
---
PS:

This is one funny Indian rap I recieved as forward. Click on the play button, play the song and enjoy!!! And no, I am not the composer!!!
;) Have a gr8 weekend:)