"
Should I do it today?
" she thought to herself. "
May be it's not a good idea. What if I am misunderstood? What if everything goes wrong? Will I be able to show my face to him if I don't succeed? What will he think of me? What if he thinks I ruined his reputation? What will his people say?
" She was left alone to fight her own battle.
"
No, I can't shy away from him anymore
" she said loudly. It was at that moment she decided enough is enough. She was tired of longing for him, tired of waiting and watching and wanting. She knew she has to do something about it right then to stay sane! She couldn't remember the last time she attempted something as brave as this. It felt like it was in another lifetime, in another world. Yes, not in this life and she had to do something about it.
She took a deep breath and got up from where she was sitting. She felt a shiver run down her spine and also adrenaline kicking her blood stream at the same time. She felt light headed and exhilarated at the thought of '
doing it
' with him which surprised her nevertheless. Wasn't she supposed to feel nervous and scared for doing it for the first time?
Then she took small steps in the beginning, almost hesitatingly. Then she remembered the anguish and pain of not 'doing it' and she didn't want to live regretting for not 'doing it' life long. Her tentative steps increased their pace and with in few minutes she was standing facing his parents' door. She took a deep breath and opened their door bracing her self for any challenge she might have to face.
Then she saw them, sitting quietly and giving her hard and cold stare. She could feel uncertainty creep her thoughts. She could see the rejection in their eyes and she wanted to give up everything and run back to her sanctuary to lick her wounds in her safe domain. But going back was not an option. She had faced rejection from their all her life and she had had enough of it and this was her ultimate revenge for making her suffer all this time.
Half in doubt, she slowly extended her hands towards them. She could hear her heart beating fast and small drops of sweat forming on her forehead. Once she touched them, she felt they were not as bad as she thought them to be. Surprisingly, the feeling was mutual and with in no time they could feel the sweet bond forming among themselves and they set the house literally on fire.
It may have taken quite sometime for her to at last meet him but the long journey she had to make was all worth in the end. And as they say, all's well that ends well. She had ultimately conquered her fear and 'did it'. The success tastes better and means lot when you wrap your fear in confidence and move forward with determination. Her story of 'doing it' also had a very happy end. Just like fairy tales…
And that's how 'did it', my friends.
I baked bread!
I baked bread from scratch. And boy!!! Does it make you feel high! I followed Lolo's
Poolish Focaccia
and
Poolish
from scratch. It is not exactly a complex recipe to follow but it does test your patience as it takes 2 days. First day you prepare the poolish which needs you to mixing the flour, water and yeast and letting it rest overnight to ferment. And on second day the dough and herb oil is prepared for the focaccia. I have almost followed Lolo's recipe to T. I lost all the step-by-step photos I had taken among thousands of other photographs (Arrgh.!!!...). So goto Lolo's blog for
step by step gorgeous photos which are visual treats
Without wasting much of your precious time, let me give detailed instructions for making your own
Poolish Focaccia
.
Day One:
I followed
Lolo's instructions
and made
poolish
on the night before baking. She did mention that you can make
focaccia
without this step but as it was the first time I tried baking bread, I didn't want to leave option of getting perfect one. You don't need to be a rocket scientist to make poolish. All you need is little time and the following ingredients.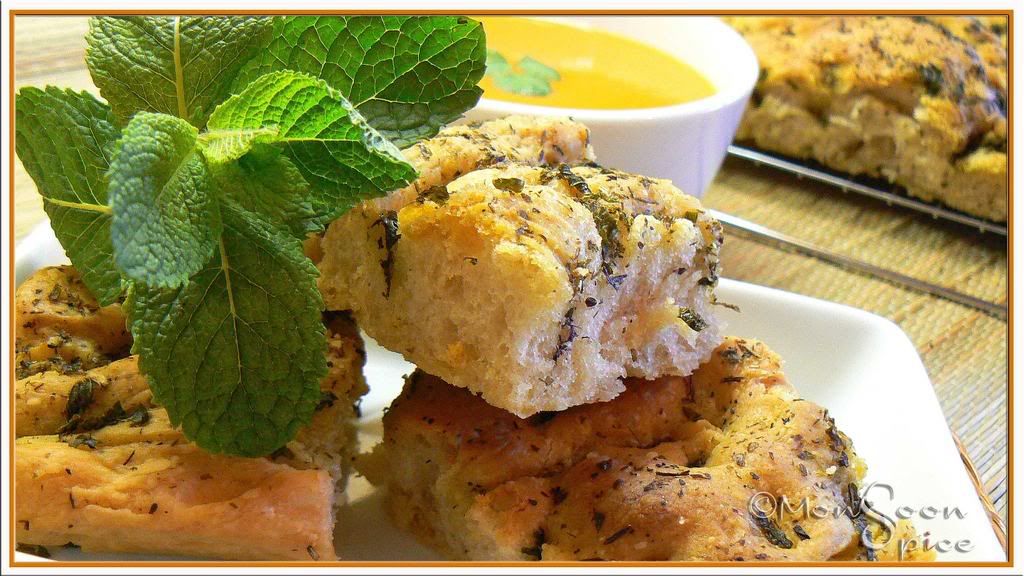 Print This Recipe
---
Poolish
Prep Time: 10 mins
Cooking Time: -
Makes: About 2-
2 ½
cups of Poolish

---
Ingredients:


2 ½ Cups Unbleached Bread Flour
1½ Cups Water, at room temperature
¼ tsp Instant Yeast (I cheated and used good ½ tsp yeast ;)
Take wide mixing bowl and add all the ingredients. With a help of a wooden spoon combine them to form a sticky and smooth mass which looked like a pancake batter. Cover it with a cling film or plastic wrapper tightly and leave it for the yeast to kick in.
Now either you can leave it out all night or store it in refrigerator after 4 hours. Since I had no plan of waking up at 2 in the night, I left it outside all night. This way my poolish was nicely and steadily fermented and it was bubbly, sticky and little stinky too ;)
Day Two:
This was the D-day. I had to make dough and herb oil for
focaccia
. I could feel butterflies in my belli. But Lolo's instructions assured me enough to plunge into baking spree. So this day I had to combine the poolish prepared last night with some extra flour to make dough for focaccia. And then I was all set to make very fragrant herb oil. The whole process of making the dough was simple enough than I thought it to be. All I had to do is mix the poolish with more flour, water, oil, yeast (the beast;) and of course salt. Yup, simple and straight forward. But then I felt I was back in acrobatics class when I had to fold the dough 3 times (standing in odd positions, and making all sorts of face), and had to wait for the dough to rise between every foldings. Once the dough has risen, I had to transfer it onto a baking sheet (thank god, no was there to watch me in awkward positions ;) and shape it to fill the whole of baking sheet. Then again leave to for its final rise before baking it. Over all it took 4-5 hours (I told you so, you need good amount of patience), but most of it was the rising time between every fold. I can see you yawning there. Hello… Wake up… Time to make
Poolish Focaccia
.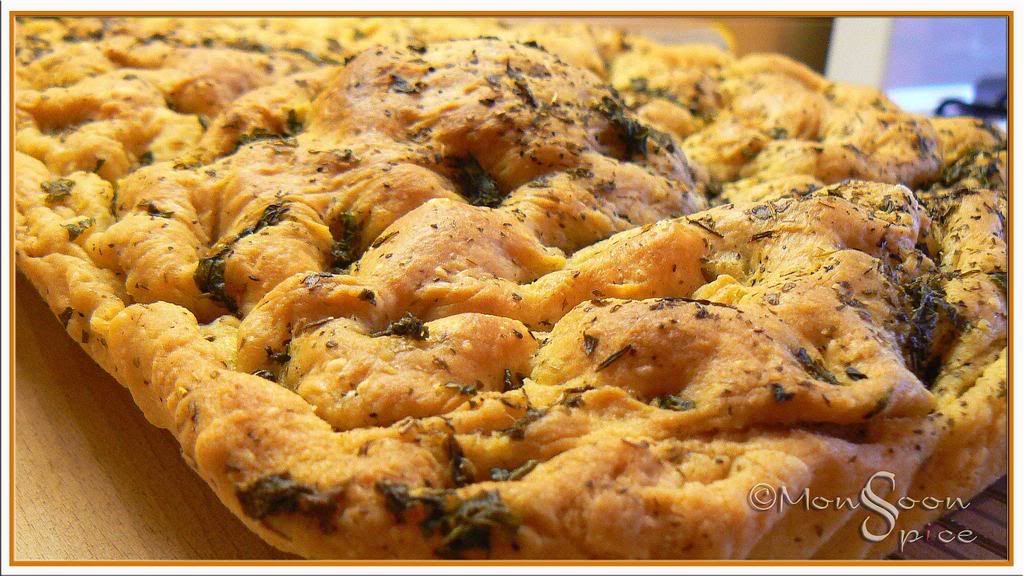 Print This Recipe
---
Poolish Focaccia
Prep Time: 15 mins- 5 hours (Including Resting & Rising time)
Baking Time:
20-25 mins
Serves: 6-10
Recipe Source: Vegan Yum Yum
---
3 Cups Poolish
2 2/3 Cups Unbleached Bread Flour
1½ tsp Instant Yeast
6 tbsp Olive Oil (I used good extra virgin Olive oil)
¾ Cup lukewarm Water
½ Cup Herb Oil (recipe follows)
2 tsp Salt or to taste



For Herb Oil:


1 Cup Olive Oil, little warmed (I used good extra virgin Olive Oil)
½ Cup freshly chopped or 2-3 tbsp Dried Herbs of your choice or combination of fresh and dried ( I used fresh mint and basil and dried mixed herbs and rosemary)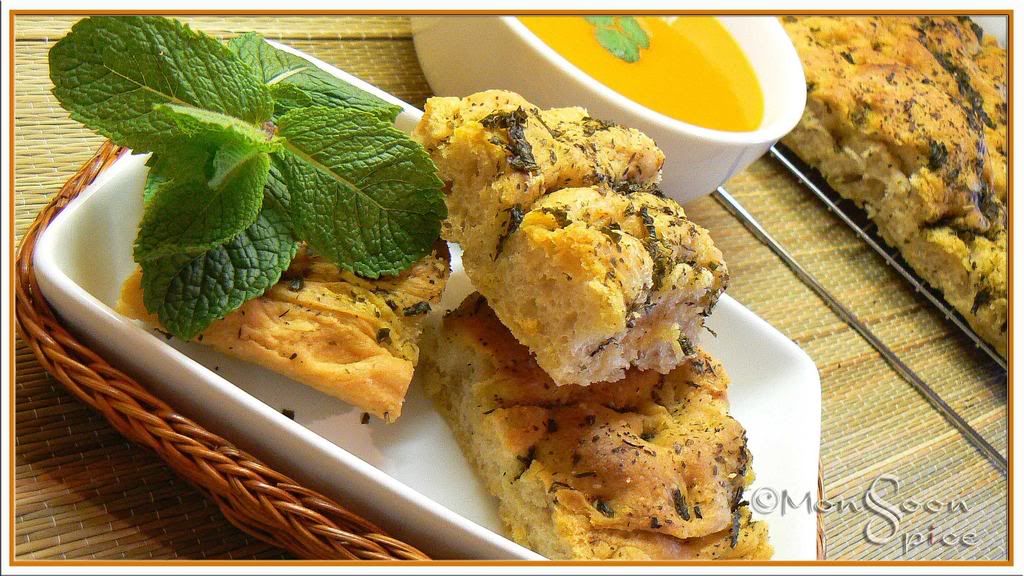 If you have refrigerated your poolish, make sure that it is kept outside for at least one hour to come down to room temperature. Once it is warmed enough, proceed to make the dough.
Take a large mixing bowl and mix in the flour, salt and yeast. Now add the poolish along with water and oil given in ingredient list.
If you are using all those muscle power like me, then be prepared for good 10-15 minutes of mixing and kneading. You need to get smooth and sticky dough. So start mixing and beating the dough till your arm aches and mind goes bonkers! The dough will be very sticky and it will stick to the mixing bowl like clinging baby to his/her mother. Since I don't have machine I can't really tell you how to do it. So please head over to Lolo's website for further instruction on using machine to make the dough.
Next thing is to
stretch and fold
the dough. Use your work surface for this step by dusting it well with flour. Please be little generous with the flour (not too much also) if you don't want to end up scraping your work surface for next one hour. Now scrape the dough from mixing bowl and dump it on the bed of flour. Sprinkle the top of the dough with flour.
Start patting the dough to get a rectangle shape. Lolo says patting the dough serves three purposes: one it pushes the dough into a rectangle shape, distributes the flour and also removes the excess flour. Let the dough rest for 5 minutes (and you too, but remember just 5 mins OK?)
After 5 minutes, you'll need to fold the dough like letter. That is in equal 3 parts. First pick up one side of the dough (it will stretch a lot and make you wonder how many strong words you know ;) Be quick when you fold the sides of the rectangle because the quicker the movement, the easier it will be. Repeat with the other side of the dough. You will end up having small rectangle with folds that looks like folded letter. This is your first fold and remember, we have 2 more folds to come after this. Every time you fold, the dimension of the dough should remain equal. Did you just ask how? Well, after the first fold, you will be stretching the dough out and then folding it back again. Hence, you are not folding the dough into smaller rectangles, but stretching it out and folding it back to make equal sized rectangles. Confused? Don't worry. You will understand it as we proceed.
Next,
brush or spray
the dough with oil, cover it in plastic warp and let it sit for half an hour. And then you'll fold the dough again, brush it with oil, cover it with plastic wrap and let it rest for 30 minutes and then fold it again for the third and final time. Each time you fold, it becomes easier to handle the dough. And every time you fold, make sure that you are folding it in the opposite direction than the last. For example, for the first time if you have folded it from left to right, the next time you will fold it from top to bottom.
After the third fold, let the dough rest, covered with plastic warp, for one hour. The dough will rise at this time, but not necessarily double in size.
While the dough rests, we can proceed to make
Herb Oil
. It's very simple and straight forward. Warm the olive oil and mix in all fresh or dried herbs or combination of both. Turn off the heat and let these aromatic herbs infuse the oil.
Now it's the time to prepare your baking tray for baking Focaccia. Take 17" x 12" baking pan with sides and place a layer of parchment sheet. Spray oil on the baking sheet. Carefully transfer the dough from the counter to the baking sheet, try to maintain the rectangle shape. Don't worry if the dough stretches little bit as the dough is quite soft and unwieldy.
Pour about ¼ cup of Herb Oil that you had prepared earlier on the top of dough. Now it's the time for some fun. Using only your finger tips begin to press the dough to distribute the oil and flatten the dough out. The dough will begin to spread out in the pan. The aim is to spread the dough evenly, so that it fills the pan. But don't worry too much if it doesn't happen as the dough will gradually spread out in the pan after final rise. And important thing to remember is to use just your fingertips to spread the dough and not your fingers or palm. And also you want to keep the majority of air bubbles that forms on the dough which otherwise will not happen if you use your palm and knead it and destroy all your hard work.
Please make sure that the dough is completely covered in oil. Next cover and let the dough rise for two hours. I promise you, this is the final rise. By the end of two hours, the dough will be very puffy with bubbles and have had filled the pan. Close to the end of this final rise, preheat the oven to 500 deg F. make sure that the rack is placed in the centre.
While the oven is getting heated, add another 1/4 cup, or more, of the herb oil. Spread the dough out to its final size using the same fingertip technique that we had used. It's a pretty sight to see all those bubbles but restrain your self from pinching them. You want a uniform distribution of bubbles and fingertip dimples. Pinch off any huge bubbles since they'll just explode in the oven while baking. Sprinkle the top with salt as desired.
Tada… It's
baking time
now. Oops, I forgot about another rest time. Promise, promise! This is the last and very final one. Let the dough rest for another 10-15 minutes. And then place the dough in the oven, turning down the temperature to 450 deg F. Bake it for 10 mins, rotate the sheet for even baking and then bake for another 10-15 mins until its golden brown. By then your whole house will smell of freshly baked bread with heavenly aroma of herbed oil. Just imagine that!!!
Now it's the time to take
Focaccia
out of the oven and let it cool. Remember to remove it from baking pan and place it on cooking rack. Please be patient and let it cool for at least 20 minutes before you attack it. I served mine with hot bowl of Tomato soup.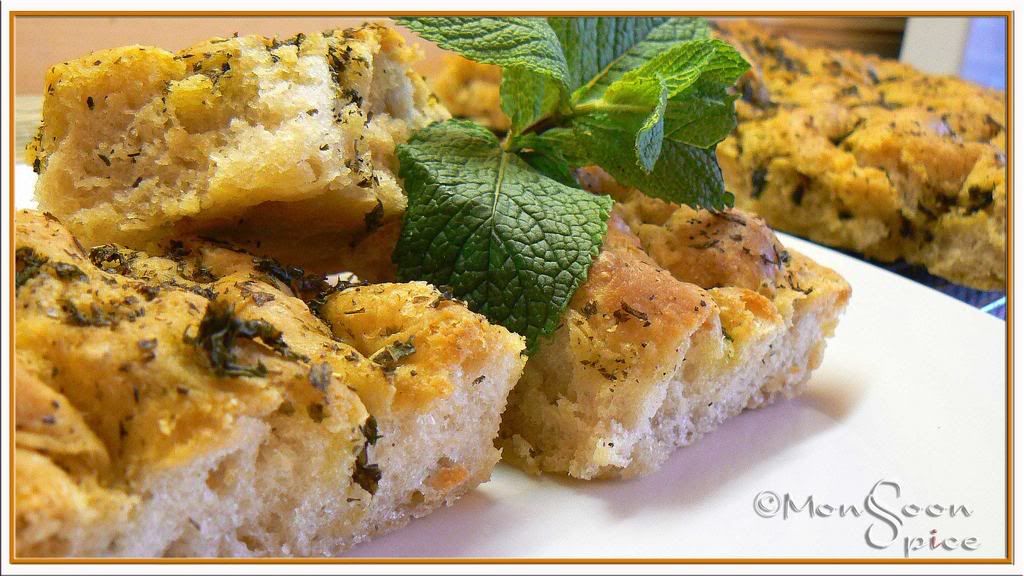 ---
This one was ridiculously huge loaf of
Focaccia
for just 2 people. So I cut them into desired shapes and stored them in a zip lock bag and popped them in my freezer. When required, I just defrost them for few minutes and then heat them in oven. Voila, they taste as good as they tasted for the first time!
As Lolo suggests, next time I am planning to bake
Focaccia
with different toppings. For example, some olives, red onions, fresh herbs and may be some garlic too. Or how about some sweet Focaccia? Topped with apples or grapes tossed in little sugar and sprinkled with some aromatic spices like cinnamon or nutmeg? Yum, yum… and yeah, depending on your choice of toppings make sure that you add them just before 5 minutes you take it out from the oven. Thanks, Lolo for helping me get over with the phobia of baking my own bread with this delicious recipe.